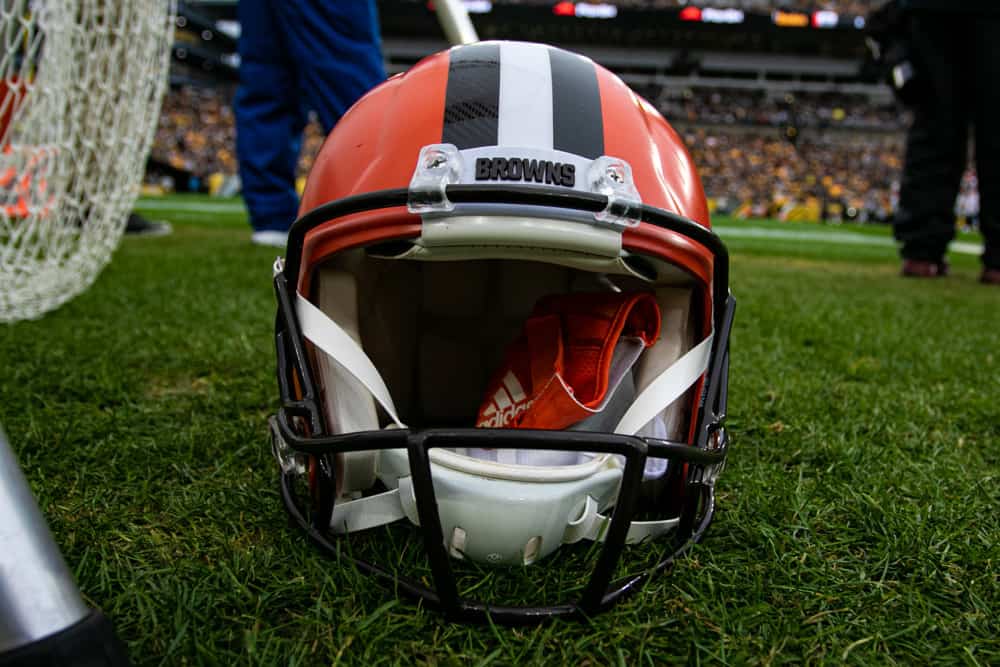 The Cleveland Browns continued their uninspiring ways yesterday in the 38-24 beating they took by the Cardinals in a game where the 14-point margin made the contest look closer than it actually was.
Needless to say, changes need to be made in order for this team to crack the playoffs next year.
Here's my predictions on who's staying and who's leaving come next season.
Freddie Kitchens, HC: Staying
I wrote an article last week listing five candidates as a potential replacement for Kitchens next year, and I still believe all five of those options would be a better option for Cleveland than Kitchens is.
Unfortunately for Browns fans though, I'm not the one making the decisions.
There was a report this week that the Browns don't plan to get rid of Kitchens after the season barring an extreme letdown.
Which, if you ask me, the entire season has been a pretty big letdown, so if he hasn't been fired already he isn't going to be at all.
I think GM John Dorsey will do his best to retool the coaching staff, the offensive line, and the defense, and he'll give Kitchens the first half of next season to prove that he's the man for the job.
Todd Monken, OC: Leaving
Part of the talk around the Browns offensive struggles has been from the coaching standpoint.
It's noted that Kitchens calls the plays on gamedays, but there's a divide between him and OC Todd Monken.
I think Monken is a good coach, but he's not in a great situation – one in which he cannot call the plays.
It's apparent that he and Kitchens haven't been on the same page this season.
And to piggyback off the previous paragraph, I think in order for Dorsey to give Kitchens a better shot, he'll go out and get an OC that Kitchens will approve of.
Ryan Lindley, QB Coach: Leaving
I don't really understand how this guy landed the QB Coach job in the first place.
Just two years ago he was a backup quarterback for the Ottawa Redblacks and a graduate assistant at San Diego State.
Somehow he was brought on as Kitchens' replacement as coach of the running backs following his promotion last year, and this season he's been the QB coach.
If you have a set of eyes with only halfway decent vision, it's easy to see Baker Mayfield has not been the same QB he was last year – nobody knows who's at fault this year for that, but I think Lindley is going to be following Monken out the door.
Odell Beckham, Jr., WR: Staying
More and more reports come out with each passing week that Odell wants out of Cleveland, Odell is asking for a spot on other team's rosters, and Odell isn't happy.
Meanwhile, he's denied all of those reports, and frankly, I believe him.
Yes, he hasn't had anywhere near the production that's expected of a guy making $18 million per year.
However, it's evident he's hampering a groin injury.
After yesterday's loss to the Cardinals and with the playoff chances crushed, OBJ said he "loves football too much" to sit out the final two games to get his injury right.
That shows me a guy that's wanting to prove to his teammates, organization, and fans, that he's here in Cleveland for the long run, and when Dorsey acts fast with his coaching staff changes after the season, OBJ will just reaffirm this is where he wants to be.
Joe Schobert, LB: Leaving
Perhaps our best player on defense this season, Pro Football Talk just reported that the Browns are willing to let Schobert walk in free agency this offseason.
They have made no effort to work an extension this season, and that makes it pretty evident that Schobert isn't going to be here.
Part of that may be hoping the linebackers corps will be better when Christian Kirksey returns from injury, and the rookies Mack Wilson & Sione Takitaki have shown a lot of promise to take on a bigger role for next season.
Kareem Hunt, RB: Staying
Hunt is one of the few guys that looked like he never gave up against the Cardinals yesterday.
He gave it his all for all four quarters.
Hunt can become a free agent next season and go somewhere where he's not behind Nick Chubb, but he's involved enough in the passing game that I think the Browns will throw enough money his way in a new contract to come back for the next 2-3 years.
Greg Robinson, OT: Leaving
He has 2 games left on his contract and I have a hunch the Browns are going OT-hunting in the Draft this year.
They may keep him on as a backup, but I think Robinson would want to look elsewhere.
Rashard Higgins, WR: Leaving
The rift between Higgins and the coaching staff post-injury has been obvious, and with Higgins in a contract year, I can almost guarantee he's going to test the free agency waters.
Unless Kitchens is gone, then Higgins is out.
He's not playing for this coaching staff.
Luckily this Draft class may be the best class of wide receivers as there's ever been, so a replacement shouldn't be too hard to find on Day 2 or 3 in the Draft.