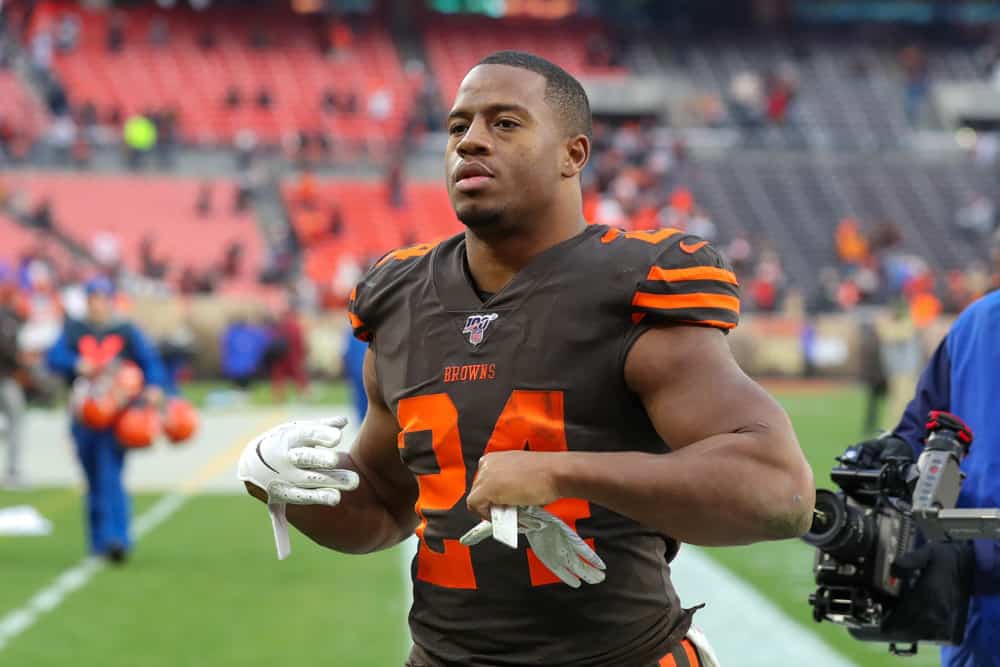 On Monday's Jim Rome Show, Cleveland Browns starting running back Nick Chubb joined Rome for a segment on CBS Sports Network.
Chubb discussed his growth from high school to college and finally to the NFL.
But Rome first asked Chubb about the 6-10 Browns underachieving in 2019, and Chubb said that the team did not work hard enough:
"I think we thought we were a lot better than we were and we thought it was just going to happen for us, we didn't actually put the work in… We had all the talent in the world but we didn't put the work into it."
The 2019 Browns Season
Chubb encapsulated the frustrating 2019 season very well:
"We got this guy, we got this guy. We don't need to actually work. It's going to happen for us because we are so naturally talented."
He felt the team just thought it would be able to step out onto the field, and the wins would come to them:
"We are all just disappointed in ourselves in every aspect."
Chubb, a consummate team player, should not be blamed at all for Cleveland's 2019 struggles.
He is Pro Football Focus's 14th best NFL player under the age of 25.
During his first two seasons, Chubb has been excellent, and he did most of his damage in his sophomore NFL year.
The former Georgia running back, who rushed for 996 yards in his rookie year, improved his rushing yards, receptions, receiving yards, first downs, catch percentage, and drop percentage in 2019.
He scored eight rushing touchdowns in each of his first two seasons and ranked second in rushing yards per game last season.
Chubb's Ability to Prove the Doubters Wrong
Chubb thinks that the Browns as a team can turn the page to 2020:
"But we made some changes, and we got new coaches in. I feel like the new coaching staff will do everything right for us to put us in the position to win.
Similar to how he has proved doubters wrong in his past experiences, Chubb will continue to learn how to build motivation in the NFL.
A native of Cedartown, Georgia, he was doubted in high school because of where he was playing:
"Just coming from the small town I came from, older guys that lived there said I should move away. I'd never get attention there. College coaches never come looking in this small town. I'd never make it. That just motivated me to go harder in high school."
Chubb also can act as an inspiration for those young athletes looking to make it in college and the NFL:
"Now, I use myself as an example for the kids who still go there. No matter if we do come from a small town, you can still fulfill your dreams. You can still play college at a D-1, and you can still go to the NFL. So, I'm using myself as an example for them to keep their head on straight and not listen to the outside world. Just keep focusing on what's important."
As a part of a new and improved Browns offensive line, Jack Conklin wants Chubb to win the 2020 rushing title.
If Chubb does, then the Browns could make their first postseason in 18 years.