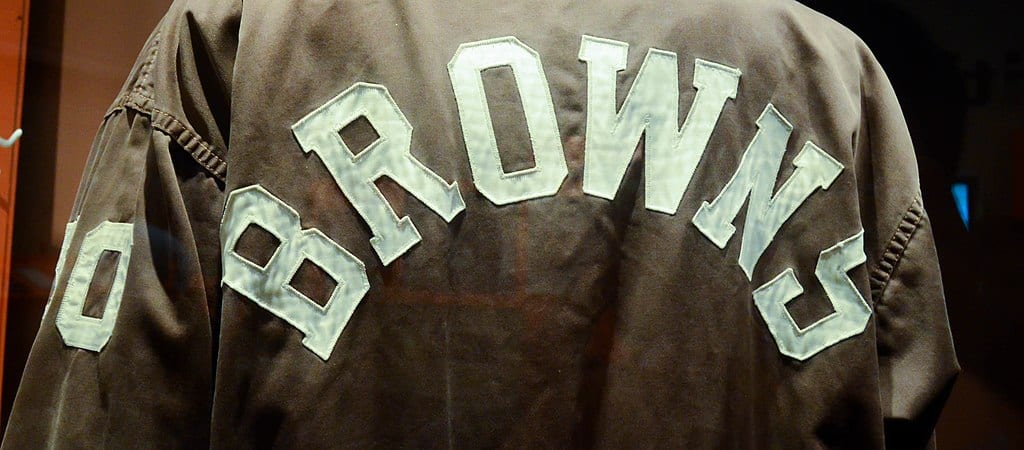 The Cleveland Browns teams of the 1950s and 60s were a tough beat for any opponent.
Only one season during those two decades (1956) did the team post a losing record.
During those early years, the Browns boasted some of the best pro football players in the game.
A virtual who's-who of NFL Hall of Famers wore the orange, white, and brown for Cleveland.
Among the notables are Otto Graham, Jim Brown, Mac Speedie, Dante Lavelli, Paul Warfield, and Gary Collins.
Another name that is not always mentioned for his team contributions is Paul Wiggin.
Wiggin served 11 years in the trenches at defensive end.
Paul Wiggin pic.twitter.com/AKXR6VtnPJ

— 𝐏𝐫𝐨 𝐅𝐨𝐨𝐭𝐛𝐚𝐥𝐥 𝐉𝐨𝐮𝐫𝐧𝐚𝐥🏈 (@NFL_Journal) May 18, 2017

During his time in Cleveland, he more than held his own and provided stability at his position.
This is a look back at the interesting life and career of Paul Wiggin.

Wiggin Dominates as a Cardinal
Paul David Wiggin was born on November 18, 1934 in Modesto, California.
Wiggin was a talented football player in his youth.
After graduating from high school, he parlayed his skills on the college football gridiron.
However, he had to humble himself first and begin his college career at the Juco level.
Admittedly, he did not apply himself academically in high school.
So, he chose to attend nearby Modesto Junior College in an attempt to shore up his academics.
During his single season at the school, Wiggin improved his grades and played well on the field.
After applying, and getting accepted, to play at Stanford University, his next move was across state.
It didn't take long for Wiggin to showcase his skills for the Cardinal.
Playing both offensive and defensive tackle, he collected First-team All-American honors in both 1955 and 1956.
As a junior in 1955, Wiggin's play was so impressive that the Browns drafted him in the 6th round of the 1956 draft.
"I went to bed, & one of my fraternity brothers came & woke me up. … 'Is there a team called the Cleveland Browns?' I said, 'Yeah, why would you wake me up to ask me that?' He said, 'I think you were drafted by them.' "

Great stuff by @pcraigers 👇🏽

📰: https://t.co/eGjYB9wanM pic.twitter.com/m7RUvwCM7W

— Lindsey Young (@LindseyMNSports) April 23, 2020
Cleveland made the move even though Wiggin planned to return to Stanford for his senior year.
In the NFL at that time, teams could draft college players as "future" picks.
So, after returning to the Bay area to get his masters degree and play the 1956 college season, Wiggin traveled east to Cleveland.

Wiggin Contributes as a Brown
After reporting to training camp in 1957, the Browns moved Wiggin from defensive tackle to defensive end.
That year he started three games and Cleveland went to their seventh NFL title game, where they lost to Detroit 59-14.
During his second season of 1958, Wiggin started eight games while the team made the postseason again, this time losing to the New York Giants in the Conference Playoff Game.
From 1959-1963, the Browns posted winning records each year, but failed to make the playoffs.
However, Wiggin continued to improve and wound up starting every game but three.
During this time period, Wiggin and his teammates watched team owner Art Modell fire head coach Paul Brown after the 1962 season.
The move was wildly unpopular as Brown had led the organization from its inception.
However, two years later, the Browns and new head coach, Blanton Collier, were back in the NFL Championship game.
This time, the Browns faced the mighty Baltimore Colts and were huge underdogs.
Undeterred, a few days before the game, receiver Gary Collins boldly predicted that Cleveland would beat the Colts.
After most of America scoffed at the notion, the Browns did indeed upset Baltimore that day 27-0.
Wiggin and the Browns returned to the title game in 1965, but lost to Green Bay 23-12.
During the '65 season, Wiggin was finally recognized for his skill set and approach to the game when he was voted to his first Pro Bowl.
Football writers and insiders observed that Wiggin had a cerebral strategy to football.
Though he was imposing in size at 6'4" and 240 pounds, he used good fundamentals to shed blockers and stuff the run.
He also had decent speed to rush the quarterback from the edge.
YA Tittle being rushed by Paul Wiggin pic.twitter.com/QDRjgrkN55

— 𝐏𝐫𝐨 𝐅𝐨𝐨𝐭𝐛𝐚𝐥𝐥 𝐉𝐨𝐮𝐫𝐧𝐚𝐥🏈 (@NFL_Journal) November 10, 2019
Unfortunately, sacks were not an officially listed stat during Wiggin's career.
However, it is believed that had they been kept, he would be among the all-time team leader's in that category.
In 1967, Cleveland returned to the playoffs with a 9-5 record and played the Dallas Cowboys in the Conference Championship Game.
Dallas proved to be too good and too talented as they defeated the Browns 52-14.
Wiggin was voted to his second Pro Bowl, playing solid football while starting 11 of 14 games that season.
Then, after one of his best seasons as a pro, he decided to call it quits.
During his 11 year NFL career, Wiggin started in 127 out of 146 games.
He recovered 19 fumbles, intercepted three passes, and had touchdown returns on one INT and one fumble recovery.

A Coaching Career in Football
During his playing days, Wiggin made it known that he intended to be a coach when he retired.
Sure enough, only weeks after retiring, Wiggin went home to California to become a defensive line coach for the 49ers.
As a member of the San Francisco coaching staff from 1968-1974, the Niners made appearances in the 1970 and 1971 NFC Championship games, where they lost to the Cowboys both years.
In 1975, Wiggin was named the head coach of the Kansas City Chiefs.
Paul Wiggin and one of the all-time great flat tops pic.twitter.com/Y8R9ObQ00M

— 𝐏𝐫𝐨 𝐅𝐨𝐨𝐭𝐛𝐚𝐥𝐥 𝐉𝐨𝐮𝐫𝐧𝐚𝐥🏈 (@NFL_Journal) May 12, 2020
Hank Stram had been the first and only coach of the Chiefs since the team's founding.
He had also guided the team to their Super Bowl IV victory over Minnesota in 1969.
After Kansas City posted a losing record in 1974, Stram was shown the door and Wiggin was hired.
Unfortunately, Wiggin had the unenviable task of rebuilding the Chiefs.
Under his tenure (1975-1977), Kansas City never had a winning record.
After a 44-7 loss to his old Browns team in October of 1977, Wiggin was fired and replaced by Tom Bettis.
Not long after leaving KC, Wiggin was hired to be the defensive coordinator of the New Orleans Saints in 1978.
After a two year stint in the Big Easy, Wiggin once again returned to his home state to become the head coach at Stanford.
In four seasons as head coach at his alma mater, Wiggin failed to compile a winning record.
This was in spite of having a young John Elway as his quarterback from 1980-1982.
The closest the team got to a bowl game was in '82, Elway's final year at Stanford.
During a close game against rival Cal, the Cardinal took the lead 20-19 with only four seconds remaining.
All that was left was the kickoff and a quick tackle to seal their sixth win.
However, in what has become college football lore, "The Play" saw the Golden Bears take the Stanford kickoff and lateral five times before inexplicably scoring a touchdown.
As Cal's Kevin Moen was barreling toward the end zone with the ball, he found a significant obstacle in his path.
The Stanford band members, believing the game was over, had started across the field before the game was officially over.
Moen ended up crashing into several members of the band before crossing the goal line for the win.
#blastfromthepast: California Golden Bears vs. Stanford Cardinal – 1982 (The Play) – Five lateral passes on the final kickoff for Cal to score the winning touchdown #ThrowbackThursday #tbt #football 👏🏈🏆 pic.twitter.com/MNmcMFB4tN

— Viper Nation (@vipernationart) November 16, 2017
The loss put Stanford at 5-5 on their way to a 5-6 season record.
When the Cardinal ended the 1983 season 1-10, Wiggin was fired.
In four seasons at Stanford, he had a 16-29 overall record including 11-20 in conference play.

On to Minnesota
In 1985, Wiggin took a position as defensive line coach of the Minnesota Vikings.
At the time, the Vikings had a solid group of defensive linemen including end Chris Doleman, and tackle Keith Millard.
As a coach for Minnesota from 1985-1991, Wiggin led a unit that paced the Vikings to three straight playoff appearances from 1987-1989.
This run included a 17-10 loss to the Washington Redskins in the '87 NFC Championship game.
At the conclusion of the 1991 season, Wiggin moved to the front office.
As a senior consultant for the team, he remains a member of the Vikings staff to this day.
At an age when most people have long since retired, Wiggin is still going strong at 85.
The 2020 season will mark the eighth decade Wiggin has spent in the game he loves.
Honor to have Legend Paul Wiggin current Vikings Sr. Consultant, former Stanford Defensive Lineman and Head Coach with #RUSHMEN at #StanU pic.twitter.com/Jv6x090xXp

— Diron Reynolds (@Coach_Diron) April 15, 2017
Although he remains humble about his contributions to the sport of football, fans and sports media have made sure to recognize Wiggin.
In 2013, Cleveland.com put together their list of the 100 greatest Browns of all time.
Wiggin was number 42 on the list.
In an interview with the site after his recognition, he summed up his life as well as his time as a Brown.
"In the world of athletics, and I've been in athletics all my life, any time the world thinks you can't do something, and 'the world' being the press, the fans… and you do it and you walk away accomplishing what people said you couldn't accomplish, that in your mind is a great day.  And that's really in all walks of life, not just in athletics."