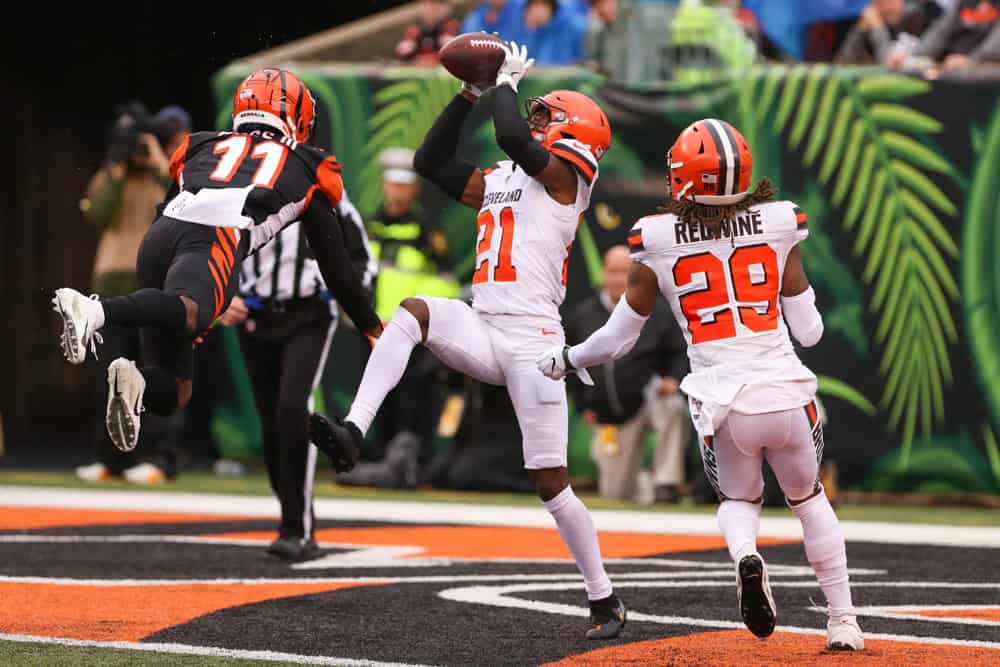 Since the Cleveland Browns are currently undefeated, the time for predictions and prognostications is here.
Why, you ask?
Because everyone's predictions are right.
With that mindset, I am sharing my predictions for the 3 most valuable defensive players in 2020.
Like the Billboard Music Countdown, we will go in descending order.
3.  Denzel Ward – CB
Denzel Ward had a rookie dream season in 2018 after being selected by the Browns in the 1st round (4th overall pick) of the 2018 NFL Draft.
He was selected to the Pro Browl in his rookie year; a feat that hadn't happened since Joe Thomas did it in 2007.
39 tackles and 3 INTs in 13 games were the reasons he got the call for the Pro Bowl.
2 of those INTs were in his first NFL game in Week 1.
In 2019, the "sophomore slump" occurred by way of nagging hamstring and ankle injuries that lingered throughout the season.
Ward did score on a Pick 6 in 2019 ending a 2-year drought of interceptions returned for a TD by the Browns defense (2017 – Jason McCourty).
Denzel Ward continued to show flashes of greatness in his 2nd year with the #Browns.

Allowed a completion percentage of 48.2% (7th among CBs). Down from 51.1% in 2018.

Allowed only 1 TD in '19. (5 in '18)

QBs had a passer rating of 62.2 when targeting Ward. (72.8 in '18)
🔒⬇️ pic.twitter.com/uay1K0ebyR

— The Hottest Take Sports Podcast (@Hottest_TakePod) June 23, 2020
He is young, healthy, hungry, and a bit offended that a recent Bleacher Report article did not rank Greedy Williams and him among the top 7 CB duos in 2020.
2.  Grant Delpit – Safety
The Browns defense got a big time upgrade with Grant Delpit 👊🏽 pic.twitter.com/p6lCEcpiVQ

— Everything Cleveland (@EverythingCLE_) May 12, 2020
Yes, I am picking a rookie for defensive MVP.
As just mentioned, Denzel Ward had a magical rookie season so it is very possible.
And expectations are equally high for Grant Delpit to come in and immediately be a playmaker.
Pass protection is where he shines.
He can play and read multiple coverages.
Tackling issues are believed to be the reason he slipped to the 2nd round of this year's draft, but once the fundamentals are worked on, Delpit can earn MVP status.
Another reason I picked Delpit is because he showed tremendous leadership last year in the Championship run for LSU despite dealing with injury issues.
That makes him MVP worthy in any locker room.
1.  Myles Garrett – DE
Even Garrett himself wouldn't be surprised by this ranking.
He shoulders the publicity and expectations of the Browns defense.
Myles Garrett is a household name outside of Cleveland after the Mason Rudolph altercation and suspension last year.
In my mind, he is the defensive version of Baker Mayfield.
How the Browns defense plays will be dictated by his performance in 2020.
We know he is a tremendous athlete.
Light cardio pic.twitter.com/GVYv1BYuU7

— Myles Garrett ⚡️ (@MylesLGarrett) June 23, 2020
So this is really a no-brainer.
Honorable Mention – Adrian Clayborn – DE
Acquiring Clayborn via free agency from the Falcons makes the Browns better.
Clayborn is a former 1st round pick who once had 6 sacks in a single game, just 1 short of the NFL record.
(For you history buffs, Derrick Thomas of the Kansas City Chiefs recorded 7 sacks in the November 11, 1990 game against the Seattle Seahawks.)
While his on-the-field performance earns him honorable mention, his off-the-field community efforts (most recently with A Better Chicago to provide meals for families in need) make him an MVP of life.
Admittedly, the Browns defense is loaded with many potential MVP candidates so your list could be decidedly different than mine.