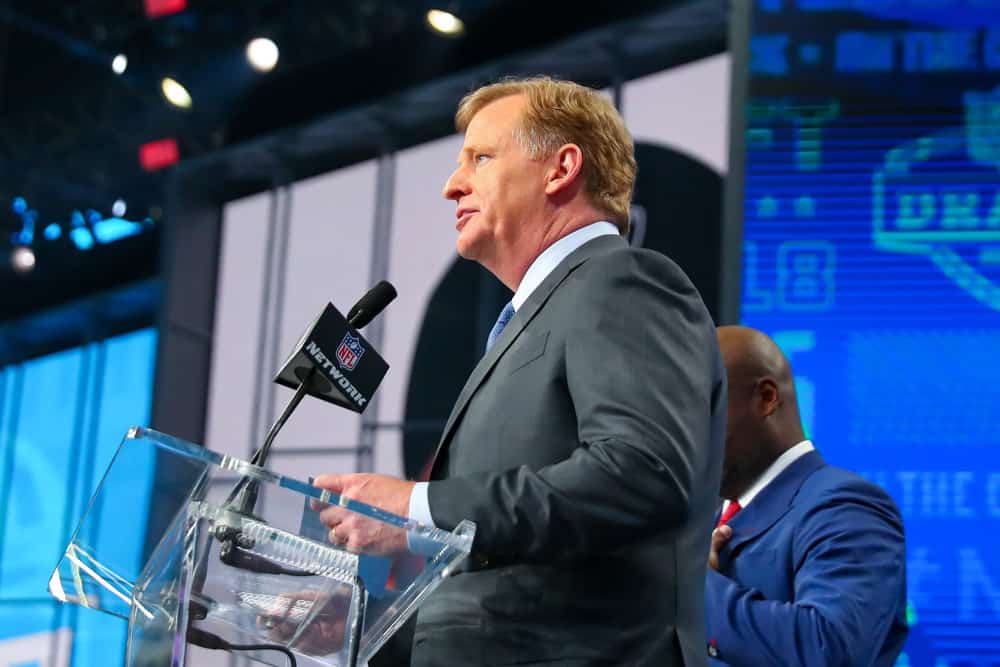 The NFL Draft is fast approaching and the Cleveland Browns have a big decision to make in drafting their left tackle of the future.
With a draft that is deep in blue-chip offensive lineman prospects, the Browns will certainly have options at pick 10.
Some of the top lineman that have been connected to the Browns include Iowa's Tristian Wirfs, Louisville's Mekhi Becton, and Georgia's Andrew Thomas.
But with a new head coach and new front office that believe in using data to make decisions, which OL prospect would favor analytics at pick 10?
According to Pro Football Focus' latest Analytics mock draft 2.0, a name to keep an eye for the Browns is Houston OT Josh Jones.
Josh Jones: Elite pass-blocker pic.twitter.com/Yvu8ztOhed

— PFF Draft (@PFF_College) March 30, 2020

Here's what PFF had to say about Jones:
The Browns signed Jack Conklin, who played right tackle in Tennessee. While Conklin helps their pass protection situation, he certainly does not solidify it. Jones earned the second-highest grade of any tackle we graded last season and impressed at the Senior Bowl.
ANOTHER Josh Jones highlight💪 pic.twitter.com/F9oWst7lQ0

— PFF Draft (@PFF_College) January 23, 2020

Dan Labbe of Cleveland.com had this to say about Jones:
If the Browns have an interest in Houston tackle Joshua Jones, it's probably because of one word: athleticism.
General manager Andrew Berry has also mentioned that athleticism is important to the Browns in choosing lineman.
"We want guys who can move, we want guys who are athletic to run wide zone," Berry said. "That doesn't preclude us to acquiring guys that have a little bit more power and snap at the line of scrimmage and at the point of attack, but certainly movement is a priority."
Head coach Kevin Stefanski echoed this same feeling.
"When it comes to offensive tackles and offensive line in particular, we value movement skills," he said.
NFL.com's Lance Zierlein had this to say about Jones:
He's a "plus athlete" and "a good fit for a move-oriented rushing attack." He's athletic but still needs some work, which is what teams like the Browns will try to balance as they make a decision on Jones.
Jones himself has sensed teams that use a zone blocking scheme have shown a real interest in him.
"Inside zone, outside zone, a wide zone, they love it," he said. "Me being able to open up and get to the outside shoulder of a D-lineman or even drive block a man downfield."

"Those corners and linebackers, they see a 300-pound man running at them, they've got to make a decision," he said, "get out of the way, duck, whatever they've got to do, but that just opens up lanes, opens up pathways for the running backs or receivers."
Jones also mentioned that he has met with the Browns and had a film session where they watched both good and bad tape of him.
Our writer Ben Donahue had this to say about Jones:
Josh Jones has risen steadily as a first-round talent this year in the eyes of NFL scouts. He has a background in basketball and one quickly sees his athleticism when watching film.

Jones is 6'7", 310 pounds and this size makes him difficult to beat. When a play begins, Jones is quick to wall off his opponent and protect the blind side.

Rarely is Jones beaten either inside or outside. Numerous scouts point out the fluidity in his movements.

Since he has been a starter for Houston since his freshman year, not much surprises him. Jones knows what to expect in most situations and plays with an ease that highlights his experience.

Due to his size, Jones can manhandle his opponent. In numerous game clips, Jones can be found burying his opponent when pass or run blocking.

If he gets in a solid initial punch, Jones is difficult to get past. Despite all the strengths Jones brings to the game, scouts have seen weaknesses.

Many scouts have pointed out Jones' issues with upper body mechanics. If he is beaten at the snap, Jones has shown difficulty recovering to stop the defender.

His length works against him in these instances and he looks stiff. Also, when Jones maneuvers to the second level, he can miss defenders and can look lost.

A number of scouts have commented on Jones' poor striking ability. At the snap, he can miss defenders and will absorb, rather than strike, at the point of attack.

All around, Jones needs to show more consistency, especially given his extensive experience. Jones' ability and ceiling is huge.
Here's how Jones performed at the combine.
MEASURABLES
Height: 6-5
Weight: 319
Bench press: 24 reps of 225 pounds
40-yard dash: 5.27 seconds
Vertical jump: 28.5"
Broad jump: 109.0"
Arms: 33 7/8"
Hands: 10 1/8"
Josh Jones Senior Bowl Interview