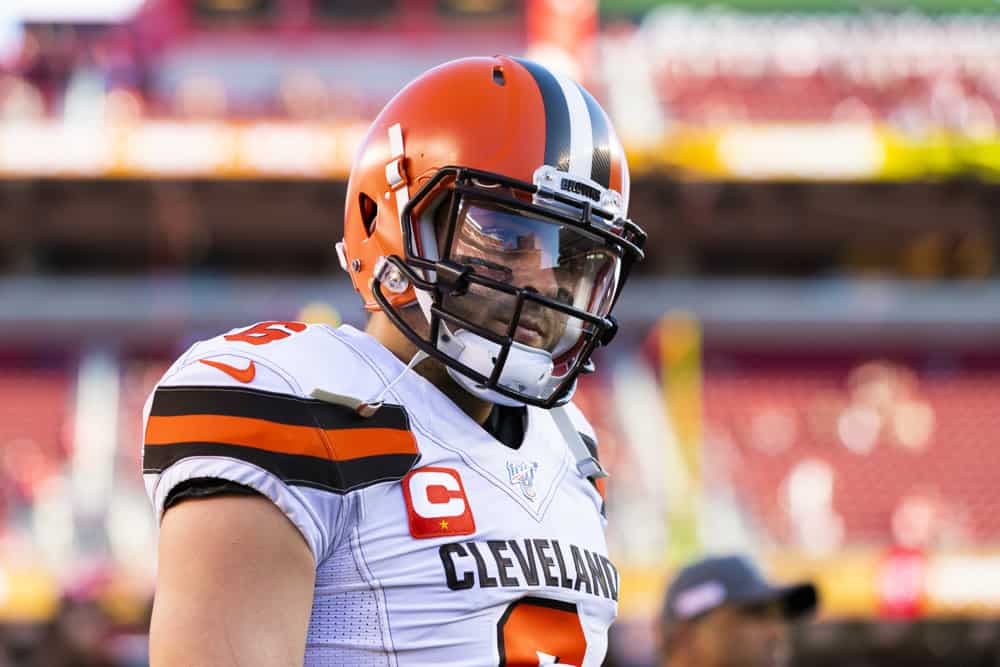 So far, it's been a rough offseason for Cleveland Browns quarterback Baker Mayfield.
But, it seems Mayfield is using the latest criticism and quarantine time to get in shape.
Mayfield has been highly criticized this offseason for his physique, and it seems he has kicked his work out program into high gear.
"Trying to keep my sanity during this quarantine period. #MambaMentality," Mayfield wrote
The photo drew plenty of reactions and responses, including six-time super bowl champion Tom Brady who wrote: "Looking good young fella."
Teammate Jarvis Landry also responded on the post saying "6 paaaaac Bake."
Mayfield's wife, Emily, also posted one of the photos on her Twitter account with the caption "Killing these garage workouts.''
Mayfield criticized in recent push-up challenge, offseason photo
Last week, Mayfield took criticism when he was called out by teammate Jarvis Landry to do the viral 10 push up challenge.
He asked everyone to excuse his floppy hair, but many did not excuse his form in the video when doing the push ups.
#Browns QB Baker Mayfield joins in on the push-up challenge pic.twitter.com/UsoHu59UN5

— BrownsWave \\: (@Brownswave) March 22, 2020

Mayfield was also body-shamed earlier this year when he appeared in a shirtless photo that was taken on a Caribbean vacation.
i feel like im the baker of my friend group 😂 pic.twitter.com/GGd4Sx6g4B

— gabb 🌟 (@gabbgoudy) January 30, 2020

The shaming got so bad that Saquan Barkley (who appeared in the photo), defended Mayfield.
Barkley told TMZ Sports:
"He's a quarterback, he's not supposed to be shredded," Barkley told us at the Sports Illustrated party in Miami over the weekend.

"We in off-season, he's gonna have time to get his body right. He can throw the ball 80 yards. That's the only thing that matters."
Mayfield looking for a rebound year in 2020
After a disappointing sophomore season, Mayfield wants to be "slimmer" and "faster" in 2020 according to NFL Network's Ian Rapoport.
An important focus for the #Browns heading into 2020: QB Baker Mayfield's fitness and body makeup. From what I understand, he put on some weight last year to bulk up and lost some quickness. His plan is to be slimmer & faster this year, with an emphasis on being in better shape.

— Ian Rapoport (@RapSheet) February 26, 2020
After finishing as the Offensive Rookie of the Year in 2018, Mayfield's production dropped significantly in 2019.
In 2018, Mayfield completed 63.8% of his passes for 3,725 yards and 27 touchdowns.
In 2019, Mayfield fell to a 59.4% completion percentage for 3,827 yards and 22 touchdowns to 21 interceptions.
His quarterback ranking of 78.8 was the second-worst in the league.
New offensive coordinator Alex Van Pelt is eager to work with Mayfield.
The new Cleveland Browns offensive coordinator revealed during his introductory press conference that he wants to "change the footwork" of Mayfield this off-season.