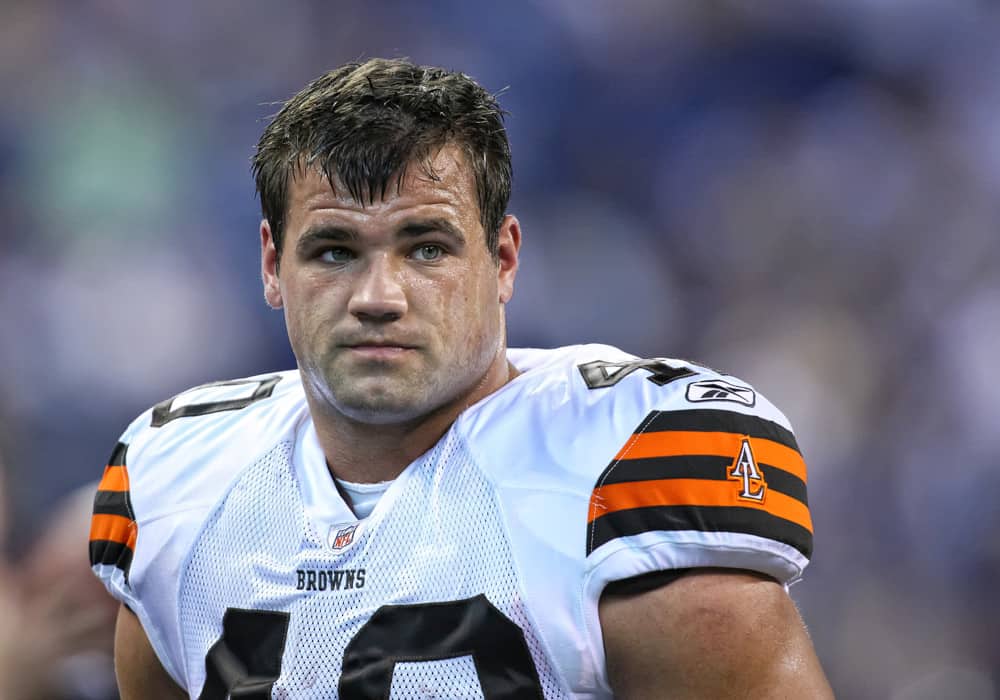 Former Cleveland Browns running back Peyton Hillis recently emerged from an 8-year social media hiatus with a bang.
"This is for Cleveland," Hillis tells the camera before burning a tackling dummy with Steelers gear on with a flamethrower.
Had some fun!!! No one likes the Steelers.. pic.twitter.com/UCuG24u73c

— Peyton Hillis (@thepeytonhillis) July 3, 2020
Not taking himself too seriously, Hillis followed up with this Tweet.
I see I have to buy a better phone!

— Peyton Hillis (@thepeytonhillis) July 3, 2020
Call me crazy, but I did not know Hillis was burning Steelers garb until I read it elsewhere.
Hillis definitely needs a better phone.
Peyton Hillis's "newsworthy" video tells us a few things.
1. Hillis is a Die Hard Cleveland Brown.
This isn't news.
Hillis has long since admitted that his best football years were spent in Cleveland.
He was ping-ponged around to 4 other teams in his career including: Denver, Kansas City, Tampa Bay, and New York (Giants).
His stats in 2010 jump off the page when the rest of his resume is considered.
Hillis rushed for 1,177 yards and 11 TDs, and he netted 477 receiving yards and 2 TDs.
That stellar performance won Hillis the cover for the Madden 12 game; he beat out Michael Vick.
The well-documented Madden curse fell on Hillis who was only about half as productive in the 2011 season.
2. Americans Are Hungry For Sports.
The fact that this grainy video has 13,500 views tells us what we already knew.
This pandemic has America struggling in large and small ways.
In the middle of it, sports are missing from our everyday life.
Every day, there is a new cancellation or delay in every major sport.
Today's NFL rumor is that the preseason could be abolished altogether in 2020 (more on that below).
Just turn on ESPN, folks, it is dismal.
The American Federation of Competitive Eating did manage to pull off a socially distant (no fans) Nathan's Hot Dog Eating Contest on July 4th, but that was even ho-hum.
Now what's left to watch: corn hole.
No offense, corn hole fans, but that's not what most ESPN watchers are looking for.
3. The Browns-Steelers Rivalry Rolls On.
NFL rivalries still thrive.
Peyton Hillis is firing up the Browns fans who really need no encouragement.
The Browns do not like the Steelers.
Most fans view September 10, 1989 as one of the best days in NFL history.
That's when the Browns handed the Steelers their most lop-sided defeat in the rivalry during the opening game of the 1989 season.
The final score was 51-0.
Despite that blowout, the Steelers own the Browns in head-to-head matchups.
Cleveland has 58 wins, 75 losses, and 1 tie overall.
No NFL Preseason?
I suspect more people will be stirred up if the NFL preseason games go away entirely than by Peyton Hillis's amateur video antics.
Just 3 short days ago, the NFL announced it would drop 2 preseason games and keep 2.
Now we learn that the NFL Players Association unanimously voted to eliminate the entire 2020 preseason.
On Thursday night's NFLPA call, the union's board of reps voted unanimously to recommend that the NFL play no preseason games this year. It's unclear whether the league, which has already decided to cut the preseason from four games to two, will consider the recommendation.

— Dan Graziano (@DanGrazianoESPN) July 3, 2020
The idea behind scrapping the preseason games is to allow the players a longer time to prepare for the regular season.
While Peyton Hillis's video makes us laugh and cheer, it also shows us just how sad and lonely we are without professional sports.
I mean most of us usually complain or scoff about the preseason, but this year we would welcome a semblance of a preseason.
Hopefully, the NFL can find a path to play safely in 2020.