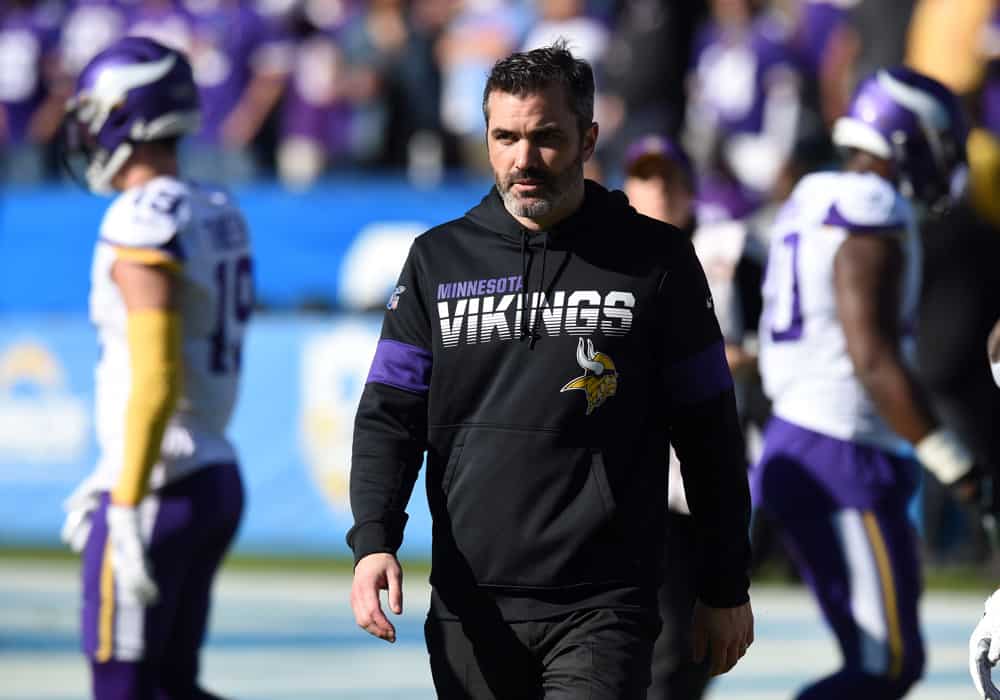 Minnesota Vikings GM Rick Spielman knows a thing or two about Kevin Stefanski.
The new Cleveland Browns head coach formerly worked for 13 years with the Vikings.
During his combine interview on Tuesday, Spielman lauded Stefanski as a potential "phenomenal head coach."
#Vikings GM Rick Spielman believes Kevin Stefanski will be phenomenal head coach for #Browns pic.twitter.com/wtIeuiBzhs

— Nate Ulrich (@ByNateUlrich) February 25, 2020
Known For Awhile
Technically, Stefanski was almost hired a year ago.
When former GM John Dorsey was looking for a new full-time head coach, he nearly hired Stefanski.
Instead, he hired Freddie Kitchens and the rest was history.
Stefanski was an integral part in helping guide Vikings quarterback Kirk Cousins to one of his best seasons.
Cousins finished fourth in the NFL with a passer rating of 107.4 and 26 touchdowns to just six interceptions.
"He's grown in that [leadership] role,'' Spielman said. "I went and sat in the offensive meetings, and from where he's a young pup to where he is now, it's calm, cool and collected. There's a presence in front of a group. When I saw him present to the offense last year in that room, he grabs their attention. You can usually tell by the players, if they're nodding off or, and they had all eyes on him and listened to his message. I think he's going to be a phenomenal in that way."
Mike Zimmer's Take
The Vikings head coach didn't want to lose his OC but understands why the Browns wanted him.
When talking to the media on Tuesday, he called Stefanski "detail-oriented."
#Vikings head coach Mike Zimmer on new #Browns head coach Kevin Stefanski + his take on analytics, which his GM Rick Spielman loves…. (spoiler: he's not a fan, yet they are able to work well together) pic.twitter.com/SrbEtLeteX

— Daryl Ruiter (@RuiterWrongFAN) February 26, 2020

Kevin Stefanski's former boss – #Vikings head coach Mike Zimmer – was complimentary of his ability to lead the #Browns as head coach. https://t.co/8KOKTOX0Bp pic.twitter.com/YtKHgLGOL0

— 92.3 The Fan (@923TheFan) February 27, 2020
Consolation Prize
Spielman was happy that one member of the Vikings speculated to leave came back.
Assistant GM George Paton was in the running to become the Browns general manager but backed out.
When it came to Paton returning, Spielman had this to say:
"I've been relieved a lot of years,'' he said. "We've been together, I don't know, maybe 24 years together and I'm very fortunate that – one, the ownership group I work with, but also the talent that's around me. I know I can't do it without the talent around me. That's a credit to those guys."
Final Thoughts
Stefanski spent a large portion of his life with the Vikings, so he should receive the praise from the Vikings brass.
In the middle of the season, Stefanski was credited for wanting to learn anything.
Zimmer also had high praise for Kubiak's mentorship of Kevin Stefanski during the #Vikings OC's first full year. Added: "He's open to anything that makes sense. That's the kind of guy he is."

— Andrew Krammer (@Andrew_Krammer) November 13, 2019
Being a first-year coach, he will have bumps along the way.
However, it appears that he is someone that is willing to put the work in.