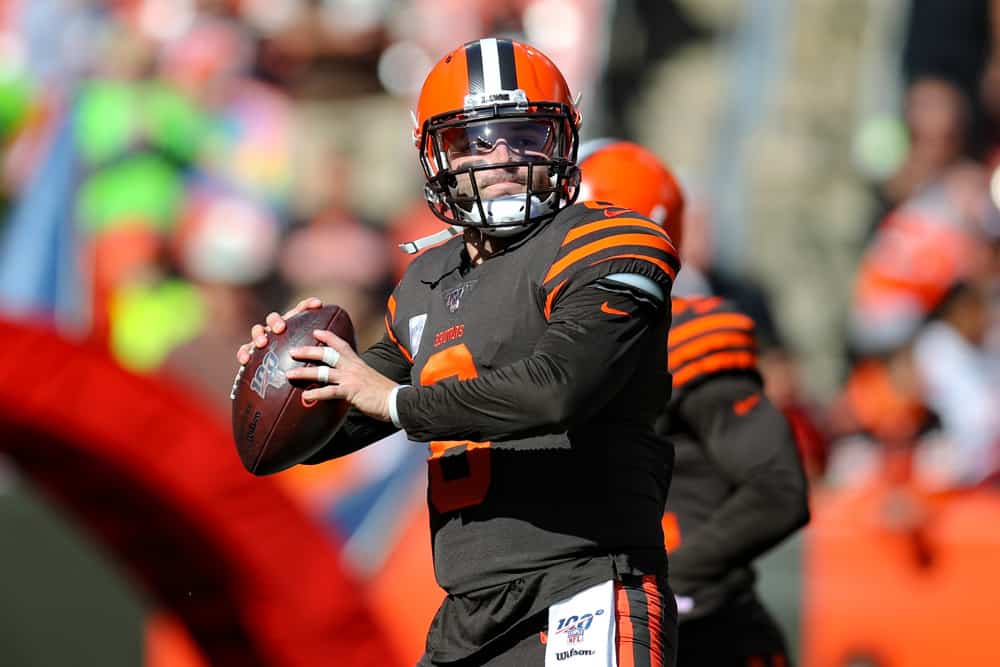 ESPN NFL analyst Bill Barnwell released a lengthy and informative column about Baker Mayfield.
In the column, Barnwell discusses many reasons why the third-year Cleveland Browns quarterback will improve in 2020.
The title of the article spells out the article's contents: "What went wrong for Baker Mayfield, and can he be fixed? A progress report on the Browns QB."
Barnwell's first section "Where it all went wrong for Mayfield in 2019" is followed by him discussing where improvements can be made.
If Mayfield can bounce back after his sophomore slump, he could be well on his way to making a name for himself in Browns history.
Barnwell's Progress Report Series Shows Some Optimism for Mayfield
As a part of Barnwell's progress report column series, he is also featuring other 2018 NFL draftees Lamar Jackson, Josh Allen, and Sam Darnold.
Barnwell thinks Mayfield, who is Pro Football Focus' top "prove-it" player for 2020, will be able to prove that he can be a strong quarterback.
ESPN analysts Mike Tannenbaum and Bobby Carpenter are not very high on Mayfield.
Tannenbaum thinks that the Browns are going to have Mayfield on a very short leash in 2020, while Carpenter believes that Mayfield could turn into Alex Smith.
Barnwell has a different opinion though.
He thinks that the job is Mayfield's this upcoming season, but he is not sure about after this season.
Barnwell sees the ups and downs of Mayfield's play with the next two clips.
The first of the two is an impressive play:
oops pic.twitter.com/qsJgs1MqSB

— Bill Barnwell (@billbarnwell) June 27, 2020
The second clip is not so impressive:
This is not quite as cool – screen to the TE where three blockers go into the flat and the only one who touches a 49ers player goes for a ride pic.twitter.com/7fvJqIVsav

— Bill Barnwell (@billbarnwell) June 27, 2020
Although Mayfield saw his play dip in his sophomore season, Barnwell shows optimism with the advanced statistics, including DVOA (Defense-adjusted Value Over Average):
"Advanced metrics were a little more optimistic. Mayfield ranked 19th in DVOA and 16th in Total QBR, with the latter figure finding some subtle value in his performance."
Mayfield also succeeded in an area that does not typically appear on the stat sheet:
"He added 14 first downs via pass interference penalties, which was tied for the second-most in football behind Philip Rivers. He also didn't run frequently, but he was efficient when he did, ranking seventh in DVOA."
With Odell Beckham Jr. and Jarvis Landry as receivers, Mayfield was able to take advantage.
He impressively was able to draw many penalties on opposing secondaries.
How to Measure Mayfield's Success
Barnwell also presented an interesting few ways of measuring the quarterback's attempt at a bounceback season in 2020:
"1. He needs to grow more comfortable in the pocket."
Mayfield showed an impressive pocket presence at the beginning of his rookie NFL season, as evidenced by this PFF article.
However, Barnwell needs to see improvement after a poor 2019.
With the additions of both Jedrick Wills Jr. and Jack Conklin, the Browns are ready for 2020, but we will have to see if better pocket protection means better pocket presence.
If Mayfield continues to be the leader the Browns need him to be, then he will do so on the field after having such a great offseason.
"2. He needs to cut his interception rate."
Every Browns fan remembers that Mayfield's interception total was north of 20 last season.
The rookie phenom, who had almost a two-to-one touchdown-to-interception ratio in 2018, was close to one-to-one in 2019.
The upcoming season will be very important for the potential franchise quarterback, as he will look to improve.
If Mayfield's interception rate (percent of pass attempts that end with an interception) is more like three percent instead of four percent, then Mayfield will receive high marks for this measure of success.
Unsurprisingly, 2018's INT rate was three percent, and 2019's one was four percent.
"3. He needs to leave no doubt."
Barnwell compares the Browns to the Bears and compares Mayfield to Mitchell Trubisky.
Nick Foles may replace Trubisky in Chicago, and if Mayfield struggles in 2020, then the Browns could find a replacement for him in 2021.
Barnwell sums up the upcoming Browns season in a succinct way relating to Mayfield:
"The Browns don't have to be great, but they can't be depressing, at least not on his account."
We will have to see if the Mayfield can prove that 2020 is going to be his breakout year.