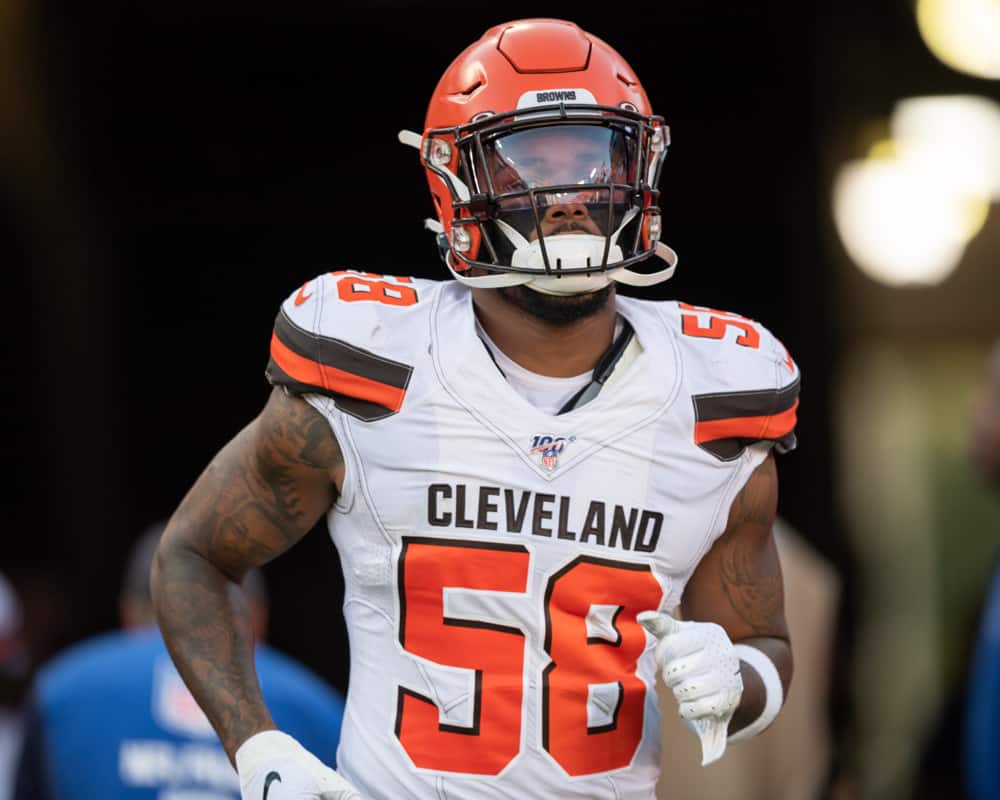 The Cleveland Browns decided to save some money in what could be a critical off-season for the franchise.
According to Mary Kay Cabot of cleveland.com, the Browns parted ways with linebacker Christian Kirksey after failing to restructure his deal.
#Browns announce they've released LB Christian Kirksey

— Mary Kay Cabot (@MaryKayCabot) March 10, 2020
Christian Kirksey, 27, was due to make $8.75 million in 2020 and $9.25 million in 2021.
The Browns are reportedly also letting linebacker Joe Schobert walk in free agency.
Schobert led the team in tackles and finished as a Pro Bowl selection.
Kirksey compiled 484 tackles, 11.5 sacks, two interceptions, four forced fumbles and three fumble recoveries in his Browns' career from 2017 to 2019, while also serving as a captain.
With two major holes on defense, the Browns have two possible directions.
1. Olivier Vernon Remains In Cleveland
Vernon is 29-years old and due $15.25 million in the second year of his deal with the Browns; however, none of it is guaranteed.
Vernon missed the second half of last season with a knee injury.
With that being said, Vernon was paid a high salary for 3.5 sacks in 10 games.
As of now, he is the highest-paid player on the team.
According to Cabot, if Vernon wants to stay, he would have to accept a pay cut.
However, despite freeing up some extra money, the Browns have a greater need on defense.
When Vernon was traded from the Giants, he was coming off his first career Pro Bowl appearance.
Again, his numbers prove that, when healthy, he can be a force on the defensive end.
Looking at his final year with the Giants, Vernon had 21 QB hits.
That's more than twice any other player and he missed 5 games.
The Browns could be selling Vernon's stock too quickly if they let him go.
New #Browns EDGE Olivier Vernon had his best ever grade last year with the Giants. https://t.co/WbdKIixIC8

— PFF CLE Browns (@PFF_Browns) March 8, 2019
;
Reports initially claimed that the Browns were going to release Vernon.
We don't know what the conversations Berry and Vernon are having behind closed doors.
With Schobert and Kirksey gone, the Browns need some production on the defense.
If Healthy, Vernon can be formidable, but the overshadowing question is for how much?
2. Browns Trade Up For Isaiah Simmons
Berry has already told us that he is "flexible" about trading up or down in the draft.
The Browns are about to be without two professional linebackers.
You don't think the Browns have their eyes on Clemson's Isaiah Simmons just a little bit?
The Browns have the No. 10 overall pick in the first round; however, Simmons is off the board in many mock drafts.
If the Browns wanted to trade up, Simmons is everything a defensive coordinator wants in their scheme.
At the combine, Simmons ran the 40-yard dash in 4.39 at 238 pounds.
His workouts at the NFL Combine were so great that ESPN analyst Louis Riddick proclaimed Simmons is a top-4 pick.
Isaiah Simmons should not go no lower than 4th overall. Just sayin 🤔😳

— Louis Riddick (@LRiddickESPN) March 1, 2020
When you look at his overall makeup, there is no argument to Riddick.
With Schobert and Kirksey out, Simmons would immediately start on defense for the Browns.
Isaiah Simmons
2020 #NFLCombine

• Taller than DK Metcalf

• Heavier than Roquan Smith

• Faster than Devin Hester

• Jumps higher than Julio Jones

• More explosive than Alvin Kamara@ClemsonFB @isaiahsimmons25 pic.twitter.com/NeotE79Ivg

— NFL Research (@NFLResearch) March 1, 2020
If the Browns traded up for Simmons, that would allow the Browns to look into free agency.
The Browns are in need of a left tackle, so that would negate any need to look in the draft.
All in all, Kirksey is one of many dominoes that are about to fall.
Let's see where the rest land.