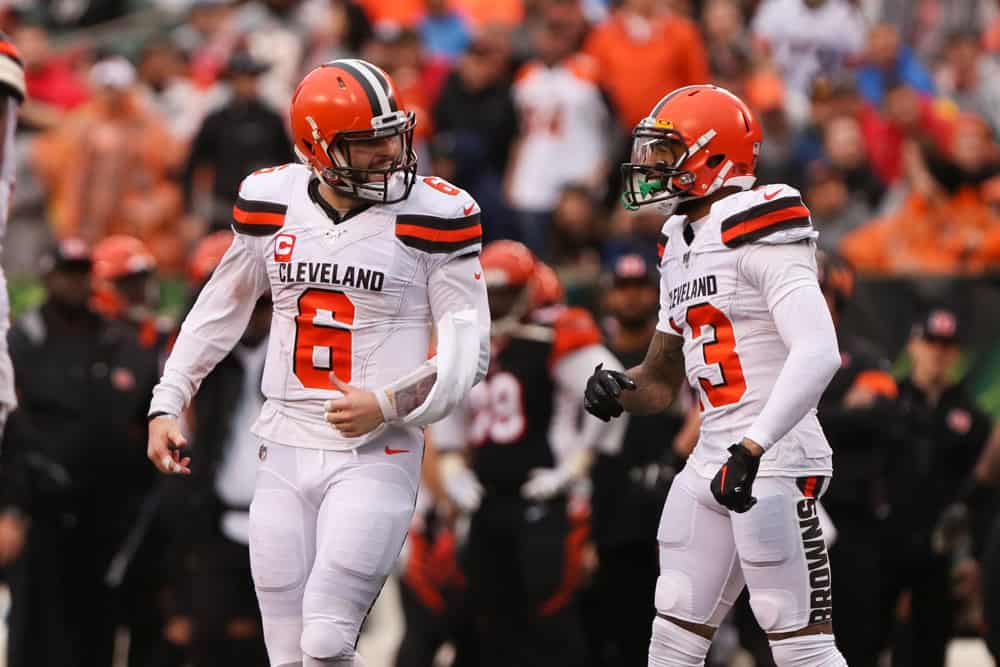 What could possibly go wrong for the Cleveland Browns?
If you are a lifelong Browns fan, you could think of five potential answers within milliseconds.
Given that the Browns have not made the playoffs since 2002, there's plenty of reason to be hyped going into the 2020 season.
A free agency splurge by the Browns front office certainly gives reason for optimism.
A new head coach and culture on the horizon helps too.
But, you know this story all too well.
It's too good to be true and something is surely set to go wrong.
Here are three potential scenarios.
#1: Baker Mayfield Regresses
After throwing 27 touchdowns to 14 interceptions with a passer rating of 93.7 in 2018, Mayfield's 2019 numbers took a hit.
Mayfield finished 2019 with the league's second-lowest passer rating (78.8) and 23 touchdowns to 20 interceptions.
With an offensively minded head coach (Kevin Stefanski), new offensive coordinator, and all the weapons in the world on offense, one would think that 2020 will be better.
However, Blake Bortles is a perfect example of regression.
From year two to year three, Bortles dipped from 35 touchdowns to 23 and an 88.2 passer rating to 78.8.
Bortles never had the likes of a Jarvis Landry and Odell Beckham Jr. to throw at either.
What's even more concerning about Mayfield's 2019 is that his passer rating was lower than Johnny Manziel's at one point.
Baker Mayfield's QB rating in his second NFL season is 71.3.

Johnny Manziel's QB rating in his second [and final] NFL season was 74.4.

Manziel had 7 TDs and 5 INTs.

Baker has 7 TDs and 12 INTs. https://t.co/6V9BrwEv4b

— Dov Kleiman (@NFL_DovKleiman) November 5, 2019
Again, if it's too good to be true, then sometimes it is.
#2: Too Much Drama For Kevin Stefanski
Let's pretend that the Browns start the season 3-3, or worse 2-4.
We all know the narrative of losing.
When teams continuously lose, the talking points outweigh the play on the field and the Browns have plenty of storylines.
The season hasn't even started and the Browns players are making headlines for the wrong reasons.
Heck, Beckham Jr. was already in the news in January for throwing out money at the CFP National Championship.
Then, Kareem Hunt has his backstory and was caught with marijuana.
A former Browns quarterback claimed that Case Keenum could take Mayfield's job.
If the Browns do not get off to a good start, the drama starters will break out of their shell.
For a first-year head coach, it may be difficult to put a lid on things.
#3: History Repeats Itself
We need to address the elephant in the room.
The Browns have one winning season since making the playoffs in 2002.
In 2007, the Browns went 10-6, and finished second in the division but failed to make the playoffs.
The Tennessee Titans qualified as the No. 6 seed for winning a tiebreaker for a higher winning percentage against common opponents.
When a team has a 17-year playoff drought, there typically isn't just one specific thing to point out that could fail.
It's been a collaborative failure.
#Browns will look to snap their 18-game home losing skid, which is the 3rd longest drought over the past decade & a half pic.twitter.com/r9mMTBQTzf

— Sportsnet Stats (@SNstats) September 20, 2018
The Browns could have all the talent in the world on the roster.
The fact is the team has proven nothing, so there's no reason to believe that 2020 could be just another season of losing.
The 2019 season was a perfect example.