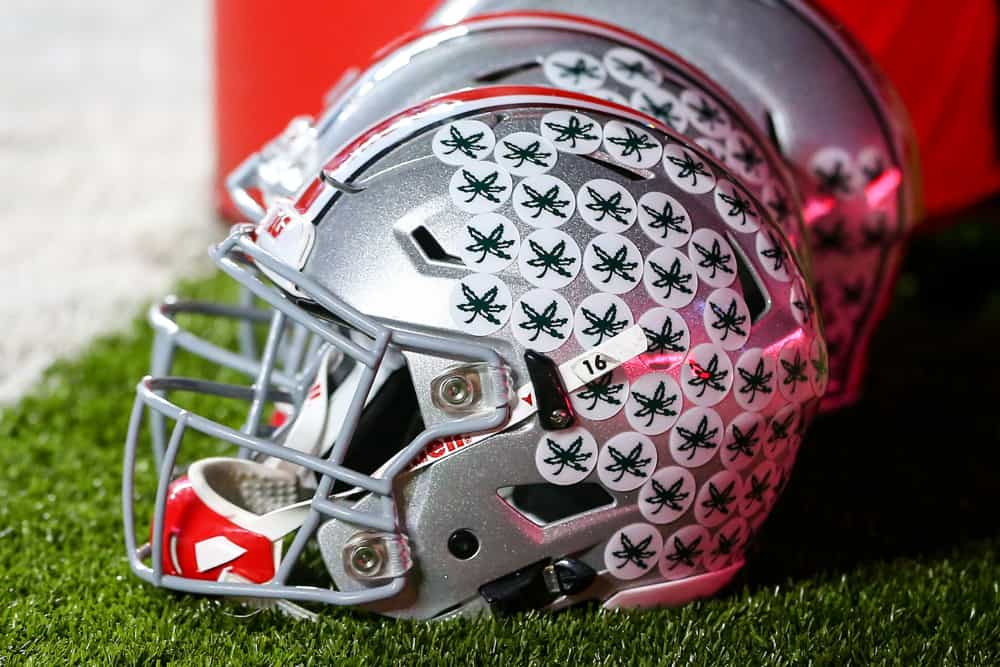 The Ohio State Buckeyes have produced some of the best players in the NFL today.
Players like Michael Thomas, Ezekiel Elliott, Joey Bosa, and Nick Bosa are all recent athletes who wore the scarlet and gray.
In 2018 with the 4th overall pick, the Browns chose cornerback Denzel Ward from Ohio State.
Ward made the Pro Bowl in his rookie year.
There are plenty of options of talented Ohio State players in 2020 that could help the Cleveland Browns.
With that being said, Chase Young and Jeff Okudah will not be considered as they will most likely be selected before the Browns first-round pick.
Ohio State LB Malik Harrison (@Leek_39) Highlights

Harrison is a hard hitter who makes plays all over the field. He'll make a tackle behind the line of scrimmage one play & then will drop back into coverage next play to defend a pass

Full Video 🎥: https://t.co/Re1uwU8JOM pic.twitter.com/HL6a5eCsy2

— JustBombsProductions (@JBP_Official) January 22, 2020
Harrison had a breakout season his junior year.
From that year on, Harrison was a problem for opposing offensive lines and quarterbacks alike.
In his junior and senior year, Harrison combined for 156 tackles, 25 tackles for loss, and 6 sacks.
At the combine, Harrison was turning the heads of scouts.
He earned a 6.34 out of 8 as his combine score, which is very promising going into the draft.
Here is what our draft writer Ben Donahue wrote about Malik Harrison:
Harrison has really developed into a versatile, dependable defender.

As a former high school quarterback, he has a good feel for the game and anticipates plays well.

Harrison plays fast and, when running "downhill," can lower the boom.

His hand strength is positive, if he gets a hold of you, you're going down.

His 6'3", 246-pound frame make him tough to move.

He will use his size to unload into blockers and stop a play immediately.

Harrison has plus hand placement and can use leverage against a larger opponent.

He is fast and he can frequently be found shooting gaps to take out ball carriers.

In pass defense, Harrison has good length to close throwing windows.

He can also be found covering short zone areas with confidence.

Despite his increased production, scouts do see some red flags.

For starters, he is not the most fluid or flexible athlete.

He does not have the ability to cover deep in passing situations.

Also, he does not have great lateral speed or quickness leading to misreads and missed tackles.

Harrison has a good track record on special teams.

Look for him to continue on special teams as well as a Mike or SAM 'backer in the pros.
That just my boy @BrandenBowen (#76) tossing Michigan players for a TD. No big deal. @katelinds @OhioStateFB @OhioStAthletics @FOXSports pic.twitter.com/3SV8wZ4Uyu

— RG-for-3 (@Yo_Geertz) November 30, 2019

Next, is Branden Bowen.
He is someone that the Browns would be able to snag in mid-to-late rounds for depth on the offensive line.
Disappointingly, Bowen was not invited to the NFL combine, however, he was planning on showing out at Ohio State's Pro Day.
Sadly, Pro Day had been shut down as a result of the coronavirus.
This means we do not know the specifics of Bowen's athletic ability, speed, and strength.
However, it is known that as a result of his blocking, both J.K. Dobbins (2003 yards) and Master Teague III (789 yards) tore apart defenses weekly.
Robert Landers || Ohio State Buckeyes Defensive Lineman || 2019 Highlights@roblanders96 @OhioStateFB
📼: https://t.co/ETZZp6RRie pic.twitter.com/Zs9zrCzdDK

— The Breakshot (@TheBreakshot) January 24, 2020
The Browns would be able to draft Landers late in the draft or even sign him as an undrafted free agent.
His senior season at Ohio State did not go as planned. He lost his starting spot.
However, it did not stop him from contributing to the team.
Landers is a high motored player who visibly plays motivated.
He would be a great piece for the Browns locker room.
On top of this, he is a little smaller than most defensive tackles, but he uses his angling for leverage against taller blockers.
Landers has great speed and finesse moves that if further developed, could greatly help the Browns pass rush.
With veterans like Sheldon Richardson and Larry Ogunjobi as his mentors, the Browns could be the perfect landing sport for Landers.