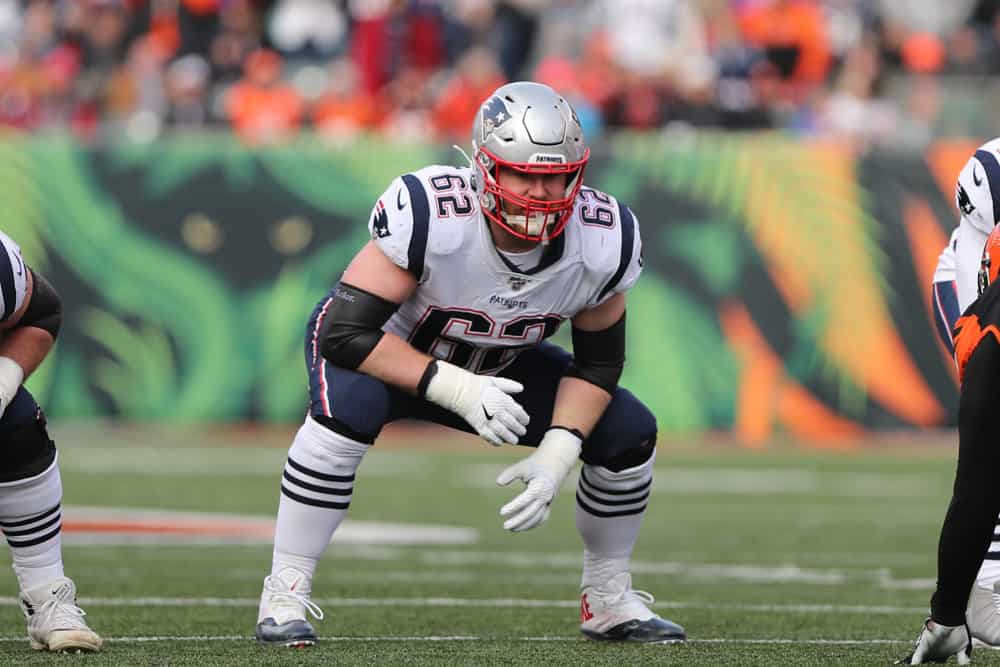 Andrew Berry and Kevin Stefanski make no secret of what is the Cleveland Browns´ biggest offseason priority.
Rebuilding their offensive line is the key to their new offense and Baker Mayfield´s success.
The only two positions that appear to be set are center and left guard.
JC Tretter and Joel Bitonio provide solid play in the middle.
There has been much conjecture about how the Browns will replace their tackles.
Imagine an offensive line like this:

LT: Andrew Thomas
LG: Joel Bitonio
C: JC Tretter
RG: Joe Thuney
RT: Jack Conklin

Plz make it happen. #Browns

— Michael Welsh (@MichaelWelsh9) March 3, 2020
Free agents, draft picks, or one of each… no one knows what Berry has in mind.
But there is still a hole at right guard that needs to be addressed.
And the best free-agent offensive lineman happens to be a guard.
Why is Joe Thuney the Best Free Agent Guard?
When we call somebody "the best", it is often a subjective assessment.
Especially when it comes to football players whose success hinges significantly on those around him.
Joe Thuney played for the New England Patriots.
They´ve been known to field a quality player or two on their offensive line.
Only 3 offensive linemen were on the field for 600+ snaps without committing a penalty in 2019

Marshal Yanda, Joe Thuney, Connor McGovern pic.twitter.com/i3088bcbUP

— PFF (@PFF) February 11, 2020
Thuney is arguably coming off the two best seasons of his four-year stay in New England.
He started every game since he was drafted in 2016.
In fact, he has missed only six snaps over the four seasons.
His blocking has improved every year, including an overall 77.4 PFF grade in 2019.
Thuney allowed just one sack on the year.
The former Patriot has been to the playoffs in all four seasons.
That is an experience factor the Browns can use if they are going to take the next step.
But Why Not Joe Thuney?
As great as Joe Thuney´s resume looks, there are reasons to think twice.
His price tag is the first thing that stands out.
Several NFL prognosticators think Thuney will command about $14 million per year.
It is difficult to fathom a guard getting that type of money, especially with a loaded draft class.
Another, more reasonable price tag of about $10-11 million is also being bandied about.
.@MaryKayCabot reports OG Joe Thuney is "in the Browns' sights" as Free Agency approaches.

Thuney, a native of Centerville, Ohio, started at LG for #Patriots the past 4 seasons.#Browns | #DawgPound pic.twitter.com/am07tg5jVg

— BrownsAccess (@BrownsAccess) March 3, 2020
That is still a lot of money, especially if the Browns plan to pay a premier free-agent tackle or two.
There is also the New England trend when it comes to free agency.
Bill Belichick has a history of letting talented players like Thuney move on.
But those players don´t always find the success they had in New England while playing for their new teams.
Former Patriots left tackle Nate Solder received top free-agent money from the New York Giants.
He hasn´t been a total bust in New York.
Ian Rapaport on the Giants and possibly looking to trade Nate Solder pic.twitter.com/gHHxfOte86

— Bobby Skinner (@BobbySkinner_) February 28, 2020
But he is definitely not worth what the Giants paid for him either.
Cleveland will make Thuney (or Bitonio) jump to the other side of the center.
Large free-agent contracts don´t guarantee success, even when the player remains in his natural position.
What are the Browns Other Options?
If the Browns consider spending as much as $10 million on a free agent guard, Graham Glasgow might be a better choice.
The Lions´ free-agent guard jumped back and forth between right and left guard over the years.
He also covered the center position at times.
Interior OL weakness of draft creates HUGE market for top FAs. Patriots consider Tagging Joe Thuney? Skins will tag Brandon Scherff…

1 player set to cash in Lions Graham Glasgow. At least 6 teams interested.

If Joe Thuney hits the market, literally 1/2 the league interested.

— Chad Forbes (@NFLDraftBites) March 8, 2020
Not only is Glasgow flexible, but he is also effective.
Over the past two seasons combined at three positions, he allowed only one sack.
The Browns can also go with a less-expensive option, like former Panther Greg Van Roten.
Van Roten is not a sexy name, but when he went down with an injury this season, Carolina´s line collapsed.
He will command about half of what Glasgow is asking.
Denzelle Good has provided quality backup service for the right side of Oakland´s offensive line.
He can be had on the cheap.
He might be worth a stab as depth, especially if the Browns go with one of two other options.
The first is to draft their future guard in the later rounds of the draft.
I'm 4 games into reviewing Browns right guard Wyatt Teller and I see so much upside.

— ChadP71 @BrownsAccess (@chadp71) March 6, 2020
The other is to give Wyatt Teller another shot at the job in 2020.
Teller was not great, but he wasn´t completely outclassed, either.
With offensive line guru Bill Callahan onboard, Teller might just click.
Should the Browns Sign Joe Thuney?
Joe Thuney would be a good signing in many respects.
It proves the Browns are serious about making the leap to playoff contender as quickly as this season.
Devoting about $25-30 million to two free-agent offensive linemen is not unusual in the NFL.
Spending $40-45 million on three might be.
Everyone wants Joe Thuney. #NFLTwitter

— John McMullen (@JFMcMullen) March 2, 2020
But the Browns had one of the top-ranked offensive lines with subpar tackles in 2018.
Solid interior play from Bitonio, Tretter, and Kevin Zeitler covered much of their tackle issues.
Spending the money on Joe Thuney and one tackle could be worth the investment.
But unless the Centerville, Ohio native gives the Browns a home town discount, Cleveland might do better spending their money elsewhere.