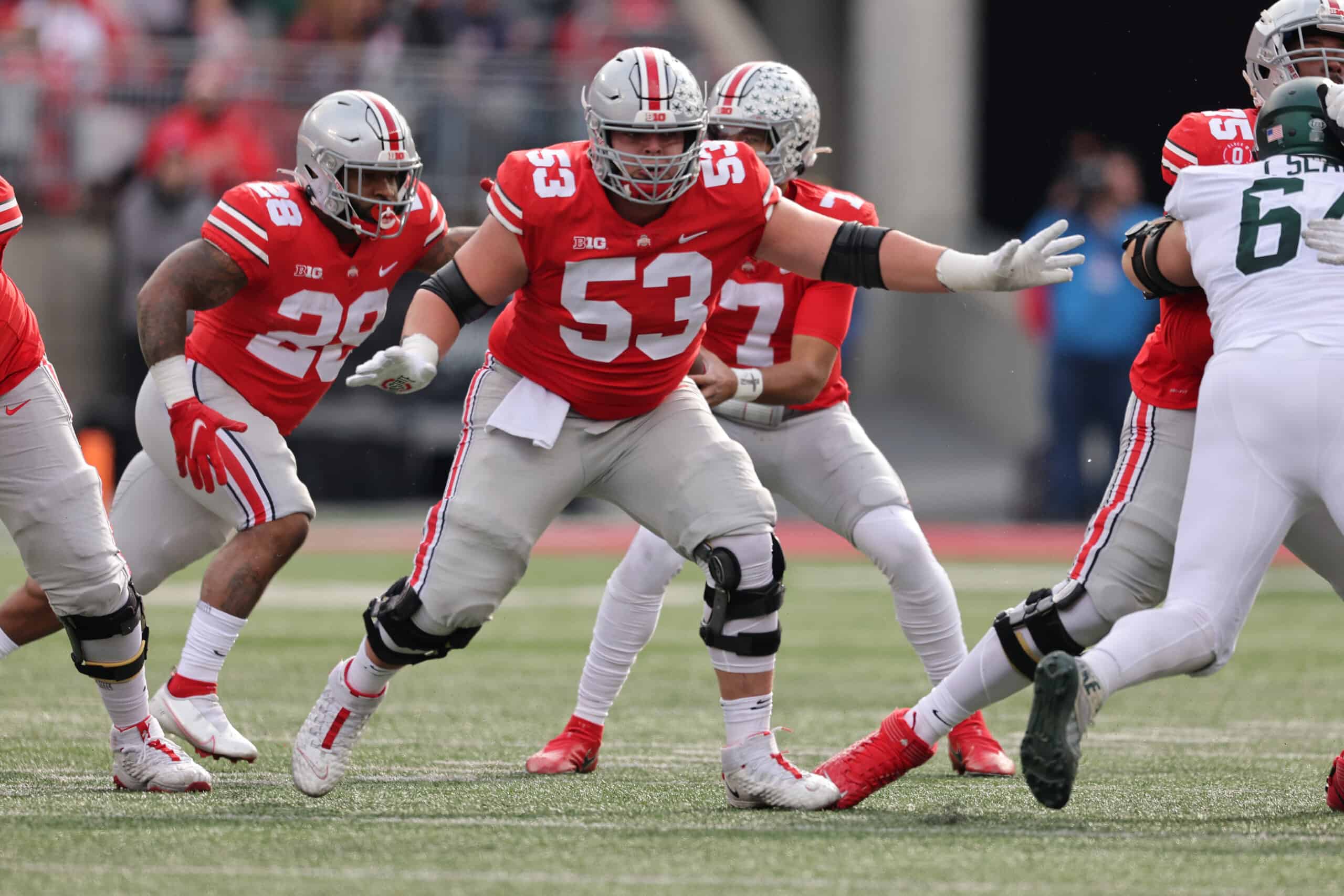 There's something to be said about playing college football in the same state where an NFL team (or two) resides.
Several members of the 2022 Ohio State Buckeyes found this out during and after the 2023 NFL Draft.
Apparently, the Cleveland Browns scouted the Buckeyes heavily last year.
Cleveland replenished its roster during the annual event by selecting OSU offensive linemen Dawand Jones and Luke Wypler.
Another Buckeye lineman to the Browns! Cleveland selected Ohio State center Luke Wypler in the sixth round of the NFL Draft on Saturday. https://t.co/ghHXpzoM8F #10TV pic.twitter.com/EgMsvAJV3p

— 10TV (@10TV) April 29, 2023
After the draft, the franchise picked up former Buckeyes Ronnie Hickman and Tanner McCalister (both are safeties) as undrafted free agents.
We'll know soon enough which players make the roster.
Until then, here are three things to know about Luke Wypler.
1) Recruited by Colleges as a Prep Sophomore
Wypler showed his talent for offensive line play early in his prep career at Saint Joseph Regional High School in northern New Jersey.
He wasn't quite finished with his sophomore year and already Wypler had a list of colleges ready to offer him scholarships.
Among the schools were Duke, Kentucky, Florida, Temple, Virginia, and Syracuse.
Stanford University also offered Wypler, unusual since the Cardinal usually waits until a prospect's senior year.
"It feels really good. It's really humbling to know that such a prestigious university like Stanford is willing to extend an offer to me this early, especially when they only offer some of the top linemen in my class," Wypler said in 2018.
At that point, Wypler was already 6'3" and over 270 pounds as a left tackle for the Green Knights.
With Ohio State heading to New Jersey this weekend, our crew made a stop to see Buckeyes commit Luke Wypler and catch up with the four-star center at Saint Joseph Regional High School. pic.twitter.com/j049H8cIMl

— Lettermen Row (@LettermenRow) November 15, 2019
He helped lead the program to almost 2,500 yards rushing in 2018, which also led to a state title.
Despite his size, Wypler ran the 40-yard dash in 4.78 seconds and played three sports, lacrosse, football, and wrestling at Saint Joseph's.
"I think coaches really see how the game is kind of evolving, and don't always want a guy who is 350 pounds. You kind of want a more athletic guy. I think that's what they see in me," said Wypler about the colleges recruiting him.
Although he still had two seasons of prep ball left, the programs that recruited Wypler already had an idea where he would play in college.
"Schools are recruiting me as an interior lineman — guard, center," said Wypler.
2) Performance Against Bulldogs Gave Wypler NFL Confidence
Sure enough, when Wypler chose his college destination a few years later, he went to Ohio State and the Buckeyes coaches turned him into a center.
He was an early-enrollee and reported for spring camp in early 2020.
Wypler and the Buckeyes were only a few weeks into drills when the remaining spring ball schedule was canceled due to Covid.
The team reported back in the fall of 2020 for an abbreviated season and Wypler saw action in one game.
He slowly but surely got used to playing center and was slotted as a backup before 2021.
Then, an injury to a starter thrust Wypler into the starting spot and he never looked back.
For the next two years, he held down the fort in the middle of the line and became one of the best centers in college football.
Cleveland selects Ohio State Center Luke Wypler 190th overall

🟠 Only ONE sack allowed in his career (965 pass block snaps) pic.twitter.com/PPdX00Ohre

— PFF College (@PFF_College) April 29, 2023
Pro Football Focus gave Wypler an overall grade of 82.5 for 2022, good for third best among all centers nationally.
Even better, Wypler gave up just one sack last season.
By the time the Buckeyes faced Georgia in the Peach Bowl, Wypler was considering whether to forgo his remaining two years of college eligibility and jump to the NFL.
Next Chapter… pic.twitter.com/SfbZKfry2x

— Wypler (@LukeWypler) January 11, 2023
His decision was affirmed when he helped stymie Bulldogs' defensive tackle extraordinaire Jalen Carter in OSU's 42-41 loss.
"This game is all about competition," Wypler said at the NFL combine, "and when you play some of the best defensive linemen in the country and we held our own and excelled, that definitely factored into my decision."
Feeling that he had nothing left to prove at Ohio State, Wypler jumped at the opportunity to become a pro and declared in January through his Twitter account.
"Football means to the world to me," Wypler said in a post on Twitter. "To compete as a Buckeye at The Ohio State University – the best university in the country – has been the privilege of a lifetime."
3) Academic Star as Well
Not only was Wypler a stud on the playing fields of New Jersey and Columbus, Ohio, he was a star in the classroom as well.
In fact, one of the primary reasons Stanford offered Wypler early in high school was the fact that he showed an aptitude for academics that Stanford is known for.
When he graduated from Saint Joseph's, Wypler just missed attaining a 4.0 grade point average.
During his time at Ohio State, Wypler was an Academic All-Big Ten and a two-time OSU Scholar-Athlete.
C.J. Stroud on Luke Wypler: "Luke is one of the smartest guys I've ever been around. Sometimes a little too smart for his own good."

— Dan Hope (@Dan_Hope) April 6, 2022
Former Buckeyes quarterback C.J. Stroud can attest to Wypler's smarts having played with the center for three years.
"I love him to death," Stroud said in 2022. "He's my brother for life. He's super smart, the smartest O-lineman I've ever met in my life."