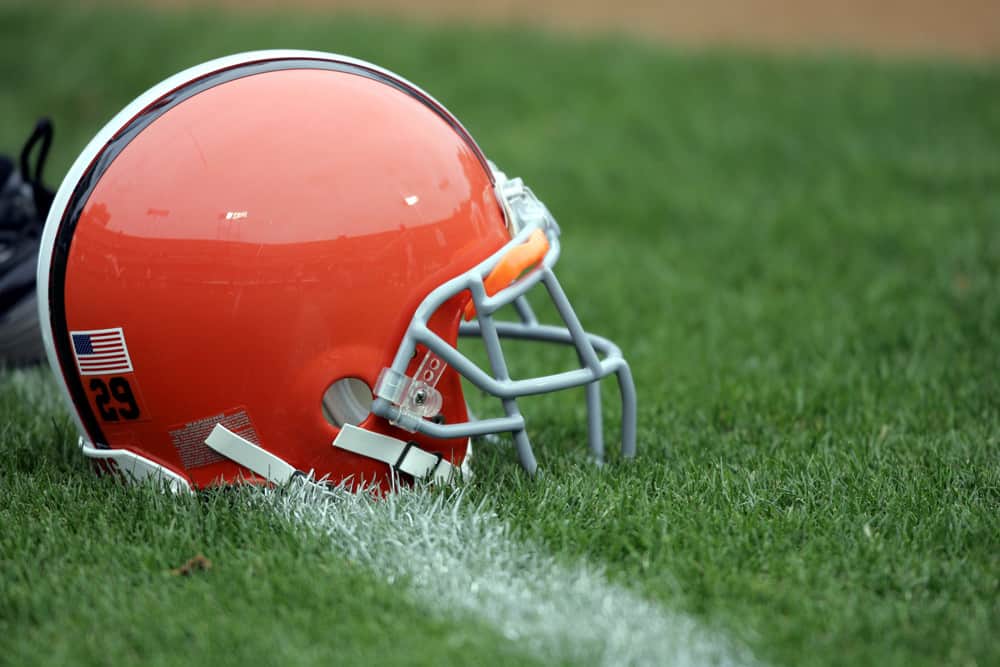 One of the most difficult transitions in sports is a new coach taking over a program after the departure of a legend.
In these situations, the bar has been set incredibly high and the next coach is expected to maintain the bar or exceed it.
This can prove to be difficult, if not impossible.
More times than not, the successor does not live up to expectations.
He or she falls victim to impatient fans, boosters, owners and even their athletes.
The successor is dismissed and the search begins for a new legend.
However, there are occasions when the successor does live up to expectations.
They might not be as successful as their predecessor, but they do achieve milestones that keep the customer base happy.
Former Browns coach Blanton Collier fell into the latter category.
Blanton Collier #Cleveland pic.twitter.com/7gsE2StqrQ

— mnmanofhour (@mnmanofhour) March 6, 2020
However, Collier was unique because he replaced not just one, but two legendary coaches.
This is his story.
Early Life and Career
Blanton Long Collier was born on July 2, 1906 in Millersburg, Kentucky.
When he was six, the Collier family moved to Paris, Kentucky where he eventually attended Paris High School.
Collier enjoyed sports, although he was small by football standards.
What stood out to Collier's parents and teachers was his personable nature and intelligence.
After he graduated from high school, Collier went to Georgetown College in Georgetown, Kentucky.
He studied English and history and graduated with a teaching degree.
Collier returned to Paris and began a 16-year career teaching algebra at his former high school.
Collier also coached many of the school's sports teams during his tenure.
Paris High School's Blanton Collier Stadium is named for Blanton Collier (PHS Class of 1923), head football coach for the Paris Greyhounds '28-43, Kentucky Wildcats '54-61, and Cleveland @Browns '62-70.@doctorofsports @paris_section @HLpreps @UKFootball pic.twitter.com/So6U7ZjLNv

— Colonels_Wear_Blue (@BlueColonels) October 4, 2021
As the Paris High basketball and football coach, Collier won two Central Kentucky Conference football championships and six basketball titles.
More than likely, Collier would have remained at Paris High School for many more years.
However, a couple of events happened that changed the course of his life.
Destiny Calls
On December 7, 1941, the Japanese attacked Pearl Harbor in Hawaii which officially thrust the U.S. into World War II.
In 1943, Collier wanted to do his part to serve his country in the war effort.
The only problem was, at 37 he wasn't the typical recruit for the armed services.
Collier left Paris, enlisted in the Navy and was sent to Bainbridge, Maryland to work with servicemen in survival swimming.
Not long after his arrival in Maryland, doctors noticed an issue with Collier's hearing.
"It never became an issue until the Navy, when they figured he had less than 40% of a normal person's hearing," his daughter Kay Collier-Slone said in 1997.
Wanting to get ahead of any potential problems, the Navy sent him to the Great Lakes Naval Hospital in Illinois for further tests.
While he was at Great Lakes, Collier happened upon the practice of the base's football team.
Over the course of the next few weeks, Collier stopped by football practice just to observe, take notes and soak in the cacophony of the sport.
The team's head coach, Paul Brown, noticed Collier at several of the practices and introduced himself.
Shortly after their first meeting, Brown asked Collier to serve on his staff as an assistant.
For the remainder of the war, Collier and Brown were joined at the hip, coaching the Bluejackets against college teams and other service academies.
When the war ended, Collier was ready to return to Kentucky.
However, Brown was offered an opportunity to coach a new team in the All-American Football Conference.
The team would be based in Cleveland and eventually named after Brown.
Brown offered Collier a position on his staff and he accepted.
First Stint with the Browns
As Brown was making his way through the ranks as a high school coach (and leading Ohio State and the Great Lakes Naval Academy) he had made contact with many future NFL stars.
When he became coach of the AAFC Cleveland franchise, Brown reached out to many of his former players and adversaries.
After all the calls were made and contracts were signed, Brown's new team had the likes of Marion Motley, Otto Graham, Dante Lavelli, Mac Speedie, Bill Willis and Lou Groza, just to name a few.
Collier and Brown designed their schemes around the many talents of their new team.
Right out of the gate, the Browns won the AAFC Championship during the first four years of the league.
It's A Wonderful Life was released in theaters on December 20, 1946.

Two days later Paul Brown & the #CLEVELAND #BROWNS won their first Pro Football Championship on December 22, 1946.

Twas a Wonderful Life for #CLE football fans @ that time.https://t.co/a8s3FBwdlj#AAFC#NFL pic.twitter.com/Ov7vdzBonR

— CLEVELAND ROCKS (@CLEVELOVE1) December 25, 2017
During that time (1946-1949) the Browns went a combined 47-4-3.
This included a perfect 14-0 record in 1948.
Shortly before the 1949 season ended, the AAFC announced it was folding and the Browns would be one of a handful of teams that would be absorbed by the NFL.
It was thought by many of the NFL's old guard that the mighty Browns would be laid low by the far superior NFL squads.
They would be proven wrong.
In 1950, Cleveland won the league championship in their first season.
The 1951, 1952 and 1953 Cleveland teams would return to the title game, only to lose each time.
Once the '53 season concluded, Collier learned that the University of Kentucky head football coach position was open.
He couldn't pass up the opportunity and returned to his home state after being hired by the school.
Replacing a Legend, Part I
Paul "Bear" Bryant was hired by Kentucky in 1946, the same time Collier and Brown were jump starting their new team in Cleveland.
For the next eight seasons, Bryant would lead the Wildcats to four bowl games.
That would be four more than any coach in Kentucky history.
The last time Kentucky had a great football coach was Bear Bryant… ( 1946–1953 ) pic.twitter.com/LwzYFs3SLc

— Roll Tide #18™ (@jerrysandersRTR) November 20, 2020
Bryant's bowl appearances included victories in 1947 against Villanova in the Great Lakes bowl, in the 1951 Sugar Bowl against Oklahoma, and the 1952 Cotton Bowl versus TCU.
After the 1953 season, Bryant decided to take a position with Texas A&M.
His successor would have large shoes to fill.
Into those shoes strode Collier.
Inheriting a roster filled with Bryant recruits, Collier went 7-3 in 1954.
That led to a Southeastern Conference Coach of the Year nod by the Nashville Banner.
During his second season in 1955, the Wildcats regressed to 6-3-1, then 6-4 in 1956.
The grumbling about Collier from the fan base grew loud in 1957 when Kentucky finished with a 3-7 record.
That was the lowest win total for the program since the year before Bryant took over.
In 1958, Collier's squad improved slightly with a 5-4-1 record, then slid back again in '59, falling to 4-6.
By the early 1960's, Wildcats fans wanted Collier gone.
He had not come close to living up to their expectations and, in their minds, Collier was a terrible recruiter.
Recruiting aside, Collier did assemble a coaching staff for the ages.
Our condolences to the family and friends of legendary coach Don Shula. He was a @UKFootball assistant in 1959, part of an incredible staff that featured head coach Blanton Collier, Bill Arnsparger, Howard Schnellenberger, Ermal Allen and John North. https://t.co/eyu65SmJAA pic.twitter.com/OzjCoKKfi3

— Kentucky Football (@UKFootball) May 4, 2020
Just a few of the marquee names that assisted under Collier include Don Shula, Chuck Knox, Howard Schnellenberger and Bill Arnsparger.
In all, eight men who spent time as assistants with Collier went on to successful careers in the NFL.
By 1961, the UK faithful were too loud to ignore and Collier was cut loose.
He had only won five games a piece in 1960 and '61.
His overall record at Kentucky was 41-36-3.
This included a 5-2-1 record against archrival Tennessee.
Second Stint with the Browns
While he was at Kentucky, Collier and Brown stayed in touch and their families would frequently get together.
After Collier's dismissal from Kentucky, Brown didn't hesitate and asked his friend to come back to Cleveland.
When Collier returned to the Browns he noticed things had changed dramatically.
In 1961, the team was bought by a new owner named Art Modell.
Almost immediately, Modell and Brown clashed.
Adding to the animosity between owner and coach was the mounting player issues with Brown.
Cleveland stars such as Milt Plum and Jim Brown were growing tired of their coach's game plans and gruff demeanor.
Modell listened to the players and added their grievances with his own issues about Brown.
The final straw came courtesy of a trade that occurred about the same time Collier returned.
Early in 1962, Brown traded Bobby Mitchell and Leroy Jackson to the Redskins for Ernie Davis.
Davis had won the Heisman trophy at Syracuse and was considered one of the best backs in the college game.
Modell was incensed that Brown made the deal without his knowledge and permission.
To make matters worse, Davis was diagnosed with leukemia and would eventually succumb to the disease.
Today's Black History Fact is: Ernie Davis was the first African American Heisman recipient. He played for Syracuse University and was drafted by the Cleveland Browns in 1962. He was diagnosed with leukemia that same year and died at the age of 23.#APA1906Network#BHM pic.twitter.com/TjPiu600F8

— The Zeta Pi Alphas (@UGA_Alphas) February 10, 2021
Before his passing, Davis showed signs of recovery while undergoing treatment and conditioning.
He expressed a desire to play and Modell was open to the idea.
However, Brown did not feel comfortable pressing Davis into service and kept him from playing.
That decision served to further drive a wedge between Brown and Modell.
Once the '62 season ended with a 7-6-1 record, Modell fired Brown.
The move was controversial to many outside of the organization.
However, within the walls of the franchise, staff believed the move was long overdue.
Modell quickly pivoted and asked Collier if he would like to become the new coach.
Collier responded that he would need permission from his wife and Brown before giving Modell an answer.
Brown gave Collier his blessing, stating that Collier had a family to support.
Not long after, Collier agreed to become the second head coach in Cleveland history.
Replacing a Legend, Part II
With the departure of his friend and mentor, Collier had a mountain of work to accomplish before his first game as head coach.
First and foremost, there was the undeniable tension of race relations amongst the Browns.
From Paris, one such example is Blanton Collier, former head coach of the Cleveland Browns. Collier was fairly well known as an expert listener by his players. And by 1963, as tensions mounted between his white & black players, Collier he utilized that skill to find a solution. pic.twitter.com/kpCsDZiBPS

— Hopewell Museum (@HopewellMuseum) June 3, 2020
In their history as a team, the Browns were one of the first professional football teams to integrate.
As more players of color joined the pro ranks, white players began to show disdain, even with their own teammates.
White players on the Browns felt they were not receiving the playing time they should over their black counterparts.
Collier patiently listened to all parties and then made a decision.
Over the course of the offseason, Collier jettisoned the most willful players through trades or outright release.
The players who remained noticed that Collier might have been more gentle in his approach to team management than Brown, but he was not a pushover.
Once Collier finished reorganizing the team, the Browns players felt more unity.
"I was prepared for his genius, but I wasn't prepared for his humanity," said Jim Brown.
Return to Glory
Brown was correct in both regards.
Collier was more caring and kind to his players than his predecessor, but he was also extremely intelligent.
Going back to his early coaching days, Collier was a student of the game, any game.
The traits that Paul Brown first noted when he met Collier (studious note taking and observation) is what led to Collier's success in Cleveland.
His next great accomplishment after remaking the team was getting everyone on the same page.
#OTD former @Browns coach Blanton Collier passed away. He was the last coach to lead the Cleveland to an @NFL Title. Listen to his story now on SFH. Click here https://t.co/LebBsPHcVz or listen anywhere u get podcasts @ProFootballTalk @ProFootballHOF @NFL_Journal pic.twitter.com/AyJfY8hZ0R

— Sports4gottenHeroes (@SportsFHeroes) March 22, 2020
Collier also believed that the entire organization should feel like they contributed to the success of the team.
He was not beholden to the idea that it was his way or the highway.
"You can accomplish anything you want as long as you don't care who gets credit for it," he once said.
Over the next few years, Collier's players recognized his attention to detail and perfection.
"Everything had to be perfect,'' Hall of Fame quarterback Otto Graham said of Collier's approach to coaching. "He was a stickler on perfection, but at the same time he had great patience.''
Collier also believed in film study and frequent quizzes of the playbook.
However, what endeared the Browns the most toward Collier was his willingness to allow his charges to take ownership in play calling.
For example, Collier recognized that his quarterback, Frank Ryan, was no dummy.
Browns coach Blanton Collier gives instructions to his QB, Frank Ryan in 1966. #Browns pic.twitter.com/MQt97SCsER

— Ken Gelman (@kengfunk) March 21, 2017
Ryan was a math instructor at Case Western Reserve who taught during the team's offseason.
He also had a doctorate in mathematics from Rice University.
Collier knew that Ryan was capable of recognizing defensive tendencies and had little issue with his quarterback calling audibles.
After a 10-4 record in 1963, the Browns went 10-3-1 in 1964 and returned to the NFL title game.
It was the first NFL Championship appearance for Cleveland since 1957.
Before the big game, Collier noticed in film study that the mighty Baltimore Colts, their opponent in the championship game, had certain passing tendencies.
The Colts and their quarterback, Johnny Unitas, loved short to intermediate passes.
This would be difficult to defend in Collier's preferred zone defense.
To counter Baltimore's tendencies, Collier had his secondary coaches switch to a man defense.
The result was a 27-0 Cleveland shutout of the heavily favored Colts.
@thiswascle Browns Coach Blanton Collier on Sidelines during 1964 NFL Championship Game.Browns over Colts 27-0.#NFL pic.twitter.com/Y6bGVbssjR

— Tom's Old Days (@sigg20) December 11, 2015
In 1965, the Browns returned to the title game after an 11-3 season.
However, they fell to Green Bay 23-12.
Hearing Loss Leads to Retirement
In the offseason between 1965 and 1966, Jim Brown chose to retire.
At 29, it was assumed that he had many good years remaining.
However, Brown was on the set of the Dirty Dozen movie and missed the first part of training camp.
Modell tried to strong arm his star by penalizing him for every day he missed camp.
Brown decided to call his boss' ultimatum and retired.
Thankfully, Cleveland had a very capable replacement in Leroy Kelly.
By 1968 and 1969, the Browns were back in the NFL Championship game.
They lost the '68 title game to the Colts 34-0 and the 1969 championship game to the Vikings 27-7.
Before the 1970 season, Collier spoke to Modell and expressed concerns regarding his ability to coach.
His hearing, first diagnosed as an issue when he joined the Navy, was nearly gone.
Collier had learned to lip read to compensate.
Unfortunately, the advent of the face mask made matters worse.
Collier had difficulty reading his players' lips with their mask in the way.
Collier told Modell that he wanted to step down as Cleveland's coach.
After a lengthy conversation, Modell convinced him to remain for the '70 season.
As Collier struggled to communicate with his players, Modell tried to help by providing his coach with hearing aids and even acupuncture.
However, nothing worked.
Collier's hearing loss coincided with the losses piling up on the field.
The franchise ended the season with a 7-7 record.
The only notable victory was the Browns' appearance in the first ever Monday Night Football game in Week 1 against the Jets.
50 years ago, the Cleveland Browns played in the first-ever Monday Night Football game against the Jets. pic.twitter.com/JCpmZz22u3

— News 5 Cleveland (@WEWS) September 22, 2020
Collier ended his coaching career after 1970 with an overall record of 76-34-2.
He also had four championship game appearances with one victory.
Retirement and Death
Stepping down as the Browns head coach couldn't keep Collier away from the game.
For the next five years, he remained on Cleveland's staff as the quarterbacks coach and a team scout.
Remarkably, even with his hearing loss, Collier served as the 1971 College All-Star Game coach.
In 1976, he left the game for good.
Part of the reason was a diagnosis of prostate cancer.
Collier and his wife, Mary, retired to a lake house in Texas.
He wiled away the days by visiting with friends and playing golf.
In 1983, Collier succumbed to the cancer that had plagued him.
He was 76.
Collier is remembered as a kind man who treated those around him with respect.
With that memory of him in mind, in 2007 the Kentucky chapter of the NFLPA established a Blanton Collier Award given annually to a football player or players who excel both on and off the field.
Blanton Collier Character Leadership recipient Khalil Baker pic.twitter.com/g3NWqKoGAP

— PerryThomas (@PerryThomasCU) June 24, 2017
More than anything, Collier has long been viewed as a valued teacher of the game of football.
"He was not only a great football coach but a great human being. He was a teacher. He really, to me, personified the teacher-in-the-classroom type of coach,'' said Shula.