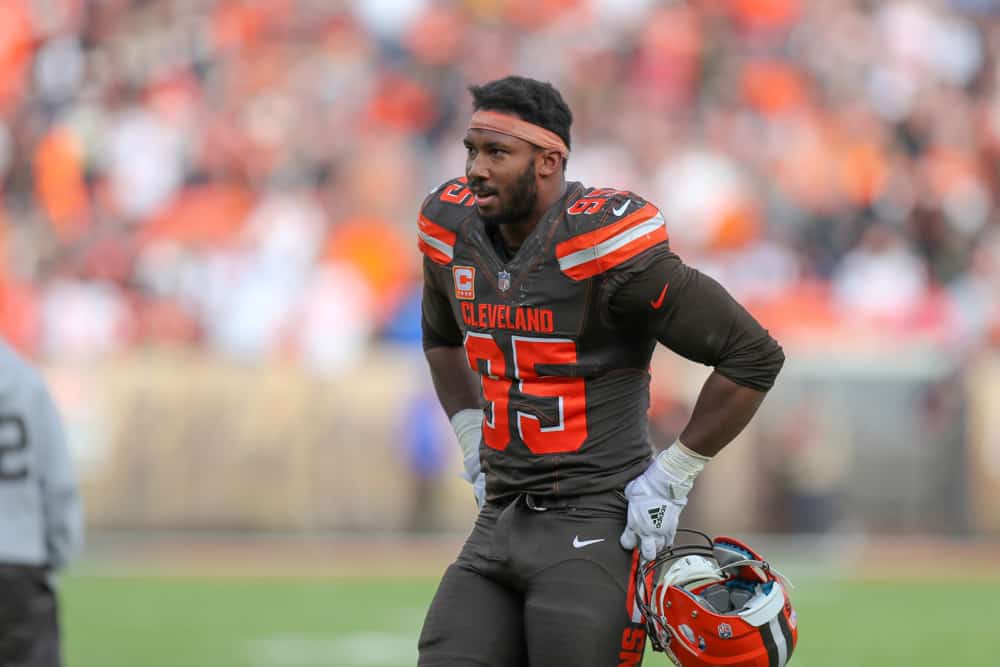 The 2019 NFL season didn't end the way Myles Garrett had hoped.
But despite being suspended from the NFL, this hasn't stopped Garrett from staying motivated to be in the gym.
It appears Garrett is working extra work lately and is looking even bigger than before.
Garrett has mostly been quiet on social media since the suspension but sent a strong message with his latest post on Instagram saying "Time to get to work."
View this post on Instagram
Garrett Is No Stranger To The The Gym
Before Garrett struck Pittsburgh Steelers quarterback Mason Rudolph over the head with his own helmet, he was in the conversation for Defensive Player of the year.
Garrett also had 10 sacks in the 2019 season and is one of the most physically gifted defenders in the league.

Garrett's teammate Damarious Randall spoke about Garrett's work ethic last season, even after the suspension.
"He actually told me that he works out five times a day," Randall told the Akron Beacon-Journal. "I was just messing around with him, and I was just like, 'Hey, if they said you could come back and play this Sunday, would you be ready?' He was like, 'Bro, I would be more than ready.'"
Good News Coming Soon For Garrett?
Recently, a report surfaced that Myles Garrett will meet with NFL commissioner Roger Goodell about his reinstatement into the league.
According to the report, Goodell will meet with Garrett within the next 60 days.
The NFL also announced that they had given Garrett permission to be back in the Browns training complex in December.
#NFL Commissioner Roger Goodell tells clevelanddotcom he plans to meet w/#Browns Myles Garrett w/in next 60 days about reinstatement from indefinite suspension; Wouldn't characterize, but ban will likely be lifted then https://t.co/Upqyev5tUn

— Mary Kay Cabot (@MaryKayCabot) January 29, 2020
"The NFL will be open-minded and listen to Garrett during the offseason meeting, and if his behavior is what the league hopes it will be and his answers are accurate, there's a strong chance he will not miss any playing time in 2020, according to sources," ESPN's Adam Schefter reported.
New Browns general manager Andrew Berry also recently spoke about Garrett in his introductory press conference.
"Certainly, our hope is for Myles to be reinstated," new Browns General Manager Andrew Berry said Wednesday. "Obviously, I was part of drafting him here previously. Obviously, this fall he made a huge mistake, but we know who Myles is a person, and we look forward to welcoming him back."
In only 37 career games, Garrett has recorded 30.5 sacks and made the Pro Bowl in 2018.
He, no doubt, would have made the Pro Bowl in 2019 had he not been suspended.