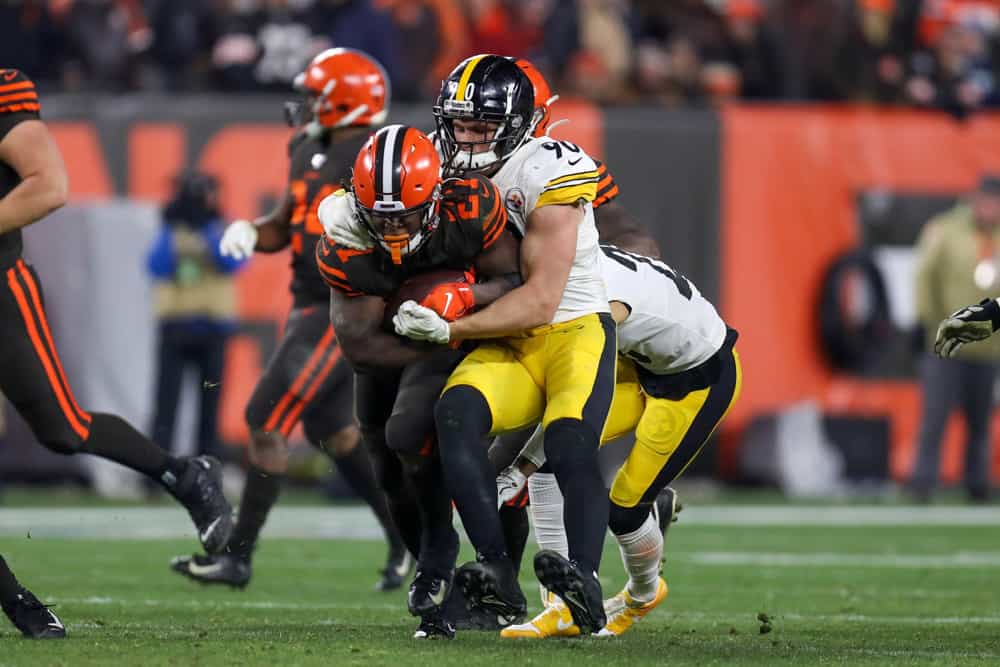 A few weeks ago, many national media were talking about the Cleveland Browns having the best chance of beating the Kansas City Chiefs in the playoffs.
Life changes quickly in the NFL.
After losing to the NY Jets, the Browns find themselves in a 'win and get in' scenario against the Pittsburgh Steelers Sunday.
With the Steelers already securing a playoff spot, they have announced that they will be resting many of their starters in the game.
Let's take a look at our writer's bold predictions for this Sunday's matchup.
Writer: Jake Luppino

The Cleveland Browns have everything to play for this upcoming Sunday.
Their opponent, the Pittsburgh Steelers on the other hand, have pretty much nothing to play for.
Already clinching the number three seed in the AFC, the Steelers have decided to rest some starters for their bout with Cleveland.
Coming off back-to-back losses, the Browns must not over shadow the backups on this Pittsburgh team.
Sense Of Urgency
With a playoff spot on the line, Cleveland must play with a high sense of urgency.
They need to duplicate the urgency they displayed against Tennessee and Baltimore earlier in the season.
Last week against the Jets, the Browns were without their whole wide receiving core.
While it appears they will be good to go on Sunday, the question that now remains is if there will even be a game.
🏈Two player positive tests in Cleveland today.

🏈One player positive today was from a player who has been in isolation but was in close contact to someone outside the building.

🏈The four WRs out last week are expected to rejoin the team once it can practice as early as today. https://t.co/bHNl5mTaOx

— Adam Schefter (@AdamSchefter) December 31, 2020
With COVID issues looming in Cleveland, the status of Sunday's game may be in jeopardy.
Although, to be fair, something similar had happened last week and they did indeed end up playing in New York.
Regardless, COVID issues or not, this Cleveland team has no excuses to lose this game.
Pittsburgh is resting a handful of starters, most notably, QB Ben Roethlisberger.
This Cleveland franchise currently holds the longest drought in the league with not a single playoff appearance since 2002.
Look for Coach Stefanski to get back to the run game on the offensive end.
Baker Mayfield is at his best when the Browns are able to run the ball and build off of that with the play action game.
If the Browns can play with a high sense of urgency and take the Steelers backups seriously, they should have no problem clinching a playoff spot.
My Prediction: Browns 28, Steelers 20 
Writer: Pat Opperman

Okay… it's time to get back to business.
Week 16 was a Covid-induced aberration on many scales.
It means nothing.
The Cleveland Browns are playing a Week 17 game with a playoff berth on the line.
And fans should be enjoying the moment far more than we are.
Cleveland will get most of its players back this week.
Steelers coach Mike Tomlin will help the Browns' undermanned defense by starting Mason Rudolf.
Of course, he can't rest everybody, especially on defense, so Cleveland still has to bring its A game.
There is no excuse for anything less given the situation.
Because the Browns have to do more than win a game and cop a playoff spot.
They need to re-establish themselves as a multi-faceted offense and a turnover-inducing defense.
That is what it will take to get them into the groove they'll need to face the Buffalo Bills in Week 18.
Nick Chubb and Kareem Hunt have to provide enough cover to slow the Steelers' pass rush down a step.
If they can't get past the tackles, Stefanski needs to get creative with some pitches or misdirection.
Baker needs to move around and hit receivers on the run.
Myles Garrett and Olivier Vernon have to meet at the quarterback often and then leave quietly.
Cleveland will do all that, but the game will be closer than it should be.
My Prediction: Browns 31, Steelers 23 
Writer: Ben Donahue
Okay, I'm definitely ready for 2020 to hit the road. Last Sunday the Browns were about to move one step closer to their long, elusive return to the postseason.
However, the coronavirus and the resurgent Jets had other plans.
With nearly all of Cleveland's receiver group out due to contact tracing and Covid protocols, coupled with the absence of two linemen, New York upset the Browns.
Now Cleveland faces division rival Pittsburgh with a playoff berth on the line.
If they beat the Steelers, the Browns break a nearly two-decade curse.
Lose, and the curse continues.
As it stands now, though, the Browns have no less than nine players on the Covid reserve list.
Tight end Harrison Bryant and safeties Andrew Sendejo and Karl Joseph are the latest out for Sunday.
There is a chance, however, that receivers Jarvis Landry, Donovan People-Jones, KhaDarel Hodge, and linebacker Jacob Phillips can return in time for practice on Thursday as long as they test negative for the virus.
That would be a fantastic post-Christmas gift!
The Browns have a few things in their favor heading into the weekend.
First, they are hosting the Steelers in front of a small, yet rabid fans base that is aching for a Cleveland victory.
Second, there is snow in the forecast which should level the playing field no matter what.
Third, because Pittsburgh won the division with their defeat of the Colts last weekend, the team announced that quarterback Ben Roethlisberger will rest and save his body for the playoffs.
That leaves Browns protagonist Mason Rudolph at the helm for Pittsburgh.
With so much on the line, everybody needs to keep their heads (I'm looking at you Myles Garrett).
Steelers QB Ben Roethlisberger to rest vs. Browns, Mason Rudolph named starter in regular season finale.

MORE >> https://t.co/QsF2Mc7POR#HereWeGo | #NFLTwitter @FrankDangelo23 pic.twitter.com/1WxEE3RGIa

— NextSportStar.com (@NextSportStar) December 30, 2020
Despite three losses in their last four games, Pittsburgh has a potent offense and defense.
Even without Big Ben, the Steelers have Chase Claypool,  JuJu Smith-Schuster, and Diontae Johnson at receiver.
They have a so-so running game with James Conner and Benny Snell Jr. splitting carries.
Neither of them are world beaters (Conner has 683 yards this year, Snell has 358).
However, either could become a thorn in Cleveland's side.
In their first meeting this year, Conner ran through the Browns for 101 yards and a touchdown.
Defensively, the Steelers boast Cameron Heyward, TJ Watt, former Brown Joe Haden, and Minkah Fitzpatrick.
All four have to be accounted for on each and every Browns offensive snap.
Of course, none of this is much of a concern if the Steelers rest most or all of their stars.
Basically, that leaves Cleveland crossing their fingers and toes that their high-profile starters return.
Even without Sendejo's "help" this week, the secondary will struggle with two safeties out.
As much as I'd like to list some impressive sounding stats, it doesn't mean much if both teams end up rolling out their JV squads.
Essentially, if the Browns can get their run game on track, get one or two of their receivers back, and play serviceable defense, they win.
If not, Cleveland waits another year to prove they belong.
As for me, I'm praying for a New Years miracle.
My Prediction: Browns 24, Steelers 17 
Writer: Wendi Oliveros

It all comes down to this.
A Week 17 Browns game that means a lot.
With a win, the Browns march themselves into the playoffs.
A loss makes the playoff berth a little more difficult to attain.
Knowing that the Browns control their own destiny and it's been an 18 year playoff drought, of course, I am picking the Browns.
I hope they get everyone healthy so it can be a competitive game, and Cody Parkey had better be ready to boot extra points and field goals through the uprights.
The Cleveland Browns will be healthy next week and will take care business and will be in the playoffs for the first time since 2002. Not doubting for a second, this is a good team.

Believe Believe Believe

— Tanner Castora (@Tanner_Castora) December 27, 2020
Mason Rudolph is the starter.
Of course, he is; this season has turned into a soap opera of sorts so it might as well conclude that way too.
Rudolph has a lot to prove.
And the Browns on top of everything else want to give their rookie coach this win.
He has outperformed and outcoached all of his predecessors, but Freddie Kitchens managed to get the Browns to beat the Steelers last November.
There is so much motivation to win.
The offensive winning formula is simple; run the ball, control the line of scrimmage, chew up the clock, and hold on to the ball.
My Prediction: Browns 28, Steelers 20 
Writer: Mark Bergin

There's an old slogan that the house knows best.
Most sportsbooks had the Browns opening as a 7-point favorite over the Steelers in Week 17.
It's as if oddsmakers knew Ben Roethlisberger would sit and Browns' fan-favorite Mason Rudolph would be the Steelers' starting quarterback in the final week of the 2020 regular season.
The line then moved to 10 points after Steelers coach Mike Tomlin's announcement before oddsmakers took the game off the board.
"This is no preseason game where we're playing backups, players 54-75 to evaluate," Tomlin told repeaters this week. "This is an NFL team that will go play, minus Ben and maybe another player or two."
Perhaps the bigger question is: Who are the other Steelers players who could sit against the Browns?
It's unclear which Browns players will be back after several were out in Week 16 because of COVID-19 contact tracing.
If they continue to test negative, they would be eligible to come off the team's reserve/COVID-19 list on Thursday.
The Browns desperately need Wyatt Teller (ankle) and Jedrick Wills Jr. (illness) back considering the Steelers lead the league in sacks (52).
However, the Browns added Harrison Bryant and Andrew Sendejo to the reserve/COVID-19 list on Tuesday.
It's unclear whether Bryant or Sendejo will play Sunday.
The Browns' path to the playoffs is much easier if they beat the Steelers, who are locked in as either the AFC's No. 2 or No. 3 seed.
I think the Browns find a way to win at home considering Rudolph got benched in favor of Devlin "Duck" Hodges a season ago, who began the 2019 campaign as the team's fourth-string quarterback.
Buckle up if Sunday's game comes down to whether Cody Parkey can make a kick.
My Prediction: Browns 24, Steelers 20