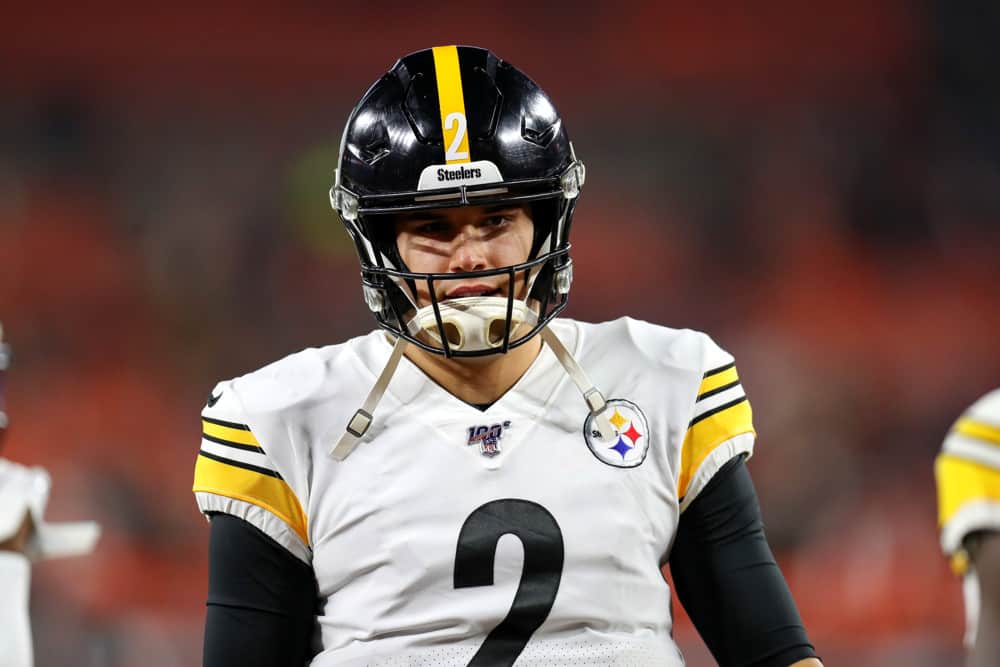 On Tuesday, the Pittsburgh Steelers decided to go with Mason Rudolph for the Week 17 start against the Cleveland Browns.
Steelers will start Mason Rudolph this week vs. Browns

It's a bye week for Big Ben @brgridiron pic.twitter.com/uPykOKNgXb

— Bleacher Report (@BleacherReport) December 29, 2020
Rudolph will be starting for the first time in 2020 after having eight starts last year.
Like Baker Mayfield, Rudolph is in his third NFL season.
The Steelers selected their current backup quarterback 75 picks after the Browns took Mayfield with No. 1 overall selection in 2018.
Mike Tomlin decided to start Rudolph, and it is the most important decision regarding a second-stringer for this contest.
On the other side of the football, Mayfield knows how important this game is for the Browns.
He posted on Instagram following the frustrating 23-16 loss to the New York Jets.
On the bright side, the Browns do not expect to be the shorthanded team this time around.
They expect to get back their wide receivers and Wyatt Teller for Week 17.
However, even though the Steelers will resting starters for the contest, the Browns will have to step up their performance.
In their return to the field, Jarvis Landry and Rashard Higgins will hope to make an impact after a week off.
In addition, Myles Garrett will get the chance to live up to what he said over the offseason.
Garrett commented about the on-field altercation with Rudolph last season, "It won't happen again."
This contest is especially important for Garrett, as he has contributed to a lot of Cleveland's success this year:
Myles Garrett will finish the highest-graded season of any Browns defender ever on Sunday vs Mason Rudolph (89.5) pic.twitter.com/DOscKdEQYz

— PFF (@PFF) December 29, 2020
In the 13 games that he has played this season, Garrett has at least half of a sack in 10 of them.
The Browns have an 8-2 record in games that Garrett has contributed a sack, including the Week 16 loss.
However, Cleveland is 0-3 this year when Garrett has played and did not record a sack.
Browns fans hope that there is not a repeat of last year's suspension-laden brawl.
They do hope that Garrett will be sacking Rudolph though.
How Has Rudolph Fared During His NFL Career?
Rudolph has attempted just four passes in 2020, but he did post a 5-3 record in 2019 as a starter.
His first start against the Browns was by far his worst career performance though:
Mason Rudolph's last start vs Cleveland:
🔸 39.9 grade
🔸 23/44
🔸 1 TD/4 INTs pic.twitter.com/9tY6VOmu7t

— PFF (@PFF) December 29, 2020
While the game will be remembered for the suspensions that were doled out, the Browns dominated the Steelers in the 21-7 Cleveland victory.
Rudolph returns to FirstEnergy Stadium for the first time since that intriguing Thursday night contest.
The Browns jumped out to a 14-0 halftime lead in the contest, as they played well in all phases of the game.
In addition to the poor Rudolph statistics listed above, the Browns sacked him four times for 43 yards in the game.
His 36.3 quarterback rating in the contest is the worst of his career thus far.
Heading into his ninth NFL start and 15th appearance, Rudolph will be looking to showcase his skills.
He is the only quarterback selected in the second round or later in 2018 to have thrown a touchdown pass.
He also has had a better career thus far than Josh Rosen, the No. 10 overall selection that year.
Mayfield, Josh Allen (No. 7 selection in 2018), and Lamar Jackson (No. 32) have established themselves as starting quarterbacks in the NFL.
Rudolph, who hopes to be a consistent starter in the future, will be leading the underdog Steelers into Cleveland.
If the Browns can have success again against him, Cleveland will end its playoff drought.
Browns fans are hoping for a repeat performance, and if Garrett can play well, then that will be the cherry on top.