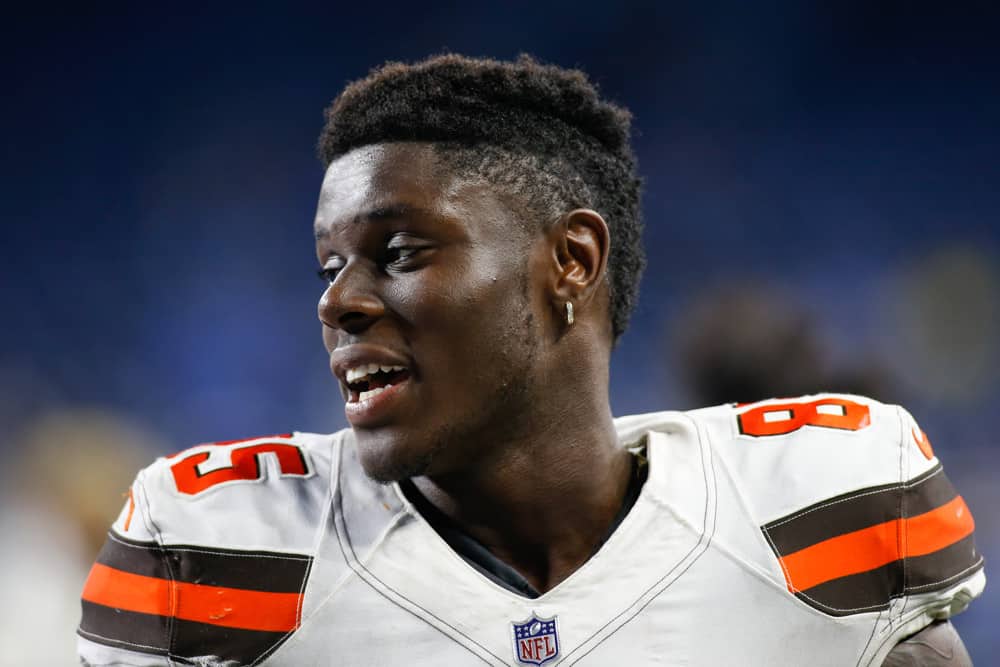 Another day marks another cryptic Instagram message from Cleveland Browns tight end David Njoku.
Njoku, who turns 24 on Friday, posted videos to his Instagram page and story of his offseason training, which includes him running passing routes with his shirt off.
One of the videos showed Njoku running routes with the caption "vengeance."
It's unclear what specifically Njoku means, but he is likely referring to his trade request last week.
Njoku's agent Drew Rosenhaus told ESPN's Adam Schefter: "It is in David's best interest to find a new team at this time."
Njoku ditched his former agent Malki Kawa and signed with Rosenhaus just before the trade request became public.
1/2 Browns' TE David Njoku and his agent Drew Rosenhaus asked today for the team to trade him. The Browns told Njoku they would like to keep him, but Rosenhaus told them he's intent on a trade. They want a trade before training camp.

— Adam Schefter (@AdamSchefter) July 3, 2020
2/2 About David Njoku's trade request today to the Browns, agent Drew Rosenhaus said: "It is in David's best interest to find a new team at this time."

— Adam Schefter (@AdamSchefter) July 3, 2020
Who knows if the "vengeance" Njoku is referring to is aimed at his critics, doubters, haters or hoping the Browns trade him.
There's no doubt Njoku will want to rebound from a disastrous 2019 season, in which the Browns missed the playoffs for the 17th consecutive year.
Njoku only played in four games last season, largely because of a wrist injury.
In 2019, Njoku had five receptions on 10 targets for 41 yards and one touchdown.
Perhaps Njoku is hoping to get vengeance against the Browns franchise because he battled former head coach Freddie Kitchens and former general manager John Dorsey about his return to play from his wrist injury.
Njoku was a healthy scratch in the Week 15 loss to the Arizona Cardinals and the Week 16 loss to the Baltimore Ravens.
"I'm really doing everything I'm doing now for my teammates at this point,'' Njoku said in December 2019. "Obviously it's been a rollercoaster and at this point in my life with where I'm at, I'm just doing everything for the guys that I play with."
In 2018, Njoku had 56 receptions on 88 targets for 639 yards and four touchdowns.
Njoku's production in his second season exemplified why the Browns selected him the 29th overall pick of the 2017 NFL Draft.
The Browns new regime — which includes general manager Andrew Berry and head coach Kevin Stefanski — have been complimentary of Njoku this offseason.
"We have some good (tight ends) who are already on the roster," Berry said at the NFL Combine. "Obviously, David Njoku didn't quite have the year that he anticipated this past fall, but we still view David as a talented pass catcher and a guy that we expect to take a step forward in this upcoming year."

"We have big plans for (Njoku)," Stefanski said. "But it's about, for him, coming back in the building and working and then ultimately being able to see if we can utilize him in a role that can take advantage of some of his skill set."
Plus, Stefanski is a proponent of using offensive sets using multiple tight ends.
Last season, Stefanski's Minnesota Vikings led the NFL by using multiple tight end sets 57% of the time, according to ESPN's Jake Trotter.
Still, the Browns signed tight end Auston Hooper to a four-year deal worth up to $42 million, with $23 million guaranteed.
Initially, Njoku voiced his support of Hooper's signing.
Njoku has since deleted the following tweet:
Nahhhh man cmon I love competition. We'll push each other and get better together🦾 https://t.co/nmAoz5cgl5
— Chief David Njoku (@David_Njoku80) March 16, 2020
Also, the Browns selected Florida Atlantic University tight end Harrison Bryant with the 115th overall pick of April's draft.
It's unclear what specifically the Browns could fetch in return if they traded Njoku, but unnamed sources told ESPN reporter Jeremy Fowler that Njoku might be worth a fourth- or fifth-round pick.
The Browns have known for about a year that David Njoku was unhappy in Cleveland and would welcome a trade, I'm told. They were not blindsided by this. Early predictions from sources with other teams is Njoku might be worth a 4th or 5th round pick.

— Jeremy Fowler (@JFowlerESPN) July 4, 2020
Spotrac.com shows Njoku has two years left on his contract: He is due to make $1.76 million in 2020 and $6.01 million in 2021.
The Browns picked up Njoku's fifth-year option in April.