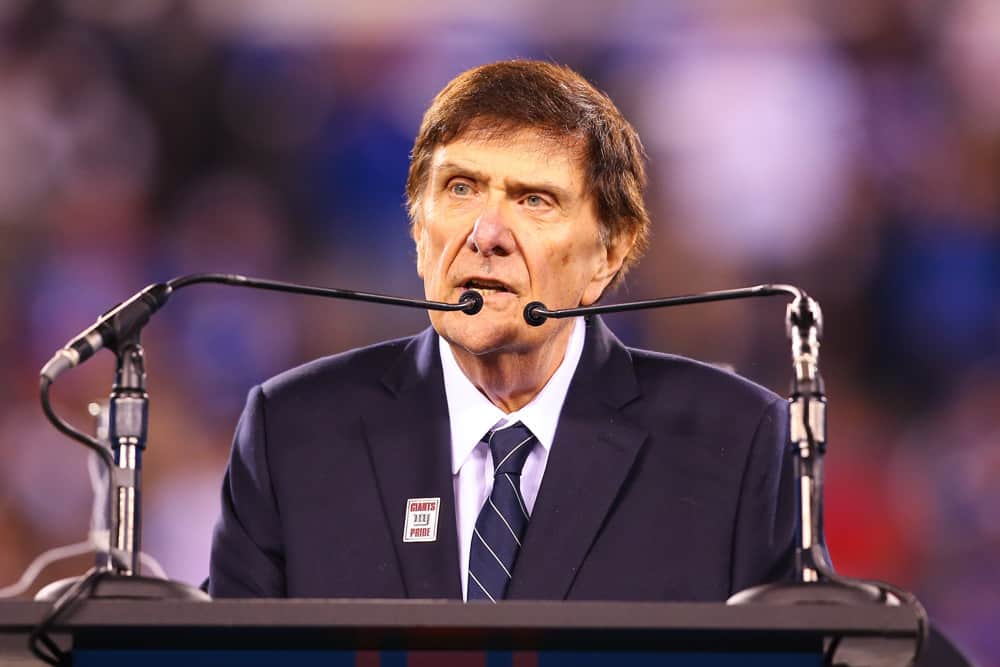 After a series of AFC Championship game berths in the 1980s, the 1990 Cleveland Browns represented a giant step back for the franchise.
Posting a 3-13 record, the franchise began a decades long trip through mediocrity.
Head coach Bud Carson was shown the door after Week 9 and interim coach Jim Shofner finished the season.
Hoping to immediately right the ship, Browns general manager Ernie Accorsi brought in Giants defensive coordinator Bill Belichick for an interview.
Accorsi liked what he heard in the interview and hired Belichick.
In theory, it looked like a good hire as Belichick was at the top of everyone's list of prospective head coaches.
Unfortunately, Belichick did not turn things around for Cleveland.
In five years with the club, he had one winning season and a .450 overall winning percentage.
Of course, it's well known now that Belichick went on to New England and became one of the best coaches in the history of the game with six Super Bowl trophies in eight tries.
Looking back, it might be easy to pin the blame for Belichick's Cleveland failures on Accorsi.
After all, he was the man who hired the coach.
Therefore, the lion's share of the blame should fall on him.
However, Accorsi was not a neophyte GM when he was hired by owner Art Modell in 1985.
He was already well aware of the intricacies of team building.
Before Accorsi arrived in Cleveland, he had considerable experience as an executive with the Baltimore Colts.
He was also the architect of the Cleveland teams that were on the cusp of a Super Bowl three times.
Then, when he left the Browns after the 1992 season, he landed with the Giants and slowly but surely helped New York return to Super Bowl glory.
This is the story of the life and fascinating career of Ernie Accorsi.

Early Life and the Beginnings of a GM
Ernest William Accorsi Jr. was born on October 29,1941 in Hershey, Pennsylvania.
The future football exec was a baseball athlete in his youth, playing all the way to the American Legion level.
After graduating from high school, Accorsi matriculated to Wake Forest University where he studied Communication.
He also tried his hand at golf while at the school.
One of the primary reasons Accorsi attended Wake Forest was that it was the college Arnold Palmer went to.
However, it didn't take long for Accorsi to realize he was no Arnold Palmer and he focused on his studies.
Accorsi was an active member of the U.S. Army and then used his Communications degree to become a sports writer.
When he first applied for writing jobs, Accorsi sent copies of his work to papers all over the eastern part of the country.
He received only two responses.
One was from an editor at a paper in New Jersey.
The editor was rather unkind with Accorsi's story copy, filling it with red ink and suggestions.
"It was the first time I ever heard of a split infinitive. 'What the hell is a split infinitive?'" said Accorsi in the book The GM.
The other response was a job offer from the Charlotte News, which he promptly accepted.
As a scribe for the News, and later the The Baltimore Sun and the Philadelphia Inquirer, Accorsi gained experience for his future relationship with the media.
In the late 1960s, he worked for Saint Joseph's University and then Penn State as their Assistant Sports Publicity Director.
Accorsi's career in the NFL began in 1970 as the Public Relations Director for the Baltimore Colts.
He continued in this capacity until 1975 when he moved to the league office.
During his time working for the NFL, Accorsi served on Commissioner Pete Rozelle's staff.
In 1977, Accorsi returned to the Colts and became their Assistant general manager, a position he held through the 1981 season.
The following year, he was promoted to general manager and began his journey through the chaotic minefield of team building.

Accorsi is Thwarted by Elway and Irsay
Accorsi's first year as the head personnel man of an NFL club did not fare well.
In 1982, the Colts were a dismal 0-8-1.
The losing record meant that they had high draft picks in 1983, including the number one overall pick.
Scouting the East-West game early that year, Accorsi watched Stanford quarterback John Elway make a play in a practice that floored the GM.
"Elway takes the snap, rolls to his right," said Accorsi in The GM. "The receiver is running down the sideline until he looks to be out of range.  Elway goes, whoosh, flat-footed.  Throws this missile seventy-five yards diagonally across the field."
Accorsi then turned to a fellow Colts staff member and asked him to relay a message to coach Frank Kush.
"Tell him (Kush) we're picking this guy, no arguments.  I've never seen a throw like that in my life."
Although Accorsi had his man, Elway was adamant that he would not sign with the Colts.
To prove he was serious about not going to Baltimore, Elway signed a contract to play baseball with the New York Yankees.
However, Accorsi knew something was up when a baseball scout secretly showed Accorsi his report on Elway's baseball potential.
One line in the scout's report was exactly what Accorsi suspected.
"The line (in the report) that really stood out was, 'Elway has just an average arm,'" said Accorsi in The GM.  "Baseball and football arms are two very different things, evidently.  Anyway, that told me the baseball threat was baloney.  I knew what I faced now."
With that information in hand, Accorsi planned to draft Elway anyway, despite his baseball threats.
Colts owner Robert Irsay had other ideas.
He did not like the fact that Elway was trying to dictate where he would be drafted.
Incensed, Irsay began taking calls from various NFL teams who were willing to trade for the top spot.
Accorsi was upset at Irsay for going against his wishes and pressed the owner to reconsider.
Irsay eventually acquiesced and permitted Accorsi to pick his man.
Wasting no time, when the 1983 NFL Draft began, Accorsi made Elway the number one overall selection.
Not long after the draft, Elway contacted Accorsi by phone to try and mend their already frayed relationship.
Just when things were looking up, everything went sour, again.
Only hours after Elway's phone call, Accorsi learned that Irsay had contacted the Denver Broncos and worked out a trade.
In exchange for Elway, the Colts received quarterback Mark Herrmann, guard Chris Hinton, and Denver's first-round pick in the 1984 draft.
Accorsi felt betrayed by the move.
What might have happened if the Colts didn't trade John Elway to Denver? Former Colts GM Ernie Accorsi (who was kept in the dark on the trade) looks back: https://t.co/89bgumaSoQ pic.twitter.com/jmlZbLijTP

— The MMQB (@theMMQB) April 18, 2018

Once the 1983 season ended with a much improved 7-9 record, Accorsi resigned as Baltimore's General Manager.
Months later, Irsay made good on his public threats and moved the Colts to Indianapolis.
To this day, Accorsi still believes that the Colts never would have left Baltimore had they drafted Elway.
"…if Elway had been signed, everything would have been different," said Accorsi in The GM.  "There would have been an excitement around the city of Baltimore.  It would have translated into season ticket sales.  It might even have changed the political climate around a new stadium."
Accorsi Builds the Browns
A few years after leaving the Colts, Accorsi latched on with the Browns and became their general manager.
During the 1984 season, owner Art Modell fired head coach Sam Rutigliano after a 1-7 start.
Marty Schottenheimer took the team to a 4-4 record to round out the season.
Looking for a permanent replacement, Modell wanted to hire Penn State head coach Joe Paterno.
There was no chance that was going to happen, though, as Joe Pa was a lifetime fixture at the school.
While Modell looked elsewhere, Accorsi looked internally to find the next head coach of the Browns.
In his mind, Schottenheimer seemed the obvious choice to guide the team.
After convincing Modell, Schottenheimer was hired full-time and his interim tag removed.
The next step for rebuilding the Browns into a championship contender was finding an upgrade at quarterback.
Brian Sipe had long since departed from Cleveland and Paul McDonald was not the answer.
Accorsi briefly considered Boston College's Doug Flutie, but eventually passed due to Flutie's diminutive size.
Accorsi liked the idea of University of Miami quarterback Bernie Kosar as a Brown.
Kosar was an Ohio native who actually dreamed of playing for the Browns when he was a kid.
The only problem, Kosar was just a sophomore in college and couldn't be drafted under league rules.
Or could he?

Accorsi gets Creative
At the time, NFL rules stated that only college seniors and graduates could be drafted.
Kosar had nearly completed a double major in economics and finance and still had two years of college eligibility left.
An idea began to formulate in Accorsi's mind about how Kosar could leave college earlier than expected.
NFL Rules also stipulated that underclassmen had until April 15 that year to declare for the draft.
There were rumors in early 1985 that Kosar might want to leave Miami and enter the draft, though Kosar himself told the press that wasn't true.
However, as the April deadline approached, things got crazy.
When Kosar announced on March 15 that he would be entering the draft, multiple teams began angling for a higher pick in the '85 draft.
Minnesota, Buffalo, Cleveland, and Houston all angled so they could move into position to snag Kosar.
Cleveland horse-traded with Buffalo and received their first pick of the Supplemental Draft which would take place during the summer.
At first, the pick didn't concern anyone as Kosar was thought to be taking part in the regular draft.
However, it soon became clear that Kosar had not submitted his paperwork in time to be eligible for the regular draft.
That meant he would have to be part of the supplemental draft if he finished his college coursework in time.
Then, all heck broke loose.
Minnesota cried foul, claiming that Kosar and his agent had conspired with Accorsi and Cleveland so the Browns could select Kosar in the supplemental draft.
Houston threatened to sue the NFL if Kosar did not participate in the regular draft.
Finally, Kosar's agent threatened to sue the NFL if Kosar was forced to take part in the regular draft.
NFL Commissioner Pete Rozelle tried to act as peacemaker and allowed Kosar to make his own decision.
On April 25, Kosar held a press conference announcing that he would be entering his name in the supplemental draft.
He then finished his coursework at Miami during the summer and officially became a Brown on July 3, 1985.
This time, Accorsi got his quarterback.
Sounds like we need to dust off the history of how Ernie Accorsi and the Browns gamed the 1985 supplemental draft to grab Bernie Kosar away from the Vikings.

— Nick Korte (@nickkorte) January 6, 2020
Elway and the Broncos Prevent Accorsi and Cleveland from a Championship (or three)
With Schottenheimer and Kosar on board, the Browns started winning.
In Kosar's rookie 1985 season, the Browns finished 8-8 but we're first in the AFC Central.
Facing off against fellow 1985 draft pick Dan Marino in the '85 playoffs, Kosar and the Browns came up just short against Miami, losing 24-21.
In 1986, the team went 12-4 and won a thrilling double-overtime 23-20 victory over the Jets in the Divisional Playoffs.
The following week, Elway came back to haunt Accorsi again when he led "The Drive" to tie the score at the end of regulation in the AFC Championship game.
Denver defeated Cleveland in overtime 23-20.
A 10-5 record in 1987 got the Browns back to the playoffs.
Cleveland bested Accorsi's former team, the Colts, 38-21 in the Divisional Playoffs.
In a terrible case of deja vu, Elway and the Broncos once again spoiled the Browns Super Bowl dreams in the AFC Championship.
This time, running back Earnest Byner committed "The Fumble."  Byner was stripped of the ball just before he ran into the end zone.
The Broncos took down Cleveland for the second year in a row 38-33.
In 1988, Cleveland had a 10-6 record and a second-place finish in the division.
They faced off against rival Houston in the playoffs and lost 24-23.  1989 brought more heartbreak.
The team finished the regular season 9-6-1 and beat the Buffalo Bills 34-30 in the Divisional Playoffs.
Then, for the third time in four years, the Browns faced Denver.
Elway made short work of Cleveland, trouncing Accorsi and his team 37-21.

Accorsi Hires Belichick and Leaves Cleveland
The 1990 season was a low point for the Browns.
During the 1980s, Cleveland only had three losing seasons.
The new decade started out with a whimper when the franchise stumbled and bumbled to a 3-13 record.
Bud Carson had replaced Schottenheimer before the 1989 season.
Just after the midpoint of the '90 season, he was canned with a 2-7 record and replaced by Jim Shofner.
Accorsi was already impressed with Bill Belichick before the Browns job came open.
Belichick had been the Giants defensive coordinator since the mid-80s.
He put together a masterful defensive game plan against the Buffalo Bills in Super Bowl XXV.
During the game, the Giants defense stifled the fast-paced Bills offense and clawed their way to a 20-19 victory.
Belichick was a highly sought-after coaching candidate in 1991.
Accorsi approached Modell about his choice only to find out that Modell had already hired University of Illinois head coach Mike White.
Thankfully, Accorsi talked Modell into breaking his deal with White and hiring Belichick.
Little did anyone know in 1991 what awaited Bill Belichick. Especially our @markcraignfl who was there for win No. 1 which, ironically, came at New England. https://t.co/77bCH2M9iZ pic.twitter.com/HWjyOY2AQ3

— Star Tribune Sports (@StribSports) February 3, 2019
Belichick's tenure with Cleveland started slowly.
Three losing seasons in his first three years did not endear the coach to Browns fans.
However, things turned around in 1994 when the franchise made the postseason, eventually losing to the Steelers in the Divisional Playoffs 29-9.
However, by that time, Accorsi was gone.
After the 1992 season, he stepped down from his position with the Browns.
"…it was time," said Accorsi in The GM.  "I believe in runs, and I'd had my run there.  I wanted to get back east."
A number of years later, Belichick was talking with Accorsi when he shared his feelings about his time as Cleveland's coach.
"I really screwed up that thing in Cleveland, Ernie."
Accorsi disagreed and encouraged the coach by assuring him that he had done the best he could with the Browns.
Looking back, despite Belichick's poor Cleveland record, Accorsi was onto something by hiring the coach in 1991.
After a 36-44 overall record in Cleveland, Belichick has a current record of 238-84 in 21 seasons with the Patriots.
New England has also won six world titles in eight attempts with Belichick at the helm.

Accorsi's Giants Return to the Super Bowl
After joining the Giants in 1994, Accorsi finally experienced the thrill of a Super Bowl appearance in 2000.
That year, with quarterback Kerry Collins leading the team, New York finished the regular season 12-4 and beat the Eagles and Vikings in the playoffs.
Then, they ran into a buzzsaw Ravens defense that is considered one of the best in NFL history.
Baltimore crushed the Giants 34-7 in Super Bowl XXXV.
Over the course of the next four years, the Giants experienced more downs than ups.
Accorsi began rebuilding the team and brought in future All-Pros Osi Umenyiora, Jeremy Shockey, Justin Tuck, Antonio Pierce, and Plaxico Burress.
Collins eventually needed to be replaced and Accorsi looked for his successor in the 2004 NFL Draft.
After surveying the crop of draft eligible quarterbacks, it was obvious to Accorsi that Ole Miss quarterback Eli Manning was a sure winner.
Manning was the brother of then Colts quarterback Peyton Manning.  He was also the son of former pro quarterback Archie Manning.
In other words, Eli Manning was a legacy who appeared to have the same pro tools as his father and brother.
Accorsi wanted Manning, but very nearly experienced another Elway-style mishap.
As draft day approached in 2004, Manning told the San Diego Chargers, who had the first pick, that he did not want to play for them (as Elway did to Baltimore in 1983).
Accorsi sprung into action and tried to work with Chargers general manager AJ Smith to make a trade.
A number of false starts finally worked out for Accorsi at the last minute.
"I didn't think it was going to happen," Accorsi said earlier this year. "I didn't know AJ Smith very well, we just didn't know each other. We only spoke three or four times, and he was supposed to call me Friday … and he didn't call. So, I was resigned to the fact that we weren't going to make the deal. And we were seven or eight minutes into our 15-minute allotment when he called, and he asked for Osi one more time and I said no one more time. Then he asked 'Would you trade next year's one?' and we had already discussed that we would, and then we made it. And we made it so late that we didn't have time to get it in by computer, which makes it official. We had to do it orally over the phone … He could have backed out of the trade …"
Because the agreement came at the last minute, San Diego selected Manning.
Then, the Giants selected NC State quarterback Phillip Rivers with their fourth pick.
The two teams then swapped quarterbacks to finalize the deal.
Eli Manning on draft trade: "I want to thank Ernie Accorsi, if it wasn't for him, I'd be playing in a soccer stadium in LA." [via NewsDay] pic.twitter.com/f2inVzhXgO

— NFL Update (@MySportsUpdate) October 8, 2017
Accorsi stayed with New York through the 2006 season and then stepped down as GM.
The following year, Manning and the Giants won Super Bowl XLII 17-15 against the previously unbeaten Patriots.
In 2011, Manning got his second ring when the Giants again beat New England in Super Bowl XLVI 21-17.

Life and Career Since Leaving New York
After he left the Giants in 2006, Accorsi continued to stay involved in football.
Between 2012-2017, Carolina, Chicago, Detroit, the Giants, and Arizona hired Accorsi as a consultant to assist them in finding either a new general manager or head coach.
Since 2016, Accorsi has been listed as a Special Advisor for the Lions.
As with any personnel director or general manager, Accorsi's draft picks and free-agent acquisitions did not always pan out.
However, he had a lot more hits than misses in a career that spanned three decades.
Because of his eye for talent, the Browns were on the cusp of a championship in the late 1980s.
The Giants have Accorsi to thank for two championships even though he wasn't there to experience them.
Accorsi's steady leadership and uncanny ability in assembling championship caliber teams places him permanently in the pantheon of great franchise builders.