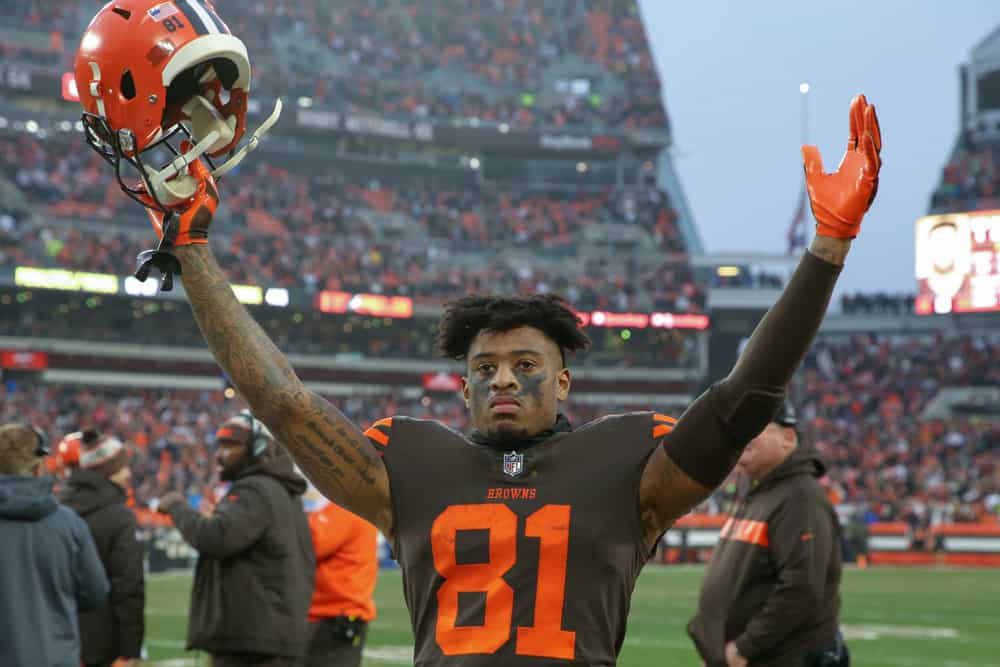 Much of the past year has been a mystery for Cleveland Browns wideout Rashard Higgins.
First, there was last season which saw him transition from Baker Mayfield's security blanket to a complete afterthought. Now, Higgins has shifted his focus from wondering what happened in Cleveland to wondering where he'll be playing next.
For a minute, it seemed like a reunion might be possible between the free-agent wideout and his former team. Things have gone quiet since then, leaving it fair to wonder if the relationship between Higgins and the Browns has reached the point of no return.
Considering the year Higgins had, it's amazing Cleveland was even interested in bringing him back in the first place.
After logging 39 catches for 572 yards and four touchdowns in 2018, his production plummeted. Higgins was targeted eleven times last season, catching just four passes.
For reference, that's three more receptions than offensive lineman Wyatt Teller.
It seemed as though a split between Higgins and the Browns was a certainty. However, the team met with his agent at the NFL combine, expressing interest in bringing him back.
The key caveat — Cleveland wanted him back "at the right price."
Considering the crickets we've heard since, said price must not have been to Higgins' liking. He's since attempted to find a new home in free agency, an effort which has been unsuccessful. Outside of lukewarm interest from the Buffalo Bills, the only thing Higgins has received is silence.
Can confirm that the #Bills have expressed interest in former #Browns WR Rashard "Hollywood" Higgins.

Higgins had a 39-572-4 stat line in 2018. He had 4 receptions in 2019. One of which was a GW TD vs. Buffalo.@BuFFanatics noted interest in Higgins yesterday. #BillsMafia

— Ryan Talbot (@RyanTalbotBills) March 19, 2020
Higgins is clearly trying to find the contract he wants. That he's yet to get it despite the fact we're well into free agency certainly makes you wonder if a reunion with Cleveland is still possible.
After all, if no other teams are expressing interest, why wouldn't he resurface conversations with the Browns, especially considering the fact they told his agent they'd welcome him back?
Sure, money might be getting in the way here.
As mentioned, Cleveland and Higgins appear to have different definitions of "the right price," otherwise you'd like to think a deal would be done by now. It's only natural for him to haggle for a better contract.
If this is indeed what the issue is, there's one significant problem — Higgins has absolutely zero leverage.
It's been almost two weeks since Buffalo expressed its interest. In the time since, nobody has done as much for Higgins' services.
Likewise, regardless of the reasoning behind them, the numbers Higgins put up last season make it nearly impossible for him to angle for a better deal.
Knowing this, you're forced to ask what Higgins is waiting for. The Browns gave him a price, one which doesn't appear to have been topped in the time since. It may not have been a number he liked, but it's better than no number at all.
Which brings us back to the original issue. Has the relationship between these two taken on too much damage? Was whatever Higgins endured last year enough to effectively burn the bridge back to the Browns?
On the surface, it doesn't feel like much of a leap.
Things were icy between Higgins and coach Freddie Kitchens. The two clashed over a Week 5 benching, with the former claiming he was healthy while the latter insisted he wasn't.
Whenever Higgins was on the field, you barely noticed, as Kitchens often looked in any direction but his when calling plays.
So, sure, there was a lot for Higgins to be upset about. However, the source of frustration has since departed.
Kitchens is gone, as is former GM John Dorsey. Replacing the latter is Andrew Berry, who was part of the front office which drafted Higgins in 2016. Knowing this, you'd think the wideout would embrace the change and eagerly stay with Cleveland in order to put last season behind him.
Yet, here we are, watching Higgins dangle in free agency despite Cleveland being one of the first teams to express interest in signing him.
Again, there's a big chance money is the main issue here. However, if Higgins is holding out for a better offer, it appears he'll be waiting for a while. Likewise, the Browns shouldn't feel remotely compelled to up their offer.
Where things go from here is a mystery, much like it's been for a while with Higgins.
There's always a chance this matter is resolved and Higgins finds his way back to Cleveland. That said, the quiet between the two sides makes you wonder if he's even interested in returning there in the first place.