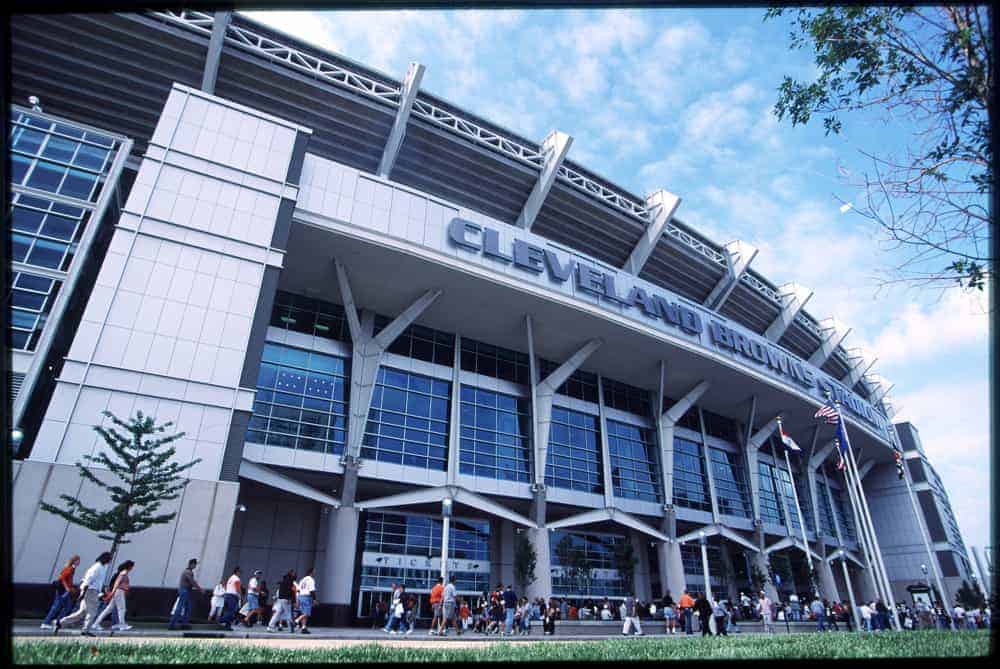 When the New England Patriots defeated the Washington Redskins back on October 6, they clinched the best winning percentage for an NFL team over any decade in history.
The team they displaced was the Cleveland Browns.
Obviously, not the current version of the Browns.
The 1950s was a different era for Cleveland football fans.
Over that decade, the team won 88 games against just 30 losses and played in 7 championship games.
Between 2008 and 2017, the Browns won just 32 games, ringing up the second-worst win-loss record over any 10-year period.
With their loss to the Arizona Cardinals, the Browns assured they would finish this decade without a winning season.
Only a tie against the Steelers last year kept the Browns from finishing 0-10 in season openers.
But things are looking up, in spite of the mood in Cleveland this week.
Cleveland came as close to a winning record as it has in years with their 7-8-1 record in 2018.
The Browns can finish the 2019 season at 8-8 if they upset the Ravens for the second time and defeat the Bengals in the season finale.
That combined 15-16-1 mark would put the Browns near the middle of the NFL; almost exactly average.
But, even if they pull that off, Cleveland will be home to the worst NFL franchise of the 2010-19 decade.
Their record of 44-115-1 will leave them several games behind the 31st-ranked Jaguars.
Sigh…This is getting ugly. Let's brighten things up. RETWEET and you could win a free tee. This one to be exact. pic.twitter.com/C8RU3sB0GK

— TeamCLE (@TeamCLE) December 6, 2015
How Did That Happen?
Way back in 2010, Cleveland hired Mike Holmgren as president of the club.
Browns hire Holmgren: Former Seattle Seahawks and Green Bay Packers coach Mike Holmgren has agreed to terms with th… http://bit.ly/7Rt4bi

— Nate Ulrich (@ByNateUlrich) December 22, 2009
Holmgren hired Tom Heckert as his new general manager and let Eric Mangini hang around for a second season as head coach.
Mangini's Browns won 4 out of 6 games in the middle of the 2010 season, pulling within 2 games of .500.
Then they lost their last 4 to leave them with the same 5-11 record they had in Mangini's first season.
In 2011, Pat Shurmur took over as head coach and offensive coordinator.
He started off well enough with a 2-1 and then 3-3 record.
The Browns proceeded to lose 9 of their last 10.
Jimmy Haslam purchased a controlling interest in the Browns before Shurmur's second season.
Top stories of 2012, No. 1: Jimmy Haslam buys the Browns http://t.co/pFRfgGYL

— clevelanddotcom (@clevelanddotcom) December 29, 2012
Shurmur added an offensive coordinator and a new senior offensive assistant coach.
Despite a 3-game winning streak, Cleveland finished in the last place again at 5-11.
GM Heckert and Shurmur were fired and Rob Chudzinski came in as head coach.
Michael Lombardi took over as general manager.
After a 3-2 start, the Browns lost 10 of 11 and Chudzinski and Lombardi were shown the door.
Cleveland promoted Ray Farmer to general manager and hired Mike Pettine as head coach for the 2014 season.
Pettine guided the Browns to a 7-4 record before securing another losing season with 5 losses in a row.
His second season featured preseason internal fighting about Johnny Manziel's readiness to start for the Browns.
Offensive coordinator Kyle Shanahan (quit) and quarterbacks coach Dowell Loggains (fired) were casualties of those battles.
Cleveland would struggle to a league-worst 3-13 record and another coaching search began.
Then Things Got Bad 
2016-2017 would mark the darkest episode of Cleveland Browns football.
Jimmy Haslam fired Ray Farmer and announced the team's general counsel, Sashi Brown, would serve as Vice-President of Football Operations.
He was the de facto general manager.
Then Haslam raised more eyebrows by hiring Paul DePodesta as Chief Strategy Officer.
SI's Tom Verducci on the Browns' hire of Paul DePodesta. Now this is some strong insight.https://t.co/h5IY5yAJoJ

— Peter King (@peter_king) January 6, 2016
DePodesta came from the New York Mets baseball team and had no NFL experience.
Hue Jackson became the head coach.
In Jackson's first season, the Chargers gave the Browns a Christmas Eve gift, messing up two late field goals to give the Browns their only win.
The following season, Jackson and the Browns weren't even that lucky.
Sashi Brown was fired and replaced by John Dorsey before the 2017 season ended.
The @Browns hire John Dorsey as their next General Manager. https://t.co/f99ppDlj8i pic.twitter.com/0hy9PYeth6

— NBC Sports (@NBCSports) December 8, 2017
Despite a 1-31 record, Jackson was brought back in 2018.
Jackson would name his sixth starting quarterback and bring in his seventh before rumors of locker room discord led to his firing mid-season in 2018.
Greg Williams took over and became the Browns' only winning head football coach of this decade, going 5-3 in relief.
This season, Freddie Kitchens is at the helm.
Unstable Numbers 
For those counting at home, that makes six head coaches and five general managers over the decade.
Do you know who didn't have that many managers or general managers?
Everybody else.
Do you know who had the fewest GMs and head coaches over that span?
The team that just replaced the 1950s Browns as the best NFL team by winning percentage of any decade.
New England has rolled with Bill Belichick as the head coach and de facto general manager the entire decade.
The Browns woes aren't limited to the head coach and GM, either.
They've funneled through multiple front office personnel, not to mention coordinators and assistant coaches.
On the Field Isn't Much Better
Then there is the quarterback issue.
If a team wants player stability anywhere, it is at the quarterback position.
Other than a handful of games lost to injury, Tom Brady has been the unquestioned starting quarterback for the Patriots this entire decade.
Cleveland has used 16 different starting quarterbacks since 2010.
They drafted six quarterbacks in the first three rounds this decade, including three first-round picks.
If Baker Mayfield finishes this season as the starter, it will be the first time since 2001 the Browns used one starting quarterback for a full season.
The Browns have been an exercise in how not to run an NFL franchise almost since coming back to the league in 1999.
#Eagles head coach & #SBLII champion Doug Pederson is the No. 4 name on the famed (and now retired @BrokawInc) #Browns QB jersey. Couch ->Detmer->Wynn->Pederson pic.twitter.com/zGMvDA7uFY

— Daryl Ruiter (@RuiterWrongFAN) February 5, 2018
Hope on the Horizon?
Even with the chance to achieve their first .500 record since 2007, fans and reporters are clamoring for another head coaching change.
Inexperienced coaching plays out during games, while reports of bickering coaches and disgruntled players magnify another disappointing season.
General manager Dorsey's intentions and rationale are easily questioned because the makeup of the coaching staff and the team is blatantly flawed.
Winning teams have stability, but first, they had to make the right hires.
Few Cleveland Browns fans are convinced those hires have been made yet.
Barring a miracle finish, the 2019 Browns will continue its league-worst 16-year playoff drought.
They join the Tampa Bay Buccaneers as the only NFL team without a playoff appearance this decade.
Things can always get worse.
But it's hard to imagine another decade like the one that ends December 31.