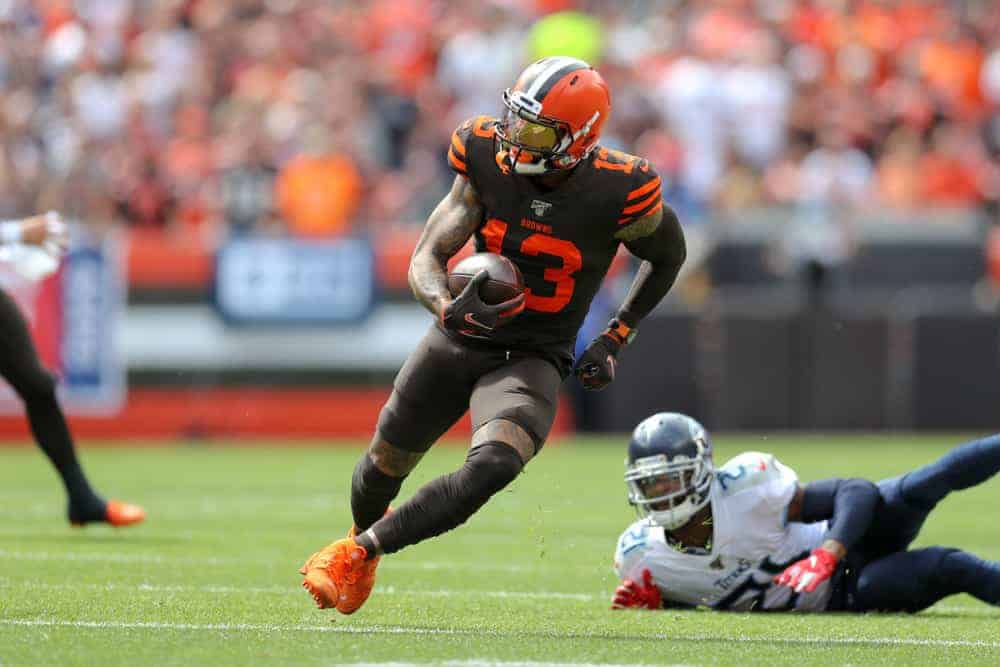 NFL players voted for Cleveland Browns wide receiver Odell Beckham Jr. as the 59th-best player in the league ahead of the 2020 season.
The players vote each year on the NFL Network's "Top 100" list.
While assembling this year's list, NFL Films collected 970 ballots and interviewed 132 players.
"I just want to be the very best that I can for this team [and] be the leader that I'm supposed to be," Beckham said in the NFL Network's highlight video unveiling his ranking.
It marks Beckham's sixth "Top 100" appearance as he enters his seventh NFL season.
Beckham's NFL Network "Top 100" ranking year by year:
2020: 59th
2019: 23rd
2018: 77th
2017: Eighth
2016: 10th
2015: 32nd
"He's still Odell. He's still one of the most respected receivers."

Even though @obj dropped in the rankings, players still know how good he is 👀

📺: #NFLTop100 Players continues TONIGHT (8pm ET) on NFL Network pic.twitter.com/qrSa3NkZjm

— NFL Network (@nflnetwork) July 28, 2020
.@obj checks in at No. 5️⃣9️⃣ on the #NFLTop100! pic.twitter.com/yDL4yfFlop

— Cleveland Browns (@Browns) July 28, 2020
Beckham, 27, is joined on this year's list by teammates Jarvis Landry (61) and Myles Garrett (80).
Running back Nick Chubb could also join the three once the NFL Network's countdown of its top 40 players continues at 8 p.m. ET Tuesday.
The NFL Network is set to unveil its top 10 players at 8 p.m. ET Wednesday.
Beckham played through a core muscle injury in 2019, appearing in all 16 games, catching 74 passes on 133 targets for 1,035 yards and four touchdowns.
"He's still Odell," Cincinnati Bengals defensive end Carlos Dunlap said. "Obviously, his numbers aren't where he would like or what you're used to seeing."
Beckham had core muscle surgery in January.
Browns head coach Kevin Stefanski said in June that Beckham is "free and clear" and "100%" ready for the start of training camp.
"He's still one of the most respected receivers," Dunlap said. "As you see on tape, a lot of people are game-planning for him and their gameplans have to adjust because of the attention that he's getting."
Browns left guard Joel Bitonio was complimentary of his teammate.
"When Odell gets the ball in his hands, you think there is a chance to score every time," Bitonio said. "We had the Jets game this year when he caught a little slant and took it 80 yards to the house."
Bitonio said Beckham's presence helps the rest of the Browns' offensive skill position players.
"He's helped out this offense tremendously just having him on the team," Bitonio said. "It opens it up for Nick Chubb and Kareem Hunt, Jarvis [Landry]. It spreads the ball for everybody."
Bitonio also mentioned Beckham's relationship with Landry.
"Him and Jarvis working together has been really good for Jarvis," Bitonio said. "They put their best corner on Odell and that really opens things up for Jarvis."
Landry played in all 16 games last season, catching 83 passes on 138 targets for 1,174 yards and six touchdowns.
Landry was also recently ranked as the No. 61 overall player in the top 100 players for 2020.
Beckham and Landry also played together from 2011-2013 at LSU.
Buffalo Bills Pro Bowl cornerback Tre'Davious White also discussed the challenges of guarding Beckham.
"With Odell, I had the tough task of guarding him one-on-one pretty much the whole game, and imagine how the week of practice went, and I was trying to prepare for him," White said. "He can beat you deep. He can beat you underneath. He can run any route on the route tree effectively. A guy like that, you can't stop him completely. [The] only thing you can do is try to limit the damage that he does to your defense."
In Beckham's career, he has 464 catches for 6,511 yards and 48 touchdowns.