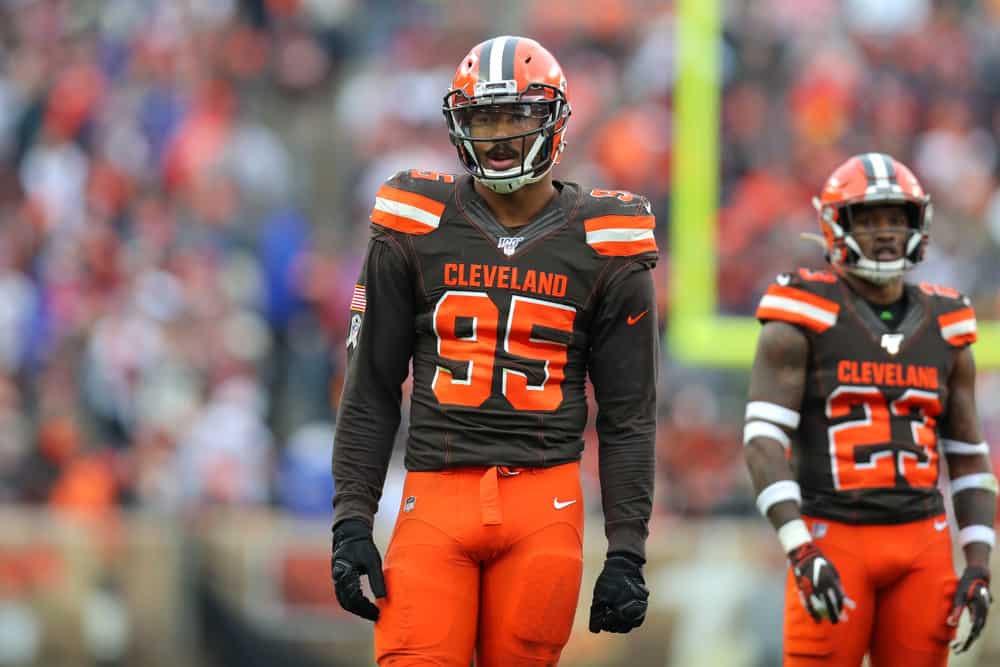 NFL players voted for Cleveland Browns defensive end Myles Garrett as the 80th-best player in the league headed into the 2020 season.
The players vote each year on the NFL Network's Top 100 list.
Garrett, 24, is the first Browns player to make this year's list.
"I want to prove that I'm the best defensive player in the league," Garrett told the NFL's Network's Charles Woodson. "The best pass rusher, that's nice, but I need to play the run, be able to get tackles for a loss, knock the ball out…make it unanimous."
In 2019, Garrett ranked No. 49 on the NFL's Top 100 players list.
Last year marked the first time Garrett made the NFL's Top 100 players list.
.@MylesLGarrett checks in at No. 80 on the #NFLTop100

Thoughts? 🤔

📰 » https://t.co/JcNBxq6H2P pic.twitter.com/W6IkDMxHJz

— Cleveland Browns (@Browns) July 27, 2020
Garrett's back-to-back top 100 rankings come after a breakout 2018 season when he was named a second-team All-Pro and earned his first Pro Bowl nod.
"The way he rushes with his hands and speed and he has great power, you've got to respect him [and] his ability to play football," Baltimore Ravens defensive end Calais Campbell said.
On Sunday, Garrett tweeted about where players would rank Arizona Cardinals outside linebacker Chandler Jones on this year's list.
"You guys think I'll be ranked in the Top 100 this year?" Jones tweeted. "Lmk [Let me know]!"

"If you're not in the top 100, they gotta fire whoever in charge of making the list," Garrett replied.
If you're not in the top 100, they gotta fire whoever in charge of making the list 😂 https://t.co/weMRdncUMU

— Myles Garrett ⚡️ (@MylesLGarrett) July 26, 2020
Earlier this month, Garrett signed a five-year contract extension worth up to $125 million.
The deal makes Garrett the highest-paid non-quarterback in the history of the NFL.
"I don't to be the same player that I was last year," Garrett told media members after signing his extension. "I want to be better in all aspects, and even on that trajectory I was [in] the [Defensive] Player of the Year conversation, so I don't want to make it a conversation next year.

"This next year, I want to ball out, win that award, but I want to take my team to the playoffs and even higher than that, but that's all based on what we do as a team and how we can build chemistry with each other. I know it's kind of hard with COVID and getting in the building, so we just gotta work with what we got."
In three seasons, Garrett has compiled 30.5 sacks in 37 games — the most ever by a Browns player in his first three seasons.
Garrett also has 104 tackles, eight tackles for a loss and six forced fumbles.
Last season, Garrett had 10 sacks in 10 games.
However, Garrett compiled the 10 sacks in his first seven games played, meaning teams likely started game-planning for him.
Garrett is the only player in Browns history to post multiple double-digit sack seasons.
The NFL suspended Garrett indefinitely after swinging Pittsburgh Steelers quarter Mason Rudolph's helmet at him in an on-field fight on Nov. 14.
Garrett ended up missing the final six games of the 2019 regular season after getting reinstated by NFL Commissioner Roger Goodell in February.
Last week, Browns rookies, quarterbacks and injured players reported for training camp.
All other Browns players are scheduled to arrive Tuesday for camp.
The NFL Network's "Top 100" episodes continue at 8 p.m. ET Monday.
Last year, three other Browns made the Top 100 list: Jarvis Landry (84), Baker Mayfield (50) and Odell Beckham Jr. (23).