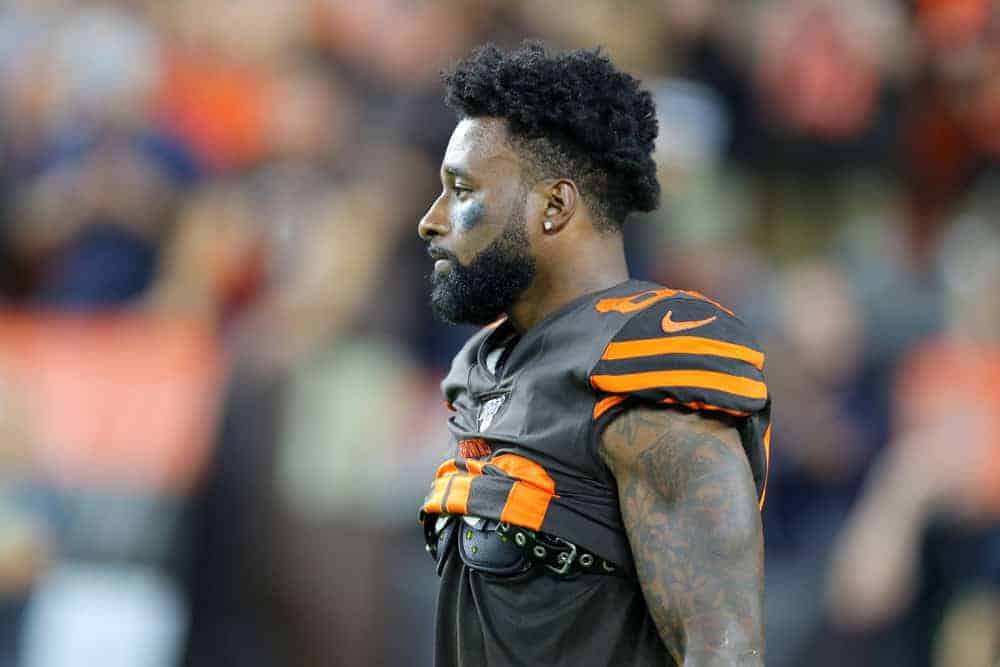 Both of the Cleveland Browns starting wide receivers decided to undergo surgery this offseason.
Star receiver Odell Beckham Jr. underwent surgery for hip and groin injuries, while Jarvis Landry had hip surgery.
Landry says that he is a little bit ahead of schedule in his rehab process.
He believes that he'll be able to get back on the field around August despite being limited with his physical therapy.
"The rehab process is going great," Landry said on a Zoom call with reporters.
Jarvis Landry, on recovering from hip surgery: "The rehab process is going great. … I can't predict when I'll be back on the field, whether it's July, August or September." Did add August is the target.

— Jake Trotter (@Jake_Trotter) May 20, 2020
What Happened to Landry?
Landry decided to have surgery in early February after battling through hip issues during the 2019 season.
He debated putting off the surgery for another season and trying to play through the issue again.
"It was something I knew I needed," said Landry.
Landry has not missed a game throughout his six seasons in the NFL.
He goes on to say that he thought about putting off the surgery, but at the end of the day he didn't want to be one of the reasons his team didn't succeed.
Landry has stayed in contact with his teammate Odell Beckham Jr. who is rehabbing on the opposite coast.
"Seeing his process has been motivating me from afar," Landry said.
Landry says that he has been staying in touch with the Browns training staff as well.
He talks with the staff twice a day about the best modality things he can do.
It sounds like Landry is headed in the right direction and will finally be able to be fully healthy.
Landry's 2019 Season
Despite battling a hip issue, the five-time Pro Bowl wideout was able to have a successful 2019 campaign.
He finished the 2019 season with a career-high in receiving yards.
Most missed tackles forced by WRs 2010-2019

1. Golden Tate – 183
2. Antonio Brown – 108
3. Julio Jones – 107
4. Jarvis Landry – 103 pic.twitter.com/ncRRT47BFi

— PFF (@PFF) May 15, 2020
Landry hauled in 83 receptions, 1,174 receiving yards, and six touchdowns through 16 games last season.
He was targeted 138 times, which is actually his lowest since the 2016 season with the Miami Dolphins.
The 27-year-old receiver was able to put up fairly strong numbers, while battling through hip pain throughout the season.
It's going to be interesting to see how Landry is able to perform once he recovers from his hip surgery.
Predictions for Landry in 2020
The Browns have a revamped offensive line and signed Pro Bowl tight end Austin Hooper in free agency.
Cleveland is ready to dominate on the offensive side with new head coach Kevin Stefanski.
Stefanksi was able to create a strong offensive scheme as offensive coordinator for the Minnesota Vikings last season.
Most uncatchable targets in 2019(seasonal targets in parentheses):

1) Curtis Samuel 40 (107)
2) Robert Woods 39 (140)
3) Jarvis Landry 39 (138)
4) Mike Evans 37 (118)
5) DJ Moore 36 (135)
6) DeVante Parker 35 (128)
7) Allen Robinson 35 (153) pic.twitter.com/FaR4APn7H7

— Blake Hampton (@BlakeAHampton) May 14, 2020
The Browns organization as a whole struggled on the offensive side of the ball last season.
Hopefully with a new head coach and a different scheme the results will be better.
Landry was able to put up fairly strong numbers despite his quarterback Baker Mayfield having a sophomore slump.
Mayfield threw the second-most interceptions in the league and often times struggled to get the ball in the hands of the receiver.
Landry could very well have a career year if the Browns are able to reach their full potential.
The improved offensive line should give Mayfield more time to pass in the pocket.
It sounds like Landry will be ready to play in August, and he could very well be headed to another Pro Bowl in 2020.