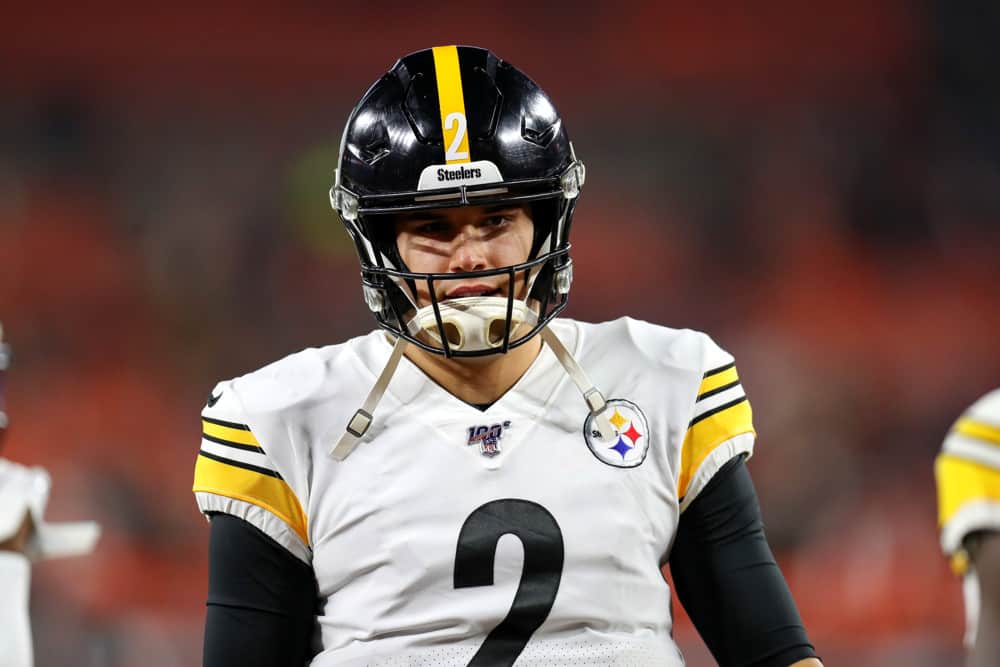 The feud between Myles Garrett and Mason Rudolph is really heating up.
The Cleveland Browns defensive end was suspended for the final six games of the season for his actions at the end of 21-7 victory.
After an altercation with Rudolph on the ground, Garrett tore his helmet off and used it as a blunt object to strike the quarterback's head.
It took fans back to situations like "Malice in the Palace" in terms of egregious things we have ever seen in a game.
This is all ugly pic.twitter.com/9WQzcjZCCj

— CJ Fogler (@cjzero) November 15, 2019
Both players have traded jabs at each other this week and it is getting heated.
Garrett Doubles Down On Mason Rudolph
Earlier this week, commissioner Roger Goodell reinstated Garrett.
The former No. 1 overall pick brought up the incident again in an interview with ESPN's Mina Kimes.
In the interview, Garrett claimed (again) that Rudolph called him "a stupid N-word."
"When he said it, it kind of sparked something, but I still tried to let it go and still walk away. But once he came back, it kind of reignited the situation. And not only have you escalated things past what they needed to be with such little time in the game left, now you're trying to re-engage and start a fight again."

Myles Garrett reiterates Mason Rudolph used racial slur after being reinstated for throwing helmet during brawl

(H/t @Jake_Trotter) pic.twitter.com/NmFfS5Kt7M

— Bleacher Report (@BleacherReport) February 14, 2020
Mason Rudolph's Response
Rudolph took to Twitter to air his frustration with the situation.
After Outside the Lines aired the new interview, Rudolph has this to say:
1000% False.

Bold-Faced Lie.

I did not, have not, and would not utter a racial-slur.

This is a disgusting and reckless attempt to assassinate my character. https://t.co/mZcEcC0tCl

— Mason Rudolph (@Rudolph2Mason) February 15, 2020
Mike Tomlin's Statement
The Pittsburgh Steelers head coach issued a statement in support of his quarterback on Saturday morning.
For Tomlin, this is unusual given his past history of rarely speaking to the public during the offseason.
However, given the circumstances, he felt the need to support his quarterback.
A strong statement from #Steelers coach Mike Tomlin in support of QB Mason Rudolph, in response to the Myles Garrett interview with @OTLonESPN. Tomlin cites many conversations and interactions and says he received no indication of anything racial. pic.twitter.com/je6kVOjL0I

— Ian Rapoport (@RapSheet) February 15, 2020
Legal Action?
At the time, Rudolph was considering legal action according to NFL Network's Ian Rapoport.
When Garrett claimed that Rudolph called him the racial slur the first time, Rudolph's attorney Tim Younger called the accusation a "lie."
Mason Rudolph's agent Tim Younger, in a statement posted to Twitter:

"This is a lie. … The malicious use of this wild and unfounded allegation is an assault on Mason's integrity, which is far worse than the physical assault witness on Thursday. This is reckless and shameful."

— Brooke Pryor (@bepryor) November 21, 2019
Rudolph ultimately decided not to pursue legal action, calling the situation an "NFL matter."
Since Garrett publicly stated this again, it's possible that could change.
According to ESPN's Brooke Pryor, Younger said that the "defamatory" statements by Garrett exposed him to "legal liability."
"We waited to hear the entire interview," Younger said. "Garrett, after originally apologizing to Mason Rudolph, has made the ill-advised choice of publishing the belated and false accusation that Mr. Rudolph uttered a racial slur on the night in question."
It's unknown what could transpire in terms of future penalties, but we will keep you updated as the saga continues.