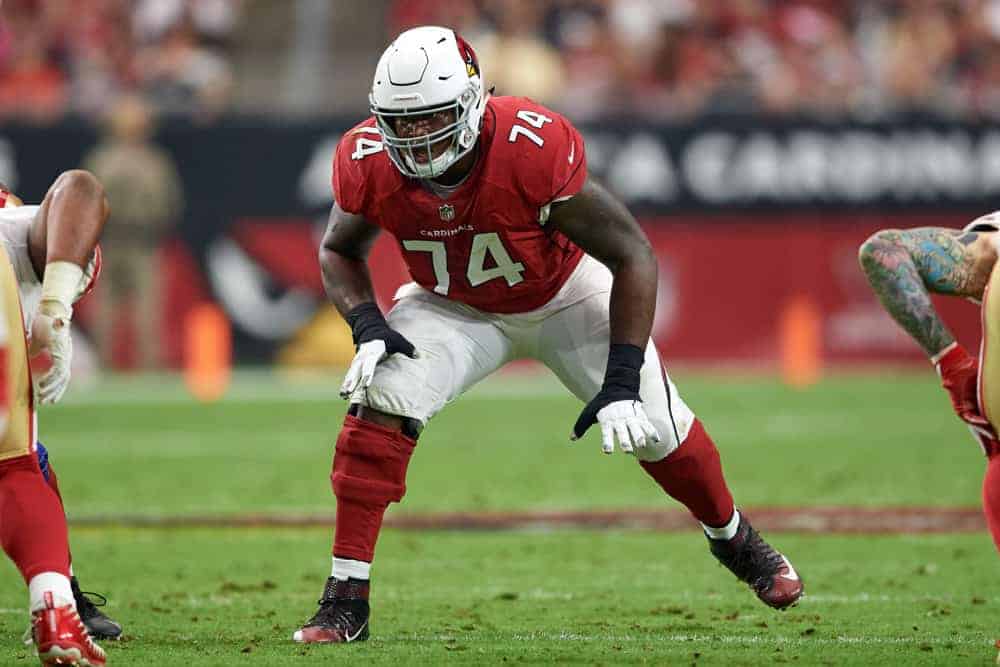 The Cleveland Browns were supposed to be a dark horse Super Bowl pick.
Instead, the team was an absolute embarrassment during a 6-10 season that saw Freddie Kitchens get fired.
A mediocre third-place finish in the AFC North was all the team had to show.
The Browns are hoping to change that narrative in 2020 with a new head coach (Kevin Stefanski), new general manager (Andrew Berry), and upgrades through free agency.
The franchise has talent on paper and is not too far from success.
Cleveland could help their first-year head coach by signing a slew of talented free agents this offseason.
Any of these five undervalued players could do the trick.
Shaquil Barrett-OLB
Myles Garrett and Olivier Vernon both have the ability to get to the quarterback.
However, it's a rule of thumb that one team can never have enough pass rushers on their team.
Shaquil Barrett is likely set to get a huge pay bump after the 27-year old finished 2019 with 58 tackles, six forced fumbles, and a league-leading 19.5 sacks.
Before 2019, Barrett produced just 14 sacks over the course of 14 seasons.
Easy pick…Shaquil Barrett #GoBucspic.twitter.com/tQGm8yjZl4

— mdugans® 💜💛 #824 (@mdugansXL) February 14, 2020
Even with Garrett and Vernon on the team, the Browns ranked 20th in the league in sacks.
How do you fix that solution?
Maybe by signing the league's leader in sacks from last season.
End of year SACK stats (all positions):#TB Shaquil Barrett, LB – 19.5#ARI Chandler Jones, LB – 19.0#NO Cameron Jordan, DE – 15.5#MIN Danielle Hunter, DE – 14.5#PIT T.J. Watt, OLB – 14.5

Barrett & Jones brought the heat to the QB this year.

— ZPD (@TheFBWiz) January 2, 2020
Again, we are not predicting that the Browns are going to sign Barrett but the team should definitely explore his contract requests.
Barrett immediately would provide an upgrade on the defense and give new defensive coordinator Joe Woods a trio of doom in Garrett, Vernon, and Barret.
Randall Cobb-WR
The Cowboys have a tough decision with Randall Cobb.
The wide receiver resurrected his career this past season with Dallas.
The 2019 season ended with Cobb making just $5 million on a one-year deal to produce 828 yards on 55 receptions.
It was the most receiving yards Cobb had in a season since 2015 where Cobb had 829 yards.
Cobb remained healthy for the first time in nearly four seasons, which was what derailed his career in Green Bay.
My top 5 #NFL UFA at WR:
1. WR Amari Cooper (#Cowboys)
2. WR A.J. Green (#Bengals)
3. WR Randall Cobb (#Cowboys)
4. WR Emmanuel Sanders (#49ers)
5. WR Breshad Perriman (#Bucs)

— Ryan Sakamoto (@BEASTwriter_) February 15, 2020
Now, the Cowboys will have to make a tough decision on bringing him back.
Dallas has a slew of free agents of their own that includes Dak Prescott, Amari Cooper, Byron Jones, and more.
That leaves Cobb as a potential odd man out.
Bringing Cobb to the Browns gives the team a veteran option as the team's No. 3 receiver.
With Rashard Higgins set to become a free agent and KhaDarel Hodge unproven, bringing in a player like Cobb gives Baker Mayfield plenty of options.
The stats show that you had two 1,000 yard WR in cooper and Gallup! Randall Cobb first year on team had over 800 yards out the slot and all 3 of them average over 15 yards per reception. But the cowboys thought it was smart to fire the WR Coach? That's just not smart.

— Lequan W. (@lequan_w) January 9, 2020
It feels like that playing for the Browns would be an easy transition.
Both Odell Beckham Jr. and Jarvis Landry finished with over 1,000 yards receiving.
Cobb running the slot as the No. 3 option, possibly for $7 million on a one-year deal, sounds enticing.
Bud Dupree-OLB
Bud Dupree helped the Steelers lead the league in sacks, and finish in the top ten in yards allowed.
In March, Dupree is set to become an unrestricted free agent after setting a career-high in sacks with 11.5.
Once free agency begins, will be highly sought for teams wanting to improve their pass rushing.
Despite missing his second season due to an injury, Dupree has become a consistent starter for the last two years.
Over that span, Dupree has 11.5 sacks and 84 tackles, where 61 are solo. Dupree helped the Steelers lead the league in sacks, and finish in the top ten in yards allowed.
It's by no fluke either when you take a look at what he has accomplished over the course of his career.
Here are Bud Dupree's sacks from 2015-2019. You can watch Dupree develop year by year but what he did in 2019 was very special and no fluke. #Steelers pic.twitter.com/axMisozKef

— Daniel Valente (@StatsGuyDaniel) February 6, 2020
There's no question that the Steelers want to resign Dupree, which makes this candidate tricky.
Either on a long-term deal or a franchise tag, Bud Dupree will be a Steeler in 2020. You can count on it. https://t.co/F2ndRJS39U

— Alex Kozora (@Alex_Kozora) January 15, 2020
When looking at the reports, stats, and everything else, Dupree would make a great fit in a Browns uniform.
In terms of free agents the Browns "should" sign, Dupree fits the mold.
He is familiar with the division and would cost less than a player like Barrett (previously mentioned).
Plus, not all reports suggest that the Steelers are all in on Dupree, citing that he is a risk.
For similar reasons why the team should sign Barrett, making a splash on Dupree would be a consolation prize.
A three-headed monster at linebacker could help the Browns defense rise among the ranks.
The path to a Super Bowl has been owning a top-5 defense, which is something the Browns have lacked.
Signing a player like Dupree gets the Browns closer to that goal.
Tramon Williams-CB
The Browns already have a 22-year old (Denzel Ward) and 21-year old (Greedy Williams) in their starting rotation, so why bring in a guy who is 37 next season?
At 37-years old, Williams posted a PFF rating of 75.1, which ranked higher than the likes of Baltimore's Jimmy Smith and Denver's Chris Harris Jr.
At one point, Pro Football Focus ranked Tramon Williams as the sixth-best corner in the league.
According to PFF, Williams allowed the 13th-fewest first down receptions (20) and a forced incompletion rate of 14%, which ranked 27th in the league.
The Packers don't have many difficult free agent decisions to make, but the future of beloved veteran Tramon Williams presents one of the bigger questions facing the team this offseason. Complicating matters: his possible successor is also a free agent. https://t.co/OjSj8gLZqr

— Peter Bukowski (@Peter_Bukowski) February 14, 2020
This is a proven veteran that knows how to play the position and the Browns need someone to tutor the kids.
If the Packers are not willing to bring Williams back, then the Browns should look to poach him.
Having a backup could help the development of Ward and Williams.
The duo led Cleveland to a 21st ranked coverage grade of 61.0 in 2019.
Bringing in someone that can provide the guidance to make Ward and Williams better but also someone that can play the position too makes all the sense in the world.
The team's new DC Joe Woods has been down this road before when he was a coach with the Oakland Raiders.
When Charles Woodson was 38 years old, he produced his best year in tackles.
Maybe, Woods could coach a repeat product in his first year with the Browns.
D.J. Humphries-T
The Browns appear to be ready to move on from Greg Robinson.
Robinson started 14 games for the Browns and ranked 11th in the league for holding penalties with five.
He was one of 14 players in the league that racked up at least 10 penalties or more during the regular season.
The Browns could look to the draft for a replacement or look at this tackle from the Arizona Cardinals.
Humphries is a first-round pick from the 2015 NFL Draft but he came off his best season in 2019.
According to Pro Football Focus, he gave up just 30 pressures on 677 attempts and it was his first season grading below 72.0 in the run game.
According to recent news, the Cardinals are "optimistic" about resigning Humphries, so the Browns would need to make contact fast.
Cardinals likely to re-sign LT D.J. Humphries https://t.co/srA6Rq44Ha

— Rotoworld Football (@Rotoworld_FB) February 14, 2020
Optimistic does not mean anything in today's league though.
By signing Humphries, the Browns could solidify their offensive line.
Nick Chubb rushed for the second-most yards in the league, and the team is hopeful to resign Kareem Hunt.
It could cost the Browns an investment though.
Spotrac.com has projected his value at around five-years and $70.5 million, which would make him the fourth highest-paid left tackle in the league.
You may be wondering to yourself how Humpheries falls into the undervalued category.
The Dallas Cowboys consistently have put together one of the best rushing attacks in the league.
A lot of that has to do with the power of Ezekiel Elliott, but remember DeMarco Murray?
Murray still holds the single-season record for rushing yards in a season and a lot of that has to do with the offensive line of the Cowboys.
Piecing that together for the Browns could make the offense even more deadly, and why wouldn't a first-year coach in Stefanski want that?