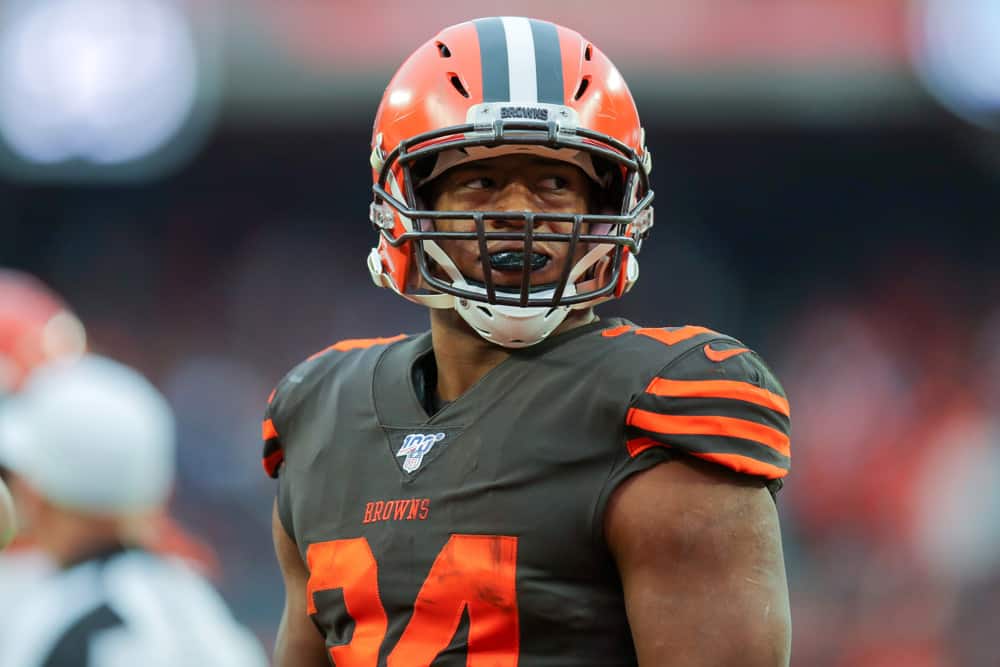 Cleveland Browns running back Nick Chubb went from unranked to No. 36 on the NFL Network's rankings of the league's top 100 players.
It marks the first time Chubb has made the NFL Network's "Top 100" list as he heads into his third NFL season.
The players vote each year on the list.
While assembling this year's list, NFL Films collected 970 ballots and interviewed 132 players.
Teammates Odell Beckham Jr. (59), Jarvis Landry (61) and Myles Garrett (80) join Chubb on this year's list.
Chubb rushed for 1,494 yards (second in the NFL) and eight touchdowns during the 2019 season, which ended in his first trip to the Pro Bowl.
Browns teammates Denzel Ward, David Njoku, and Joel Bitonio were complimentary of Chubb.
"That's just Nick Chubb," Ward said while watching footage of Nick Chubb breaking tackles against the Miami Dolphins after catching a screen pass. "He breaks tackles. Break tackles [and] make people miss."
Njoku even had a pint glass with Chubb's name and picture on it to show to the NFL Network crews.
"You're looking at the G.O.A.T. right here. Straight up." Njoku said. "Nick Chubb, man, he's a beast."
Bitonio might have had the highest praise for Chubb, calling his teammate "the ultimate package at running back."
"Right now, I have Nick Chubb as my No. 1 player," Bitonio said.
Last season, Chubb posted seven games of 100 rushing yards or more.
"He's a powerhouse," Njoku said of Chubb. "He just breaks tackles so easily."
Njoku also pointed out Chubb's speed, which was on full display during last season's 40-25 win over the Baltimore Ravens in Week 4.
NFL Next Gen Stats showed Chubb ran 21.95 mph during an 88-yard touchdown run on Sept. 29, 2019, against their AFC North rival.
"We had a run to the outside of the right, and Earl Thomas had an angle on him to make the play, [but] Nick Chubb just ran by him," Bitonio said. "You would think, 'Oh, Earl Thomas is a fast guy. He would catch him,' and there was no chance."
Nick Chubb hit a staggering 21.95 MPH against the Ravens 😱#nextgenstats shows us how he's the fastest man in the NFL.

Next Gen Stats, powered by @awscloud pic.twitter.com/WBCZmQfcTV

— Sunday Night Football (@SNFonNBC) September 30, 2019
Nick Chubb reached 21.95 MPH on this 88-yard TD run, the fastest speed reached on a touchdown this season.@NickChubb21 sustained 21+ MPH for 44.4 yards, from the Browns 33 yard line to the Ravens 21 yard line.#CLEvsBAL | #Browns pic.twitter.com/AARpBPGS3H

— Next Gen Stats (@NextGenStats) September 29, 2019
There's a slogan "game recognizes game."
Dallas Cowboys Pro Bowl running back Ezekiel Elliott identified what makes Chubb such a great runner.
"He's got great vision," Elliott said. "He's got [a] great feel. He's got good running instincts."
Chubb's rushing total last season was the most by a Browns running back since 1965 and the fourth-most in team history.
Several of the Browns' opponents in 2019 also spoke about Chubb's ability.
Chubb had 116 rushing yards on 20 attempts on Nov. 10, 2019, in Week 10 during a 19-16 win against the Buffalo Bills.
"I think his balance is pretty good as well," Bills linebacker Tremaine Edmunds said. "When you combine all those things, man, you have a dangerous guy back there. So we knew going into it we had to have tackling plan for him as well.
Chubb also had 15 carries for 106 rushing yards on Dec. 12, 2019, in Week 14 during a 27-19 win against the Cincinnati Bengals.
"He had a very explosive game versus us," Bengals defensive end Carlos Dunlap said. "He had] a couple catches and a couple runs."
Chubb wasn't nearly as effective against the Bengals in 33-23 loss during the 2019 regular-season finale, rushing for 41 yards on 13 attempts.
The Browns lost 38-24 to the Arizona Cardinals on Dec. 15, 2019, during Week 15, but Chubb still had 127 rushing yards on 17 attempts.
"He's a guy that can run with power and he's a quick guy, [a] speedy guy too," Cardinals defensive tackle Corey Peters said.
Ward and Las Vegas Raiders safety Johnathan Abram joked that Chubb doesn't say much while on the field.
"[You] probably got him breathing," Ward said when asked what sound clips NFL Films got of Chubb when he was Mic'd Up. "That's what he does. He just goes hard and doesn't say much."
Instead, Chubb lets his game do the talking.
"That was the funniest segment ever," Abram said. "I watched it. He doesn't talk."