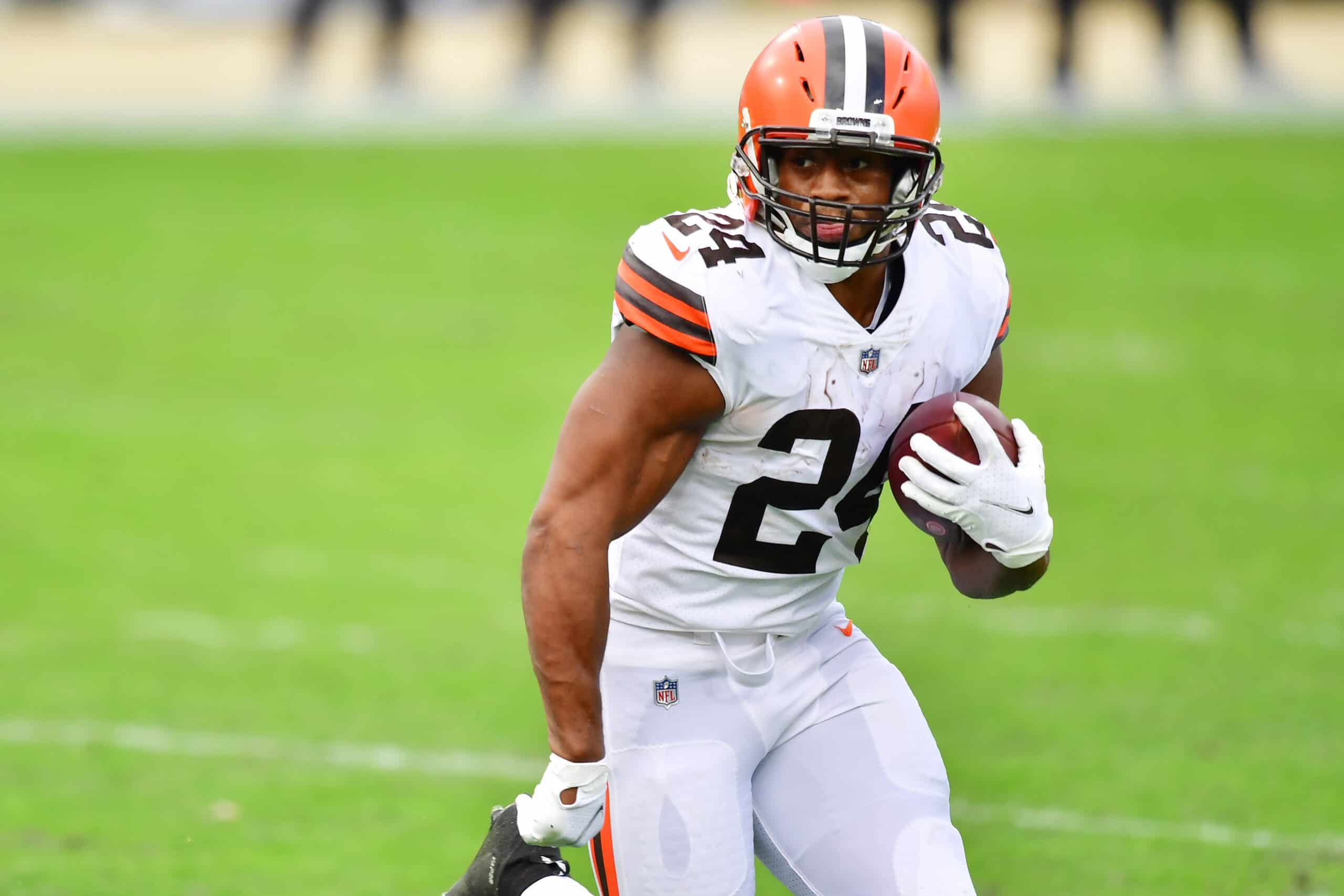 The makers of the popular EA Sports video game "Madden NFL 22" have ranked Nick Chubb as the NFL's third-best running back.
The Cleveland Browns running back is rated a 96 overall behind Christian McCaffrey of the Carolina Panthers (97) and Derrick Henry of the Tennessee Titans (96).
EA Sports has started to release its top 10 players by position groups ahead of the Aug. 20 release of "Madden NFL 22."
Here's a look at the other top NFL running backs:
1️⃣ @CMC_22
2️⃣ @KingHenry_2
3️⃣ @NickChubb21

Give us your Top RBs #Madden22 pic.twitter.com/KCmUX5ILsx

— Madden NFL 22 (@EAMaddenNFL) July 28, 2021
Chubb, 25, earned a 92 rating for speed, a 91 for acceleration, an 85 for strength, an 83 for agility, a 97 awareness and an 89 for stiff-arming.
"Chubb has power and speed in strides, but where he really excels is ball security," EA Sports game makers wrote. "Possessed with the safest hands and the highest Break Tackle rating in Madden NFL 22, Chubb is the man for the job when it comes to earning those extra few yards when the game is (literally) on the line."
Injuries limited McCaffrey to three games in the 2020 season, but it wasn't enough for EA Sports to rank either Henry or Chubb ahead of him to start the 2021 season.
It's surprising Henry didn't take the top spot considering he led the NFL in rushing attempts (378), rushing yards (2,027), rushing touchdowns (17), touches (397) and yards from scrimmage (2,141).
Here's a look at how each player's 2020 regular-season stats compare:
Last year, EA Sports rated Chubb a 92 overall to start the 2020 season.
McCaffrey was one of five NFL players who started last season in the "Madden" 99 club.
In 2019, McCaffrey led the league in touches (403), yards from scrimmage (2,392) and total touchdowns (19).
On Wednesday, EA Sports also unveiled its top 10 tight ends.
The game makers rated Cleveland Browns tight end Austin Hooper as an 86 overall, which is sixth-best in the NFL.
EA Sports rated Kansas City's Travis Kelce as the top tight end in the game with a 99 overall rating.
Top 10 Tight Ends in the Game 🏈 https://t.co/x2DNFzulAu #Madden22 pic.twitter.com/4hwWFkGUEm

— Madden NFL 22 (@EAMaddenNFL) July 28, 2021
On Tuesday, Browns defensive end Myles Garrett earned recognition as the top edge rusher in the video game with a 98 overall rating.
However, the Browns did not have a wide receiver earn top 10 recognition.
Current "Madden" games update player rankings each week based on player performance.