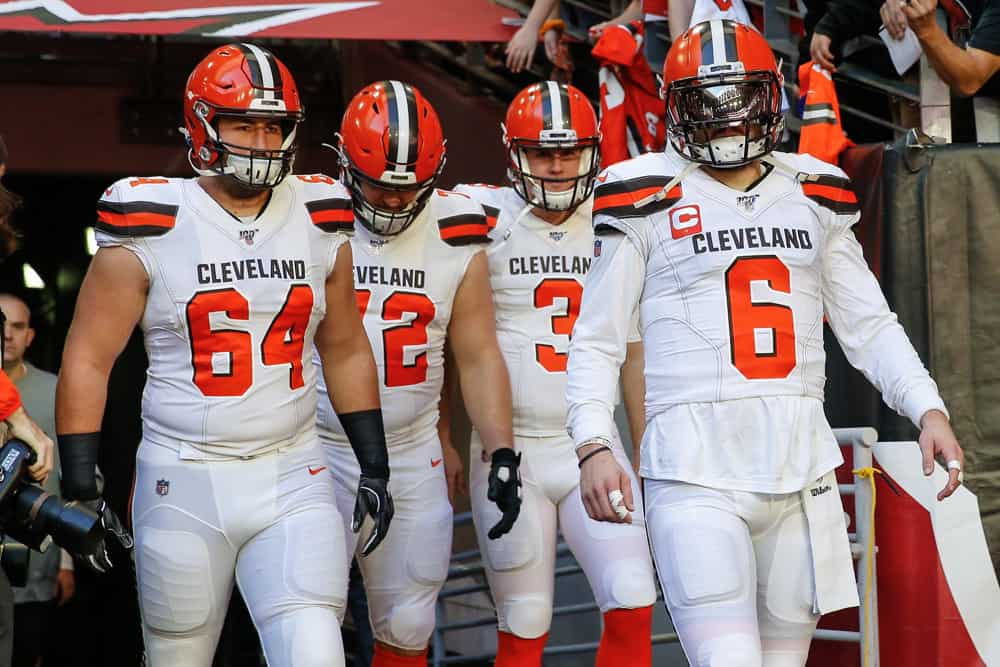 There is a lot of pressure on Cleveland heading into 2020.
If the Browns match their record from 2019, the disappointment may even be larger this year than it was last year.
However, if we think on the bright side, there are a lot of positives heading into 2020.
The Browns seemingly did not play to their fullest potential last season.
Nick Chubb detailed the struggles earlier in the offseason:
"I think we thought we were a lot better than we were and we thought it was just going to happen for us, we didn't actually put the work in… We had all the talent in the world but we didn't put the work into it."
With a new regime in place, the Browns seem ready to put their best effort into making 2020 their year.
Ben Linsey of Pro Football Focus has released the "Best- and worst-case scenarios for every NFL team ahead of the 2020 season,"
Let's take a look at his Browns best, worst case record projections.
PFF's Best Record Projection In 2020
PFF projects the Browns at 11-5 for their 90th percentile outcome.
An 11-5 record would be an impressive accomplishment for a Browns team that has not won double-digit games since 2007.
Linsey thinks that if the Browns win more than 10 games this season, it will start with Baker Mayfield:
"How they get there: Mayfield looks more like the player we saw for three seasons at Oklahoma and as a rookie than the disappointing version we got last year, and the talent on Cleveland's defense stays healthy and produces.

"Obviously, Mayfield is the key in that equation, but the defense is an underrated component to Cleveland's success. Denzel Ward has graded out as one of the better cornerbacks in the NFL in single coverage, and Cleveland adds several more high draft picks in Greedy Williams, Grant Delpit and Karl Joseph into the fold. The defensive line is loaded with talent too — particularly Myles Garrett, who was the highest-graded pass rusher off the edge in the entire league at the time of his suspension. That talent just needs to stay on the field."
Many do not expect Garrett to get suspended again this season, but second offenses are not taken lightly.
In terms of injuries, no one can predict them, but if the injury bug hits Cleveland, the Browns do have strong depth.
If the defense stays healthy, there are many reasons that Cleveland should be fighting for playoff position this year.
The offense should be improved as well, as the revamped Browns have many things in their favor.
They have one of the best wide receiver duos in the league:
Most receiving yards on play-action passes among WRs in 2019:

A.J. Brown – 646
Odell Beckham Jr. – 536
Jarvis Landry – 521
Stefon Diggs – 452 pic.twitter.com/FVYxwqBQ6c

— PFF CLE Browns (@PFF_Browns) July 13, 2020

Mayfield amassed a lot of yardage on play-action passes to Beckham and Landry in 2019.
However, Mayfield's success in 2020 will most likely depend on his accuracy.
PFF's Worst Record Projection In 2020
PFF has their 10th percentile outcome at a lowly 6-10.
How is PFF able to project a 6-10 record for the Browns?
"How they get there: Baker Mayfield's struggles last season weren't merely a product of poor coaching and dysfunction; they were an indicator of real issues. Those pocket presence woes aren't fixed by the additions of Jack Conklin and Jedrick Wills on the offensive line, and Mayfield is still missing too many passes. PFF's Sam Monson laid out the reasons to expect Mayfield to bounce back in 2020 earlier this offseason, but if he doesn't, another disappointing season could be in store for Cleveland."
Although Baker Mayfield hosted workouts during this offseason, the team has not been able to all get in sync.
With a new head coach, general manager, and tight end at the top of the depth chart, there is a lot that needs to be worked on during the offseason.
Mayfield had a sophomore slump of a season in 2019, and PFF described the main areas that need improvement.
Although Mayfield picked up yardage on play-action, he had trouble connecting with his star wide receiver last year:
Most deep ball incompletions (20+ yds) that were deemed the QB's fault in 2019:

1. Odell Beckham Jr. (16)
2. James Washington (12)
3. Robbie Anderson (12) pic.twitter.com/cv6evN5jtn

— PFF CLE Browns (@PFF_Browns) July 10, 2020
If Beckham and Landry are not as productive in 2020, that could be trouble for the Browns.
The Browns' Average Outcome is 8.5 Wins
When averaging the 10th and 90th percentile outcomes for the Browns, we reach 8.5 wins in 2020.
A nine-win season puts the Browns in the chase for the playoffs.
Meanwhile, even if they win eight games, the Browns will have their most wins since 2007.
However, the last time team with eight or fewer wins to make the playoffs was the 7-8-1 Carolina Panthers in 2014.
Cleveland is in search of its first NFL playoff berth since 2002.
With Kevin Stefanski at the helm, Browns fans hope that he can bring his success from Minnesota to Cleveland.
Stefanski will be the 10th head coach since Butch Davis.
He is looking to turn this franchise around, and if he can start with a strong 2020, he could enjoy a long and successful tenure in Cleveland.