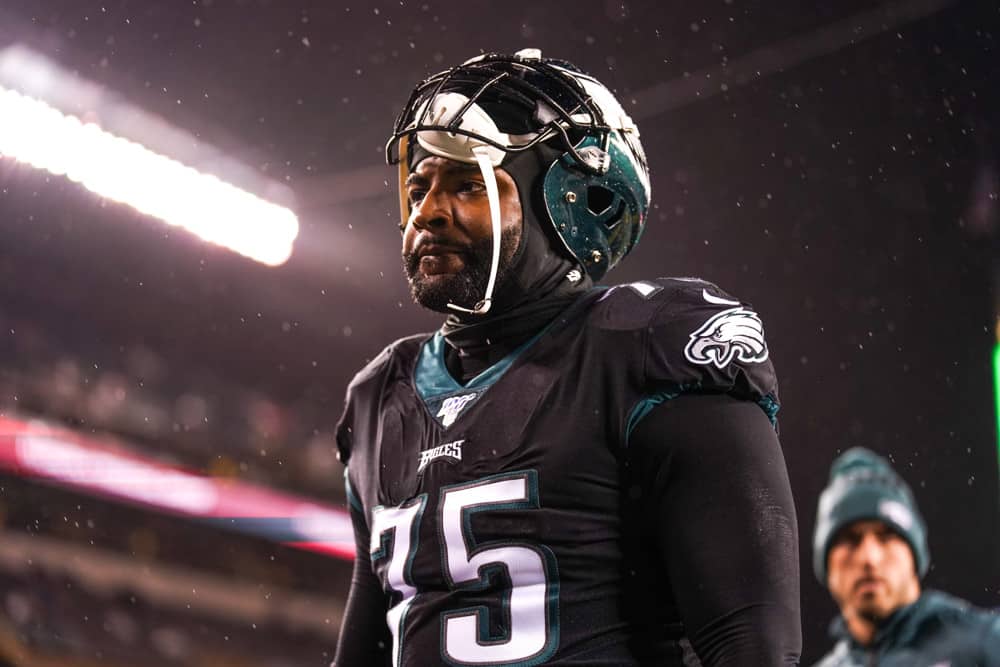 According to Inside the Bird's Geoff Mosher, the Cleveland Browns attempted to lure Super Bowl LII champion Vinny Curry from the Philadelphia Eagles:
Adding to this: I'm told the Browns made a more competitive financial bid, but Curry's desire was to stay in Philly so he accepted #Eagles offer. https://t.co/8uA3ITrqfM

— Geoff Mosher (@GeoffMosherNFL) August 7, 2020

The Browns have been consistently looking to improve their team this offseason, and their high offer to Curry is not a big surprise.
According to Ian Rapport of NFL.com, here are the details of Curry's contract:
The #Eagles are giving veteran DE Vinny Curry a 1-year deal worth up to $2M, source said. He gets $1.3M fully guaranteed with a chance to earn the $2M with sack and playoff incentives.

— Ian Rapoport (@RapSheet) August 7, 2020
The Browns already have arguably the NFL's best offensive skill players.
Andrew Berry is hoping to get the defense up to the same level.
Cleveland is hoping to add a free agent, and there are some strong ones still available, like Clay Matthews, Josh Kline, and Ezekiel Ansah.
However, Curry slipped through the Browns' fingers.
The No. 59 overall selection in the 2012 draft is entering his ninth season in the league.
It will be his eighth with the Eagles.
He has not made a Pro Bowl in his NFL career.
However, the Browns thought they would be able to get an underrated player like Curry to join their improved roster.
According to Pro Football Reference, he missed just one tackle each of the last two seasons.
Curry also had four quarterback hits in his three playoff games played en route to the Super Bowl championship.
Why did the Browns Want to Sign Curry?
In June, Cleveland had the most cap room available among the "Top 51" players.
The Browns decided to retain defensive end Olivier Vernon by restructuring his contract in July instead of signing Jadeveon Clowney.
Everson Griffen was the defensive end that was also on the minds of Browns fans in addition to Clowney.
It turns out that the Browns were going after Curry, who would have provided depth to the position.
Many can argue that Curry has been underused by the Eagles.
Since his second NFL season, he has just missed two games with Philadelphia.
The most snaps he played in a season came in 2017.
That season was the only one in which he was on the field for more than 50 percent of his team's defensive snaps.
Therefore, Curry's NFL career is not close to being over.
This 32-year-old does not have as much mileage as a player who was playing more snaps per year.
The Browns most likely would have been able to utilize Curry on defense and special teams.
His versatility extends to special teams, as he has played at least 50 special teams snaps during each of the last five years.
Unfortunately for the Browns, Curry has called Philadelphia home for the majority of his career.
Although Philadelphia released Curry in 2018 after he refused to restructure his contract, the Eagles signed him just one year later.
That offseason, the Tampa Bay Buccaneers signed him to a three-year, $23 million contract, but released him one year later.
The Browns may have dodged a bullet by not signing Curry because of his inability to be flexible financially and his underperformance at times.
As of August 7, no Browns defensive ends have elected to opt-out of the 2020 season.
However, if Cleveland loses any defensive ends to opting-out or injury, then the inability to sign Curry could hurt the Browns heading into this season.