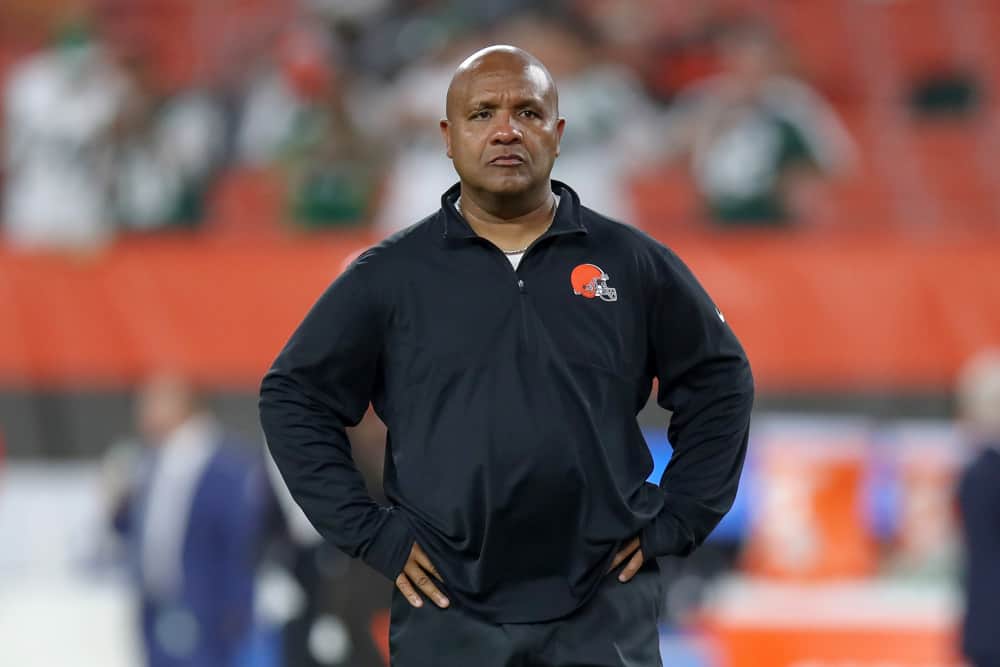 Former Cleveland Browns head coach Hue Jackson might be looking to get back on an NFL sideline.
An unnamed source told ESPN reporter Dianna Russini that the Pittsburgh Steelers interviewed Jackson earlier this week for their offensive coordinator position.
The Steelers chose not to retain offensive coordinator Randy Fichtner after their 48-37 loss to the Browns in the AFC Wild Card game.
However, the NFL Network's Ian Rapoport reported last week that the Steelers are expected to promote quarterbacks coach Matt Canada to their vacant offensive coordinator position.
The Steelers have not made an official decision, and do not have an offensive coordinator listed on the team website as of Thursday afternoon.
The Pittsburgh Steelers interviewed former Browns Head Coach Hue Jackson earlier this week for the offensive coordinator position per a league source.

— Dianna Russini (@diannaESPN) January 21, 2021
The #Steelers are expected to promote QB coach Matt Canada to offensive coordinator, sources tell me and @TomPelissero. A creative mind originally from the college game, Canada also interviewed with the #Dolphins but now stays in Pittsburgh.

— Ian Rapoport (@RapSheet) January 16, 2021
Whoever fills the Steelers' offensive coordinator will likely have to work with quarterback Ben Roethlisberger, who is due to turn 39 in March and has one year left on his contract.
Roethlisberger's cap hit is worth $41.25 million.
The Steelers' quarterback has thought about retiring, but is expected back for the 2021 season.
After starting the 2020 season with an 11-0 record, the Steelers lost five of their last six games, including the postseason.
Jackson compiled a 3-36-1 record as head coach of the Browns from 2016-2018.
The Browns fired Jackson midway through the 2018 season after a 2-5-1 start.
Jackson rejoined the Cincinnati Bengals' staff as an assistant coach for the rest of the season.
At the time, Browns quarterback Baker Mayfield did not like Jackson's decision.
"He left Cleveland and goes down to Cincinnati," Mayfield said in November 2018. "It's just somebody that was in our locker room, asking us to play for him, and he goes to a different team who we play twice a year. Everybody can have their spin on it, but that's how I feel."
In 2011, Jackson was also the head coach of the Oakland Raiders.
He's been an offensive coordinator for four NFL teams: the Bengals (2014-2015), Raiders (2010), Atlanta Falcons (2007) and Washington (2003).
In October 2020, Jackson said his "biggest regret" was leaving the Bengals for the Browns.
"My top one is leaving Cincinnati to go to Cleveland," Jackson said bluntly. "I was with a really good football team, with a good quarterback who had won a lot of games. Very talented players on offense. Andrew Whitworth, I hope if I would've stayed, I could've convinced the organization to keep him because he was a catalyst for a lot of the things we were doing and he was a tremendous player."
Jackson has compiled an 11-44-1 record as a head coach with no playoff appearances.
The only thing better would be if Hue Jackson signs his contract on 1-31. https://t.co/2TDv28hjyL

— McNeil (@Reflog_18) January 21, 2021