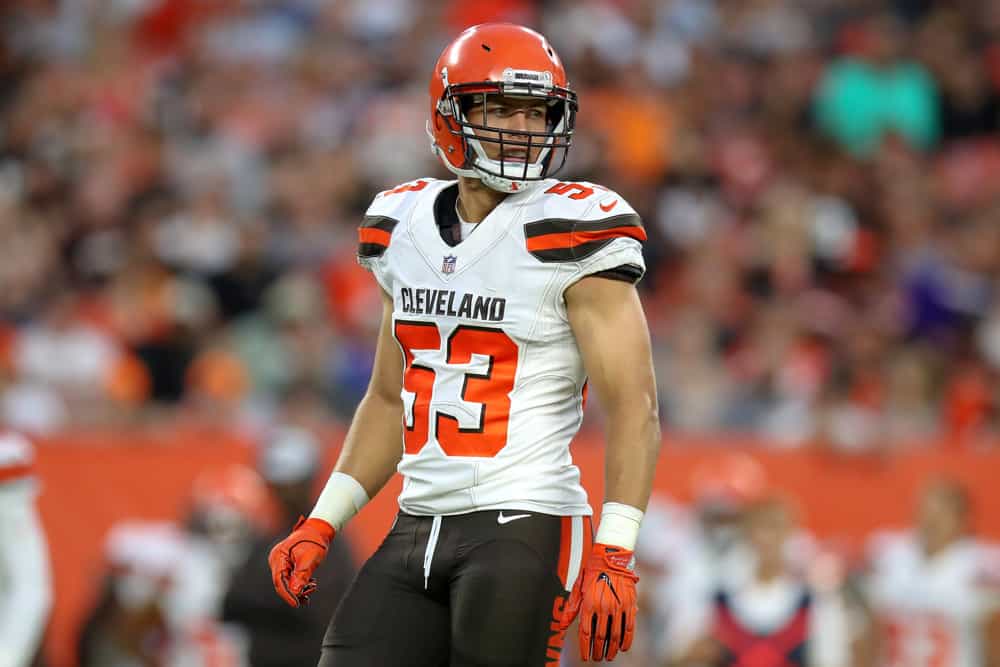 The Cleveland Browns are not expected to bring back linebacker Joe Schobert when free agency starts later this month.
Pro Football Focus analyst Solomon Wilcots said the Browns should consider retaining their Pro Bowl linebacker during Thursday's edition of "Bull and Fox" on 92.3 The Fan.
"If you let Joe Schobert get out the door, I really think that's a bad thing," Wilcots said. "Joe Schobert is a three-down linebacker.

"No, he's not Luke Kuechly, but I think he's a poor man's Luke Kuechly. I think he's a really good player."
Wilcots pointed out that four different coordinators have coached Schobert since the Browns selected the linebacker out of Wisconsin in the fourth round of the 2016 NFL Draft: Steve Wilks, Gregg Williams, Ray Horton and Louie Cioffi.
"That's not conducive to helping any of the players develop," Wilcots said.
Many reports indicate Schobert is asking for more than $10 million per season, which is probably more than the Browns are willing to pay.
San Francisco 49ers linebacker Kwon Alexander's four-year, $54 million deal and Carolina Panthers linebacker Shaq Thompson's four-year, $54.2 million contract extension show Schobert's approximate value.
"This is capitalism at its finest," Wilcots said. "We can't say that we live by free-market principles, and then when the market tells us, we still want to deny it."
Wilcots said the Browns' lack of consistency with coaches has led to poor player development and on-field performance.
"Had he [Schobert] been playing in the same system consistently, you would have seen a higher level of productivity," Wilcots said. "Players cannot be at their best when you continue to change the coaches."
Radio hosts Adam "The Bull" Gerstenhaber and Dustin Fox Browns mentioned how the Browns could also select a linebacker to replace Schobert during April's NFL Draft.
The Browns have the No. 10 overall pick.
Wilcots said the Browns also have to address many problems on the offensive side of the football.
"The coach did a poor job getting Baker Mayfield ready to play, asking him to do things that the team was not ready to do, and the receivers were not on the same page," Wilcots said of former Browns head coach Freddie Kitchens. "The protection wasn't there."
Wilcots said Mayfield was "running for his life" during the 2019 season.
"The coach wasn't ready. He was in over his head," Wilcots said. "Instead of fixing those couple of problems that they had, they went ahead and uprooted the tree and planted it in another area of the garden.

"As we know, it takes time for the roots to take hold. I use that as a metaphor because I think it's true. If you're going to develop players, you've gotta maintain some consistency, and we know that you can't say that with the Cleveland Browns. They need consistency."
Headed into the 2020 season, the Browns are looking to snap the longest active playoff drought in the NFL.
The Browns last made the playoffs during the 2002 season.
NFL free agency officially starts at 4 p.m. ET, Wednesday, March 18.