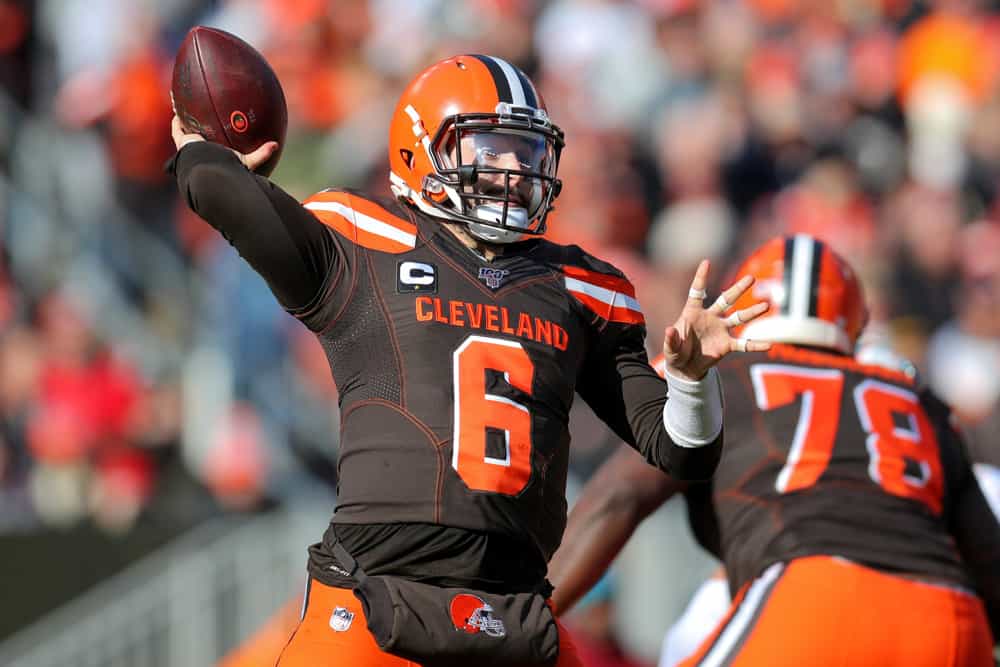 Cleveland Browns fans expected to see Baker Mayfield thrive under Freddie Kitchens in 2019.
The actual result was a total disaster that saw Mayfield regress from his rookie season and Kitchens be sent out the door after one lousy, embarrassing season.
The Browns are getting a new head coach in 2020 and have their pick now that every other team with an opening has made a decision.
The #Browns will interview #Eagles DC Jim Schwartz today, they announce, and then they have #Vikings OC Kevin Stefanski and #Patriots OC Josh McDaniels. They plan to complete each interview, rather than cut it off and hire someone early. They want to complete the process.

— Ian Rapoport (@RapSheet) January 8, 2020
Mayfield was drafted No. 1 overall to be the future of the franchise and it would be foolish for ownership not to hire a head coach who will work directly with Baker to make him better, just like Kitchens was supposed to do.
There are about seven or so legitimate candidates, depending on your source, and the following three are the best choices to work directly with the young quarterback to help turn things around in 2020.
3. Eric Bieniemy
It is rather shocking how Eric Bieniemy has been passed over for so many head coaching opportunities.
The Kansas City Chiefs offensive coordinator may not be a quarterback guru like Kitchens supposedly was, but he helps oversee one of the best offenses in football with one of the best young quarterbacks in the game at the helm.
He would immediately bring experience and professionalism to the building and would be able to teach Mayfield the same things he is teaching Patrick Mahomes.
Bieniemy also played in the NFL and would not cave to Mayfield or any unnecessary drama.
2. Kevin Stefanski
Kevin Stefanski was reportedly almost the Browns coach last year.
Oh, what could have been.
Stefanski has worked his way up with the Minnesota Vikings and has helped make Kirk Cousins look like a legitimate top-12 quarterback in the NFL.
The 37-year-old would come with proven success leading an offense and helped Cousins finish the regular season with 26 touchdowns and only six interceptions.
I said it 10 days ago, and maintain it, my belief is #Browns coaching search comes down to Kevin Stefanski & Josh McDaniels. They are on deck to be interviewed Thursday & Friday.

— Daryl Ruiter (@RuiterWrongFAN) January 9, 2020
Stefanski is not going to shy away from the analytical side of the game and can go in-depth with Mayfield to correct the minor mistakes that turned into debacles this past season.
He would also employ an offense that utilizes the run, which is just one basic fix to help Mayfield improve in 2020.
1. Josh McDaniels
Josh McDaniels has worked hand-in-hand with one of the best quarterbacks ever in Tom Brady.
His Denver days were a decade ago and it is time to move on and focus on his success rather than his most notable failure.
McDaniels' resume doesn't require any stats to be shared.
He has been trusted by Bill Belichick to run the New England Patriots offense for much of the past two decades and his demeanor perfectly aligns with that of the young Mayfield.
Now it is just a matter of whether McDaniels wants the job or not.
The top players on the Browns didn't respect Kitchens and that would change with the John Carroll graduate running the show.
The X-factor for McDaniels is the way he has been able to get someone as talented as Brady to listen to him for so long when they are the same age.
If Baker can't listen to McDaniels, the Browns will be looking for a new quarterback a year from now.