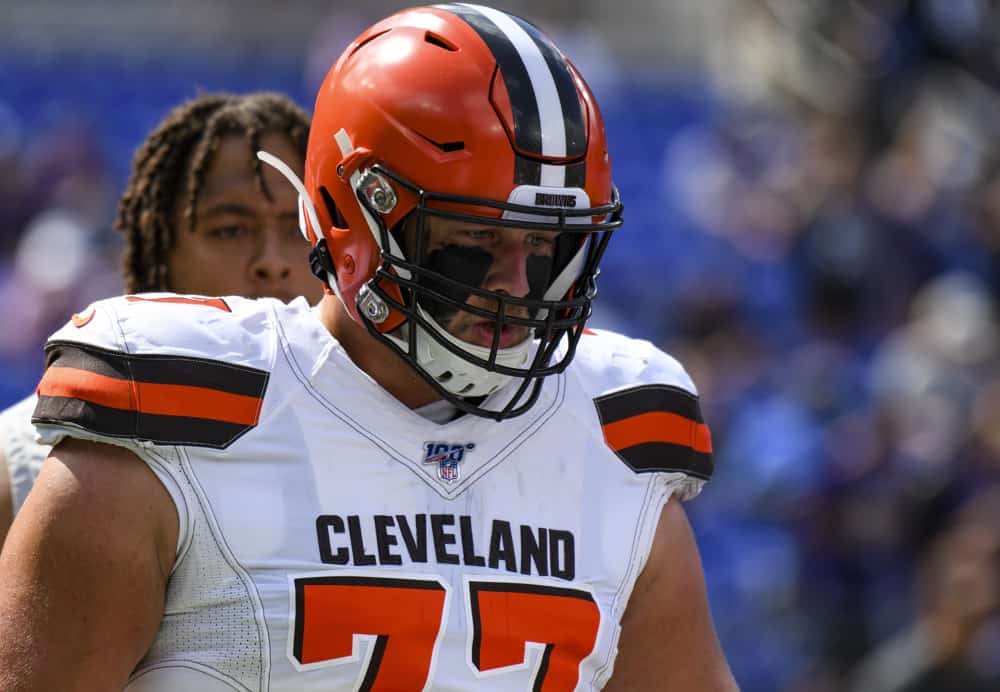 Perhaps Cleveland Browns right guard Wyatt Teller wanted to provide a challenge to teammate Myles Garrett's intense offseason workouts.
Miami Dolphins defensive end Zach Sieler and former University of Alabama guard Hannah Cook posted videos and pictures on Friday to their Instagram Stories of Teller carrying an alligator.
Apparently, the gator was dead.
TMZ reports Teller hunted, shot and killed the gator earlier this week in Florida.
#Browns RG Wyatt Teller carrying an alligator on his back 😳 pic.twitter.com/k35P9ZSqdG

— Brad Stainbrook (@BrownsByBrad) March 5, 2021
The tabloid reported Sieler estimated the gator was about 9.5 feet and 200 pounds.
It seems Teller figured the best way to move the gator was to put it on his shoulders and walk with it.
To put the size of the gator in perspective, the Florida Fish and Wildlife Conservation Commission states:
"Female alligators rarely exceed 10 feet in length, but males can grow much larger. The Florida state record for length is a 14 foot 3-1/2 inch male from Lake Washington in Brevard County. The Florida record for weight is a 1,043 pound (13 feet 10-1/2 inches long) male from Orange Lake in Alachua County."
Apparently, it was legal for Teller to hunt and kill the gator because he was at Clay Gully Outfitters, which is a hunting and fishing facility in Lorida, Florida.
Otherwise, Florida law states, "A person may not intentionally kill, injure, possess, or capture, or attempt to kill, injure, possess, or capture, an alligator or other crocodilian, or the eggs of an alligator or other crocodilian, unless authorized by rules of the [FWC]."
Sieler is the owner of Clay Gully Outfitters.
It's been a bizarre offseason for the Browns.
On Wednesday, quarterback Baker Mayfield tweeted about seeing a UFO with his wife Emily near Lake Travis in Texas.
Almost 100%, Em and I just saw a UFO drop straight out of the sky on our way home from dinner… we stopped and looked at each other and asked if either of us saw it… Very bright ball of light going straight down out of the sky towards Lake Travis. Anybody else witness this?

— Baker Mayfield (@bakermayfield) March 4, 2021
Also, Garrett has posted two workout videos showing off his athleticism.
One of the videos shows Garrett doing a 58-inch box jump.
The other video is of Garrett showing off his basketball skills, which includes several slam dunks, crossover moves and a pretty fluid jump shot.
After careful review, this was actually 58 inches. I thought it was too easy.. now I gotta do 64 give me a week😂 #mytrainercantcount https://t.co/7NzKCiSNTS

— Flash Garrett ⚡️ (@MylesLGarrett) March 2, 2021
You need a big guard @mcuban? 👀 pic.twitter.com/73c55fEqTp

— Flash Garrett ⚡️ (@MylesLGarrett) February 24, 2021