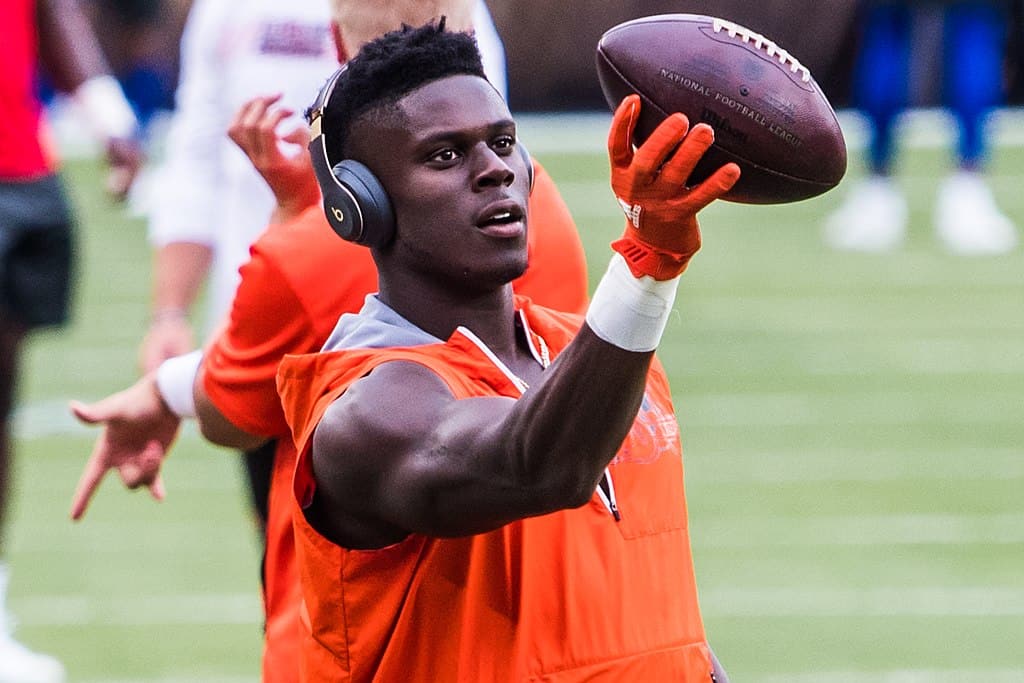 The tight end position was dismal last season for the 6-10 Cleveland Browns.
Part of the problem was that David Njoku only played in four games last season due to a wrist injury.
Njoku looked like a backup tight end with five receptions for 41 yards and a touchdown in 2019.
He was also benched for a reported altercation with former head coach Freddie Kitchens.
On his contract, Njoku has one more year of service and a club option for a fifth year.
With all of this being said, it looked inevitable that Njoku would be traded.
Instead, head coach Kevin Stefanski is looking to fully utilize Njoku in 2020.
#Browns Andrew Berry, on picking up the fifth year options of Myles Garrett and David Njoku, says he envisions both being here for years to come.

— Mary Kay Cabot (@MaryKayCabot) February 25, 2020
What The GM Had To Say
When it came to what general manager Andrew Berry had to say, his message was simple.
"We view David Njoku as a talented pass catcher who will take a step forward this year," Andrew Berry at the Combine. Njoku caught five passes in 2019.

— Jeff Schudel (@jsproinsider) February 25, 2020
Berry was a part of the organization when the Browns took Njoku in the first-round of the 2017 NFL Draft.
He acknowledged that he still sees the raw athleticism that Njoku possesses.
However, he also said that the team has "talented tight ends on the roster."
"We have some good (tight ends) who are already on the roster," Berry said. "Obviously, David Njoku didn't quite have the year that he anticipated this past fall, but we still view David as a talented pass catcher and a guy that we expect to take a step forward in this upcoming year."
What Kevin Stefanski Had To Say
Stefanski was on the exact same page as his GM but with a catch.
#Browns GM Andrew Berry said TE David Njoku is part of team's future. Coach Kevin Stefanski said he has big plans for Njoku but said it's also a big year for his future.

— Scott Petrak ct (@ScottPetrak) February 25, 2020
Njoku needs a rebound season or he will likely be out of a job in 2021.
However, Stefanski doesn't see this as a make or break year but more as a big year based on his "skill set."
"We have big plans for (Njoku)," Stefanski said, via Jeff Risdon of USA Today. "But it's about, for him, coming back in the building and working and then ultimately being able to see if we can utilize him in a role that can take advantage of some of his skill set."
Stefanski is known for imploring two tight ends in his offense, which could maximize some of Njoku's strengths.
Final Thoughts
A healthy David Njoku can produce.
In 2018, Njoku had 56 receptions for 639 receiving yards and four touchdowns.
If Stefanski believes him in his abilities, we should trust him for now.