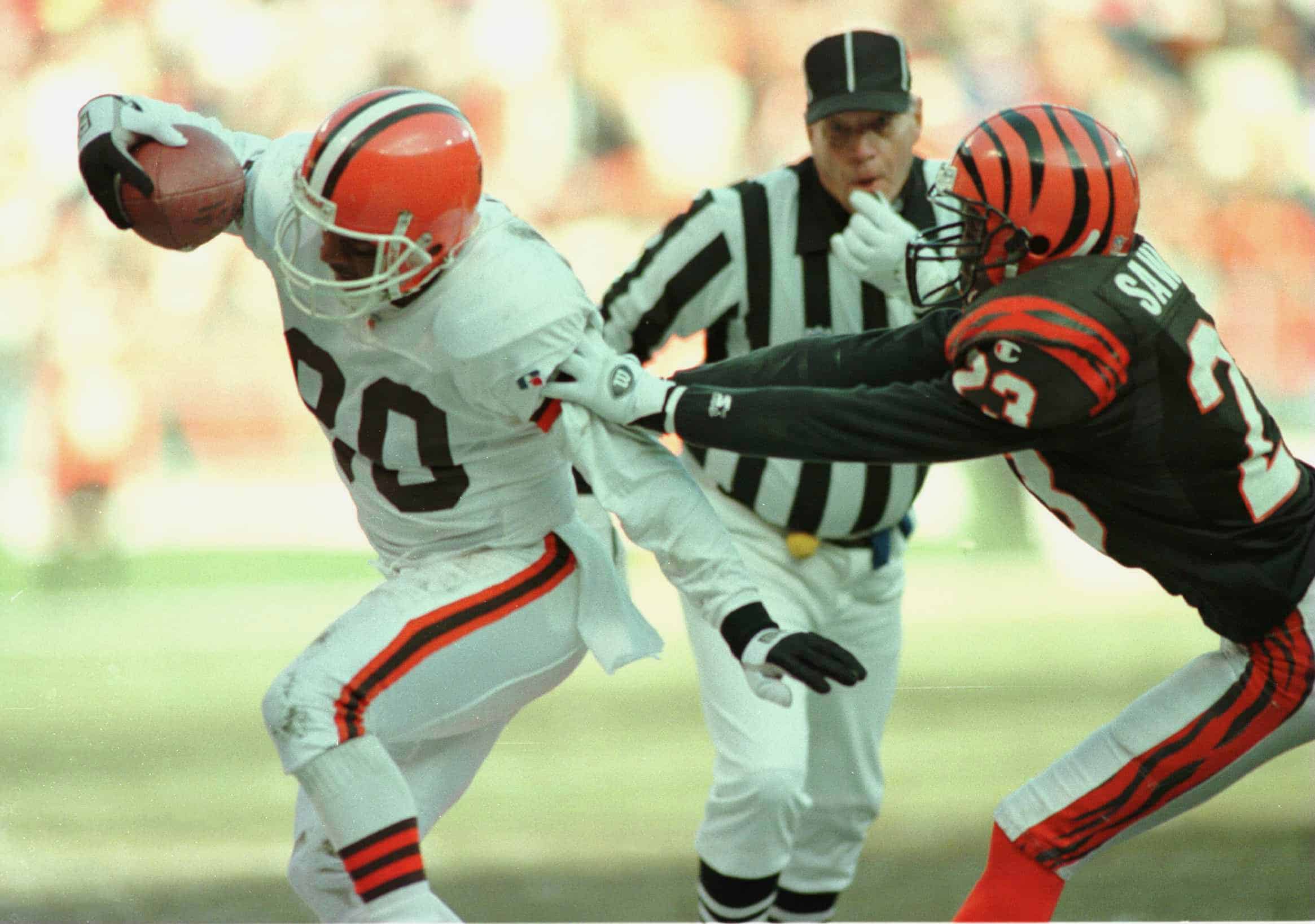 In 1994, the Cleveland Browns returned to the postseason for the first time in five years.
This was the fourth year of head coach Bill Belichick's tenure.
His squad rode the backs of a defensive unit ranked first in the league in points given up per game.
The 11-5 Browns defeated Belichick's future employers, the Patriots, 20-13 in the Wild Card round.
They then proceeded to lose to the Steelers 29-9 in the Divisional round.
Looking ahead to the 1995 season, Cleveland was eager to take the next step to the franchise's first Super Bowl appearance.
The team kept quarterback Vinny Testaverde and looked to add a top playmaker for the offense.
Belichick and owner Art Modell believed they were only a player or two away from getting to the promised land.
Into this expectation stepped former Atlanta Falcons All-Pro receiver Andre Rison.
Rison was acquired as a free agent and signed to a massive deal.
The belief was that he would play with 1994 first-round selection Derrick Alexander and fifth-year receiver Michael Jackson as a triple headed hydra for Testaverde.
Browns receivers Andre Rison, Derrick Alexander and Michael Jackson pose during a 1995 SI photo shoot: pic.twitter.com/stxkw24YhY

— SI Vault (@si_vault) June 3, 2014
On paper, it looked like Cleveland would be difficult to beat with Rison on board.
The end result for the Browns in '95 was a 5-11 record, Belichick's ouster and a franchise move to Baltimore.
A season that began with such promise ended in unmitigated disaster.
The idea that Rison would be the difference maker failed to materialize as well.
That season he had career lows in every major statistical category.
This is the story of what happened to Andre Rison in 1995.
Michigan State star and Colts draft pick
Rison was born and raised in Flint, Michigan.
He was a star in high school and took a scholarship opportunity with Michigan State.
In four years as a Spartan, Rison hauled in a program record 146 receptions for 2,992 yards and 20 touchdowns.
He also led the Spartans all-time with eleven 100 yard receiving games.
In 1986 and 1988, Rison was a First-team All-Big Ten selection.
He also received a First-team All-American nod in '88.
With the 22nd overall pick of the 1989 NFL Draft, the Indianapolis Colts selected Rison.
During his rookie year, Rison grabbed 52 passes for 820 yards and four touchdowns.
He was also selected to the Pro Bowl after the season.
Counting Down #Colts Draft Picks of the Past: WR Andre Rison (via @chrisblystone) https://t.co/euHEXuhIyN pic.twitter.com/6ruNF1vKOI

— Stampede Blue (@StampedeBlue) March 3, 2020
Trade to Atlanta
Following the '89 season, Rison was traded to the Falcons in exchange for their first overall selection in the 1990 draft.
With that pick, the Colts took quarterback Jeff George from the University of Illinois.
Rison thrived in the Falcons offense.
Under head coach Jerry Glanville in 1991, the star-studded team made the postseason and eventually lost to Washington.
The 1991 Falcons chose M.C. Hammer's "2 Legit 2 Quit" as their team anthem; Deion Sanders and Andre Rison appeared in the song's video. pic.twitter.com/wvbJ4gzPN6

— Mental Floss (@mental_floss) February 6, 2017
Rison took the league by storm and was consistently one of the best receivers in the game.
He was voted to the Pro Bowl after the 1991-1993 seasons.
It was around this time that Rison was given the nickname "Bad Moon" by former ESPN broadcaster Chris Berman (in reference to Creedence Clearwater Revival's song "Bad Moon Rising").
The name stuck, particularly given Rison's temperamental nature.
Before the 1994 season began, Rison made national headlines when his then girlfriend Lisa "Left Eye" Lopes from the music group TLC burned down his mansion after a dispute.
#ThisDayInGAHistory in 1994 Lisa "Left Eye" Lopes set fire to her boyfriend's, Atlanta Falcons WR Andre Rison, house in the Country Club of the South near Alpharetta. pic.twitter.com/AbjDNkihSv

— Today In GA History (@2DayInGAHistory) June 9, 2019
During the '94 season, Rison caught 81 passes for over 1,000 yards and eight touchdowns.
The missing piece in Cleveland?
The Browns were poised and ready to make 1995 their year.
When the transaction for Rison was complete, both sides appeared excited to begin their new relationship.
Mar 24, 1995: The @Browns signed Andre Rison ( @AndreRisonPro ) to a $17 million, 5-year deal making him the highest-paid wide receiver in NFL history. pic.twitter.com/gCvD54cenG

— Sad CLE Sports (@SadCleveland) March 24, 2018
"Finally I feel appreciated," Rison said at the time.  "I figured my best opportunity was here in Cleveland. I'm trying to win a championship," he said.
With their flashy new toy on board, Cleveland was going to bring home a championship.
Heading into their bye week, the Browns were sitting at .500 with three wins and three losses.
The record was deceiving, though, as two of the losses were by three points each.
It was a different story three weeks later, however.
After a 37-10 loss to Houston dropped the team to 4-5, Modell announced publicly that he was tucking tail and moving the team to Baltimore after the season.
With that, the city and organization were in an uproar.
With seemingly nothing left to play for, the team folded like a cheap suit.
After the Houston loss, Cleveland dropped six out of their next seven games.
Their only win during this period was the final game at the old Cleveland Municipal Stadium.
The opponent that day was cross-state rival Cincinnati and the Browns rolled over the Bengals 26-10.
As the game was ending, fans "helped" the city of Cleveland by beginning to rip apart the old stadium.
Cleveland fans let Art Modell know how they feel during a 1995 Browns-Oilers game: pic.twitter.com/ucTjdSvk

— SI Vault (@si_vault) May 23, 2012
Spectators could be seen tearing out seats and retrieving other formerly affixed items to take home as souvenirs.
By then, Rison had not exactly endeared himself to his new city.
He began the season by only catching five passes in the first three games.
Then, Rison frequently lashed out at opponents and was booed for his antics by the home crowd.
After a loss to Green Bay during Week 12 (in which he was, again, booed repeatedly by the Browns faithful),  Rison shared his thoughts with the media and the fans.
"We didn't make the f***ing move. So, for all the booers, f*** you too. I'll be glad when we get to Baltimore, if that's the case. We don't have any home-field advantage. I've never been booed at home. Baltimore's our home. Baltimore, here we come."

"Keep it coming," he continued later. "It isn't the first time Cleveland fans have booed me. I've come in here and ripped the Browns apart when I didn't play with them and they booed."

"The first boo kind of hurt. It made me feel kind of bad because one of the reasons I came here was because of the fans, but I guess I don't belong here. It's not the first time I got booed and it won't be the last time, but I never got booed at home. I guess it really ain't home," he said.
After five consecutive years of posting over 80 receptions per season, Rison ended 1995 with 47 catches for 701 yards and three touchdowns.
When the last game of the '95 season came to pass, the Browns loaded up their trucks and headed to Baltimore.
Later career
For all of Rison's bluster about moving on with the team, it ended before it began.
Modell decided to cut Rison and other vets to make room for a new crop of Ravens once he arrived in Baltimore.
"I'm gone,″ said Rison. `"I want to go to a place where they have a chance of winning the ring. Somebody is going to get a firecracker going 100 miles an hour every play.″
In 1996, Rison had an up-and-down year.
It began with the down when he signed with Jacksonville and was released after 10 games.
Rison had feuded with quarterback Mark Brunell and the tension between the two was pulling the organization apart.
A short time later, Rison signed on with Green Bay.
He spent the rest of the year with the team and was fortunate to have arrived at an opportune moment.
That season, the Packers made it to Super Bowl XXXI.
In the first quarter, Rison caught a 54-yard bomb from Green Bay quarterback Brett Favre for a touchdown.
Andre Rison he was part of the 1996 Superbowl-winning Green Bay Packers pic.twitter.com/irdkPdurO5

— EPW 🇪🇷🇯🇲🇧🇷🇮🇪🇧🇸🇰🇳🇱🇨🇻🇨🇹🇿 (@EPluribusWiggum) January 23, 2016
That score eventually led to a 35-21 victory for the Pack.
Rison ended the day with two receptions for 77 yards and his touchdown.
In 1997, Rison signed with Kansas City and spent three years with the Chiefs.
It was during his time with KC that Rison changed his nickname to "Spiderman" believing that he needed to portray a new image.
Spiderman was viewed as a positive role model and Rison was ready to move on from his recalcitrant past.
The Raiders picked up Rison in 2000 and after a lone season in Oakland, he retired from the NFL.
#Raiders AL DAVIS with WR Andre Rison … pic.twitter.com/IOdJfFHJXm

— AFL Godfather🏴‍☠️👓🏈 (@NFLMAVERICK) June 20, 2018
However, in 2004, Rison came out of retirement and signed with the Toronto Argonauts of the Canadian Football League.
His timing was perfect again as Toronto won the Grey Cup that year.
In August of 2005, Rison was released by the Argonauts and he officially retired from football.
What happened?
It's obvious Rison was a great athlete with the requisite skills to help any team.
He was a five-time Pro Bowler, a First-team All-Pro, a Super Bowl and Grey Cup champion.
With all that ability, what went wrong during his time in Cleveland?
Attitude
It's not surprising that Rison carried himself confidently.
Receivers for the most part are alpha males with the attitude to boot.
Along with the quarterback, receivers are typically the face of a franchise.
For five years, Rison was the face of the Falcons.
He locked horns with some of the best in the game and frequently came out on top.
Rison was in a highly publicized romance with Lopes which put him in the spotlight and in the tabloids.
By the time he arrived in Cleveland, Rison had a head of steam and a very inflated sense of who he was.
Because he had a lot of success in Atlanta, the setbacks in 1995 were most definitely foreign to him.
He was not used to being seen as a pariah and booed on a consistent basis.
Nov 19, 1995: After the announced move to Baltimore, @Browns fans booed at home and Andre Rison said, "We didn't make the ___ move. So, for all the booers, ___ you too. I'll be glad when we get to Baltimore, if that's the case. Baltimore's our home. Baltimore, here we come." pic.twitter.com/y3XQ6PU1Iz

— Sad CLE Sports (@SadCleveland) November 20, 2018
Actually, he wasn't used to being scorned by his own fans.
Instead of trying to acclimate to the atmosphere, vibe and traditions of the Browns, Rison lashed out publicly and made matters worse.
Dropping the "F" bomb a few times in the media and directing it at the fans certainly didn't help.
Rison could have let the criticisms roll off his back, but that wasn't his style.
"He kept getting booed that season," former Browns running back Earnest Byner remembered recently. "And he kind of played up to it."
Then, there was the matter of missed team meetings and Belichick benching Rison for missing said meetings.
It turned out that this was nothing new and Rison had purposely skipped meetings while playing for the Falcons.
That kind of attitude and narcissism will not play well with any team, no matter how talented a player is.
Art Modell
Looking back with the benefit of hindsight, we can see that Rison was a shining example of everything that was wrong with Modell at the time.
The owner was hemorrhaging cash by the boatloads and adding Rison did not help.
Modell signed the mercurial receiver to a five-year, $17 million dollar contract.
Rison's $5 million dollar guarantee was paid only after Modell took out a loan.
Then, Modell heaped praise on his new acquisition before Rison even played a down.
"He's the biggest star we've signed," Modell announced to the media in 1995. "He's the first home-run hitter we've had in a long time. He is truly a potential Hall of Famer. Since Jim Brown, Leroy Kelly and Paul Warfield, we have not had the caliber of player offensively like Andre Rison."
It's not like Rison couldn't handle the pressure.
He just happened to be working for Modell.
Unfortunately, Rison's signing in the face of Modell's mounting debts made the contract look foolish.
November 6, 1995
I lived through The Move. Art Modell announces the move of the Browns to Baltimore. pic.twitter.com/e0FfFUirEM

— R👌🏼el Seball⭕️s (@DoUKnoTheRealTP) June 19, 2016
When Modell announced that he was moving to Baltimore, Rison became a symbol of the owner's greed and unwillingness to keep the team in Cleveland.
"The (death) threats started right after Modell made that statement about needing to take out a loan to pay my signing bonus. He made me the scapegoat. I was real bitter with Art for a long time, because I didn't know anything about (his financial issues) coming and I just walked into blazing flames.  He turned his back on me from the beginning. 'You didn't acknowledge it to me? You let me buy a massive house?' I had planned on finishing my career there. I loved Cleveland," said Rison in 2018.
To suggest that Modell's money problems had anything to do with Rison's play on the field would be silly.
However, one could make a case that the owner's relocation announcement during the season, along with Rison's inflated contract, put added pressure on the receiver that otherwise wouldn't have been there.
Bad play calling
With a talent like Rison, it was reasonable to assume that Belichick and his offensive coordinator, Steve Crosby, would find ways to get him more involved in the offense.
The only problem, according to Rison, was Crosby's play calling.
"I saw Bill Belichick when I went to the Super Bowl with Green Bay (in 1997)," Rison said in 2018. "It was media day. He saw me coming and said, 'Hey pipsqueak, why didn't you play like this for me?' " I said, 'Because you had no offensive coordinator.'"
Rison further elaborated that he could have contributed more in Cleveland, but the offense was not geared to help him achieve success.
"People want to know what happened to me that year. Two years later I was back in the Pro Bowl and the Super Bowl. Look at what (Belichick) went on to do. Ask me what I went on to do.  A lot of good players left and went on to do a lot of great things. Lot of coaches left and did a lot of great things. And that all belonged to Cleveland."
Rison started 14 games in 1995 so it's conceivable that he should have had better stats.
Browns 1995 legend Andre Rison. pic.twitter.com/IStRBdp5kf

— Newy Scruggs (@newyscruggs) November 6, 2019
However, there are some who have implied that Testaverde wasn't the most optimal quarterback for Rison.
"I've got the most expensive decoy in football history," Modell frustratingly commented about Rison during the season.
Even Testaverde acknowledged that he wasn't getting his star receiver enough touches in games.
"Andre is too good a receiver to catch one or two balls a game," said Testaverde. "That's got to be frustrating. And I don't want him to get frustrated. He's moving closer and closer to becoming the main target, but offensively we need to do some things to help that out."
External pressure was placed on Testaverde to try and force him to get the ball to Rison.
However, Crosby came to his quarterback's defense.
"I've preached for two years, and everybody in this town has complained about Vinny Testaverde throwing the ball into double coverage," said Crosby. "Now they want him to go back and throw the ball into double coverage, and I'm not going to do that.  I'm not going to subject a quarterback to something that we've taken two years to get him out of. We'll keep trying to find ways to make it easier, but based on the coverage and blitzing, it hasn't been there yet."
Would Rison, and Cleveland as well, been better if there had been a different QB throwing the ball?
Unfortunately, we will never know.
Off the field distractions?
By the time Rison arrived in Cleveland, it was well known that he had a hearty appetite for the night life.
And, by that same measure, trouble followed wherever he went.
There was the Lopes incident in Atlanta and, despite the fact that his house was burnt to a crisp, Rison continued dating the singer while in Cleveland.
Then, there was the matter of his spending habits.
Rison's fame and talent brought him a ton of money, but he also spent it like it was his job.
In fact, years later, he would be one of several professional players profiled for an ESPN 30 for 30 special titled "Broke."
POD is Andre Rison. Kudos @AngryNateFTW. And kudos to Rison for wearing this to a documentary called "Broke." 💯💯💯💯💯💯💯💯💯💯 pic.twitter.com/yKZKWAYKuh

— Jim Weber (@JimMWeber) September 21, 2016
Although there is little evidence that his relationship to Lopes or his spending problems were a reason for his down year in Cleveland, it might be reasonable to assume that the extracurriculars could have taken their toll.
"I'd be lying on the bed knocked out (after getting back from the club) with $10,000 lying on the floor," he said in "Broke." "I've got another $5,000 in my pocket. You might find another $7,500 in the pocket in my coat.  When you have cash, you create debt,' Rison added. "You spend until you've got nothing left. … I should have saved a lot more money. I should have saved a lot more money."
In conclusion
Any way you look at it, 1995 was a rough year for the Browns and the Cleveland fan base in general.
Even the allure of a possible Super Bowl appearance didn't dissuade Modell from his desire in relocating the franchise.
In any of the previous seasons, Rison might have been just what the doctor ordered.
Without the pressure of a team relocation or a vilified owner (and maybe even a QB such as Bernie Kosar) and Rison might have been a fan favorite.
Looking back now, Rison does not hold any ill will toward the city he called home for a year.
"Do I hold anything against Cleveland fans?" Rison asked in 2018. "No. Do I cheer for the Cleveland Browns?  I still take a peek at it."