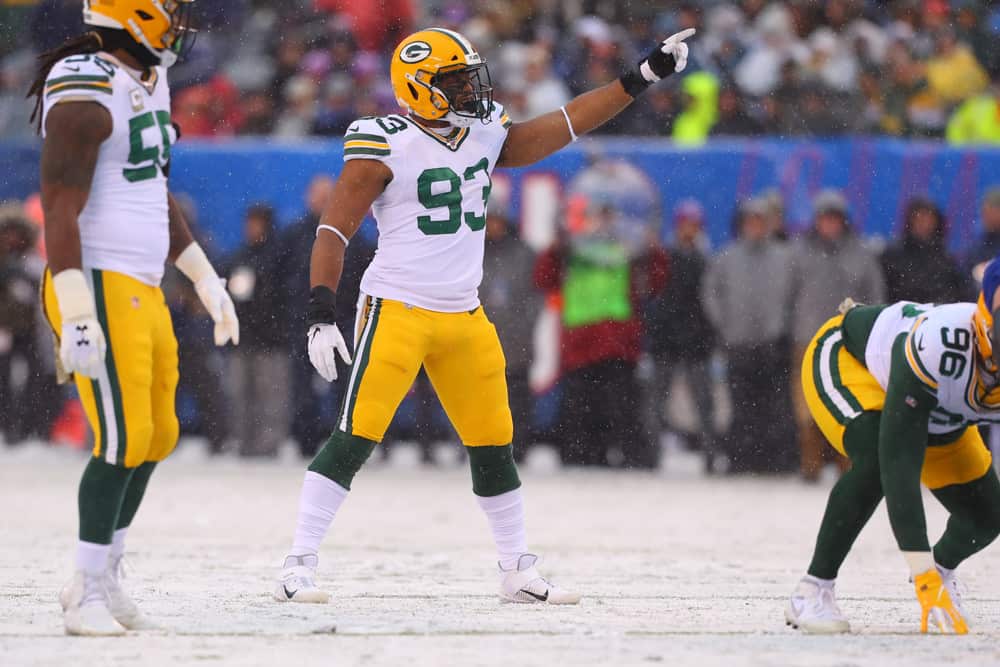 B.J. Goodson brings experience to the young linebacker position group of the Cleveland Browns.
But is there anything in that experience to make us think he can replace Joe Schobert in 2020?
Andrew Berry decided Schobert wasn´t worth the contract he signed with Jacksonville.
Former #Browns LB Joe Schobert is headed to the #Jaguars on a 5-year, $53.75M deal, source said. He gets an average of $10.75M per year. $12M to sign and $22.5M guaranteed. A new face on that Jax defense.

— Ian Rapoport (@RapSheet) March 17, 2020
Pro Football Focus agreed, grading Schobert as an average linebacker with a 50% rating.
Dollar-for-dollar, that makes BJ Goodson a better value.
But their 44% rating shows PFF doesn´t consider Goodson a better linebacker.
With 18 linebackers signed in free agency, Cleveland won´t find many worthy options left.
The NFL draft is a month away.
Might the Browns plan to go after Isaiah Simmons?
If I'm the #Browns, I'm doing whatever it takes to trade up and get Isaiah Simmons. Your glaring hole on defense is still LB.

— Brandon Wolf (@BrandonWolfCLE) March 18, 2020
Or could they settle for LSU´s Patrick Queen or Kenny Murray out of Oklahoma?
If that is the plan, where is the Browns´ next left tackle coming from?
What if the Browns can´t land an NFL-ready linebacker in the draft?
Can BJ Goodson step into Joe Schobert´s role?
Green Bay Didn´t Think So
The obvious answer seems to be no, based on Goodson´s reputation in passing downs.
Green Bay acquired Goodson just days before their 2019 opening game to replace the injured Oren Burks.
Mike Pettine´s situational defensive scheme had a specific role for Goodson.
He was a downhill run-stuffing force on early downs.
#Packers BJ Goodson doesn't get much playing time in Pettine's sub-heavy personnel groups… But he might be on the field a lot this week vs CAR

Goodson is a physical downhill run plugger and that's what this defense needs right now.

📝READ: https://t.co/p6YgTUQNcH pic.twitter.com/gqOeOJTtRA

— Ben Fennell (@BenFennell_NFL) November 6, 2019
Pettine´s substitution-reliant plan managed to minimize any pass-defending weakness on Goodson´s part.
In 15 games, opponents only threw the ball in Goodson´s direction 9 times.
But critics point out how San Francisco used a run-heavy attack to keep Goodson on the field.
Joe Garoppolo only passed 8 times, including 2 completions (in 2 targets) against Goodson.
Opponents could try to mimic the Niners´offensive plan from that playoff game.
Of course, it is difficult to use a game like that as an example of normal.
Green Bay was completely outcoached, outmanned, and utterly exposed by the dominant 49ers.
Gooden was hardly the only player to come up short that day.
What About the Giants?
BJ Goodson played roughly a year and a half in New York.
He was limited to 14 snaps as a rookie and missed 7 games with an injury in his second.
In his third season, the Giants changed defensive coordinators and schemes.
Goodson struggled to adapt to his new role next to Alec Ogletree in a 3-4 set.
On the other hand, he managed to limit opposing quarterbacks to a 50.9 passer rating in coverage.
That number might be a little deceptive.
Janoris Jenkins jumps a late pass from Mullens right into the arms of BJ Goodson for an interception. Giants in the red zone. This should be a breeze…

— Dan Duggan (@DDuggan21) November 13, 2018
Two interceptions and a limited number of attempts covered his pedestrian receiving rate and yardage.
And one of those interceptions was handed to Goodson off a tip by the cornerback.
But there were signs he could grow into the role, as his 4 passes defended showed.
Goodson first earned his reputation as a hard-tackling run stopper in New York.
Giants fans will never forget Goodson´s 14 solo tackles (18 overall) of Ezekiel Elliot in 2017.
Giants @ Cowboys from last season and #Giants LB BJ Goodson has looked good through the 1st half. Watch him read the play and put himself in position to easily defeat Collins' block @ the 2nd level, with a powerful 👐🏾and the footspeed to flow outside and make a violent tackle. pic.twitter.com/ItpEWYN31a

— Nick Falato (@nickfalato) July 13, 2018
But he didn´t make the cut for the Giants in 2019.
Goodson was announced as a final round drop before the Packers convinced the Giants to trade him.
What Does Kevin Stefanski (or Joe Woods) Know?
Ultimately, it will be up to Joe Woods and Kevin Stefanski to maximize Goodson´s abilities.
What are the odds they know something we don´t see in their middle linebacker?
Stefanski and Woods say they are teachers.
Goodson might never excel in pass coverage.
BJ Goodson Video Thread Part I

Former 4th round pick
Overall 2019 PFF grade: 57.2

28 tackles
15 stops
3 hurries

He's probably opening day base MIKE who can play WILL as well, shows solid IQ, good run fits + gap integrity, has adequate range and is a sure tackler #Browns pic.twitter.com/TNYiVJQEgN

— 📽+🏈x🌴 (@HawaiiBrownsHui) March 23, 2020
But he can still be effective if he recognizes and reacts to things faster.
Cleveland's middle linebacker has some lateral speed and plenty of strength.
He could shadow Lamar Jackson twice a year.
Goodson could also be an effective pass rusher in a creative defense.
With a little help from his new coaches, Goodson could make Browns fans forget about Joe Schobert.
But drafting Simmons, Queen, or Murray would make that easier.