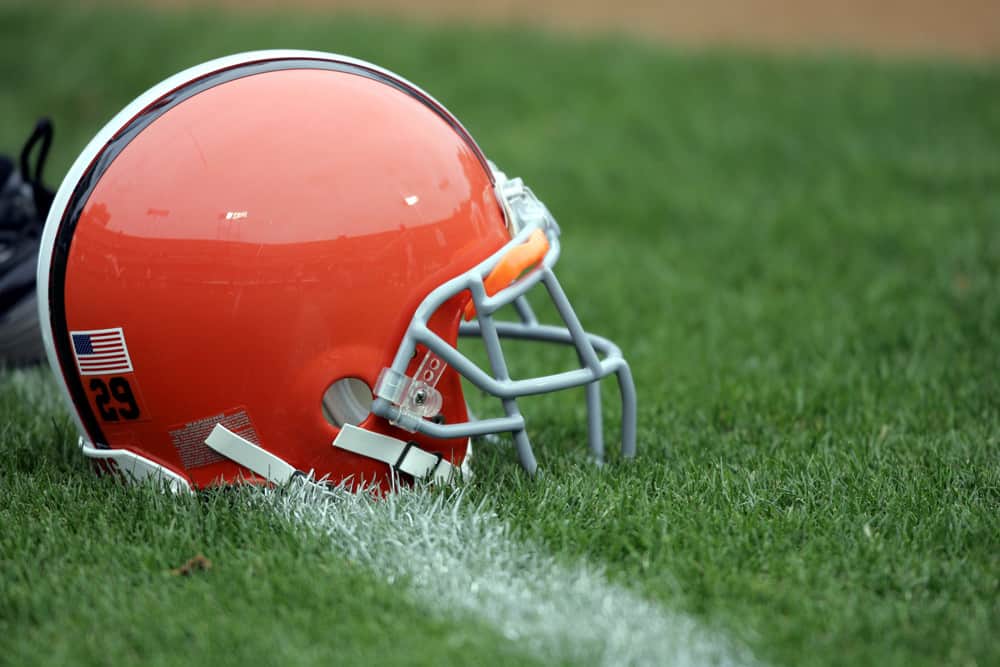 It's common knowledge that former Cleveland Browns players Hanford Dixon and Frank Minnifield are credited with naming the Dawg Pound section of Cleveland's old Municipal Stadium.
Their voracious play and leadership for Cleveland in the heady days of the mid-to-late 1980s is legendary.
However, there is often a third member of that secondary that is somewhat overlooked.
Felix Wright arrived in Cleveland in 1985 and played through the 1990 season.
#22 Felix Wright #Browns pic.twitter.com/N5OHnYWN0D

— Vintage Browns (@VintageBrowns) October 18, 2020
Wright was part of the backbone of a Browns defense that consistently shut down opponents and put life into the team itself.
His ball-hawking skills made more than a few opposing quarterbacks think twice before testing him.
Wright's story of rising from obscurity to stardom would also inspire future generations of aspiring football players.
This is the story of Felix Wright.
Early Life in Missouri
Felix Carl Wright was born on June 22, 1959, in Carthage, Missouri.
Wright and his brothers, Charles and Joe, took to athletics at a young age and continued playing into adulthood.
Both Charles and Joe eventually became pros in football and basketball, respectively.
Felix Wright couldn't get enough of sports and his parents spent considerable time driving him from practices to games.
In 1971, Wright played on a Little League Baseball team that won the Missouri State Championship.
Just a few years later, he entered Carthage High School and began playing football, baseball, and basketball.
During Wright's time at Carthage High, he lettered in each sport.
He also earned all-conference and all-district honors in football his senior year.
Additionally, Wright was named the most determined and inspirational athlete on the baseball team.
"He's undoubtedly one of the most versatile athletes ever to come out of Carthage," said Dave Tapp, Wright's high school basketball and football coach.
Star at Drake University
Although Wright was a three-sport athlete at Carthage High School, there weren't many college scholarship opportunities for him.
Eventually, he chose to attend Drake University in Des Moines, Iowa as a defensive back.
Wright had plenty of playing time at Drake as the program was not particularly competitive.
His time in Des Moines from 1977 to 1980 was marked by a subpar 17-27 overall record.
Although, the Bulldogs did have a successful 1980 season when they went 8-3.
Wright had his best statistical season that year with six interceptions for 51 return yards.
He was named the team's MVP after the season.
Wright would graduate from Drake in 1981 with a teaching degree and 13 total picks.
The Undrafted Teacher
Due to several years of losing records, Drake University wasn't exactly a football hotbed.
Therefore, in the 1981 NFL Draft, Wright didn't receive any interest, although he did get a letter from the Cowboys.
"I got one letter (before the draft), and that was from the Dallas Cowboys," Wright said. "That's when they were sending letters out to just about everybody in college ball, actually, and some basketball players at the time, too."
After the draft came and went, Wright decided to use his degree and became a teacher and coach in Joplin, Missouri.
As a young coach who had just finished playing college football, Wright would often run drills with his players to keep himself in shape.
One day during football practice, Wright settled in at defensive back and challenged the team's best receivers to beat him.
He stymied all challengers and drew laughter as well as surprise from the players and coaching staff.
In the back of his mind, Wright knew he could play pro ball, but he tried not to let that dream get in the way of his job.
However, after seeing their colleague in action against their top dogs, Wright's fellow coaching assistants thought he should pursue his dream.
"The coaches came up to me after practice, and we were in the locker room, and they were like, 'Wow, what are you doing here?'" Wright said. "I think we had five other coaches and they said, 'Man, you really should consider giving it a try somewhere.'"
Wright pondered the idea and he was further encouraged by his family to find a way to showcase his skills.
He contacted an agent he was familiar with and asked the agent to see if there were any NFL tryout possibilities.
The agent called back a day later and told Wright that there were two possibilities, Detroit or Houston, but he had to pay his own way and they were both on the same day.
Since Missouri is closer to Houston, Wright drove south with one of his uncles.
CFL
When the two arrived in Houston, Wright was discouraged to see over 300 try-out hopefuls waiting.
He turned to his uncle and suggested they just leave.
"Well, I took off work," his uncle replied. "You're going to work out."
After a full day of drills, Wright was one of only three people offered a contract by the Oilers.
He lasted for a handful of preseason games before being released.
Not long after his release, the Hamilton Tiger-Cats of the Canadian Football League called and offered him a contract.
Wright was reluctant at first because the Canadian game is much different than the American version.
However, he was eventually talked into the deal and learned the game quickly as a starter.
Wright played well enough that season that he signed for another two years.
DB Felix Wright – Cleveland Browns 🟧 6 seasons & 29 interceptions
started in 🇨🇦 CFL w Hamilton Tiger-Cats … 🟨I⬛️I🟨 – 3 seasons as pic'd here pic.twitter.com/joxly3SgC1

— Steve Alexander 🇨🇦🏈⛳️🏒🎥 (@snaglpusz) December 1, 2021
The more he played, the better Wright became.
He would be named to the 1984 CFL All-Star team and record an interception in the team's '84 Grey Cup loss to the Winnipeg Blue-Bombers.
During his three years in Canada, Wright led the CFL in picks one season and had 15 total interceptions.
His play, specifically during 1984, drew interest from several NFL teams.
Wright tried out for a number of franchises, including Cleveland, and was signed by the Browns.
"Cleveland kind of outbid everybody, and that's how I ended up in Cleveland," Wright said years later.
Wright Bonds with Schottenheimer
Halfway through the 1984 NFL season, Browns owner Art Modell fired Sam Rutigliano and replaced him with defensive coordinator Marty Schottenheimer.
Around the same time, the team was scouting a quarterback that played for the Tiger-Cats.
As they watched their prospect, the Browns scouts couldn't help but notice Wright.
What stood out the most were his four interceptions against the Toronto Argonauts in the 1984 Semifinals and his pick in the Grey Cup.
No matter the game, Wright always seemed to be near the ball.
The scouts relayed what they saw to Schottenheimer and the coach made it known that he wanted Wright added to the team.
Felix Wright with Bill Cowher #Browns @FelixWright22 pic.twitter.com/ExNXHSnUCD

— Ronin D (@TribelessRonin) August 23, 2019
After signing with Cleveland and meeting Schottenheimer, Wright appreciated how the coach didn't care less where a player came from or how much money they made.
"When Marty told me none of that made any difference to him, he was going to play the best player, regardless if he made $150,000 or $1 million … when you get a guy like that, you'll go out and run through a wall for him," Wright said in 2021.
Cleveland missed the postseason in 1983 and 1984.
With Schottenheimer at the helm, the Browns went 8-8 in 1985 and appeared in the Divisional round game where they lost to Miami.
That season, Wright played mostly on special teams and specific situations on defense.
He would end his NFL rookie season with two interceptions and two fumble recoveries.
Wright Contributes while Browns Come Up Short
In 1986, Wright found his groove and picked off three passes.
He also blocked two punts (one was returned for a score) while playing special teams.
Additionally, on October 26 of that year, Wright returned a blocked punt 30 yards for a touchdown against Minnesota.
Cleveland went 12-4 (their most wins since 1948) and reached the AFC Championship Game.
Unfortunately, John Elway led "The Drive" late in the game which helped the Broncos win the game in overtime.
1987 saw the team return to the AFC title game against Denver once again.
This time running back Earnest Byner coughed up the football while running for the game-tying score.
"The Fumble" would keep the team from the promised land for a second straight year.
That same year, Wright posted four interceptions for 152 yards and a touchdown as the Browns' free safety.
OTD 1988
° 1987 AFC DIVISIONAL °
Felix Wright's 3rd Quarter INT swings a close game in the #Browns favor as Cleveland pulls away from the Colts, 38-21.

• CLE: Earnest Byner (158 total yds, 2 TD); Bernie Kosar (3 TD passes)
• Colts' 1st postseason game representing Indianapolis pic.twitter.com/aDwcxECSal

— Kevin Gallagher (@KevG163) January 9, 2019
He was named Player of the Week after his performance against the LA Rams in Week 7.
During the game, Wright picked off a pass that he returned 68 yards to set up Cleveland's first score.
Then, he intercepted another pass later in the game and returned it 40 yards for a touchdown.
After that Monday Night Football performance, Schottenheimer gave Wright a nickname, "Mr. Monday Night."
Wright's fondness for interceptions didn't just come during games.
Felix Wright #Browns
pic.twitter.com/diRqy6CSvB

— CleWest (@erjmanlasvegas) March 25, 2020
He also tortured his teammates, Bernie Kosar and Gary Danielson, during practice.
After yet another interception in practice one day, Schottenheimer gave Wright a new moniker, "The Pickmaster."
In 1988, the Browns overcame a serious injury issue to their quarterbacks and ended the year 10-6.
They would then lose a heartbreaker to Houston in the Wild Card round (where Wright had two interceptions).
Wright held his own with five interceptions for 126 yards that season while starting every game for the first time in his NFL career.
He also had three multi-interception games which led to Wright being named AFC Player of the Month in December.
Wright Leads the NFL in Interceptions
After the 1988 season ended, Modell and Schottenheimer got into a heated debate over several topics.
The animosity got so bad that Schottenheimer stepped down as coach.
Former Steelers defensive coordinator Bud Carson took his place and Cleveland pulled off a 9-6-1 season in 1989.
Wright would help lead the Browns defense with an NFL high nine interceptions in '89.
Don Beebe's son WR Chad Beebe is turning heads in Vikings camp this preseason. I still remember the famous Don Beebe Head bounce brought to you by Felix Wright!#Browns #BrownsTwitter @FelixWright22 @gmfb pic.twitter.com/AiIkXEWSqg

— Jason Hand @BrownsHuddle (@BrownsHuddle) August 20, 2019
During a game against Tampa Bay in Week 9, he intercepted a pass and returned it 27 yards for a score.
The Browns defeated the Buffalo Bills in the Divisional round and then lost for the third time in four years to Denver in the AFC Championship Game.
On to Minnesota
In 1990, the Browns took a huge step back and finished the year with a 3-13 record.
Carson was fired nine games into the season and interim coach Jim Shofner guided the team the rest of the way.
Wright had three interceptions for 56 yards and started every game for the third year in a row.
Vikings at Falcons – wk 2-1991. Herschel Walker returns to his home state & Viking fans hoped he would finally be the key to the offense. He was fine, but Cris Carter was amazing. Steve Jordan & AC with big catches. Felix Wright INT. @criscarter80 @camjordan94 @FelixWright22 pic.twitter.com/m1yfV9vpS7

— VikeFans (@VikeFans) May 18, 2021
When the season concluded, Wright became an unprotected Plan B free agent and did not re-sign with Cleveland.
Instead, he found a new home with the Minnesota Vikings.
"I feel good about going to the Vikings, but I will miss my Browns teammates," Wright said.
Wright would spend two seasons with the Vikings and only miss three games while collecting three total interceptions.
He would be released by Minnesota after the 1992 season.
Wright Briefly Plays for KC then Retires
As the 1993 season dawned, Wright had not signed with a new team.
Schottenheimer, who had relocated to Kansas City, reached out to Wright and asked him to be ready in case there was an injury in his secondary.
Wright ended up waiting at home for the entire regular season and two playoff games before getting another call from his former coach.
"Lo and behold come playoff season, Marty calls me and asks, 'How good of a shape are you in?'" said Wright in 2019.
The Chiefs were in dire need of help in the secondary for the AFC Championship Game.
Wright flew to Kansas City where Schottenheimer gave him a quick workout then signed him to the postseason roster.
As good as the Chiefs were in 1993 with Joe Montana and Marcus Allen on the roster, they couldn't get past the Buffalo Bills.
A seven-point differential late in the third quarter turned into a 30-13 Kansas City loss.
"To play in four opportunities to get to the Super Bowl, I think about it often," Wright said. "I was there, in position, but didn't close out the deal. The opposing quarterback on each team, John Elway and Jim Kelly, they were awesome, Hall of Famers."
A free agent again in 1994, Wright was not picked up by an NFL team and decided to retire.
In nine years, Wright had 29 interceptions, 492 return yards, and three touchdowns total.
He was the NFL's interceptions leader in 1989.
In Retirement
Wright has stayed close to the sports world as well as the Browns since his retirement.
He currently lives in the Cleveland area and owns a financial consulting business for professional athletes called Sports Trust.
Also, since 2001, Wright has worked for the Browns as an official NFL uniform inspector for game days.
It's a job he enjoys and one that allows him to stay close to the organization.
"It's a pretty cake job, but it pays. It keeps me active with the Browns organization. I go to the practice facility once or twice a week. I started in 2001, and it was supposed to be a one-year gig. I've been doing it 18 years," Wright said in 2019.
References
https://en.wikipedia.org/wiki/Felix_Wright
https://www.clevelandbrowns.com/news/memories-from-club-46-felix-wright-remembers-improbable-unique-and-lengthy-path-
https://www.joplinglobe.com/sports/local_sports/carthage-great-felix-wright-remembers-marty-schottenheimer/article_4887d04c-dbac-5532-8976-d4ed5ca86cf0.html
https://www.sports-reference.com/cfb/players/felix-wright-1.html
https://www.joplinglobe.com/sports/local_sports/carthage-native-felix-wright-played-for-chiefs-in-1994-championship-game/article_429bc0f9-9a36-5d26-a95d-97b6e514f8fc.html
https://www.tampabay.com/archive/1991/04/01/felix-wright-says-he-ll-sign-with-vikings/
http://nfl-pe-stage.azurewebsites.net/next/articles/where-are-they-now-felix-wright/
https://www.pro-football-reference.com/players/W/WrigFe21.htm