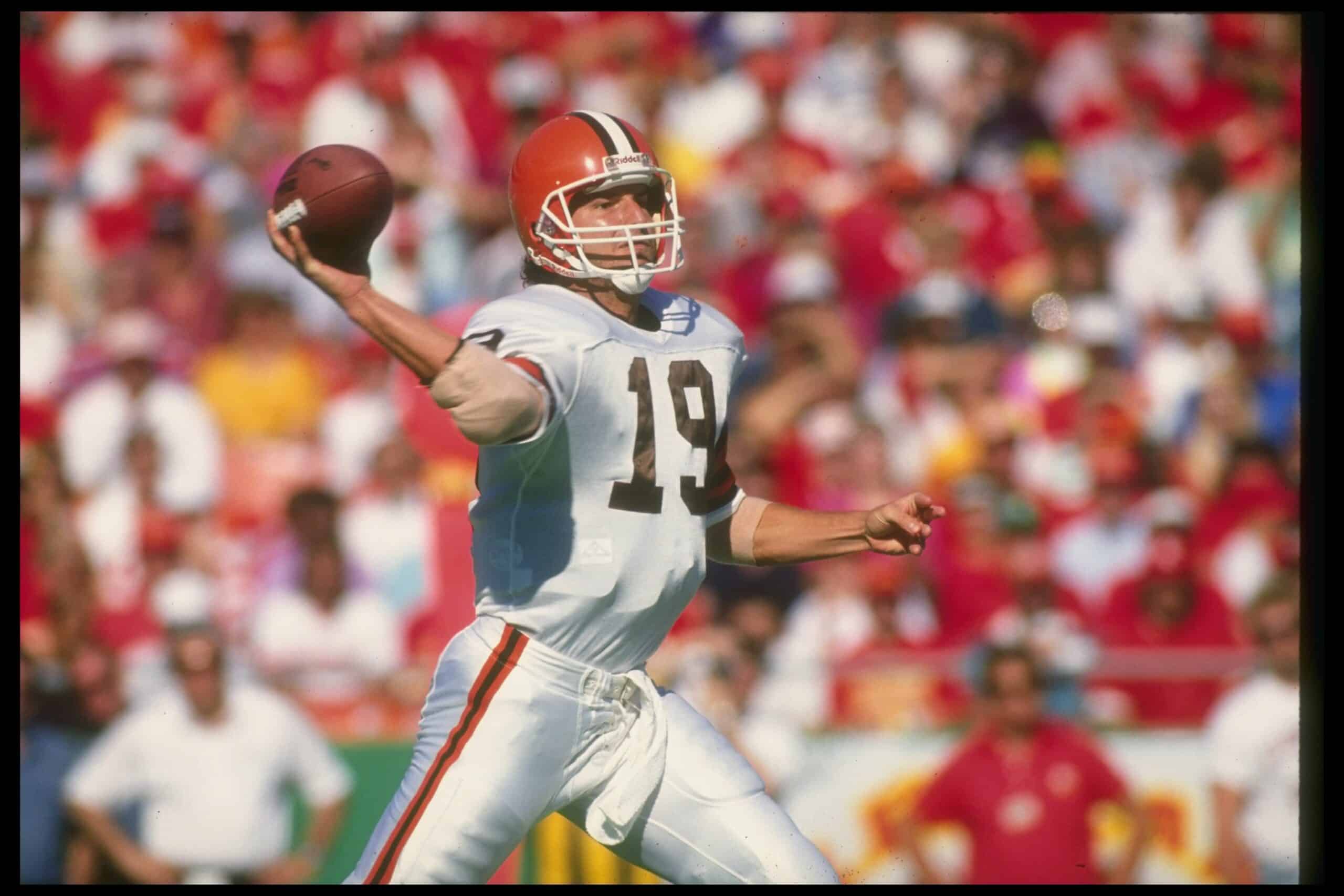 The mid-to-late 1980s was an exciting time for Cleveland Browns fans.
Unfortunately, it was also a time of immense heartache.
After both the 1986 and 1987 seasons, the Browns faced the Denver Broncos in the AFC Championship Game.
Denver quarterback John Elway manufactured "The Drive" in the first game, leading to a tying score at the end of regulation.
The Broncos then won the game in overtime.
The following year saw Earnest Byner cough up the pigskin before crashing into the endzone for a tying score.
OTD 1988
° 1987 AFC CHAMPIONSHIP °
~ "The Fumble" ~
Trailing by 7 after playing brilliantly (187 total yds, 2 TD), Browns' Earnest Byner fumbles on the Denver 2 with 1:05 left, leading to a 38-33 #Broncos victory at Mile High.

• Denver's 2nd consecutive AFC title over Cleveland pic.twitter.com/GgcZKTW6KK

— Kevin Gallagher (@KevG163) January 18, 2019
"The Fumble" led to a second straight loss to Elway's Broncos.
Cleveland was still fully loaded on both sides of the ball in 1988.
Despite the gut punches from the two previous years, the Browns were ready to try again.
Although the team would post a winning record and a fourth consecutive trip to the playoffs, the '88 season would not turn out as planned.
That year, anything that could go wrong did go wrong.
Injuries devastated the team as did the later animosity between owner Art Modell and his coach, Marty Schottenheimer.
By the time the '88 season mercifully ended, the Browns would not be the same team headed into 1989.
This is the story of Cleveland's roller-coaster season in 1988.
The Roster
In the spring of '88, the Browns selected Clemson defensive tackle Michael Dean Perry in the second round.
Michael Dean Perry
Cleveland Browns
1988-1994 pic.twitter.com/HRIiOXcLYT

— Cleveland Legends (@legendscle) February 21, 2022
His addition to the team was tantalizing.
Perry's older brother was Chicago Bears behemoth William "Refrigerator" Perry.
If the team could get a portion of "the Fridge's" talent from his younger brother, the Browns defense would be even tougher to deal with.
In 1988, Cleveland was led again by quarterback Bernie Kosar.
He had at his disposal running backs Byner and Kevin Mack along with receivers Brian Brennan, Webster Slaughter, Reggie Langhorne, and tight end Ozzie Newsome.
In addition to Perry, the Browns defense rolled out the likes of Bob Golic, "Big Daddy" Hairston, Eddie Johnson, Mike Johnson, Clay Matthews, Hanford Dixon, Frank Minnifield, and Felix Wright.
Throwback Thursday: Check out this photo of Clay Matthews from 1988! pic.twitter.com/2R7LrcrcPw

— Cleveland Browns (@Browns) February 28, 2013
Without a doubt, Cleveland had one of the most balanced rosters in the NFL.
In 1987 alone, the offense was ranked third in the league in points scored and the defense was second in the NFL in points scored against.
There was every reason to believe that the team would do well again in 1988.
Weeks 1-4
Right out of the gate, the Browns were involved in an ugly, 6-3 win over the Kansas City Chiefs in Week 1.
Kosar was seriously injured early in the game and backup Gary Danielson took over.
Lloyd Burruss puts the heat on Bernie Kosar, Week 1 1988. #ChiefsKingdom #Browns pic.twitter.com/TvzsUPl9NE

— Ken Gelman (@kengfunk) November 4, 2018
Danielson also had difficulty against the Chiefs' defense and suffered one interception, two sacks, and -2 yards rushing.
The Cleveland run game and receivers couldn't do much either and suffered the same smothering defense as Danielson did.
Thankfully, Cleveland's defense and Browns kicker Matt Bahr's two field goals were all the team needed and Cleveland escaped Kansas City with a victory.
In Week 2, Danielson continued to start against the New York Jets.
Once again, he was the victim of a relentless pass rush and was dropped for four sacks.
After Danielson broke his ankle in the game, third-string quarterback Mike Pagel came in and contributed 73 passing yards, an interception, and was sacked once.
(Danielson was lost for the year and would retire at the end of the season).
Q: Who was the last @Browns QB to retire as a Brown?
A: Gary Danielson#FunFactFriday #Browns @TheRealTRizzo pic.twitter.com/3hbWWZLl0h

— Cleveland Browns (@AnalyticsSays) April 14, 2017
Mack could only muster 26 yards on the ground (which led the team).
Bahr scored the only points for Cleveland and New York won easily 23-3.
Week 3 finally saw more life out of the Browns offense against the Indianapolis Colts.
Pagel started at quarterback against his former team and passed for 255 yards, two touchdowns, and an interception.
Mack led the Browns with 76 rushing yards and Slaughter had a great game with six catches for 86 yards and a score.
The Browns won their second game of the year 23-17.
Cleveland next traveled to in-state rival Cincinnati for a Week 4 contest.
Pagel continued to start and passed for 254 yards and a touchdown.
However, the run game struggled as Mack and Byner accumulated only 56 yards between them.
Brennan scored a receiving touchdown but was held to 31 total yards.
Newsome led the team with five receptions for 72 yards.
As the first quarter of the season ended, the Browns were sitting at 2-2 after losing a tight one to the Bengals 24-17.
Weeks 5-8
Cleveland struggled offensively in Week 5 against Pittsburgh as Pagel connected just enough passes to finish with 131 yards and a pick for the day.
He was helped by the Browns' Tim Manoa and Byner.
Cleveland Browns Auto 8 1/2 X 11 Photo Tim Manoa pic.twitter.com/BnhddrZ9Fw

— Browns Collectors (@BrownsClektr) May 29, 2013
Manoa didn't play often but against the Steelers, he had 82 rushing yards and a score while filling in for Mack.
Byner had 78 yards rushing to help pace the Cleveland run game.
The difference in the game was the Browns' defense grabbing four interceptions.
Cleveland would win the contest 23-9.
In Week 6 against Seattle, Pagel was the next injury casualty and Don Strock entered the game.
Strock was actually out of football in 1988 after spending 14 years with the Miami Dolphins.
However, Browns' general manager Ernie Accorsi was so desperate for quarterback help that he reached out to the former Dolphin.
Accorsi found Strock working as a golf pro and already out of shape.
"We were so desperate, Ernie found Don Strock working at a golf course," said former Browns P.R. Director Kevin Byrne in Cleveland.com writer Terry Pluto's latest book, Vintage Browns.  "He was a club pro.  He came in with a potbelly."
During his relief of Pagel in the Seahawks game, Strock had 151 passing yards and a pick.
Mack returned to lead the team with 66 rushing yards and a touchdown.
However, Cleveland would lose another stinker 16-10 and fall to 3-3.
Things improved in Week 7 against Philadelphia.
Strock played like a young man again and passed for 189 yards and two touchdowns.
Byner and Mack rushed for 174 yards between them and Langhorne and Slaughter caught Strock's touchdown passes.
Webstar Slaughter of the @Browns. October 16, 1988. Photographer | Clarence Tabb Jr. of the #Cleveland Plain Dealer. @BernieKosarQB pic.twitter.com/BHC7CUsWHf

— John Skrtic (@SkrticX) November 24, 2021
The Browns were now 4-3 after their 19-3 win.
Week 8 finally saw the return of Kosar.
Browns fans watched with delight as he tore apart the Phoenix Cardinals for 314 yards, three touchdowns, and three interceptions.
Manoa filled in for Mack again and led all rushers with 65 yards.
Cleveland's defense added three picks and the Browns won 29-21.
At the halfway point of the season, Cleveland was 5-3.
Weeks 9-12
Cincinnati came to town in Week 9 and this time the Browns prevailed 23-16 for their third win in a row.
Kosar had 210 yards but was intercepted twice.
Manoa was becoming a fan favorite as he led the team with 89 yards rushing and a touchdown.
Cleveland receiver Clarence Weathers had a huge game, catching seven Kosar passes for 140 yards.
The following week, Cleveland went to Houston and lost a close one 24-14.
Kosar passed for 219 yards and a touchdown.
The score came at the hands of Newsome, who had five catches for 65 yards.
Meanwhile, Byner and Mack struggled to find footing.
The Browns defense failed to contain Houston runners Mike Rozier and Alonzo Highsmith who had 116 yards combined and one touchdown each.
In Week 11, the Cleveland players were licking their chops in anticipation of playing at Mile High Stadium in Denver.
It was time to get a little payback for the setbacks they suffered the past two seasons.
However, the Broncos weren't intimidated and humiliated the Browns 30-7.
Kosar was harassed into six sacks and an interception.
Byner led Cleveland with 96 combined yards and a touchdown.
The Browns left Denver with a 6-5 record.
One week after getting crushed by the Broncos, Cleveland swept their season games against Pittsburgh when they hammered the Steelers 27-7 in Week 12.
Happy Birthday to Bernie Kosar 🏈, legendary quarterback of the Cleveland #Browns

Here he is meeting President Ronald Reagan 🇺🇸 who visited the Browns in November 1988.@BernieKosarQB @WhiteHouseHstry pic.twitter.com/adNd6yoYnj

— Presidential Wisdom (@PrezWisdom) November 25, 2020
Minnifield had an interception and also returned a blocked punt for a touchdown.
Kosar was sacked twice, but he passed for 204 yards and two touchdowns.
Langhorne led the Browns receivers with four receptions for 99 yards and a score.
With only four games left in '88, Cleveland was now 7-5.
Weeks 13-16
The Browns opened the last quarter of the season with a 17-13 win over the Washington Redskins in Week 13.
In a recurring theme for Kosar, he was sacked six times by the Redskins defense.
He also threw an interception against zero touchdown passes.
Mack kept Cleveland in the game with 116 rushing yards and a score and the defense intercepted Washington quarterback Mark Rypien twice.
The Dallas Cowboys came to Cleveland in Week 14 and the Browns again won their third in a row 24-21.
Although Kosar was sacked five more times, he passed for 308 yards and three touchdowns.  Both Brennan and Langhorne had over 70 reception yards.
In Week 15, Kosar was cruising against the Miami Dolphins with 202 yards and a touchdown before he was injured again.
Strock came in and added 70 yards and two more scores against his former club.
Byner helped with 146 total yards and a score and the Browns defense added three picks.
Earnest Byner about to break a big run. #Browns legends pic.twitter.com/42Mwcpqyq3

— Vintage Browns (@VintageBrowns) April 24, 2021
However, the Dolphins and Dan Marino edged Cleveland 38-31, putting the Browns at 9-6 for the year.
During the final week of the season, the Houston Oilers were ahead 16-7 at halftime.
Cleveland raced back in the second half and outscored their division rival 21-7.
The final score was 28-23 and both teams ended the year 10-6.
Strock nearly cost the Browns with three interceptions.
However, he also had 326 passing yards and two touchdown passes to Byner and Slaughter.
Slaughter was the man of the hour as he totaled six catches for 136 yards and a score.
Webster Slaughter. Found @Cleveland_PL Sport Ctr. in #Cleveland @Browns 1988 Yearbook. pic.twitter.com/9O1EybIBG0

— John Skrtic (@SkrticX) October 4, 2019
The AFC Central was competitive in 1988.
Cincinnati, Cleveland, and Houston all had 10 or more wins.
By virtue of a tiebreaker, the Browns finished second in the division.
That meant they would face Houston for a third time in the Wild Card round.
Wild Card Game, December 24, 1988, Cleveland v. Houston
For the second week in a row, Kosar would be absent from the starting lineup.
However, there were rumors that he could return the following week if Cleveland beat the Oilers.
During the contest, Strock attempted three passes before he was knocked out of the game with a wrist injury.
Pagel entered the game and passed for 179 yards, two touchdowns, and an interception.
Throwback Thur
Christmas Eve 1988 the Houston Oilers played the Cleveland Browns in a Wild Card game @ Cleveland Stadium. 1985-88- Four straight seasons the Browns made the playoffs- Christmas holidays-family-Browns playoffs- Cold beverages- great memories. Ready for new memories pic.twitter.com/QTBCSH7I4t

— Tom Brunswick (@tom_brunswick) December 24, 2020
Byner and Mack tried to help but were limited to 71 total rushing yards.
Slaughter had another big game with five receptions for 58 yards and two touchdowns.
In the end, the Browns came up short, 24-23.  They would finish 1988 with a 10-7 overall record.
What went wrong?
1988 was a year of injuries.
Cleveland's record could have been better if Kosar didn't miss several weeks because of his maladies.
The 1988 #Browns were a hot pick to win the #SuperBowl

QB Bernie Kosar was in his 4th yr. Strong D, 2 Big Time RBs.

But injuries dogged Kosar all year…numerous backups started games.

The young, surprising #Bengals made the Super Bowl instead & lost to the #Niners

Deja vu? pic.twitter.com/LBMJMLOu1x

— Kevin Fisher 🌊🏈⚾🏀🎸 (@kfishercanton) January 31, 2022
Also of note was the Browns' offensive line.
The unit gave up 36 total sacks including 25 alone to Kosar.
As much as players such as Manoa did their part to step in and compete well, Cleveland just couldn't overcome inconsistent play and Kosar's absence.
The Browns receivers were also victims of the quarterback carousel that year.
With so many different QBs, it was difficult to find a rhythm and establish a good passing attack.
After finishing third in offense in 1987, the Browns dropped to 20th in 1988 (the defense went from second to sixth in the NFL).
Despite all the setbacks, the franchise did post a winning record and returned to the postseason.
"I don't know if people were spoiled or what," said former Browns general manager Accorsi.  "But that 10-6 record was looked at as a disappointment when it was a remarkable achievement.  Marty did the greatest coaching job (in 1988) I've ever been around."
However, the Browns and their fans were about to get another piece of bad news.
Schottenheimer Leaves
After the Wild Card Game, Schottenheimer was ready to leave on a much-needed vacation with his family.
However, Modell wanted him to postpone the vacation so they could talk about rebooting for 1989.
There was already tension between the two based on the '88 season's countless setbacks and Modell's issue with certain coaches.
In particular, Modell wanted Schottenheimer to replace or reassign his brother, Kurt Schottenheimer, as the special teams' coach.
Furthermore, the owner wanted his coach to find an offensive coordinator for '89.
Schottenheimer and running backs coach Joe Pendry had shared the duties in '88.
Modell felt that Schottenheimer, who had a background in defense, could benefit from an experienced offensive-minded coach.
Schottenheimer chafed at Modell's demands.
He was also angry that the owner couldn't wait until after his vacation to talk about the next season.
"Everyone was exhausted by what we went through that season," said Byrne in Pluto's book.  "That was especially true for Marty.  But not Art.  He was fresh.  He wanted to start talking about next year, right away."
Eventually, both men stood their ground and made almost no compromises.
Fed up, Schottenheimer decided to resign.  In his four full seasons as head coach, Schottenheimer led the Browns to the postseason each year.
December 27, 1988: Goodbye Marty🏈#Browns Marty Schottenheimer resigns after 5 yrs as Head Coach. Unable to align w/ owner Art Modell or relinquish playcalling duties, both agree time to move on. Marty also DC (1980-1984) shaped team makeup for a decade #MartyBall #TheresAGleam pic.twitter.com/lCRUgJi0MB

— On This Day: Cleveland Sports (@CityfanC) December 27, 2021
After a brief press release to announce the move to the media, Modell was left to find a new head coach.
Modell would also try and justify his decision to move on from Schottenheimer.
"I see the Oilers and Bengals franchises surging ahead and I see us almost treading water.  If I were to handicap next year, we would be the third favorite in our division.  That's not good enough," said Modell.
Schottenheimer would quickly find work in Kansas City where he would spend the next ten years.
Former Steelers defensive coordinator Bud Carson took over in Cleveland.
In 1989, the Browns cobbled together a 9-6-1 season, beat Buffalo in the Wild Card round, and lost for the third time in four years to Denver in the AFC title game.
After starting 2-7 in 1990, Carson was fired.
What Might Have Been
With the benefit of hindsight, we can look back at 1988 with numerous questions.
What if Kosar had stayed healthy?
What if the O-line had been better?
What if the Browns beat the Oilers in the playoffs?
What if Schottenheimer had stayed past '88?
However, that's life in the NFL.
On any given Sunday, a team's hopes and aspirations can be dashed on a single play.
That's what happened to Cleveland in 1988.  Browns fans can only ponder what might have been.