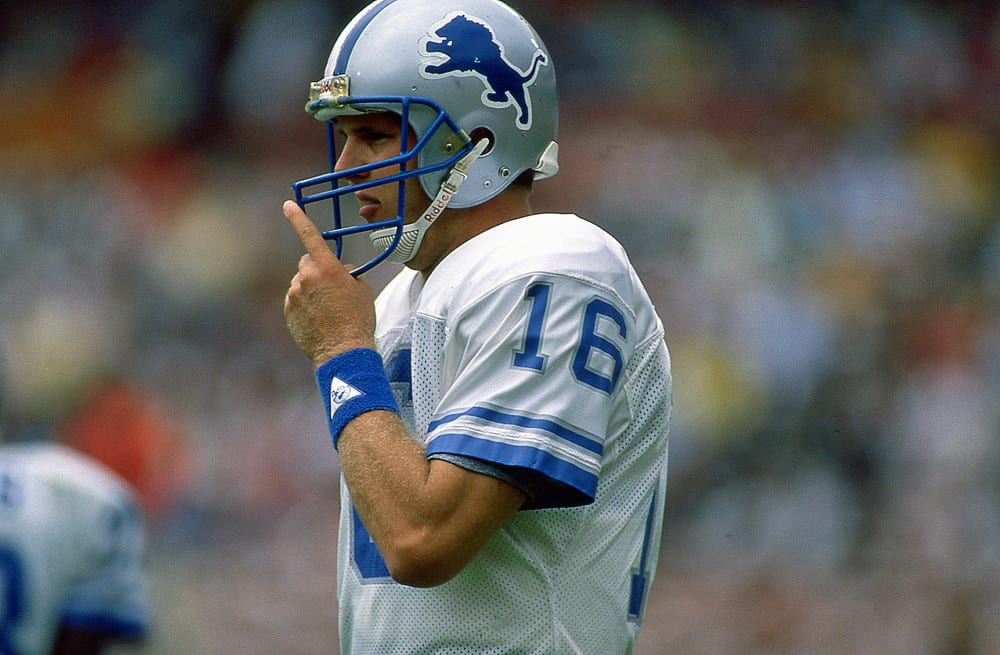 In the summer of 1985, the Cleveland Browns selected University of Miami quarterback Bernie Kosar in the NFL's supplemental draft.
The selection was highly controversial because of how Kosar maneuvered to become part of the supplemental process.
There was also backlash against the Browns for their role in the process.
However, when all was said and done, Cleveland had its man and Kosar was actually excited to be a new member of the Browns.
What is not widely known about Kosar's arrival in Cleveland was that the plan to acquire him actually began months earlier.
As Browns general manager Ernie Accorsi was mapping out how to get Kosar, he also traded for Gary Danielson.
The rookie Bernie Kosar, and the vet Gary Danielson…November 1985 #Browns pic.twitter.com/3kFSJ43K6l

— CleWest (@erjmanlasvegas) November 26, 2020
Danielson had previously been a quarterback with the Detroit Lions for nine years and played fairly well when he started.
However, he was ready to move on in 1985 and Accorsi was very happy to get him.
The plan for Cleveland was to have Danielson start for the Browns in '85 until Kosar got up to speed.
Since Danielson was a seasoned pro, he would be an excellent on-field tutor as Kosar had only played two years for the Hurricanes.
Because of an injury to Danielson, the plan lasted only five games.
For the next four years, Danielson rarely played but served as a valuable resource for the Browns and Kosar.
He would then retire after the 1988 season and become a well-recognized broadcaster.
This is the story of Gary Danielson's time in Cleveland.
Purdue and a Tour of the World Football League
Danielson became a member of the Purdue Boilermakers after a stellar prep career at Divine Child High School in Dearborn, Michigan.
While in high school, Danielson led the Falcons to back-to-back Catholic High School League championships.
In 1970, Danielson replaced Mike Phipps who had graduated and was selected in the first round of the 1970 NFL Draft by the Browns.
In three years as a starter for Purdue, Danielson had 2,748 total passing yards along with 14 touchdowns and 30 interceptions.
Today's @PurdueBookstore Headlines are overflowing with info. And it also happens to be the 69th birthday of Gary Danielson, a former #Purdue QB and famed @CBSSports broadcaster.https://t.co/S3tqL7YmNi pic.twitter.com/HeOH4V9G5W

— GoldandBlack.com (@GoldandBlackcom) September 10, 2020
His best season was in 1971 when he had 1,467 yards, 10 touchdowns, and nine picks.
Danielson's college stats didn't significantly stand out and he went undrafted in 1973.
At the time, the World Football League was beginning and Danielson had an opportunity to play for the New York Stars in 1974 (the Stars became the Charlotte Hornets during the middle of the '74 season).
He then played for the Chicago Winds in 1975.
After the '75 season, the WFL folded and Danielson found himself out of a quarterback job.
He returned to Michigan and found employment as a worker in a sheet metal plant.
Danielson was still in that position when another playing opportunity came along.
Danielson is a Lion
The Detroit Lions came calling in 1976 to gauge Danielson's interest in playing for them.  He jumped at the chance and made the roster.
For the next nine years, the Lions didn't find a lot of success.  Danielson played sporadically but was thrust into the starter's role at various times.
During the 1978 and 1980 seasons, Danielson started in all but five games combined.  He passed for a career high 3,223 yards in 1980 alone.
Here's Gary Danielson with the Detroit Lions! pic.twitter.com/Y4t7QLKYJj

— The Pros Club (@TheProsClub) August 4, 2016
In 1984, an injury to the Lions' starting quarterback led to Danielson becoming the starter again during the final 14 games of the season.
He would pass for 3,076 yards, 17 touchdowns, and 15 picks as Detroit went 4-11-1.
Despite his steady play in '84, Detroit starter Eric Hipple was returning from his injury and would start again in 1985.
At that point, Danielson knew it was time to move on.
Accorsi Trades for Danielson
The Browns' 1984 season was one of chaos.  A year after going 9-7, the team plummeted to 5-11 in '84.
Even worse for the franchise, coach Sam Rutigliano, who had been with the organization since 1978, was fired mid-way through the year.
Defensive coordinator Marty Schottenheimer replaced him and steadied the team to a 4-4 finish.
After the season, the front office knew they needed a roster upgrade.
Specifically, Paul McDonald didn't exactly give anyone confidence that he would lead Cleveland to a Super Bowl.
During the spring of 1985 University of Miami quarterback Bernie Kosar held a press conference announcing his intention to jump to the NFL.
Furthermore, since he was from Ohio, Kosar wanted to play for his favorite team, the Cleveland Browns.
Alarm bells rang in the heads of everyone from NFL headquarters down through every quarterback needy organization in the league.
At the time, only college seniors and graduates were permitted to become NFL Draft eligible.  Kosar had just finished his sophomore year.
However, Kosar was actually close to completing his undergraduate classes and planned to work diligently to finish his studies by the summer of 1985.
With this information in hand, Browns general manager Ernie Accorsi sprang into action.
He wanted Kosar and met with team owner Art Modell to discuss strategy.
Feeling confident in his ability to get Kosar, Accorsi made a trade with the Lions to get Danielson.
April 30, 1985: In anticipation of drafting Bernie Kosar in Supplemental draft, #Browns trade 3rd rnd pick to Detroit for vet QB Gary Danielson. Absolutely perfect move, perfect fit. 33-yr old vet in 'mentor' role, BK the willing disciple. 3 yrs here,Browns got it right #BoilerUp pic.twitter.com/Lg0zoASohB

— On This Day: Cleveland Sports (@CityfanC) April 30, 2021
He knew the signal-caller wanted out of Detroit and Accorsi also knew Danielson would be a good interim starter and mentor to Kosar.
"Competition should make everyone better," said Schottenheimer after the Danielson trade, "We think Gary can help us."
Meanwhile, Kosar missed the deadline to declare for the regular draft in April but announced his intentions to enter the NFL supplemental draft.
Three teams, Minnesota, Houston, and Cleveland all jostled for position to get him.
The Browns traded a number of draft picks to the Buffalo Bills for their rights to the top pick of the '85 supplemental draft.
With that selection, the Browns drafted Kosar despite an uproar from the folks in Minnesota and Houston.
July 2, 1985: #Browns draft Bernie Kosar 1st pick of #NFL Supplemental draft after trade w/ Bills (Chip Banks refused). 21 yr old BK: "I've been a fan of Browns ever since I was a kid, now's my chance to help my favorite team" The rest is CLE history #BernieBernie #QB1 #Acorsi pic.twitter.com/CaKzPI5TYP

— On This Day: Cleveland Sports (@CityfanC) July 2, 2021
By training camp for the 1985 season, Cleveland had two new quarterbacks.
Danielson Starts but is Injured
In a matter of months, the quarterback room for the Browns changed significantly.
Kosar got a quick education about the intricacies of NFL quarterback play from Danielson and quarterback coach Greg Landry.
Landry and Danielson had played together with the Lions years earlier and were integral to Kosar's development.
As Accorsi had planned, Danielson started the 1985 season as Kosar soaked in lessons from the sideline.
Through the first four weeks of the season, Danielson had Cleveland at 2-2.
In the team's Week 5 game against New England, Danielson went down with a shoulder injury.
He had thrown an interception and was injured trying to tackle the interceptor.
"I don't blame Gary for his injury," Schottenheimer said after the game. "He threw the damn interception — the least he can do is go and tackle the guy."
When asked how long he would be out, Danielson gave a witty retort.
"How long will I be out? Well that depends," Danielson said. "It could be either a week or 15 years, depending on what Bernie does against the Oilers."
Kosar would end up winning the Oilers game and started nearly all the contests for the remainder of the year.
Flashback Fri
In 1985 Cleveland Browns coached by Marty Schottenheimer won the AFC Central. Veteran Gary Danielson & rookie Bernie Kosar were the QBs. RBs Kevin Mack & Earnest Byner each rushed for over a 1000 yd. The beginning of several successful Browns seasons from 1986-1989 pic.twitter.com/aNi1SRJ7Vl

— Tom Brunswick (@tom_brunswick) June 5, 2020
The Browns snuck into the playoffs with an 8-8 record but lost a close one to Miami in the Divisional round.
Injury aside, Danielson performed well in his first year in Cleveland passing for 1,274 yards, eight touchdowns, and six interceptions.
Little Playing Time, but Valued Backup
In the 1986 preseason, Danielson was injured again and missed the entire year.  Kosar filled in and never looked back.
For the next few years, Kosar led the Browns to winning seasons and appearances in two AFC Championship games.
Danielson started just one game during the 1987 season and didn't see the field for very long in 1988.
Run, Gary.
#18 Gary Danielson
Vintage #Browns pic.twitter.com/8uc2d9ocVY

— Vintage Browns (@VintageBrowns) April 7, 2021
In Week 1 of the '88 season, Kosar injured his elbow and would be lost for the first part of the year.
Danielson took over and started in Week 2 versus the New York Jets.
In the third quarter, Danielson broke his ankle during a pile-up after an incompletion.
He was only one part of a series of maladies that befell Browns quarterbacks that season.
The 1988 season saw four different starting quarterbacks for Cleveland.
Somehow, the team was still able to make the playoffs, though they were defeated by the Oilers 24-23 in the Wild Card round.
After the season, Danielson retired.
Q: Who was the last @Browns QB to retire as a Brown?
A: Gary Danielson#FunFactFriday #Browns @TheRealTRizzo pic.twitter.com/3hbWWZLl0h

— Cleveland Browns (@AnalyticsSays) April 14, 2017
During his time with the Browns, Danielson passed for totals of 1,879 passing yards, 12 touchdowns, and seven interceptions.
He had eight starts in Cleveland that led to a 5-3 overall record.
Broadcaster
As a player, Danielson gained some experience as a part-time anchor for television stations in Detroit and Cleveland.
After retiring, he took a job with ESPN as a college football analyst.
In 2006, Danielson moved to CBS where he partnered with Verne Lundquist then Brad Nessler as a college football analyst for SEC games.
He continues in this capacity to this day while also working in radio with the likes of Mike Francesa and Paul Finebaum.
CBS Broadcaster Gary Danielson joined the Mac Attack to discuss his thoughts on the College Football Playoff, plus the great upcoming match ups in the SEC.
https://t.co/VdMLnLqDio pic.twitter.com/fZsNYDiFBM

— Sports Radio WFNZ (@wfnz) October 2, 2019
Kosar and Danielson still have a great friendship dating back to their days with the Browns.
In 2011, the two partnered together in a business venture with Capsalus Corp, a health and wellness company.
Their business partnership showed how little has changed between the two over the years.
"Gary and I have maintained a loyal friendship and mutual respect for one another that has transcended our football playing careers for 25 years. I'm looking forward to tackling this new professional challenge together," said Kosar.
References
https://www.businesswire.com/news/home/20111117005709/en/Former-NFL-Teammates-Gary-Danielson-and-Bernie-Kosar-to-Champion-Capsalus-Corp.-Health-Wellness-Platform
https://en.wikipedia.org/wiki/Bernie_Kosar
https://en.wikipedia.org/wiki/Gary_Danielson
https://www.latimes.com/archives/la-xpm-1988-09-12-sp-1336-story.html
https://www.espn.com/abcsports/bcs/columns/danielson_gary/bio.html
https://www.upi.com/Archives/1985/10/07/Quarterback-Gary-Danielson-Monday-was-praised-by-Cleveland-Browns/1916497505600/
https://www.sports-reference.com/cfb/players/gary-danielson-1.html
https://www.pro-football-reference.com/players/D/DaniGa00.htm