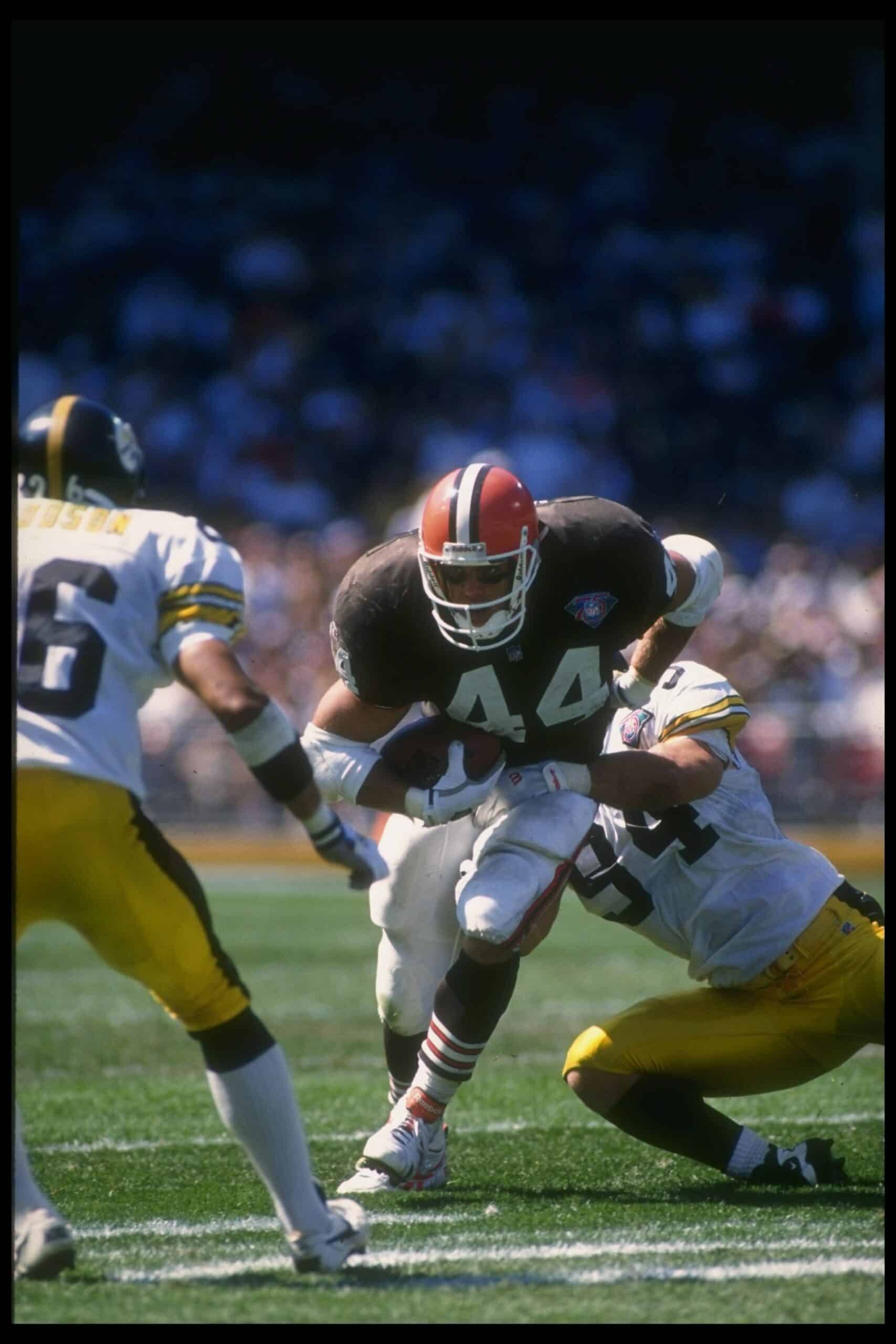 In 1991, the Browns hired Giants defensive coordinator Bill Belichick as their new head coach.
That season, Belichick's crew went 6-10.
This was an improvement over the previous year's 3-13 record.
However, Belichick and his staff wanted to get better and push for a playoff spot in 1992.
Hoping to add even more punch to the offense, the Browns selected Tommy Vardell from Stanford with their first-round pick in the 1992 draft.
"Touchdown Tommy" Vardell. #44
Vintage #Browns pic.twitter.com/oaN1s7lxuQ

— Vintage Browns (@VintageBrowns) December 29, 2018
Vardell was a bruising fullback for the Cardinal who also happened to score a lot of touchdowns.
His nickname "Touchdown Tommy" was apt for his prolific scoring spree during his junior and senior years in California.
Vardell was added to an already full stable of backs for the Browns.
Leroy Hoard, Kevin Mack and Eric Metcalf were in place to share snaps and the rushing workload for Cleveland in '92.
Vardell would be a change-of-pace back to spell the others and add a potent short-yardage option for the team.
Unfortunately, Vardell's career didn't pan out the way he or Cleveland hoped for.
By the time the Browns vacated the city for Baltimore after the 1995 season, Vardell was released.
Though he would play for four more years with two different teams, Vardell was not the same player he had been in college.
This is the story of what happened to Touchdown Tommy Vardell.
Stanford great
Vardell began his college career in 1988.
For the first two seasons at Stanford, he didn't see a lot of touches.
During those two years, Vardell had a total of 264 yards rushing and three touchdowns.
Head coach Dennis Green got Vardell more involved in the game plan beginning in 1990.
That season, he toted the rock 120 times for 441 yards and 14 scores.
During an October game against #1 ranked Notre Dame, Vardell scored four times, all from the one-yard line.
His scoring output led to a 36-31 upset of the Irish.
Green bequeathed Vardell the nickname "Touchdown Tommy" after the game and the moniker stuck.
Absolutely nothing, but…. Touchdown Tommy Vardell was pretty cool 💪💪💪 https://t.co/pJAax18hhj pic.twitter.com/eckZ4JTBrS

— CoachTooch 🇺🇸 (@CoachTooch) April 30, 2020
The Cardinal finished 5-6 in '90 and in 1991, Green's team reached an 8-4 record on the way to their first bowl game in five years.
Vardell was a machine that season, carrying the ball a whopping 247 times for 1,188 yards and 22 scores.
During the team's 18-17 Aloha Bowl loss to Georgia Tech, Vardell had the first score of the game on a six-yard touchdown run.
In four years as a Cardinal, Vardell never fumbled the ball.
By the time he graduated, Vardell held the Stanford program record for most rushing yards in a season.
That mark has since been broken twice.
His college accolades included being a two-time team captain and 1991 Academic All-American of the Year.
It should be mentioned that Vardell did this while studying engineering.
First-round pick
Vardell's off-the-charts senior year propelled him to the top of the list of names heading into the 1992 NFL Draft.
With the ninth overall pick of the first round, Belichick and the Browns snatched him up.
While the Browns were making slight improvements to reach a 7-9 record in '92, Vardell was getting his feet wet as a pro.
As a rookie, he touched the ball 99 times for 369 yards but he failed to find the end zone during the season.
In Vardell's second NFL season, the Browns repeated their 7-9 record.
Vardell saw the ball more that year despite a crowded running back room.
Based on 171 carries, Vardell rushed for 644 yards and three touchdowns plus a receiving touchdown.
Apr 26, 1992: The @Browns drafted "Touchdown" Tommy Vardell @tvardell 9th overall. He rushed for three TDs, in four seasons, but imagine if that was all one game! pic.twitter.com/HAJfyER26R

— Sad CLE Sports (@SadCleveland) April 26, 2018
While the Browns finally made it back to the postseason in 1994, Vardell nursed an injury.
That led to a 48-yard total output with one touchdown reception.
1995 was even worse for Vardell and the team.
While still recovering from injuries and only rushing for nine total yards, the Browns were getting ready to fold up shop.
Team owner Art Modell told the media during the year that the Browns would be moving to Baltimore once the season concluded.
That sent the team into a downward spiral.
The '95 season ended with five wins, Belichick being fired and the franchise moving east to become the Ravens.
Career after Cleveland
With the team leaving for Baltimore, Vardell also left Cleveland for San Francisco.
In four years with the Browns, "Touchdown" Tommy had only five touchdowns.
During the 1996 season as a 49er, Vardell carried the ball for 192 yards and two scores.
He then moved on to Detroit where he cleared the path for Barry Sanders for two years.
11-16-1997, the Lions beat the Vikings 38-15. Boy, Touchdown Tommy Vardell liked November, rushing 5 times for 45 yards & 3 TD. All 3 TD were 1 yard. pic.twitter.com/vZhMklWXML

— Scott F (@TheFrizz87) November 16, 2017
During 1997, Vardell opened holes for Sanders' eye-popping 2,053 yard season.
In 1999, Vardell returned to San Francisco for a second time.
That year he saw action in five games, rushed for six yards and scored once.
Once the '99 season concluded, Vardell retired.
"It's time for me to move on,″ said Vardell.  "I've taken football as far as I want to take it.  It's been great to me. I've been exposed to so many different situations. I've been exposed to pressure, to praise, to criticism, highs and lows and a whole range of personalities and I'm grateful for it all because it helped me to grow and to enjoy my career.″
What happened?
Vardell came into the league with such great promise.
He was a scoring machine at Stanford and was a high draft pick.
In eight years in the league, Vardell had 1,427 rushing yards and 21 total touchdowns.
Why did he struggle as a pro?
The position and competition
As already mentioned, Vardell was a fullback in college and the pros.
Even depending on the offensive scheme, fullbacks typically do not see a lot of carries or touchdowns, especially in the NFL.
The ones that do are usually deployed as a hybrid runner/blocker/receiver and Vardell wasn't used that way in Cleveland.
As a Brown, Vardell had to share snaps with the likes of Hoard and Mack.
Additionally, the team also had Metcalf in 1992 and '93 for Vardell to open lanes for.
Former Stanford Cardinal and Cleveland Browns FB *ahem* "Touchdown" *ahem* Tommy Vardell#ReidsRandomAthleteOFTheDay pic.twitter.com/RFr0yQd5Mk

— Tony Reid (@reidrattlecage) October 5, 2014
In 1994, Earnest Byner returned to Cleveland after a five-year run with Washington.
The following season, former Oiler Lorenzo White joined the club.
With Byner still in the backfield, both backs cut into any carries Vardell would have received.
Basically, Vardell wasn't an every down back and certainly wasn't viewed as a pure running back.
His gifts were blocking and paving rushing lanes for the tailbacks behind him.
The inflated stats Vardell had in college weren't realistic in the NFL no matter what team drafted him.
The injury
This was the most significant reason for Vardell's low totals as a Brown.
On the third play of the Week 5 game against the Jets in 1994, Vardell was reaching for a pass when he was hit by Jets safety Brian Washington.
As soon as he hit the ground, Vardell knew something was wrong.
His left knee twisted the wrong way and he immediately felt pain.
"Tommy's a very special player," Belichick said at the time of Vardell's injury. "Although I think we have good depth in our backfield, we don't have another Tommy Vardell, by any stretch of the imagination."
The injury to Vardell's knee required season-ending surgery.
He was still recuperating in 1995 and missed a significant portion of that season as well.
Touch down Tommy Vardell #44 #Browns pic.twitter.com/LzCkK0rhet

— Vintage Browns (@VintageBrowns) April 14, 2021
That year, Vardell appeared in only five games.
As any athlete knows, the more games you miss (for any reason) the more your back-up plays in your place.
By the time the '95 season ended, Vardell had only played in 10 games in two years.
His lack of playing time, and the severity of the injury, almost certainly played a role in the team not bringing Vardell with them when they moved to Baltimore.
Extenuating circumstances
While Vardell was recuperating from his injury in 1995, the Browns were imploding.
After a Week 10 loss to Houston, Modell announced to the media that he was relocating the franchise.
Once the cat was out of the bag, the team threw in the towel.
Browns fans in 1995 after it was announced that Art Modell was moving the team to Baltimore: pic.twitter.com/OMO4RQjb

— SI Vault (@si_vault) April 3, 2012
The Browns promptly lost every contest for the remainder of the season except for their penultimate game.
That day, the Browns beat the Bengals in front of their home crowd in what would be the final game at Cleveland's old Municipal Stadium.
In the middle of this mess was Vardell.
While doing his best to return to full health (as well as the field), the chaos swirling around him seems to have swallowed him up.
One could assume he was lost in the shuffle of rehab, team losing streaks, franchise relocation and Modell's attempt to save face.
By the time the organization relocated to the East coast, Modell was shedding salaries and focusing on his new(ish) endeavor.
Vardell was just one of the casualties of a year best left forgotten.
In summary
As the saying goes, "With great effort comes great rewards."
Vardell gave a great effort at Stanford.
Former Stanford running back Tommy Vardell to be honored with NCAA Silver Anniversary Award: https://t.co/ISSai5w6uK pic.twitter.com/dl5yNQfQF3

— NCAA Football (@NCAAFootball) December 8, 2016
He was rewarded by becoming one of the highest-drafted fullbacks in the modern history of the NFL Draft.
His career in Cleveland and as a pro didn't pan out the way he envisioned, but Vardell is still recognized for his work ethic, competitiveness, desire and his compassion for others.
"Tommy is one of the greatest players in Stanford history and had an excellent professional career,″ former 49ers general manager Bill Walsh said. `"He was a great competitor and a true professional.″