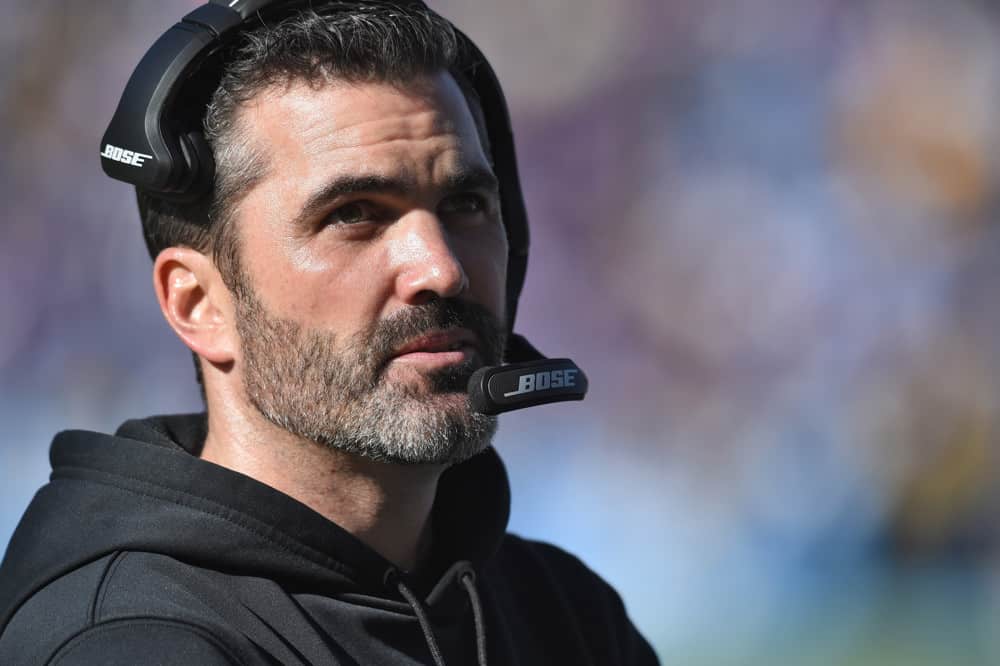 If there's one thing Browns fans know by now (or at least should know) it's to not get ahead of themselves.
After the failed John Dorsey and Freddie Kitchens experiment, Andrew Berry and Kevin Stefanski have a chance to right the wrongs of the previous regime.
Getting rid of Dorsey and Kitchens instantly solved a plethora of issues, but not all of them.
There are still some viruses lurking in the software of the Browns organization.
Some of that lies with personnel, and some of it does not.
Either way, Stefanski is not walking into a perfect situation as a coach.
No coach does, but this team ended far from where it needed to in 2019.
He has a couple of challenges he needs to overcome to be a successful head coach in Cleveland.
1. Pressure
Every new head coach deals with pressure, especially one that's first-time.
There's an extra dosage added for the ones that come to Cleveland though.
Despite the losing, Cleveland is a football city and a "Browns Town".
The hunger and desire for the team to achieve some form of sustained success again has been thriving since 1999.
However, patience grows a little thinner with each losing season.
Ones like last year, ones with incredibly high aspirations, hurt fans that much more.
To come into this situation with the added expectations that carried over from last year requires an abundance of confidence.
Having an intense fan base has its benefits, but that passion can turn into anger quick when met with failure.
Winning is not only a desire, but a necessity for Stefanski if he wants to avoid being taunted by his own fans.
2. Distractions
Oh goodness, the distractions this team had last year were enough for a decade.
Odell Beckham Jr. seemed to have an illegal piece of equipment on every week at the start of the season.
Rumors flared of players wanting other teams to "come get them".
Freddie Kitchens went viral for a t-shirt.
Jermaine Whitehead threatened people with a social media post.
Baker Mayfield called out the training staff.
#Browns QB @bakermayfield critical of the training staff's handling of @obj's sports hernia injury that may need offseason surgery to correct #3Browns @wkyc pic.twitter.com/cEVpK3cP61

— Matt Florjancic (@MattFlorjancic) December 8, 2019
The list could go on and on.
This team has talent on paper, but that means nothing without on-field results.
Distractions and off-field nonsensical incidents take away from the players' focused attention on-field.
Players and coaches tend to deny that, but last year's Browns team serves as a prime example.
Whether it's an ego check or stricter team policies, Stefanski needs to find a way to cut down on the number of distractions this team has.
3. Baker Mayfield
Fans expected Mayfield to go from a quality rookie to a star sophomore in his second year in the NFL.
Instead, he took a big step backward as a quarterback.
His completion percentage dropped from 63% to 59%, and his quarterback rating finished at a pedestrian 78.8.
Both of those marks ranked 31st in the NFL. Was it all Mayfield's fault?
No, of course not. Kitchens was overwhelmed as a rookie head coach, resulting in poor play-calling and a lack of proper development for Mayfield.
Baker Mayfield had a disappointing season in 2019, throwing for just 22 touchdowns with 21 interceptions. With a new head coach and some of the best offensive weapons in the league, will Mayfield and the Browns bounce back in 2020? pic.twitter.com/ht0PMMLHhR

— Double Move Sports (@DoubleMoveSport) March 29, 2020
Having a good franchise quarterback will do wonders for novice head coaches.
Mayfield is not there yet, but he did enough in his rookie season to have a shot at redemption this season.
Veteran Case Keenum will be able to help mentor Mayfield throughout the season, something Baker lacked last season.
The offensive line is better, and he still has skill-position weapons to run the offense through.
If Stefanski can fix Baker Mayfield, he just may be able to fix the Browns.