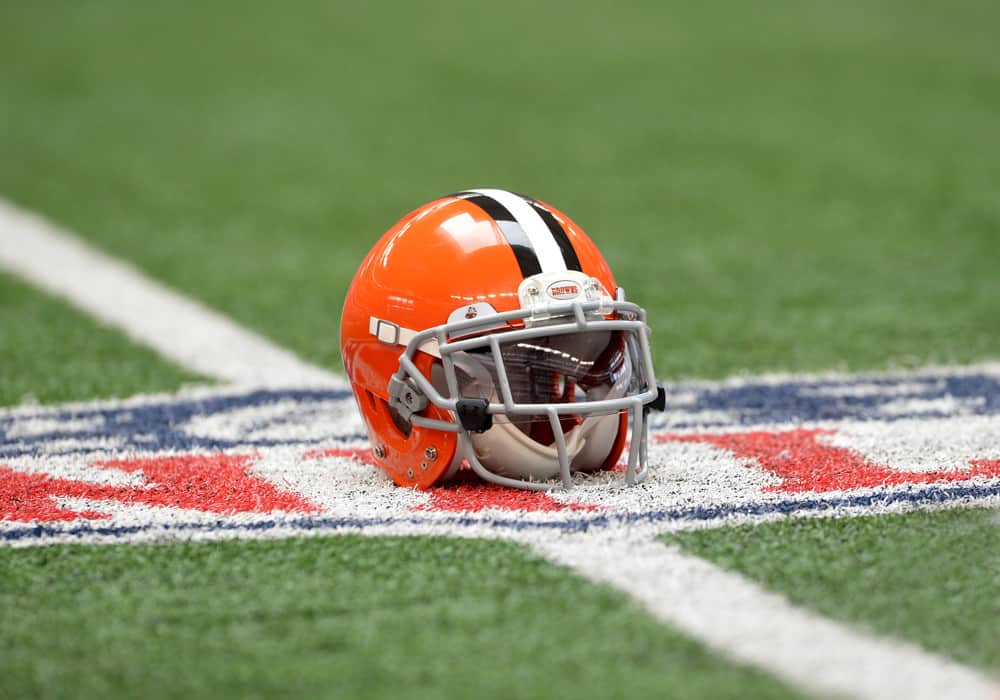 The playoff drought for the Cleveland Browns keeps piling up.
After finishing 6-10 last season, the Browns went the complete 2010s decade without qualifying for the postseason.
As of now, the Browns have not made the postseason since 2002, and have qualified just three times since 1989.
On paper, the Browns have the talent to make the playoffs, but in order to do that, these three things need to happen.
1. Baker Mayfield Becomes "The Man"
It's very simple to say that Mayfield regressed last season.
After winning Offensive Rookie of the Year in 2018, Mayfield was the second-worst quarterback in the league and threw 22 touchdown passes to 21 interceptions.
To go along with that, he had one of the most alarming statistics when it came to his accuracy while not under pressure.
Baker Mayfield has the lowest passer rating in the NFL when not under pressure this season per @NextGenStats. He is the only QB with more INT than TD passes when not pressured. pic.twitter.com/OuFERsVDzm

— NFL Research (@NFLResearch) November 5, 2019

If the Browns are going to push for the playoffs, the team has to have a franchise quarterback.
In 2018, Mayfield threw for 3,725 passing yards, 27 touchdowns, 14 interceptions, and had a passer rating of 93.7.
Those have to be similar stats, if not better, in 2020 if there is any hope of breaking the playoff drought.
However, the "experts" believe this is going to be too much pressure on Mayfield.
He is going to have to prove the world wrong.
.@MarkSchlereth has doubts that Baker Mayfield will bounce back next season

"I don't have a ton of confidence that he has the emotional stability to handle that position." pic.twitter.com/DLJ5FIOYxn

— FOX Sports (@FOXSports) March 10, 2020
2. Trade Up For Isaiah Simmons
The Browns are going to lose Joe Schobert in free agency and have already cut Christian Kirksey.
Those are two quality linebackers that the team is losing on defense.
Schobert led the team in tackles in 2019 and finished as a Pro Bowl selection in 2017.
Kirksey compiled 484 tackles, 11.5 sacks, two interceptions, four forced fumbles and three fumble recoveries in his Browns' career from 2017 to 2019, while also serving as a captain.
Clemson's Isaiah Simmons is an NFL-ready linebacker.
Isaiah Simmons
2020 #NFLCombine

• Taller than DK Metcalf

• Heavier than Roquan Smith

• Faster than Devin Hester

• Jumps higher than Julio Jones

• More explosive than Alvin Kamara@ClemsonFB @isaiahsimmons25 pic.twitter.com/NeotE79Ivg

— NFL Research (@NFLResearch) March 1, 2020
In some mock drafts, Simmons is rated as high as the No. 3 overall prospect.
The Browns have the No. 10 overall pick, but the Detroit Lions are rumored to be interested in trading their first-round pick.
The Browns also have the following picks:
Second Round: No. 41
Second round: No. 41
Third round: No. 74
Third round: No. 97
Fourth round: No. 115
Fifth round: None
Sixth round: No. 187
Seventh round: No. 244
The Browns could package their first round pick, third round pick, and their sixth or seventh to move up.
Simmons would be worth it.
3. Find A Starting Tackle In Offseason
If the Browns made the trade mentioned above, the team would still have their second round pick and a third round pick available.
The Browns are already linked to USC's Austin Jackson and Boise State's Ezra Cleveland.
Both selections would likely be available in the second or third rounds.
If not, there are options such as Jack Conklin (Titans), Bryan Bulaga (Packers), Halapoulivaati Vaitai (Eagles), and Jason Peters (Eagles) on the market.
Best case scenario, the Browns trade for Washington Redskins lineman Trent Williams.
According to ESPN's Adam Schefter, the Redskins are allowing Williams to find a trade partner.
Williams sat out all of 2019 after disputes with the Redskins medical staff.
However, when on the field, Williams was one of the best lineman around as he was named to the Pro Bowl seven consecutive seasons (2012-2018).
Last year Redskins LT Trent Williams recorded a pass block win rate of 92%, above the OT average of 86%. Today his replacement, Donald Penn, posted a PBWR of 73%. PBWR is an ESPN metric powered by NFL Next Gen Stats.

— Seth Walder (@SethWalder) September 9, 2019