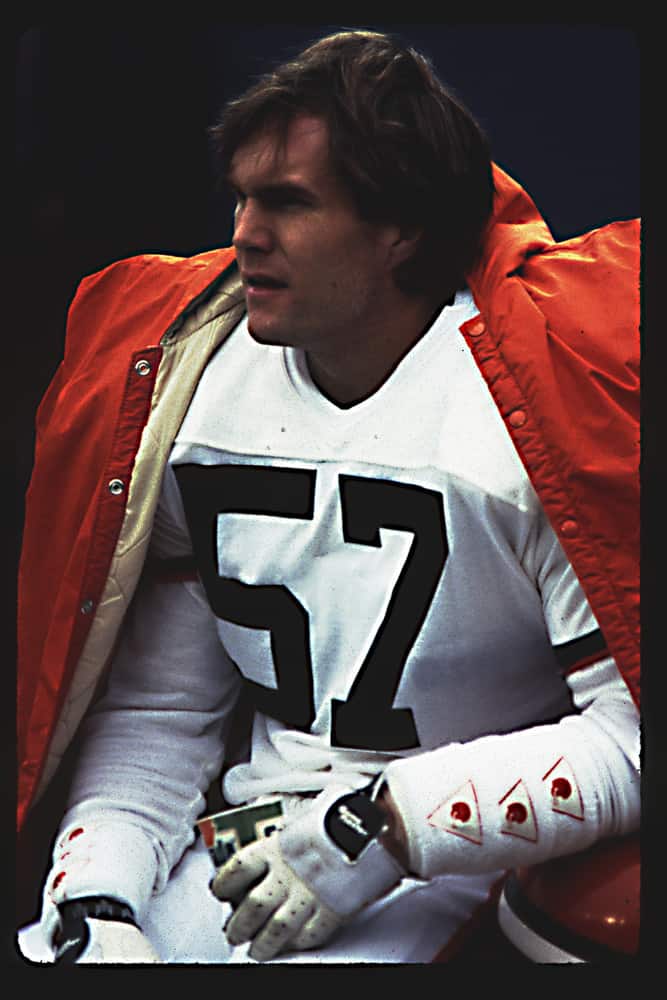 One could imagine that as a blue-collar, gritty, midwestern city, the Browns would be known for their stud defensive stars, yet that just isn't the case.
The most famous Browns are men like Jim Brown, Ozzie Newsome, and Otto Graham, all offensive stars.
Linebacker has been an interesting position for the Cleveland Browns over the years.
There are great players on this list who you'd take on any team today, yet none of them have made the Hall of Fame.
Even that causes great debate among fans, especially for the number one man on this list.
So, take a look at the linebackers chosen to represent the Cleveland Browns franchise in this top ten list.
Some of them are household names to most Browns fans, but some of them are men you may have forgotten about or never heard of.
Either way, this is a must-read list for Browns fans.
Top 10 Best Linebackers In Cleveland Browns History
10. Eddie Johnson
Eddie Johnson arrived in Cleveland at exactly the right time.
The 70s were a rough decade for the Browns, but the 1980s were getting off to a great start with the franchise returning to the playoffs, despite the tragedy of "Red Right 88" in 1981.
Johnson's Browns career got off to a slow start, starting in just 3 games his first 3 seasons.
However, in 1984 it all clicked for Johnson and he became dominant.
That season, Johnson registered 172 tackles.
The following season Johnson was voted defensive co-captain and earned Honorable Mention All-Pro honors.
I always look for Eddie Johnson pictures and I couldn't resist tweeting this one with the win over Denver.
Eddie Johnson "The Assassin"
Vintage #Browns pic.twitter.com/bvqVoHCWM3

— Vintage Browns (@VintageBrowns) October 1, 2019
From 1985-1987 Johnson was at the center of a defense that won 3 straight AFC Central titles.
Despite his slow progression to stardom, Johnson was consistent, playing in 101 consecutive games between 1981 and 1987.
Johnson was known as "The Assassin" for his fierce tackling style.
Johnson retired from the NFL in 1990, having played in 148 games for Cleveland.
In his post-NFL career, Johnson became an ordained minister and gave his life to helping others in the community.
In 2018, Johnson was inducted into the Browns Legends program as one of the greatest Browns ever.
Sadly, Johnson was unable to receive the honor as he lost his battle with colon cancer in 2003.
9. Charlie Hall
You can be forgiven if you're not familiar with the work of Charlie Hall, who played for the Browns from 1971-1980.
Hall played for the Browns during a transitional era.
The stars of the 1960s were aging out of the team and the Browns were in decline.
During Hall's first two seasons the Browns made the playoffs but after that went 7-21 over the next two.
Hall stuck out the down periods and was eventually rewarded at the end of his career as the next generation of Browns talent had begun to arrive.
Unfortunately, that career ended with the infamy of the "Red Right 88" playoff disaster in 1981.
What made Charlie Hall wasn't spectacular plays as much as it was his durability and consistency.
Hall played in all 146 games he was eligible for in his career, which is an incredible statistic.
'76 vs. Oilers. 9 degree wind chill, frozen tundra, & numb hands. Sipe's playground scramble and throw to Warfield and Charlie Hall's clinching INT sealed a 13-10 win. Forrest Gregg won 'Coach of the Year' in '76 for their 6 win improvement. #clevelandbrowns #browns pic.twitter.com/Dc9gUWziVx

— Cleveland Municipal Browns (@BrownsMunicipal) August 8, 2020
After learning the ropes in an apprentice role his rookie season out of the University of Houston, Hall took over the starting job in his second year and never gave it back.
Hall was a sure tackler and had excellent range and skill in the passing game.
And while he never got acclaim for impressive plays, he was renowned for not making mistakes.
Charlie Hall might not be the greatest Browns linebacker in history, but he's a name you should know.
8. Tony Adamle
The early Cleveland Browns teams were so good that men like Tony Adamle often get overlooked.
In a team full of stars like Bill Willis, Marion Motley, and Otto Graham, it's easy to see how that could happen.
However, Adamle was an essential piece of the Browns defense and would have been a star on almost any other team in that era.
Adamle joined the Browns in 1947, controversially leaving Ohio State before graduating, and played on both sides of the ball initially.
He competed with Marion Motley for carries at the fullback position, but when it became clear Motley was destined to be one of the greatest of all time, Adamle focused on the linebacking position.
The adjustment helped both men and the team as the Browns continued their domination of the AAFC, winning titles in the first three years of Adamle's career, including the 1948 undefeated season.
Thanksgiving, 1948: Browns' Tony Adamle (father of NFLer @TheMikeAdamle ) stuffed by the goalpost on Los Angeles Dons' Walt Clay's 1-yd TD. pic.twitter.com/4Puo064FYv

— Kevin Gallagher (@KevG163) June 21, 2017
Adamle continued to lead at the linebacker position as the Browns made the move to the NFL, where they won the NFL Championship in their first season in their new league.
1950 may have been the franchise's first season in the league, but Adamle and the Browns proved they were up to the task with the Browns winning the title and Adamle being named to the Pro Bowl.
Adamle went out on top in 1951, earning a second Pro Bowl selection and a First-Team All-Pro honor before retiring.
In retirement, Adamle went to medical school at Western Reserve University (now Case Western Reserve University) and set up a practice in Kent until his death in 2000.
7. Dick Ambrose
"Bam Bam" was in the middle of the Browns defense on some of the most important teams in Browns history.
Ambrose earned that nickname the hard way, by consistently delivering hard hits from the linebacker position.
Dick Ambrose and Jerry Sherk #BrownsNation pic.twitter.com/1n7XhnWprF

— 𝐏𝐫𝐨 𝐅𝐨𝐨𝐭𝐛𝐚𝐥𝐥 𝐉𝐨𝐮𝐫𝐧𝐚𝐥🏈 (@NFL_Journal) August 19, 2018
However, it was an injury to the Browns starting middle linebacker that gave Ambrose the chance he needed.
Out of college, Bam Bam wasn't projected to have the career he did but he grabbed the proverbial bull by the horns when he got his chance.
Ambrose went on to play in 116 games for the Browns, had 5 interceptions, and recovered 9 fumbles.
His best season with the Browns came in 1980 when he was a member of the "Kardiac Kids" team that won the Browns' first division title since 1971.
As you all remember, they lost the heartbreaking "Red Right 88" game to the Raiders in the Divisional round.
Dick Ambrose was so intimidating the Broncos QB couldn't even look at him.
Vintage #Browns pic.twitter.com/E5II2BjNxG

— Vintage Browns (@VintageBrowns) December 31, 2018
Injuries brought Ambrose's career to an early end, but despite this, The Plain Dealer ranked him 94 on its list of 100 greatest Browns of all-time.
These days the former linebacker is laying the hammer in a different way.
Ambrose began studying law while he was still playing football and finished his law degree shortly after he finished playing.
Since 2004 he has been presiding over courtrooms in Cuyahoga County as a judge in the Cuyahoga County Court of Common Pleas. He was the judge assigned to the Anthony Sowell serial killer case in the last decade.
6. Mike Johnson
The collapse of the USFL helped the Cleveland Browns more than they ever would have imagined.
Through the 1984 Supplemental Draft of USFL Players, the Browns picked up Kevin Mack, Gerald McNeil, and Mike Johnson.
However, Johnson's career wasn't a success right off the bat.
The Browns were playing a 3-4 defensive scheme which allowed for two middle linebackers, but Johnson spent the season as a backup to Eddie Johnson and Anthony Griggs.
Finally, in 1987, Johnson took over the right inside linebacker spot.
He patrolled the defense with his fellow linebacking partner Eddie Johnson, making what was surely the NFL's first Johnson & Johnson linebacking partnership.
Endorsement deals, anyone?
Silent leader MLB Mike Johnson was a multiple Pro-Bowler for the Cleveland Browns pic.twitter.com/XB1WFywHb3

— Shawn McKenzie 🇺🇸 (@SMcK17) January 17, 2016
Eventually, Johnson made the move to the right linebacker position and his career really took off.
After the move in 1988, Mike made 132 tackles, which was a career-high.
In 1989, Bud Carson brought in his defensive system, the 4-3, which put Johnson in the center of the action.
Johnson's career continued its upward trajectory and he earned his first Pro Bowl selection.
Johnson returned to Honolulu the following year after a 1990 season that saw him record 161 tackles.
That total was topped two years later when he finished second in the NFL with an incredible 176, followed by 181 the year after.
In total, Johnson topped 130 tackles in five different seasons and totaled over 1,200 tackles as a Brown.
He finished his career after two final seasons in Detroit before retiring after the 1995 season.
5. Galen Fiss
Galen Fiss may not be one of the most famous names of the Browns golden era, but he is one of the most important.
On-field talent aside, Fiss was a leader of great character who commanded the respect of his peers.
He was the captain of the 1964 NFL Championship team.
He led the two-touchdown underdog Browns to a 27-0 stomping of Johnny Unitas's Colts.
Fiss was drafted by the Browns in the 13th round of the 1953 draft but had to wait until 1956 to see the field.
What was the holdup?
A two-year stint in the Air Force.
Fiss's first season was the first losing season in franchise history, but that didn't deter him in any way.
The franchise was equally undeterred and their poor record gave them the opportunity to select running back Jim Brown out of Syracuse.
Brown would go on to a good bit of success over his career.
Galen Fiss would be no slouch himself over the course of his 11-year career.
Cleveland Browns linebacker Galen Fiss, circa. 1962. pic.twitter.com/uOiQKGLKF9

— SportsPaper (@SportsPaperInfo) March 12, 2016
He was named to the Pro Bowl in 1962 and 1963 and was named a second-team All-Pro in 1962.
The 1964 NFL Championship game remained his crowning achievement as a professional though.
He played a near-perfect game of football.
All game long he harassed Unitas, sacking him once and clubbing him in the helmet with his casted up arm on another.
In one memorable moment, he made a career highlight tackle on Colts halfback Lenny Moore.
The Colts got the Browns out of position with a screen pass.
Every defender but Fiss bought the fake, so it fell to the captain to make the open field solo tackle, which Jim Brown called one of the most inspirational plays in the history of football.
A year later when the team received their championship rings, Fiss had to wear his on his left hand in place of his wedding ring, due to an injury gnarled right ring finger.
It's said that his wife understood how much the award meant to him and that she didn't put up a fight.
Galen Fiss was a great linebacker, but in truth, he was so much more for those Cleveland Browns teams.
4. Chip Banks
Chip Banks came into the league with all the pressure in the world on him.
The linebacker was the top pick of the Browns in 1982 and the number three overall pick.
Banks began living up to those expectations immediately.
Banks had an instant impact on the Browns defense playing in 9 games, recording 5.5 sacks and 1 interception.
He was given the NFL Rookie of the Year Award for his play.
Banks would go on to a great career on the field for the Browns over his 5 years with the team.
He was named to 4 Pro Bowls and was named to various All-Pro teams.
Banks never missed a game for the Browns during his time with the team and he played an important role in their back-to-back division titles in 1985 and 1986.
56 Days: Chip Banks #Browns #BrownsTwitter pic.twitter.com/aW1Fh0MTRI

— Downtown Browns (@DowntownBrowns_) July 16, 2020
Unfortunately for Banks, and the Browns, off the field issues often plagued Banks throughout his Browns career and afterward.
His personality off the field was often as explosive as his play on it.
Banks held out ahead of the 1985 season and skipped training camp.
During this time did not communicate with his teammates or coaches.
When the Browns publically discussed trading Banks so they could select Miami Hurricanes quarterback Bernie Kosar in the upcoming draft, Banks threatened to retire if the trade went through.
The deal for Kosar went ahead, but without Banks included. Banks returned to have a Pro Bowl season despite missing the preseason.
Eventually, coach Marty Schottenheimer got tired of dealing with Banks and his antics and sent him to the Chargers, where he would sit out the entire 1988 season due to a contract dispute.
Banks spent a few more seasons in the NFL with San Diego and Indianapolis before retiring in 1993.
3. Jim Houston
Jim Houston could have played his professional ball either for the Buffalo Bills, or the Cleveland Browns.
He was drafted by both teams in 1960.
Being a kid from northeast Ohio, Houston chose to play for Paul Brown and the Cleveland Browns.
His brother, Lin Houston, was already a member of the Browns, so that probably helped sway his decision too.
Actually, looking back there was only one team Houston was ever going to play for.
He'd spent his entire football career in Ohio and would go on to complete the rare football "triple crown" all in the Buckeye state.
Houston won a state championship as a high schooler in Massilon, a national championship at Ohio State, and an NFL championship with the Cleveland Browns. Those were also coincidentally three teams coach Paul Brown coached as well.
Happy 80th Birthday, Jim Houston! Greatest Browns and Buckeyes player ever in my eyes! I ❤️ you Dad! pic.twitter.com/YvT9aRwh1s

— Dave Houston (@DWHouston7) November 3, 2017
Houston was a 4-time Pro Bowl defensive end and linebacker for the Browns from 1960-1972.
Houston was an integral part of the 1964 NFL Championship.
Houston earned the nickname "Mr. Dependable" because he missed just 3 games his entire career.
Those three games all came during the 1962 season when he was recalled to active duty in the Army and would fly in on the weekends to play as a reserve player.
Houston's 14 career interceptions rank him 2nd all-time for a Browns linebacker.
Houston was inducted into the College Football Hall of Fame in 2005 and the Browns Legends program in 2006.
2. Walt Michaels
Step into the way-back machine with us for this one, as we look back at the career of linebacker Walt Michaels.
Michaels bounced around between the Browns and the Packers during his first few seasons in the professional game, before finally settling and getting his chance in Cleveland.
Suffolk Sports Hall of Famers in #NFLDraft: Walt Michaels, who resided in Suffolk when he was a #Jets coach, was selected by the #Browns in 1951, 7th round, 86 overall, out of Washington and Lee. #SuffolkHOF pic.twitter.com/PCZZLIyO6G

— Suffolk Hall of Fame (@SuffolkHOF) April 28, 2018
For Michaels and the Browns, it was a match made in heaven.
Over the next 10 seasons, the Browns had their defensive leader and a dominant force at the linebacker position.
During this time, Michaels was named to 5 straight Pro Bowls and led the team to 5 straight NFL Championship games, winning back-to-back titles in 1954-1955.
Perhaps though, Michaels' greatest honor is that he was given the freedom by coach Paul Brown to call many of the plays for the defense.
Knowing that it should come as no surprise that Michaels went on to have a long and illustrious career as a coach in the NFL.
He is most well known for his tenure in charge of the New York Jets, who he took to the AFC Championship game in 1982.
Michaels was named NFL Coach of the Year in 1978.
1. Clay Matthews Jr.
Clay Mathews was the cornerstone of the Browns defense during one of the most important eras of the franchise.
However, the most impressive thing about his career is his incredible longevity.
Mathews played 19 seasons over 3 decades.
When Mathews retired, he had played the 17th-most games of anyone in NFL history, and only a handful of the men in front of him weren't punters or kickers.
In his final season, and at 40, Mathews became the oldest player ever to record a sack, and even though it came as a member of the Arizona Cardinals we're still proud of him.
Mathews is the most underappreciated player of his generation.
Despite recording the 3rd most tackles in NFL history, Mathews was named to just 4-Pro Bowls and only one All-Pro team.
He is consistently left waiting by the phone for his call to the Pro Football Hall of Fame.
Congratulations to Browns legend Clay Matthews Jr., for being up for the Pro Football Hall of Fame class of 2017. pic.twitter.com/C51bDuQwot

— 216 Sports History (@History_Cle) November 17, 2016
Unfortunately, despite his individual greatness, his perpetual denial by the Hall of Fame follows a pattern of disappointment for Matthews when it came to overall achievements. The great linebacker was present for the most infamous losses in Browns history.
He was present for Red Right 88, The Drive, and The Fumble.
Talk about heartbreak.
It's sad but true that the lack of ultimate glory overshadows an excellent career.
Mathews totaled 1,595 tackles, 69.5 sacks, and 16 interceptions during his career.
He played 17 seasons in Cleveland before spending two final years in Atlanta.
He is the Browns' greatest linebacker in the history of the franchise.