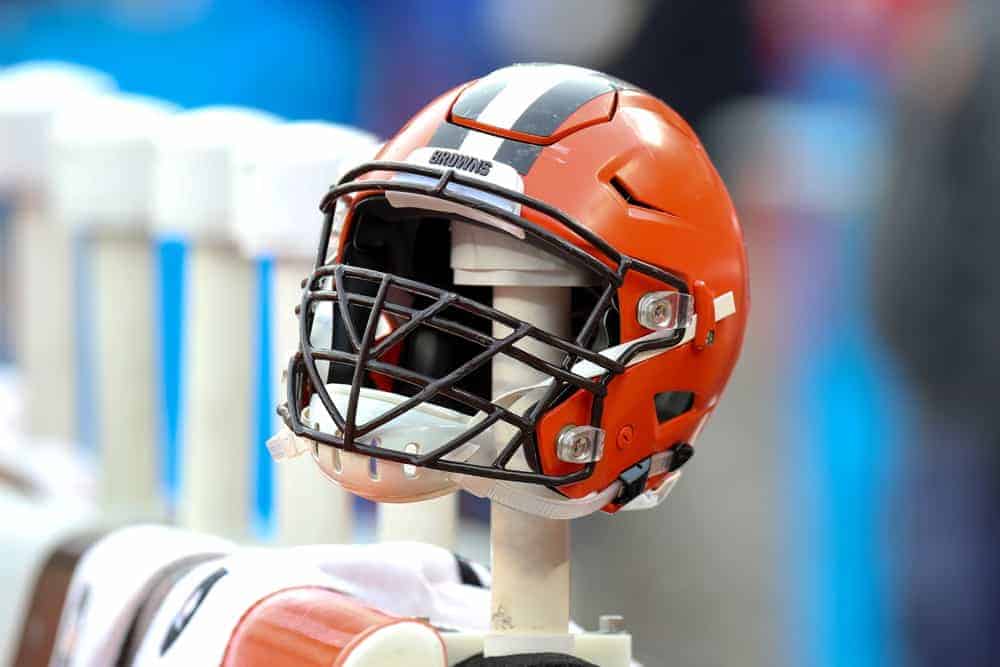 Records Held By the Cleveland Browns
The Cleveland Browns have put up some impressive numbers in their years, and many players have created records that still stand tall on the team.
The following team records are specifically for the team unless otherwise stated as being all-time records.
Brian Sipe – A Multi-Record Holder
Quarterback Brian Sipe is the franchise leader for the Browns in many ways.
He helped inspire them to a resurgence in the 70s and early 80s that nearly ended with a trip to the Super Bowl if not for one ill-timed play.
However, Sipe is still fondly remembered for his incredible passing ability and his skill in getting yards when they were most needed for the team.
For example, Sipe played with the Browns from 1974 to 1983, his entire NFL career.
He helped the Browns bounce back from a few years of irrelevance after Jim Brown left the team.
During this time, he earned a total of 23,713 yards.
This yardage is still the most in team history, and if not for the fact that Sipe never won a championship, he would likely be in the Hall of Fame today.
Jim Brown – The Rushing Champion
Who else but Jim Brown would leave Cleveland in rushing yards?
For many years, Brown was the leading rusher of all time and is still number 11 on the list.
So this placement is undeniable, but his statistics still deserve to be highlighted.
During his nine years with the Browns, he put up 12,312 career yards.
That's over 1,000 yards per season and around 100 yards or more per game.
Brown also had 106 rushing touchdowns – an NFL record at the time – and still leads the Browns in this category.
During his career with the Browns, he also made the Pro Bowl all nine years, was the NFL MVP three years, MVP for the Pro Bowl three more times, and won a championship in 1964, making him the best running back ever for the team.
And as a running back, Brown also holds a few strange records: passing yards and receiving touchdowns.
While other receivers have more yards and touchdowns, Brown's 2,499 receiving yards and 20 receiving touchdowns is good enough to put him on top of the list for rushers in Cleveland.
Who knows what more Brown could have accomplished had he not retired at his peak?
Ozzie Newsome – The King of Receivers
Although Jim Brown may have the most receiving yards by a rusher for the Browns, their best receiver of all time is undoubtedly Ozzie Newsome.
As a tight end, Newsome was often a favorite of quarterbacks like Brian Sipe and rarely dropped a good pass.
In Cleveland, he was known as The Wizard of Oz due to his skills.
And like many Browns players, he played his whole career in the same town.
Just how many yards did Newsome earn during his career?
Newsome set a hard-to-top record at 7,980 receiving yards, and 662 successful team catches.
Other records held by Newsome include a 1,002-yard season in 1981, a career-high of nine touchdowns in 1979, 47 receiving touchdowns, and even two rushing touchdowns.
Stats like these help explain why Newsome is in the Hall of Fame.
Here's another impressive stat that is often hard to believe – throughout all of these catches, rushes, and touchdown-scoring plays, Newsome only fumbled the ball three times in his career.
This stat showcases how well Newsome controlled the ball once he had it in his hands and how capable he was of helping the Browns succeed during the toughest times in their career.
Other Cleveland Brown Records
The number of records held by Cleveland Brown players is too extensive to list fully in this short article.
However, it is worth highlighting a few more impressive stats to give readers a better understanding of the success of the Browns' many players.
Just a few records that are worth memorizing if you're a Cleveland fan include those held by:
Kicker Lou Groza
Kicker Lou Groza – All-time point leader with 1,608 points
Coach Paul Brown – Winningest coach with 158 wins and only 48 losses
Kicker Phil Dawson
Kicker Phil Dawson – Most field goals in a single season, 305
Defender Reggie Camp
Defender Reggie Camp – Most sacks in a single season with 14
Receiver Ozzie Newsome – Most receptions in a single season with 89
Although these records are not all-time greatest performances, they do showcase that the Browns had many skilled players who have heavily contributed to the team over the years.
Many of these records have held for decades and don't seem likely to be broken any time soon.
However, with a bold new team lined up for 2019, it's easy to imagine the Browns achieving even bigger things soon.