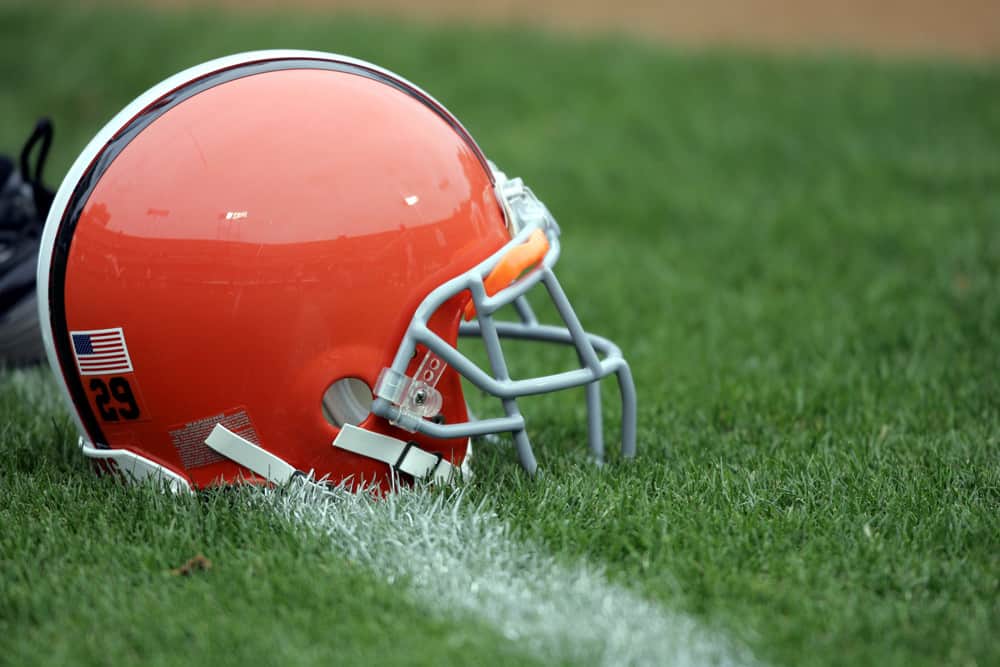 In the NFL Draft, middle to late-round draft picks are mostly afterthoughts.
Players selected in those rounds aren't actually expected to make the team.
Franchises typically use those picks for depth, special teams, or selections to be traded for veteran players.
Therefore, the late-round athletes must work even harder to prove they belong.
Carl Hairston did just that.
78 Days: Carl Hairston #Browns #BrownsTwitter pic.twitter.com/9ghFR0ruo0

— Downtown Browns (@DowntownBrowns_) June 24, 2020
Already accustomed to hard work, Hairston was a seventh-round selection who proved his worth.
He would play 15 years in the NFL for three teams, including a Super Bowl.
Along the way, coaches and teammates knew they could count on "Big Daddy" to bring his 'A' game every day.
This is the story of Carl "Big Daddy" Hairston.
Early Life
Carl Blake Hairston was born on December 15, 1952 in Martinsville, Virginia.
Almost from the beginning, Hairston took nothing for granted and put in the hours necessary to achieve what he wanted.
Hairston showed responsibility as a youth by getting a job washing dishes when he was 13.
He felt it was necessary to help his family make ends meet.
During his junior year in high school, Hairston started playing football.
As good as he was, no colleges came calling for his services after graduation.
So, Hairston wasted no time and found work as a chef and a truck driver to help support his family.
Thankfully, fate intervened and Hairston was approached one day by a friend who played football at the University of Maryland Eastern Shore.
Knowing full well that a man Hairston's size could do well for the team, Hairston's friend, Samuel Trott, talked to him about attending UMES.
Hairston accepted the challenge.
Hairston Excels for UMES  
Hairston's college football career almost ended after his first day.
Since he had spent time away from the sport after high school, Hairston was not in shape physically.
After his first practice with UMES, Hairston quit.
He was eventually talked into rejoining the program and slowly got himself into shape.
The 6'4", 255 pound Hairston found his groove quickly and began a dominating college career.
He was a four-year starter who used his size and 4.65 second 40-yard dash speed to terrorize opponents.
Hairston piled up tackles and sacks as a linebacker initially, then as a defensive end and made the Mid-Eastern Athletic Conference All-Conference Team three times in four years.
Although the UMES team was not competitive (they would lose 19 of 21 games at one point) Hairston was clearly a standout.
Despite the program's woeful record, Hairston caught the attention of area NFL scouts during his senior year.
That season, he averaged an astounding 20 tackles per game.
By the end of the year, Hairston had totaled 147 tackles, 15 sacks, and one interception.
"I'd make plays 20 yards downfield," Hairston said. "I'd say, 'C'mon guys, don't quit' — it wasn't my nature to quit."
For the second season in a row, Hairston was the runner-up for MEAC Player of the Year.
The two-time team captain was then ready to take his act to the pros.
His only hope was that a team would take a chance on a guy from a losing program.
Final Roster Spot in Philly
In 1976, the NFL Draft had 17 rounds.
Hairston had to wait a while until the Philadelphia Eagles selected him with the 191st overall pick of the seventh round.
The Eagles were one of the teams that watched Hairston consistently in college and liked what they saw.
"I just tracked the ball wherever it went. That's what caught the Eagles' eye — how I worked and never quit," he said.
As excited as he was to be in the NFL, Hairston had to make a believer out of Philadelphia head coach Dick Vermeil.
"I was stretching on the field and [Vermeil] said, 'You're from an 0-and-20 team and you don't have a chance in hell to make it here,'" Hairston said.
Vermeil's comment did nothing to deter Hairston.
Just as he had done in college, Hairston treated every rep in every practice like a fight for his life.
Eventually, the crusty head coach took a shine to Hairston's thunderous hits and tremendous speed.
"[Hairston] has a strong pop. He just explodes into a guy," Vermeil said later in training camp. "He plays like he's mad on every snap."
Hairston's tenacity and persistent high motor led him to make the final roster spot at the end of camp.
Carl Hairston, as a player with #Eagles. Fun fact: Spent all 240 games of Dick Vermeil's career as a player & coach. pic.twitter.com/0yYWxhVSVJ

— WBG84 (@WBG84) January 21, 2016
When Vermeil gave him the news, Hairston was thankful.
"You won't regret it," he told his head coach.
Hairston and the Eagles begin to Soar
Ever since winning the NFL Championship in 1960, the Eagles had been in a rut.
By the time Vermeil arrived in 1976, the team had had two winning seasons since that championship year.
Things didn't get much better in '76 and 1977 when the Eagles compiled a 9-19 combined record.
Hairston, however, became a dependable member of the Philly defensive line.
15 Dec, Happy @Eagles Birthday

Carl Hairston- DE (76-83)
David Molk- C (14-15)
Earl Wolff- S (13-14)
William Kershaw- LB (07 PS)
Jerome McDougle- DE (03-07)
Gordon Wright- G (67)
Fred Enke- B (52)
Leslie Palmer- B (48)
Len Supluski- E (42)#FlyEaglesFly #GoBirds #Birdgang pic.twitter.com/NGz4Y9UCQu

— Matt Minarik (@MattMinarik) December 15, 2019
After starting nine games his rookie year, he became the full-time starter in '77.
Finally, everything clicked in 1978.
That year, the team went 9-7 and narrowly lost to the Atlanta Falcons in the Wild Card round.
In 1979, Hairston (who was called "Hurricane" by his teammates) led the NFC with 15.5 sacks as Philadelphia only lost five games.
The franchise then defeated Chicago in the Wild Card round before succumbing to the upstart Tampa Bay Bucs in the Divisional playoffs.
Philly Reaches the Super Bowl
1980 was a special year for Hairston and the City of Brotherly Love.
The Eagles finished first in the NFC East with a 12-4 record while Hairston added nine sacks and an interception.
Carl Hairston number of days until @Eagles regular season football!!

Hairston was a key member on the 1980 defense that allowed 20-plus points only five times and defeated the #Cowboys in the NFC Championship en route to the Super Bowl. #FlyEaglesFly pic.twitter.com/BA7LM5nil8

— Corner Pub Sports (@CornerPubSports) June 27, 2020
In the Divisional round, Philly beat Minnesota and then took down division rival Dallas in the NFC Championship game 20-7.
At long last, the Eagles were returning to the league's title game.
Unfortunately, as good as the team was during the year, they ran into a buzz saw in Super Bowl XV in the form of the Oakland Raiders.
Hairston was tasked with trying to maneuver past Raiders offensive tackle Art Shell, who was himself a UMES alum.
It was rough going for the entire Eagles team as Oakland dominated from start to finish in a resounding 27-10 victory.
"We only had two first-round picks in the starting lineup, but we jelled as a team," Hairston recalled of that special Eagles squad. "We were over-hungry and just went flat (in the Super Bowl)."
Hairston is Traded to Cleveland
The year after the Super Bowl, the Eagles returned to the playoffs with a 10-6 regular season.
However, they were dropped by the New York Giants in the Wild Card round.
In 1982, Philly suffered through a 3-6 strike-shortened season.
After the season, Vermeil stepped down as head coach, citing burnout and fatigue.
Marion Campbell took over in 1983 and promptly led the Eagles to a 5-11 record.
Meanwhile, Hairston was still going strong.
Carl Hairston #78
1989 Score #397
Vintage #Browns pic.twitter.com/zrxnNtq45j

— Vintage Browns (@VintageBrowns) February 11, 2019
From 1981-'83, he racked up 17.5 sacks total and started every game in 1981 and '82.
Hairston then sustained a knee injury in 1983 that caused him to miss five games.
With Vermeil no longer around to vouch for him, the Eagles traded Hairston to the Cleveland Browns after the season.
Hairston Starts for the Browns
When he arrived in Cleveland, Hairston was welcomed with open arms by Browns defensive coordinator Marty Schottenheimer.
Schottenheimer had been the Giants linebackers coach in 1976 and pushed hard for the team to draft Hairston.
At long last, the coach was finally able to work with Hairston, though there was the knee injury to deal with first.
During his first year with Cleveland in 1984, Hairston continued to rehab his knee and only played in spot duty, recording four total sacks.
Carl (Big Daddy) Hairston #Browns75 pic.twitter.com/0lOMuxMnKh

— CleWest (@erjmanlasvegas) April 18, 2021
It was around this time that he was given a new nickname, "Big Daddy."
"The Browns strength coach first called me that," Hairston said in 2017. "I hated the name; it made me sound like a drug dealer. But then I thought of the other 'Big Daddy' [former Colts star Gene Lipscomb] and figured I was in good company."
Halfway through the year, Browns owner Art Modell fired Sam Rutigliano and named Schottenheimer the head coach.
Cleveland immediately turned things around.  After a 1-7 start, the franchise finished 4-4 under Schottenheimer.
The following year, the Browns went 8-8 and lost a tough game to Miami in the Wild Card round.
Finally healed, Hairston started every game in 1985.
Cleveland can't get past the Broncos
Schottenheimer's leadership of the Browns clearly showed on the field.
In 1986, the team went 12-4, the most wins by the organization since 1948.
Hairston contributed nine sacks for the Browns' 11th ranked defense.
After a hard fought, two overtime win against the New York Jets in the Divisional round, Cleveland squared off against John Elway and the Denver Broncos in the AFC Championship game.
With the Browns nursing a seven-point lead near the end of the game, Elway began "The Drive" to eventually tie the score at the end of regulation.
Denver would win the game in overtime.
The following season saw the Browns go 10-5 in the strike-shortened year and defeat the Colts in the Divisional round.
Remember "Big Daddy" Hairston almost scoring here?
Great play! https://t.co/04wudJkSwK

— kell (@kellkill1) December 13, 2020
Hairston continued starting and had eight sacks for the year.
Deja vu struck again in the AFC Championship game when Denver's Jeremiah Castille caused Earnest Byner to fumble on his way to a tying score late in the game.
"The Fumble" would lead to another heartbreaking loss for the Cleveland faithful.
In 1988, the Browns finished 10-6 and missed a chance to appear in their third straight championship game when they lost to Houston in the Wild Card round.
After the season, Schottenheimer and Modell couldn't see eye-to-eye and the coach left for Kansas City.
With Bud Carson on board in 1989, Cleveland went 9-6-1, beat Buffalo in the Divisional round then faced off against Denver in the AFC title game.
For the third time in four years, the Broncos would end the Browns season.  This time it was less dramatic as Denver walked away with a 37-21 win.
Hairston Play a Final Year then Retires
Not long after the 1989 season concluded, Hairston was let go by the Browns.
He had 9.5 sacks in 1988 and '89 combined, but the team believed the 37-year-old was past his prime.
However, the Phoenix Cardinals thought Hairston still had something left in the tank and signed him.
He would start three games and post one sack during the year for the 5-11 Cardinals.
#RightPlayerwrongUniform Carl "Big Daddy" Hairston pic.twitter.com/GyS4sFkwZg

— ᑭᖇO ᖴOOTᗷᗩᒪᒪ ᒍOᑌᖇᑎᗩᒪ 🏈 (@NFL_Journal) July 14, 2021
After the season, Hairston retired.
Since Hairston played part of his career before 1982 (the year the NFL began keeping track of the mark) his early stats did not include sacks.
Furthermore, tackles weren't kept track by the league until 1994.  That meant Hairston's career stats were largely blank.
Thankfully, a recent effort was undertaken by researchers to add sacks made before 1982.
When all was said and done, numerous players benefitted by having their sacks from before '82 acknowledged.
Hairston went from only posting nine total sacks as an Eagle to 57.5 during his time in Philadelphia.
Add those totals to his numbers from the Browns and Phoenix, and "Big Daddy" accumulated 96 sacks during his 15-year career.
Hairston becomes a Coach
Only a day after retiring, the Cardinals put Hairston to work as a college scout.
In 1994, he went to work for Schottenheimer in Kansas City and spent one year as a pro scout before moving to defensive line coach in 1995 and '96.
Hairston's coaching principle was simple.
"Football isn't about the yippin' and yellin'," he said. "It's about playing hard on every play. Line up, beat the [expletive] out of guys and wear them down. Do that, and good things happen. It's a simple game."
Vermeil returned to coaching in 1997 with the St. Louis Rams and Hairston joined his staff as defensive line coach.
Although Vermeil had been absent from coaching since the early 1980s, it didn't take long for the Rams to start winning.
By 1999, St. Louis was one of the best teams in the league and boasted the "Greatest Show on Turf."
Happy 20th anniversary to The Greatest Show on Turf: the 1999 St. Louis Rams https://t.co/rJjVvr8xpU pic.twitter.com/30JhNzcKG7

— The Comeback (@thecomeback) January 22, 2020
The Rams offense worked so quickly that the defense barely had time to breathe before they were back on the field.
"We used to get mad at the offense because they scored so quickly," Hairston said in 2021.
Regardless, all four of Hairston's starting defensive linemen had double-digit sacks in '99 as St. Louis went on to win Super Bowl XXXIV.
In 2001, Hairston returned to Kansas City where he would coach for five years.
He then moved on to Green Bay in 2006 to coach defensive ends for three seasons.
After leaving the Packers, Hairston coached NFL hopefuls for two United Football League teams.
Then, in 2012, he was hired by the British Columbia Lions of the Canadian Football league as their defensive line coach.
Former NFL defensive lineman Carl Hairston named defensive line coach of the CFL's B.C. Lions, replacing Randy Melvin (Tampa Bay Bucs).

— Mike Beamish (@sixbeamers) March 23, 2012
He was let go by the Lions after the 2014 season.
Hairston took that opportunity to retire from football for a second time.
In Retirement
As of 2017, Hairston was living in Phoenix and volunteering his time coaching at several Phoenix area schools.
"It gets me out of the house," Hairston said at the time.
Even when coaching young kids, Hairston continues preaching about the benefits of hard work in football and life.
"Hard work was my mantra," Hairston said.  "The one thing you've got to do is work harder than the guy across from you. You've got to outwork your opponent for four quarters."
References
https://www.baltimoresun.com/sports/college/football/bs-sp-catching-up-hairston-20170914-story.html
https://www.inmaricopa.com/eagle-lands-in-maricopa-former-nfl-star-carl-hairston/
https://en.wikipedia.org/wiki/Carl_Hairston
https://www.nbcsports.com/philadelphia/eagles/eagles-all-time-sack-leaderboard-gets-re-write-new-research-carl-hairston-dennis-harrison-ken-clarke
https://www.pro-football-reference.com/players/H/HairCa20.htm