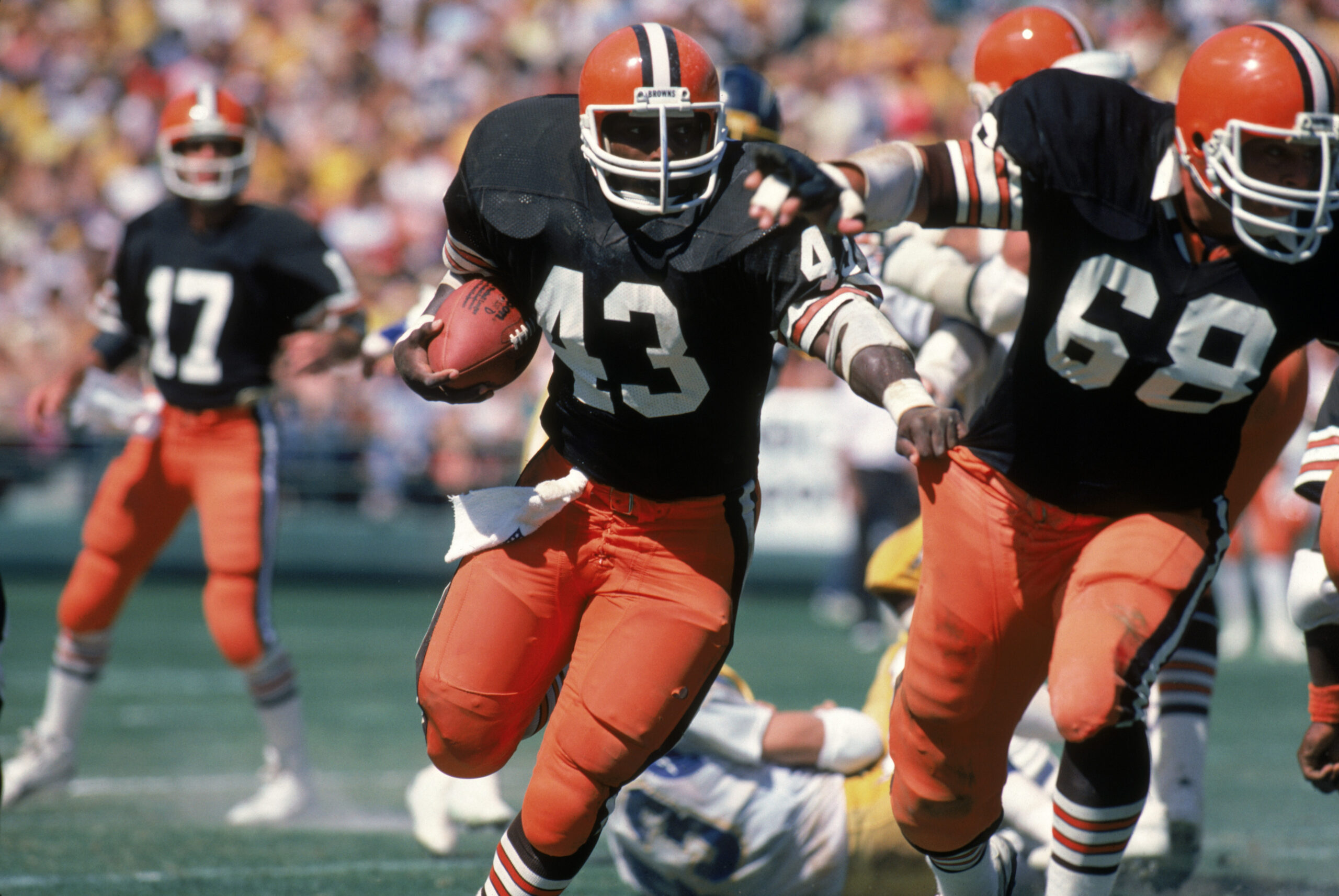 The Cleveland Browns experienced some lean years in the mid-to-late 1970s.
In 1974, Cleveland only won four games, which was the lowest win total in team history.
'74 would also mean the end of head coach Nick Skorich's time with the Browns.
In 1975, the franchise named offensive line coach Forrest Gregg as their new head coach.
That year the team won three games, setting a new low for wins in a season.
This was the atmosphere Mike Pruitt stepped into in 1976.
#browns Mike Pruitt & Ozzie Newsome https://t.co/AOVbAyd0il pic.twitter.com/OQmT88W7Ah

— ABQMike (@ublockhead_) October 15, 2020
A rookie from Purdue, Pruitt hoped to come in and contribute to the team immediately.  That didn't happen.
Eventually, Pruitt became one of the most dependable running backs in team history, totaling four 1,000 yard rushing seasons and appearing in two Pro Bowls.
This is the story of Mike Pruitt.
Growing up in Chicago
Michael Pruitt was born on April 3, 1954, in Chicago, Illinois.  He was raised in the south side of Chicago, an area notorious for crime and violence.
That fact didn't deter Pruitt from playing with his friends as much as possible.  He also enjoyed running, challenging anyone to a race, no matter how old they were.
"I was always amazed that none of them could outrun me," Pruitt told Club 46 in 2020. "It was something that I was blessed with."
Pruitt's mother didn't mind that her son had an outlet for his energy, as long as he was home before dark.
As he got older, Pruitt excelled as a track athlete and football player.
When he was a student at Wendell Phillips Academy High School in Chicago, Pruitt enjoyed running track more than football because of his speed.
However, even though he was a notorious sprinter, a coach at the school gave Pruitt his assessment of which sport would profit him in the future.
"Mike," the coach said. "I don't think you're going to make a whole lot of money at track, but I do think that you have a possibility to make some money at football."
That was all Pruitt needed to hear and he devoted his energy to the gridiron, becoming a star running back for the Wildcats.
By the time high school graduation arrived, recruiters from nearby colleges all gave their pitch for Pruitt's services.
Eventually, he selected Purdue University as his destination.
Pruitt Excels for the Boilermakers
Pruitt's collegiate career started slowly, but he would eventually become a primary contributor for the Boilermakers.
In 1973, he rarely saw the field and ran for only 76 yards on 32 carries.
Pruitt's playing time increased in 1974 and his stats significantly improved as a result.
Although Purdue was a woeful 4-6-1, Pruitt rushed for 613 yards on 102 carries and three touchdowns.  That was an average of six yards per carry.
During a game against Iowa on November 2, Pruitt had a program-record 94-yard touchdown run.
The Boilermakers weren't much better in 1975, finishing the year with a 4-7 record.
One of the few bright spots on the team was Pruitt's 899 rushing yards, 4.1 yards per carry average, and three rushing scores.
He would be a Second-team All-Big Ten Conference selection after the season.
Surprising First Round Draft Pick
Pruitt was a team leader for Purdue who was also known for his 4.4, 40-yard dash speed and ability to bench press 425 pounds.
However, his stats, especially in 1975, were solid but not great.
In fact, Pruitt's 899 rushing yards in '75 didn't even place him in the top ten of the Big Ten Conference.
Therefore, heading into the 1976 NFL Draft, Pruitt didn't expect to get drafted until the later rounds, if at all.
Only the New York Jets had spoken to him, but their interest wasn't strong.
Pruitt was at home on the first day of the draft when the phone rang.  He answered, believing it was one of his friends.
Instead, the caller was someone Pruitt didn't expect.
"This is Art Modell," the Cleveland Browns owner said, "and we just drafted you."
It turns out, the Browns didn't envision Pruitt as a halfback.
Modell was so sure Pruitt would excel as a professional fullback that he drafted him with the seventh overall selection.
Mike Pruitt, Cleveland Browns pic.twitter.com/yQyizv1mk1

— BAGF_E (@BAGF_E) May 21, 2021
Meanwhile, after realizing Modell's phone call was not a prank, Pruitt was ecstatic for the opportunity.
"To this day, it still shocks me," Pruitt said in 2020. "I was thrilled to no end to know that somebody had that much interest in me to want to put that much stock in me."
Shortly after arriving in Cleveland, Pruitt found out he was in the middle of a tug-of-war between Modell and then coach Forrest Gregg.
The Browns owner wanted Pruitt to start immediately.  Gregg, on the other hand, thought Pruitt needed time to grow as an NFL fullback.
Eventually, Gregg's plans for his young back won the argument.
Pruitt would only start in two games his first two years in Cleveland.
His rushing totals over the 1976 and 1977 seasons were 343 yards rushing and one touchdown.
Before the final game of the '77 season, Gregg was fired by Modell.  That decision would turn out to benefit Pruitt's career.
The Kardiac Kids
Modell's search to replace Gregg led him to a receivers coach working for the New Orleans Saints.
Sam Rutigliano wasn't a household name, but Modell liked him and hired Rutigliano to lead the franchise.
The hiring marked the first time Modell did not promote a new head coach from within the organization.
During Rutigliano's first year with the team, Pruitt finally became a starter midway through the season.
Starting back Greg Pruitt (no relation) was injured and Rutigliano issued a challenge to Mike Pruitt.
"Mike," Rutgliano said. "You got to step up. You got to step up."

"I'm ready, coach," Pruitt said. "You just give it to me."
He would start nine games for the Browns at fullback and rush for 560 yards and five touchdowns.  Pruitt also added 112 yards on 20 receptions.
Cleveland went 8-8 in 1978, a two-game improvement from 1977.
In 1979, the Browns began a two-year run of football that would exhilarate and exasperate their fans.
During the first three games of the '79 season, Cleveland won each game by only three points.
"Kardiac Kids" Dave Logan, Mike Pruitt, Greg Pruitt, Reggie Rucker #Cleveland #Browns Autographs Apr14 in Strongsville pic.twitter.com/PsNbBYyX

— Ohio Sports Group (@OHSportsGroup) March 23, 2012
After their first win of the season (in the final seconds) against the New York Jets, the team returned to Ohio.  Soon after, the team received troubling news.
"One of the physicians from the Cleveland Clinic came down to our training center in Berea," quarterback Brian Sipe said.  "I think it was after that game (against the Jets), and showed us a paper readout on a cardiac machine, and it showed that somebody had died right at that moment. I think the story was that he was watching the game, and he died."
At that moment, the Kardiac Kids were born.
They would win four more games that year by a touchdown or less.
However, the Browns would also lose five games by five points or less.  The result was a 9-7 season that just missed the playoffs.
Pruitt started every game for the first time as a pro and it paid off.  That season, he rushed for a career-high 1,294 yards and added nine scores.
Rutigliano also increased Pruitt's role as a receiver out of the backfield, leading to 41 catches for 372 yards and two more touchdowns.
Although the Browns missed the postseason, Pruitt was voted to his first Pro Bowl.
Red Right 88
Because of the team's record in 1979, Browns fans expected big things in 1980.  Cleveland, in turn, would lose their first two games.
Thankfully, the Kardiac Kids magic kicked in at just the right time.
Displaying the no-quit attitude from the year before, the Kids would win 11 of their final 14 games.
No less than nine of the victories were decided by seven points or less.
Then, the Browns met the Oakland Raiders in the Divisional round in front of their home fans.
Jan 4, 1981: RED RIGHT 88 – The name of the play when a Brian Sipe pass intended for Ozzie Newsome was intercepted in the end zone by @RAIDERS safety Mike Davis with under a minute left in the AFC Divisional Playoff – @Browns lost 14-12, at home, in front of 77,000 fans, in 4°F pic.twitter.com/Sc6AYHMiKf

— Sad CLE Sports (@SadCleveland) January 5, 2019
The game was close and marked by cold weather and near misses by both teams.  At halftime, it was 7-6 in favor of the Raiders.
After three quarters, Cleveland led 12-7.  Early in the fourth quarter, Oakland retook the lead 14-12.
As the contest was winding down, the Browns had the ball and were driving for the winning score.
With the cold wind blowing directly at them, and the team facing second down with 49 seconds remaining, Rutigliano relayed a play to Sipe, "Red Slot Right, Halfback Stay, 88."
The coach also told his quarterback to "throw it into Lake Erie" if no one was open.
Unfortunately, Sipe's pass to tight end Ozzie Newsome in the end zone was intercepted by the Raiders' Mike Davis.
The Kardiac Kids magic would end that night.
During the game, Pruitt rushed for 48 yards, including 15 yards combined on the two plays before the fatal interception.
For the year, Pruitt gained 1,034 yards rushing, six touchdowns, and a career-high 63 receptions for 471 additional yards.
February 1, 1981: Aloha Kardiac Kids🏈
Following heartbreaking playoff loss #Browns epic season recognized as 6 go to Pro-Bowl (Tom Deleone, Doug Dieken, Mike Pruitt, Joe DeLamielleure, Brian Sipe, Lyle Alzado) + HC Sam Rutigliano. AFC loses 21-7. #WhatATeam K♥️RDI♥️C KIDS pic.twitter.com/PKdGkSyr2z

— On This Day: Cleveland Sports (@CityfanC) February 2, 2022
He was voted to his second Pro Bowl after the season.
1981-1983
All the fun and excitement of the Kardiac Kids in 1979 and 1980 was nowhere to be found in 1981.
That season, the Browns went 5-11, a mirror opposite of their 11-5 record in 1980.
On the other hand, Pruitt continued playing well, starting every game for the third year in a row.
He would also have his third straight 1,000 yard rushing season when he gained 1,103 yards from scrimmage along with seven touchdowns.
Pruitt would also match his reception total from 1980 with 63 catches for 442 yards and another score.
In 1982, the NFL Player's Strike would limit the season to nine games.  That reduced Pruitt's totals to 656 yards and three touchdowns.
#OTD in 1982, NFL players go on strike. pic.twitter.com/rvTy7UcyCp

— The Undefeated (@TheUndefeated) September 21, 2018
However, the Browns' 4-5 record was good enough to get them into the playoffs.
Just as they had two years before, Cleveland faced the Raiders in the first round.
The Browns would also meet the same fate at the hands of the Raiders when they exited the postseason with a 27-10 loss.
1983 would bring a 9-7 record to Cleveland, but the team did not make the playoffs.
Pruitt gained 1,184 rushing yards (the second-most in his career) along with a career-high 10 rushing touchdowns.
He also had 30 receptions for 157 yards and two touchdowns.
Buccaneers week, November 13, 1983 Mike Pruitt plows in for 2, 1yd rushing TD's and Matt Bahr kicks 2 FG's as the defense puts up a shutout. Browns win 20-0 at Cleveland #Browns pic.twitter.com/OqJFiEbMmH

— CleWest (@erjmanlasvegas) October 17, 2018
Pruitt's rushing total marked the fourth time in five seasons that he gained over 1,000 yards.
Pruitt is Cut in 1985
1984 was a year of turmoil for both Pruitt and the Browns.
The team failed to capitalize on their winning record from the year before and began '84 with a 1-7 record.
That led Modell to fire Rutigliano.
Defensive coordinator Marty Schottenheimer was named as interim coach and Cleveland finished the season with a 4-4 record.
Pruitt had his playing time reduced when Boyce Green was named the team's starting running back partway through the year.
Although Pruitt saw action in 10 games, he only ran for 506 yards and six scores.
He returned to Cleveland in 1985 but was one of the final cuts made during the preseason.
After nine years as a Brown, Pruitt was expendable due to the presence of backs Kevin Mack and Earnest Byner.
He later admitted that he was surprised by the cut, but not bitter at the team.  Pruitt also promised that he wasn't through as an NFL player.
"You can be sure I'm going to try and hook on with another team," said Pruitt.  "I think I have some good years left in me. I scored a lot of touchdowns (47) with the Browns and I can help out another team."
A Bill and a Chief in the Same Year
Only two weeks after being cut, Pruitt did get an opportunity with another team.  He was signed by the Buffalo Bills and started two games.
After rushing for only 24 yards in Buffalo, Pruitt was released and then signed by Kansas City.
He would end the '85 season by starting eight games for the Chiefs and totaling 409 yards from scrimmage and two touchdowns.
Pruitt remained with Kansas City in 1986 and started 15 games at fullback.
As the Chiefs went 10-6 and lost to the Jets in the Wild Card round, Pruitt gained 504 total yards and two scores.
Once the season ended, he retired.
In 11 years, Pruitt had totals of 7,378 rushing yards, 51 rushing touchdowns, 1,860 receiving yards, and five receiving touchdowns.
ICYMI The Cleveland Browns 3rd all time leading rusher, one of "Both The Pruitt's Moves." Mike Pruitt, This Day In Cleveland Browns History 9/2. #TDiBH #Browns https://t.co/GPsFE7gsIK pic.twitter.com/DY2DgnRNdS

— Orange and Brown Rpt (@TheOBR) September 2, 2020
He is currently ranked third on the Browns' all-time career rushing yards list (6,540 yards), behind Jim Brown and Leroy Kelly.
In Retirement
Pruitt has remained active in retirement.  At one point, he owned Ford and Honda car dealerships in Lima and Akron, Ohio, respectively.
In 2003, Pruitt was inducted into the Greater Cleveland Sports Hall of Fame.
Although he didn't end his playing career in Cleveland, Pruitt still looks back on his Browns days with fondness.
"I never really had a bad day in Cleveland," Pruitt said with a smile. "It's a great organization. Nobody treats their players like Cleveland does."
References
https://www.upi.com/Archives/1985/09/02/Fullback-Mike-Pruitt-was-among-five-players-cut-Monday/3764494481600/
https://www.clevelandbrowns.com/news/club-46-how-mike-pruitt-ascended-to-legendary-highs-as-a-browns-fullback
https://www.sports-reference.com/cfb/players/mike-pruitt-1.html
https://www.pro-football-reference.com/players/P/PruiMi00.htm