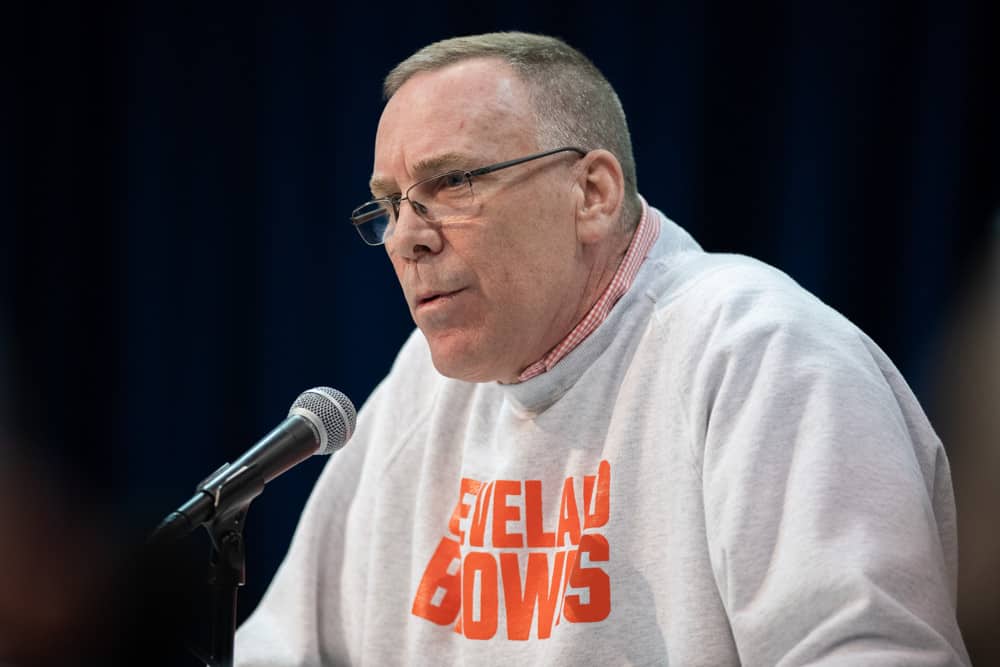 In the world of professional football, general managers only have a short window of time to improve their team.
If the franchise does not show consistent growth in the first few years under the GM's direction, the owner is likely to look elsewhere.
In some instances, the GM may only be with an organization two to three years before the owner decides to "head in a different direction."
This was the fate of former Browns general manager John Dorsey.
He was hired by Cleveland on December 7, 2017.
Dorsey was fired by the team on December 31, 2019.
In his two short years on the job, the Browns were 13-18-1.
The team also saw no less than three head coaches during his tenure.
Despite his absence, many of Dorsey's draft picks are still contributing to the Browns and it may be a year or two before we know exactly how well they have helped turn the franchise around.
Here is a look back at how the Dorsey draft picks have fared.

2018 Free Agent Signings and Draft
Dorsey got to work and added starters and depth to the Browns roster.
Among the notable names he brought in were: receiver Jarvis Landry in a trade with the Dolphins, tight end Darren Fells, running back Carlos Hyde, safety Damarious Randall, and quarterbacks Drew Stanton and Tyrod Taylor.
By virtue of their 0-16 record in 2017, the Browns had the first overall pick of the 2018 draft.
The team also happened to have the fourth overall pick in the draft.
Teams needs before the draft included quarterback, running back, offensive line, and cornerback.
Fans and numerous talking heads advocated for the organization to grab Penn State running back Saquon Barkley number one overall followed by a quarterback.
Instead, Dorsey and the team did the following:

Round 1/Pick 1: Baker Mayfield, Quarterback, University of Oklahoma
Mayfield had been a polarizing figure in college football long before he was drafted.
Originally, he was a walk-on at Texas Tech in 2013 and became the first such athlete to start the season opener at the college.
Mayfield played well enough that year to be named Big 12 Conference Freshman Offensive Player of the Year.
However, citing "miscommunication" with the coaching staff, he left the program after that season.
Transferring to Oklahoma, Mayfield quickly became one of college football's most exciting players.
After a 2016 season that saw the Sooners beat Auburn in the Sugar Bowl and a third-place finish in the Heisman race, Mayfield was even better in 2017.
That year, Mayfield and Oklahoma lost in the Rose Bowl to Georgia, but he was named the Heisman winner.
Mayfield's play and antics on and off the field excited some, but angered many.
However, even the detractors noted that he was a winner in college who could continue winning in the pros.
After much speculation, Dorsey grabbed Mayfield with the first pick.
Lake Travis product Baker Mayfield drafted #1 overall by the Cleveland Browns in the #2018NFLDraft

🔗: https://t.co/X1zIdVgCL5… pic.twitter.com/CfifB6nwR0

— Nick Walters (@nickwalt) April 27, 2018
In 2018, Mayfield looked promising as he started 13 games, threw for 3,725 yards, 27 touchdowns, and 14 interceptions.
Despite coach Hue Jackson being fired half way through the season, the team improved to 7-8-1.
Interim coach Gregg Williams was replaced by Freddie Kitchens for 2019.
Last season, with Kitchens at the helm, Mayfield and the team took a step back.
With the Browns struggling to a 6-10 finish, Mayfield improved his throwing yardage to 3,827, but threw fewer touchdowns (22) and more picks (21).
He also spent more time on his back in '19 when he was sacked 40 times (compared to 25 times the previous year).
So far in 2020, Mayfield has 1,850 yards, 15 touchdowns and 7 INTs.
The Browns have a winning record and are looking to make the postseason for the first time since 2002.
The questions surrounding Mayfield now are whether he has improved from last season and whether he deserves his fifth year option.
Of the games played this season, Mayfield has thrown for over 200 yards in only a handful.
The Browns have benefitted from a weak schedule in 2020 and it remains to be seen if Mayfield is a franchise quarterback or simply a stop-gap until the organization tries again.

Round 1/Pick 4: Denzel Ward, Cornerback, Ohio State University
With the fourth pick of the 2018 draft, the Browns selected Ward.
Mouths across the land fell agape as a running back was assumed to be the ideal selection.
However, Ward was in the proverbial backyard of the Browns.
His body of work was mainly two-year totals between 2016-2017.
His best season as a Buckeye was in '17 when he made 30 solo and 37 total tackles along with 15 passes defended and two picks.
2018 would have been Ward's senior season, but in December of 2017 he released a statement that he was forgoing his final year to enter the draft.
After pre-draft workouts led numerous teams to label Ward a top 10 pick, the Browns jumped at the chance to land him with the fourth selection.
In his two-plus years with the team, Ward has quietly become one of the best corners in the NFL.
Ohio State CB Denzel Ward drafted by Browns with No. 4 overall pick; fourth Buckeyes CB selected in first round since 2016 (ESPN) pic.twitter.com/fpzkcYvbNa

— Columbus Ohio Sports (@ColumbusTeams) April 27, 2018
As a rookie, Ward started 12 games and 53 combined tackles, 11 passes defended, three interceptions, one forced fumble, and two fumble recoveries.
He was twice named NFL Defensive Rookie of the Week and was named to the Pro Bowl after the season.
Last season, Ward's numbers dipped but he was still a solid team contributor.
Along with 44 combined tackles, 11 passes defended, one fumble recovery, and two picks, Ward also returned an interception for a touchdown.
So far this year, Ward has 37 total tackles, a career high 15 passes defended, one fumble recovery, and two INTs.

Round 2/Pick 33: Austin Corbett, Center, University of Nevada
By now, Cleveland fans were getting a little antsy.
The team still had not selected a running back.
Instead, they grabbed a lineman from Nevada.
Corbett was not a bad pick, however.
He started four years for the Wolf Pack, which is the school that Joel Bitonio was drafted from in 2014.
Corbett was a 2017 semifinalist for the Burlsworth Trophy (given yearly to the most outstanding FBS football player who began his career as a walk-on).
He was also invited to the 2018 Senior Bowl.
After being drafted, Corbett started in one game and played in 11 others during his rookie campaign.
Last season, Corbett played in three games, but was then traded to the LA Rams in exchange for a fifth-round pick in the 2021 draft.
We've agreed to trade C Austin Corbett to the Los Angeles Rams in exchange for an undisclosed draft pick.

Details » https://t.co/dYnU5uyHIM pic.twitter.com/lyd4rtdU6p

— Cleveland Browns (@Browns) October 15, 2019
For the remainder of the '19 season, Corbett started seven games for the Rams.
In 2020, Corbett has started every game at Left Guard for Los Angeles.

Round 2/Pick 35: Nick Chubb, Running Back, University of Georgia
Thankfully for Dorsey and his staff, Chubb was still available two picks later.
At Georgia, Chubb rushed for 4,769 yards, which was second in team history to Herschel Walker and second in SEC history.
Chubb saw action during his freshman year when starter Todd Gurley was hurt.
He was voted the SEC Freshman of the Year after the season.
In the Belk Bowl that year, Chubb was named the game's MVP.
In October of 2015, Chubb wrecked his left knee, tearing the PCL, MCL, and LCL.
However, he returned almost a year later and rushed for 1,130 yards and nine touchdowns in 2016.
In 2017, Chubb ran for 1,345 yards and 15 scores.
Because of his knee injury, teams were scared off, particularly in drafting someone with such a serious injury in the first round.
The Browns had faith, however, and Chubb has delivered.
Congratulations to Rising Seniors Legend @NickChubb21 on being drafted by the Cleveland Browns pic.twitter.com/fZkIdID6CJ

— RisingSeniors Foundation (@RisingSeniors) April 27, 2018
As a rookie, he started nine games, ran for 996 yards and added 10 total touchdowns.
Last season, Chubb started all 16 games and rushed for 1,494 yards and eight touchdowns, finishing second to Tennessee's Derrick Henry for the rushing title.
In 2020, Chubb was playing well through the first three games of the season.
However, in a Week 4 match-up against the Cowboys, he sustained an MCL injury.
He returned for a Week 10 showdown against Houston and promptly ran for 126 yards and a touchdown.
At this point in the year, Chubb has 575 rushing yards and five scores.

Round 3/Pick 67: Chad Thomas, Defensive End, University of Miami
After finishing 2017 0-16 and ranked 31 out of 32 on the defensive side of the ball, the Browns chose this pick to focus on re-building the defense.
Thomas was a fairly productive defensive end for the Hurricanes in college.
During his senior year, he started every game and collected 41 total tackles including 12.5 for a loss and 5.5 sacks.
After his senior year, Thomas participated in the East-West Shrine game where he practiced and played well enough to raise his draft stock.
He was then selected to play in the Senior Bowl, but was unable to due to an injury.
Thomas was expected to be used as a rotational piece on the defensive line once he was drafted by Cleveland.
He saw action in four games during his rookie year.
Last year, Thomas started eight games and compiled one pass defense, one fumble recovery, 26 combined tackles including six tackles for a loss, and four sacks.
On September 5, 2020, the Browns waived Thomas.
Andrew Berry has taken serious heat for the Browns defense.

Here's the defenders John Dorsey drafted.

Chad Thomas
Genard Avery
Simeon Thomas
Greedy Williams
Sione Takitaki
Sheldrick Redwine
Mack Wilson
Donnie Lewis

Before blaming AB consider what Dorsey left. Let him build. pic.twitter.com/VAcI4eUUv4

— Nick Karns (@karnsies817) November 5, 2020
He is currently a free agent.

Round 4/Pick 105, Antonio Calloway, Receiver, University of Florida
Calloway was an intriguing receiver prospect coming out of Florida.
Numerous draft experts, including Todd McShay and Mel Kiper Jr., posited that Calloway would have been a first-round pick if not for character issues.
In January 2016, a woman accused Calloway of sexual assault in December of 2015.
He was eventually cleared of any wrongdoing, but lost the 2017 season due to his legal battles.
In two seasons at Florida (2015 and 2016), Calloway hauled in 89 total passes for 1,399 yards, and seven touchdowns.
After not playing the '17 season, Calloway entered the 2018 draft where he was selected by Cleveland.
During his rookie campaign, Calloway started 11 games and had 43 grabs for 586 yards and five scores.
In August of 2019, he was suspended four games for violating the NFL's substance-abuse policy.
On November 14 of last year, the Browns waived Calloway after he continually showed up late for practices and meetings.
From our TNF pregame show: #Browns WR Antonio Callaway was waived today, in part because of issues with tardiness and other concerns. pic.twitter.com/rI5os1fsTi

— Ian Rapoport (@RapSheet) November 14, 2019
His numbers for 2019 were eight receptions for 89 yards and zero touchdowns.
Calloway is currently a member of the Dolphins.

Round 5/Pick 150, Genard Avery, Linebacker, University of Memphis
Avery looked to be a solid pick for the Browns in the fifth round.
He was a four year player at Memphis who ended his collegiate career with 21.5 sacks, good for third in program history.
Avery also hauled down ball carriers 232 times while at Memphis which was fifth all-time.
In his rookie year, Avery was switched to defensive end and started five games and had 40 combined tackles including five tackles for a loss, four passes defended, one forced fumble, and one fumble recovery.
Last season, Avery played in two games for Cleveland before being traded to Philadelphia on October 28.
We've traded LB Genard Avery to the Eagles

Details » https://t.co/d33S1WVZSj pic.twitter.com/Wcjsd19S19

— Cleveland Browns (@Browns) October 28, 2019
He is still a member of the Eagles.

Round 6/Pick 175, Damion Ratley, Receiver, Texas A&M
Cleveland continued to add receiver depth by taking Ratley in the sixth round.
Ratley played two seasons in College Station and had a respectable 47 total passes caught for 920 yards and eight scores.
In his rookie year, Ratley started three games and hauled in 13 catches for 144 yards.
Baker Mayfield to Damion Ratley for a 46-yard TD

(via @Browns)pic.twitter.com/oYpTmzn1Xs

— NFL Update (@MySportsUpdate) December 29, 2019
He added 12 more receptions for 200 yards and one touchdown in 2019.
On September 5 of this year, the Browns waived Ratley.
He was signed by the Giants the following day.
After being released by the Giants in October, Ratley was signed to the Texans practice squad.

Round 6/Pick 188, Simeon Thomas, Cornerback, University of Louisiana
The Browns used their last pick of the 2018 draft on Thomas.
Welcome to Cleveland, Simeon Thomas!https://t.co/bbrD5GcJmO pic.twitter.com/KmPdZxSB3A

— Cleveland Browns (@Browns) April 28, 2018
He was a troubled player for the Ragin Cajuns football team.
Thomas was part of an ACT test scandal in 2013 where a test administrator changed test answers for Thomas and others.
In 2014, he sat out the entire season due to academic suspension.
2015 saw Thomas lose nine more games stemming from recruiting violations which occurred two years prior.
Thomas finally played the entire 2016 season and had 40 total tackles, five passes defended, two picks, one forced fumble, and a fumble recovery.
In early 2017, Thomas was one of 13 players arrested for stealing $2,400 worth of items from the dorm room of a former teammate.
After the Browns took a chance on Thomas in the 2018 draft, the team waived him on September 1, 2018.
He was then claimed by Seattle.
After the '18 season, Thomas was signed by Washington for 2019.
He was waived by the team in September this year.

2019 Draft
Under Hue Jackson (eight games) and Gregg Williams (eight games), the Browns finished 2018 with an improved 7-8-1 record.
Mayfield played well as a rookie and was named by the Pro Football Writers Association as a First-team All-Rookie and the PFWA Rookie of the Year.
Both Ward and Chubb developed into reliable players by the end of the season.
With Freddie Kitchens taking over for the fired Jackson, the Browns looked to be playoff contenders in 2019.
Dorsey made off-season moves to bring in Odell Beckham Jr. and Olivier Vernon from the Giants.
He also traded for guard Wyatt Teller and signed defensive tackle Sheldon Richardson from the Vikings and grabbed Kareem Hunt from Kansas City.
Hunt was released by the Chiefs when video surfaced of him physically assaulting a woman.
Part of the Beckham trade included the Browns first round pick in '19.
So, the team had to wait until the second round to begin selecting help for the upcoming season.
Looking back, Cleveland was focused on the defensive side of the ball during the draft after finishing 2018 with the 21st ranked defense in the league.
The primary team needs at the time were safety, offensive line, and defensive line depth.

Round 2/Pick 46, Greedy Williams, Cornerback, LSU
How can you go wrong with a defensive back named "Greedy?"
As a collegiate football player at LSU, Williams led the SEC in interceptions and passes defended as a freshman in 2017.
After the season he was selected as an All-SEC First-team member.
That selection made Williams only the second LSU freshman to make the All SEC team since 1986.
In 2018, Williams had two picks along with 33 total tackles.
He was again named a First-team All-SEC selection after the year and was also named a consensus All-American.
In December of that year he declared for the 2019 NFL Draft, forgoing the final two years of his college eligibility.
Browns get a second-round steal with Greedy Williams. John Dorsey does it again. https://t.co/XgcJix011C pic.twitter.com/4zjh85Kdjf

— Bill Bender (@BillBender92) April 27, 2019
After being drafted by the Browns, Williams' rookie year saw him start 12 games.
He had two pass defenses and 47 combined tackles that included two for a loss.
As Williams was preparing for the 2020 season, he sustained a shoulder injury.

Round 3/Pick 80, Sione Takitaki, Outside Linebacker, BYU
The word on Takitaki before the draft was a troubling, yet productive player.
During his time at BYU, Takitaki had no less than four suspensions.
The offenses ranged from fighting to theft.
However, Takitaki was named a Cougar team captain in 2018.
His consistency as a tackler and leader on the field in '18 made him an intriguing prospect to NFL teams and Cleveland grabbed him in the third round.
"With the 80th pick in the 2019 Draft, the Cleveland Browns select Sione Takitaki, LB, Brigham Young."

📺: NFLN/ESPN/ABC April 26-27 pic.twitter.com/s2aL3mBUsc

— Cleveland Browns (@Browns) April 27, 2019
Last season, Takitaki started one game as a rookie.
He compiled 21 combined tackles including 14 solo.
So far in 2020, Takitaki has started eight games and has 45 total tackles including one for a loss.
In the Week 11 game against Philadelphia, Takitaki picked off a Carson Wentz pass and ran 50 yards for a touchdown.
That was his first career interception as well as first pick six.
The play helped the Browns win the game 22-17.

Round 4/Pick 119, Sheldrick Redwine, Safety, University of Miami
With their third pick of the 2019 draft, the Browns continued to stay with defense when they selected Redwine.
At Miami, Redwine played both cornerback and safety.
In college he was a fairly good open field tackler and could hang with quick receivers.
It didn't hurt his draft stock when he ran a 4.4 40 yard dash time at the NFL Combine.
As a rookie in 2019, Redwine started five games and compiled 42 combined tackles and two passes defended.
So far in 2020, Redwine has only started one game and has 13 total tackles including a half sack.
In Week 5, he picked off Colts quarterback Phillip Rivers for the first interception of his career.

Round 5/Pick 155, Mack Wilson, Linebacker, Alabama
The Browns next choice was used to add depth to the linebacker position.
Looking over the remaining available draft choices, the team selected Wilson from Alabama.
This was viewed as a solid choice as Nick Saban coached players have a reputation for being (mostly) sound pro prospects.
In three years as a member of the Crimson Tide, Wilson put up good numbers.
As a freshman in 2016, he saw action in all 15 games and had eight total tackles and one fumble recovery.
In 2017, he upped his tackle total to 40 including 2.5 for a loss and added four interceptions.
One of his interceptions was returned 39 yards for a touchdown.
As a junior in 2018, Wilson had 65 total tackles, one sack, two picks, and five passes defended.
After the season, he was named a Second-team All-SEC selection.
"With the 155th pick in the 2019 Draft, the Cleveland Browns select Mack Wilson, LB, Alabama."

📺: NFLN/ESPN/ABC pic.twitter.com/tchxcHWsZI

— Cleveland Browns (@Browns) April 27, 2019
As a Browns rookie in 2019, Wilson started 14 games and racked up impressive numbers.
He had 82 total tackles, one sack, seven passes defended along with one INT, and a forced fumble.
So far this season, Wilson has 26 total tackles and two passes defended.

Round 5/Pick 170, Austin Seibert, Kicker, University of Oklahoma
Surprisingly, Cleveland went offense with this pick and chose a kicker.
The kicking game was a weakness in 2018.
However, many football pundits were shocked that the Browns used a draft pick on a kicker instead of signing one through free agency.
Seibert wasn't too much of a stretch at this draft spot.
In four years as a Sooner, he played in 54 games and made 310 of 315 extra points for a 98.4 kicking percentage.
Seibert also made 63 of 79 field goal attempts for 79.7%.
In addition to his kicking duties, Seibert punted for the Sooners.
He booted the ball 179 times in Norman for 7,457 yards and a 41.7 yards per punt average.
During his Oklahoma career, Seibert was named Second-team All-Big 12 in 2017, First-team All-Big 12 in 2018, Big 12 Special Teams Player of the Year in 2018, and had the most points by a kicker in FBS history with 499 by the time he graduated.
As a Cleveland rookie last year, Seibert was named by the PFWA to the All Rookie Team.
This was on the strength of his field goals made (25 of 30) and extra points made (30 of 35).
Both totals equated to an 83.3% average success rate.
Looking like a solid starter going into 2020, Seibert was dumped by the Browns early in the season.
Cleveland waived Austin Seibert on Monday after he missed an extra point and field goal in the first half of Sunday's season-opening loss at Baltimore. He's being replaced by Cody Parkey, who kicked for the Browns in 2016 pic.twitter.com/OlexrJiXTc

— The Sports Page (@TheSportsPage4) September 14, 2020
After missing a field goal and an extra point in Cleveland's Week 1 loss to the Ravens, the team waived Seibert.
He was claimed the following day by rival Cincinnati.

Round 6/Pick 189, Drew Forbes, Offensive Lineman, SE Missouri State
Dorsey made his only offensive selection of the draft with this pick.
Forbes was a relative unknown due to where he played college ball, but scouts loved his size (6-5, 305 pounds).
After being selected by the Browns, Forbes was placed on injured reserve on September 1 of last year.
He was activated off IR in November of '19.
On July 29, 2020, Forbes opted out of the 2020 season due to Covid-19 concerns.

Round 7/Pick 221, Donnie Lewis Jr., Cornerback, Tulane
Dorsey didn't stay with offense for long and added to the defensive back room with this pick.
During his collegiate career with the Green Wave, Lewis had eight interceptions and showed decent coverage skills.
After being drafted, Lewis was on and off the Browns roster three different times before he was finally waived on September 3 of this year.
On November 18, he was picked up by the Bengals and signed to their practice squad.

Summary
In 2019, the Browns did not improve under Kitchens.
Instead, the team looked lost for most of the season and Kitchens was vilified for his response to the Myles Garrett/Mason Rudolph incident.
After much speculation, Kitchens was fired after the season and Dorsey left soon after.
It is worth noting that many of the players Dorsey signed or drafted are still on the Browns roster.
Mayfield continues to be a question mark, but Chubb looks like a perennial All-Pro.
Ward and Williams continue to develop in the defensive backfield and Landry and OBJ have been upgrades at the receiver position.
Earlier this season, Nick Shook, an NFL writer called Teller an "MVP" due to his performance in opening holes for Chubb and Hunt.
Dorsey was successful in finding need in the middle rounds, especially in 2019.
Takitaki, Redwine, and Wilson are consistent contributors.
If it wasn't for a poor Week 1 showing this year, Seibert might still be with the team.
Time will tell how the core group of Mayfield, Chubb, and Ward will carry the Browns to the promised land.
As it stands now, it looks like a good number of Dorsey's picks and signings may help Cleveland return to the postseason for the first time since 2007.