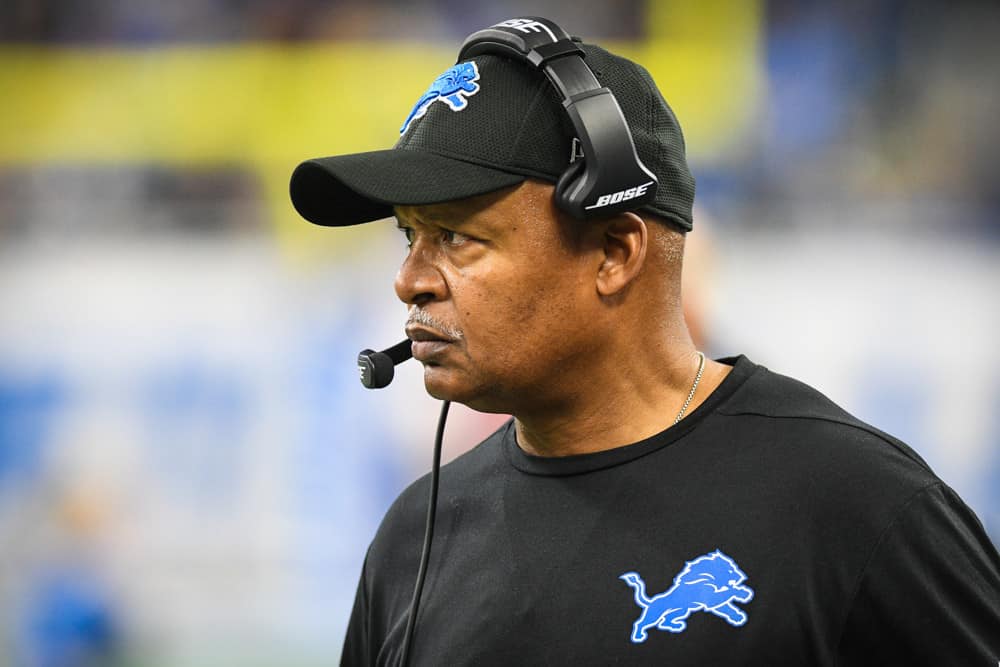 Former Indianapolis Colts and Detroit Lions coach Jim Caldwell is ready to return to the sideline unnamed sources told CBS Sports in December.
Due to health reasons, Caldwell took an indefinite leave of absence as the Miami Dolphins assistant head coach and quarterbacks coach before the start of the 2019 season.
Caldwell, 64, could return to Miami under head coach Brian Flores.
Meanwhile, the Cleveland Browns remain the only NFL team without a head coach.
Caldwell was not among the seven candidates the Browns either have interviewed or are scheduled to interview this offseason.
Even despite Caldwell's health issues, it's a bit surprising he has not garnered interest this offseason from the teams that had head-coaching vacancies, which included the Carolina Panthers, Dallas Cowboys, New York Giants and the Washington Redskins.
Caldwell turns 65 next week and there are three active NFL coaches older than him: Tampa Bay's Bruce Arians (67), New England's Bill Belichick (67) and Seattle's Pete Carroll (68).
After battling cancer for a year, Arians returned to coaching in 2019 and former Colts head coach Chuck Pagano returned after a cancer diagnosis forced him to miss most of the 2012 season.
Last offseason, Caldwell interviewed with the Browns, Green Bay Packers and Arizona Cardinals.
Perhaps the Browns front office and other NFL owners have concerns about Caldwell's long-term health and age.
Plus, it might be a hard sell to Browns fans to bring in Caldwell after passing him up last offseason to hire Freddie Kitchens, whom the team fired in December after one season.
The Browns have either interviewed or are conducting interviews with Kansas City Chiefs offensive coordinator Eric Bieniemy, Baltimore Ravens offensive coordinator Greg Roman, San Francisco 49ers defensive coordinator Robert Saleh, Buffalo Bills offensive coordinator Brian Daboll, Philadephia Eagles defensive coordinator Jim Schwartz, Minnesota Vikings offensive coordinator Kevin Stefanski and New England Patriots offensive coordinator Josh McDaniels.
McDaniels, whom the Browns are scheduled to interview on Friday, is considered the favorite to become the team's next head coach.
Odds to be the next head coach of the Cleveland Browns (BetOnline):

McDaniels +150
Stefanski +200
Saleh +450
Bienemy/Roman +900
Riley/Meyer +1000
Schwartz/Lewis +1400
Daboll/Campbell/LaFleur +1600

— Odds Shark (@OddsShark) January 7, 2020
While McDaniels has had success as a coordinator, he went 11-17 in less than two seasons as the Denver Broncos' head coach.
Plus, Belichick's assistants have had mixed success as head coaches.
Caldwell had a 36-28 record in four seasons as head coach of the Lions, the NFL's second-least successful franchise during the last two decades behind only the Browns.
I compiled the regular season records of all 32 NFL teams this century – sorted from best (left) to worst (right). pic.twitter.com/NVVSKLg06t

— René Bugner (@RNBWCV) December 31, 2019
Caldwell led the Lions to the playoffs twice.
It came after Caldwell replaced Jim Schwartz, who led Detroit to a 29-51 record in five seasons.
Schwartz — whom the Browns interviewed on Wednesday — made only one playoff appearance as Lions head coach.
Caldwell's worst record in Detroit was 7-9 during the 2015 season.
His replacement Matt Patricia has compiled a 9-22 record through two seasons with the Lions.
Caldwell went 26-22 as head coach of the Colts, won the AFC South twice in three seasons and made an appearance in Super Bowl XLIV.
Speaking of Super Bowls, Caldwell won two as an assistant coach in Indianapolis and Baltimore.
Colts owner Jim Irsay fired Caldwell after a 2-14 record in 2011, when quarterback Peyton Manning sat out the entire season to recover from neck surgery.
Caldwell's NFL success speaks for itself.
At this point, Cleveland does not have to compete with other NFL teams for coaching candidates either.
The Browns don't necessarily have to hire Caldwell, but it might be worth interviewing him this offseason in what is already been a wide-ranging coaching search.